Summary

Itinerary

Pricing

Options

& Add-ons
ME to WE: Kenya Community Experience
Leave more than a footprint behind by participating in a sustainable development project in Kenya.
Trip Highlights
Maasai Mara
Contribute
To our charity partner's development model by helping to build a new school
To the community by participating in a water walk to fetch water with mamas and to gain a better understanding of daily life
Experience
A guided walking tour of a local primary school
A sunrise hike with Maasai guides
Learn
About the local economy on a visit to a market
The art of traditional Maasai beading from mamas in the community
How ME to WE's charity partner and its newest project, the Baraka Health Centre, is enhancing community life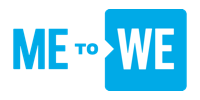 Day 1 - Maasai Mara
Meet your ME to WE representative and transfer to Bogani. Bogani offers a completely different experience to all of Kenya's safari camps and it provides a genuine opportunity to get involved.
Bogani is located to the north of the Maasai Mara, surrounded by open countryside and local villages. There are 5 large family cottages and 18 safari tents, all surrounded by open countryside. The camp's traditional safari tents are spread over a large area and have stone flooring and fully screened doors and windows. They're well furnished using local fabrics and traditional Kenyan decor. Each tent has comfortable twin or double beds, a private veranda with comfortable chairs, plenty of storage space, standing fans, electrical sockets and a safe. All tents are en suite, with hot running water, basins and flush toilets.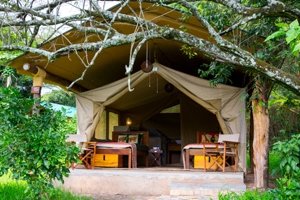 Bogani Tent
Enjoy lunch before your orientation and visit to the community school. In the evening enjoy dinner with a ME to WE feature speaker. Taste local dishes and enjoy Western favorites, prepared fresh daily using local ingredients.
Learn about our charity partner's sustainable development program, which includes five key pillars to break the cycle of poverty and achieve long-term community development: quality primary education, health care services, alternative income projects, safe, clean drinking water and sanitation, and agriculture and food security. Experience a guided walking tour of the primary school in Enelerai community where you'll see the difference between an old school structure and a new working school built by our charity partner.
At the end of the day it is time to retire to your cottage or tent, a serene place to relax and reflect after an invigorating day of volunteering.
Accommodation: Bogani Cottages and Tented Camp - Bogani Tent (B, L, D)
Day 2 - Maasai Mara
Today you will participate in a community water walk. Hike to the Mara River with the mamas and fetch water. Join the mamas at Emori Joi for a special walk through the community. Learn more about how the Kipsigis organize their homes and lives. Fetch water with the mamas, a task the women perform daily. This will be followed by lunch with the mamas. Share a meal and participate in a discussion about the changes taking place in the community regarding gender and culture.
Spend some time deepening your impact on the build site in the afternoon. Roll up your sleeves and work alongside Maasai and Kipsigis community members as you help to build a new school.
Accommodation: Bogani Cottages and Tented Camp - Bogani Tent (B, L, D)
Read More
Day 3 - Maasai Mara
In the morning there will be a visit to a Kenyan market where you will learn about the economic environment in which the community members live. In the afternoon you will continue working at the build site of a new school.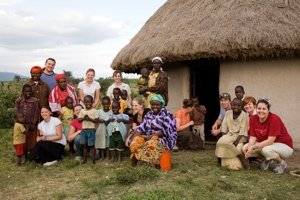 Meet local Kenyans and learn about their community
After, there will be a visit to the Baraka Medical Clinic and Medicinal Garden. The Medical Clinic serves over 30,000 community members, promoting healthy living and providing preventative, curative and rehabilitative services to the most vulnerable segments of the Kenyan population. These services enable individuals and communities to enhance their health. Next, learn about the medicinal plants grown in the shamba (garden), including moringa, aloe vera, thyme, spider plant, and many more. This shamba supplements the food program in local schools, as well as helps to decrease malnutrition in the communities by providing supplements to both pregnant mothers and their children.
Accommodation: Bogani Cottages and Tented Camp - Bogani Tent (B, L, D)
Day 4 - Depart Maasai Mara
Before you say farewell to this incredible experience, take a sunrise hike with the Maasai and Kwaheri to the community. It is time to wish your new friends farewell and debrief on your experience with your facilitators.
You will take a short flight back to Wilson airport in Nairobi. Stay in the old suburb of Gigiri in a day room at Tribe Hotel, voted one of the hottest hotels in Africa by Condé Nast Traveler. Rest and repack before your departure and enjoy a modern take on eclectic and artistic Africa.
On a visit to the nearby Atelier, you will see the bespoke pieces being created by ME to WE artisans. Travel via Limuru through lush and serene countryside dotted with small towns and tea farms before reaching the Atelier in Rosslyn. Enjoy a high tea lunch while browsing through the latest jewelry collection, handmade with love in Kenya, fair trade crafts from across the continent, and other special items curated by Roxanne Joyal, founder of ME to WE Artisans, during her travels around the world.
Enjoy a farewell dinner exclusively for ME to WE guests at Tribe Hotel's newest restaurant, featuring a modern décor and continental dishes with African flair.
Depart from Nairobi. This may be the end of your adventure trip, but it is also the beginning of your personal journey to carry your experience forward.
Accommodation: Tribe Hotel - Day Room (L, D)
Travel Insurance
We strongly recommend that you purchase travel insurance. Your Africa Specialist will be able to direct you to information regarding travel insurance.
Prices are per person in US Dollars, for land arrangements only, based on double occupancy accommodations.
How to Book
Contact ME to WE directly to book your Kenya Community Experience.
2017 Adults
Scroll for more →
| | | |
| --- | --- | --- |
| | May | Jun |
| Selling Price | $2195 | $2195 |
| Single Supplement | $300 | $300 |
2017 Youth (16 or Under)
Scroll for more →
| | | |
| --- | --- | --- |
| | May | Jun |
| Selling Price | $2095 | $2095 |
Inclusions:
Me to We professional facilitator
Ground transportation throughout the duration of the trip
Accommodation at Bogani Cottages and Tented Camp (3 nights)
All meals and drinks at Bogani, including purified water, sodas, beer and wine
All activities as outlined in the itinerary
Exclusions:
International, domestic and regional flights
Kenya Entry Visa
Travel Insurance
Gratuities
Baggage
*Prices in USD, based on double occupancy, restrictions apply
Speak to an Expert
1-800-387-2706