Lion World Cares
Make Travel Matter
Travel is an incredible gift that has the ability to open our eyes, our hearts and our minds to the unique cultures and beauty of the natural world. With this gift comes a responsibility – to protect the world as we know it. At Lion World Travel, we are passionate about giving our guests the opportunity to experience Africa's natural beauty and its diverse communities. This means that a central part of our mission is to make a positive impact on the people and communities we visit, to help protect wild and marine life, and to care for the planet we all call home. In partnership with the TreadRight Foundation, we are proud to support programs that safeguard people, the planet and wildlife. Stay tuned to our Lion World Cares page for updates on important social responsibility and sustainability initiatives.
Discover how Lion World Travel makes travel matter:
---
People
We are committed to encouraging the cultures, traditions and arts of the communities we visit to thrive. We seek to enable some of these communities to see true benefits from tourism through economic empowerment. We do this through our support of micro-enterprises, and community based tourism initiatives that build positive futures for community members and their families.
---
Iraq al-Amir Women's Cooperative in Jordan
The Iraq al-Amir Women's Cooperative provides crucial training and employment support to the women in the Iraq al-Amir region of Jordan. As many as 150 women from surrounding villages have been trained by the cooperative, which produces and sells heritage handicrafts for the tourism industry. In partnership with the TreadRight Foundation, you will have the opportunity to visit the cooperative first hand on Luxury Jordan. Learn about the cooperative's aim to become a sustainable business and the stories of the women who the cooperative continues to help become financially independent.
Learn more about the Iraq al-Amir Women's Coopertive.
---
Uthando - eKhaya eKasi Art & Education Center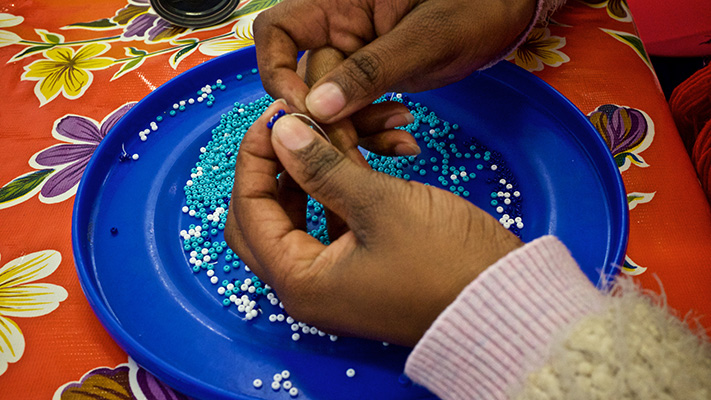 Beading at eKhaya eKasi Art & Education Center.
The eKhaya eKasi Art & Education Center is a non-profit organization where women and mothers are employed as a way to empower their community for positive social change. A large part of the community benefits because women are able to feed and clothe their children, send them to school and care for their elders.
Lulama Sihlabeni aka Lulu teaches over 50 talented artists to skillfully bend recycled telephone wire, to create artful animal figures. These forms take on an artistic life as selected beads are strung over each wire. The figurines are then sold to stores and tour operators to help generate a sustainable income for the community's women.
---
Henna Pre-School in South Africa
In September 2007, Lion World Travel visited the remote village of Huntington in the Sabi Sands area of South Africa to donate school supplies to the 140 students of Henna Pre-School. The mission of Henna Pre-School is to provide schooling and two meals a day for disadvantaged children under the age of five, living in the community.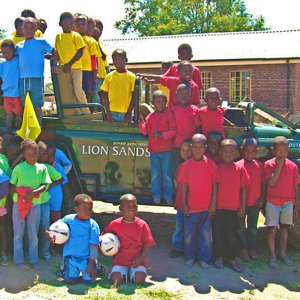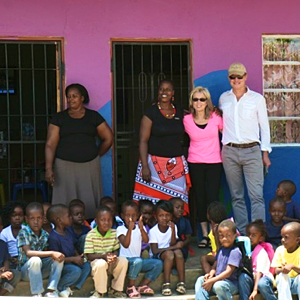 The children of Henna Pre-School (left and center). Lucille Sive, CEO of The Travel Corporation's (TTC) Africa Division, at Henna.
Our original plan was to deliver school supplies, sports equipment, clothing, shoes and gifts to the children. However, after seeing the school and being so touched by the children there, we decided to increase our involvement with the school by donating a portion of every Lion World Travel booking to Henna.
When you book a trip through Lion World Travel, you will not only experience amazing Africa, but you will make a difference in a child's life at the Henna Pre-School. If your trip includes a visit to Lion Sands Private Game Reserve, you will also have the opportunity to visit the school yourself. We are certain that it will touch you the way it did us.
Lion World Travel is proud to have supported the following projects at Henna:
Replacing the original toilet facilities with new, sanitary toilets
Building a fence around the schoolyard
Painting a school room
Building a thatched structure that provides shade for the children
Hosting a Christmas lunch with gifts for over 140 preschool children
Learn how you can visit the Henna Pre-School on a trip to South Africa.
---
ME to WE Kenya Cultural Experience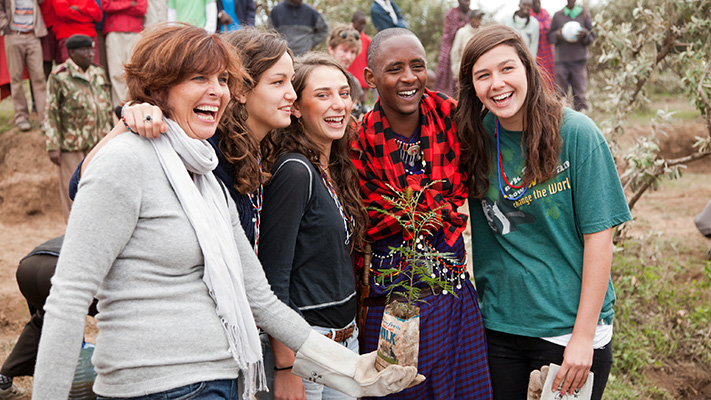 We are a proud partner of ME to WE, a world-leading leading social enterprise that supports communities in Africa and across the world. Our partnership offers you the opportunity to extend your trip in Kenya with a visit to a local ME to WE village. A ME to WE trip is about becoming immersed in a new culture, fostering genuine human connections and seeing the world through a new lens. From building a classroom to a implementing a clean water system, you will have an opportunity be part of positive change in Kenya. On your trip to Kenya, leave more than a footprint behind, leave a positive impact!
Learn more about the ME to WE Kenya Cultural Experience.
---
Khayelitsha Cookies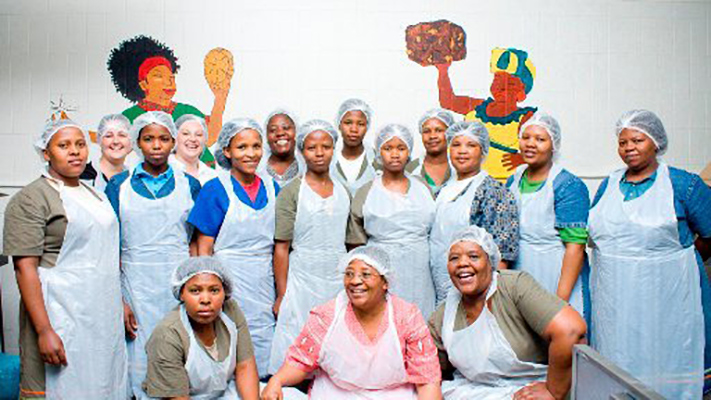 Staff of Khayelitsha Cookies
Khayelitsha Cookies is a South African cookie company founded not only to produce delicious cookies, but to help address income inequality in South Africa. Khayelitsha Cookies does this by hiring and training previously unemployed women from the local community.
We have partnered with Khayelitsha Cookies to purchase cookies for our guests as welcome gifts in certain hotels in South Africa. Lion World Travel guests not only get to enjoy delectable, locally-made cookies, but they also know that the cookies help to support the women of the Khayelitsha community.
---
Planet
Reducing the environmental impact of our business is at the core of what we do. We're committed to eliminating all avoidable single-use plastics in both our offices and on the road by 2022. And that's just the beginning. We also support projects striving to keep our oceans and coastlines clean. These are just some of the ways we're committing to safeguarding the future of our planet.
---
Eliminating Single-Use Plastics by 2022

Plastic waste
The Travel Corporation (TTC) remains dedicated to removing as many unnecessary single-use plastics from its worldwide supply chains, which provide services and facilities to our thousands of immersive trips and experiences delivered in over 70 countries around the world, every day. So far, we have and continue to reduce our footprints; these include most unnecessary single-use plastics realistically and appropriately on all of our African safaris, within all Red Carnation Hotels, onboard all of our Uniworld ships and within our TTC offices. We still have a long way to go. We remain committed and dedicated to achieving this goal by December 2022 and will keep updating as we go.
---
Carbon Offsetting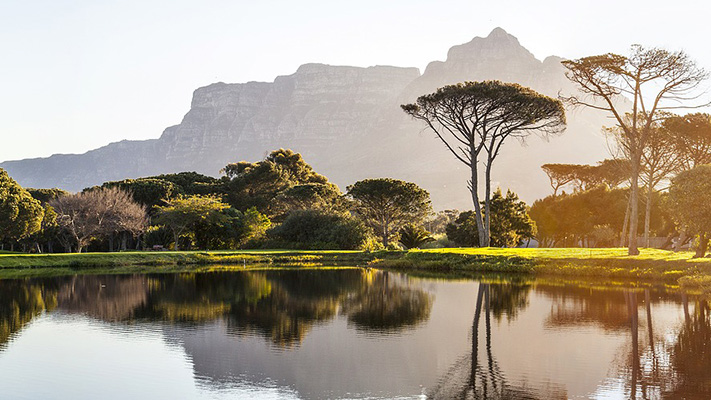 As part of our continuing sustainability journey, we feel it's increasingly important to provide our guests and our team with the necessary tools and information to allow them to make responsible travel choices whenever possible. With this in mind, we are now happy to provide guests with opportunities to carbon offset their travel experience.
If guests are looking to reduce their carbon footprint for an upcoming or previous travel experience, our not-for-profit TreadRight has identified two leading carbon offset programs - Conservation International Carbon Fund and myclimate - that provide travellers with a number of ways to offset their travel experiences with a variety of projects to choose from.
For more info, visit TreadRight.org.
---
Eco-friendly Business Cards
100% natural, 100% Africa, 100% unique and 110% recycled...it's the DUNG thing!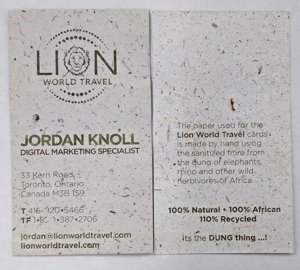 In an effort to remain environmentally conscious and keep Africa at the heart of everything Lion World Travel does, we now print our business cards on paper consisting of sanitized fiber from the dung of elephants, rhino and other wild African herbivores.
---
Wildlife
The world's wildlife is balancing on a dangerous precipice and it is our collective responsibility to help protect the species most at risk of extinction. Partnering with leading wildlife organizations, we work to help protect and rehabilitate elephant, rhino and big cat populations in Africa, while also educating our guests on ethical wildlife experiences.
---
King the Rescued Lion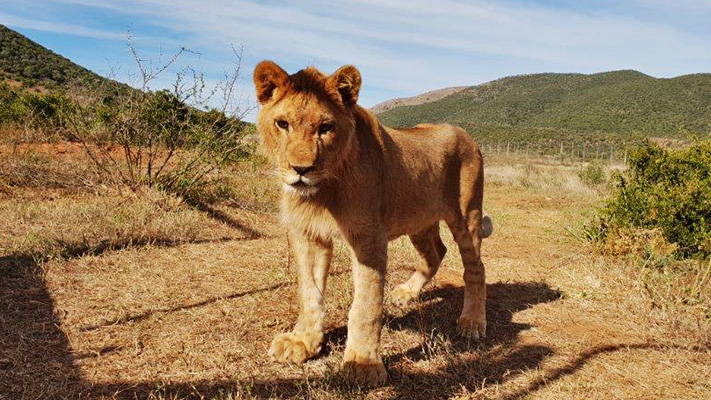 King in his new home in South Africa
A lion cub is going to his forever home. King was found in the summer of 2017 in an abandoned apartment in Paris,France. He had been half-starved, locked in a small, dirty cage and abused by his owner who was illegally keeping King as an "exotic pet." After a video of the animal's abuse went viral, French animal rescue charities found King a temporary home at Natuurhulpcentrum rescue centre in Belgium, where King was nursed back to health. Through generous supporters and donations, King made a 10,000km journey to relocate to Born Free's Big Cat Rescue Centre at Shamwari Game Reserve in South Africa, where he is receiving lifetime care and a permanent home. Lion World Travel is proud to have supported King's journey to his forever home.
Read the story of King's journey to Africa.
---
TreadRight Bat Hawk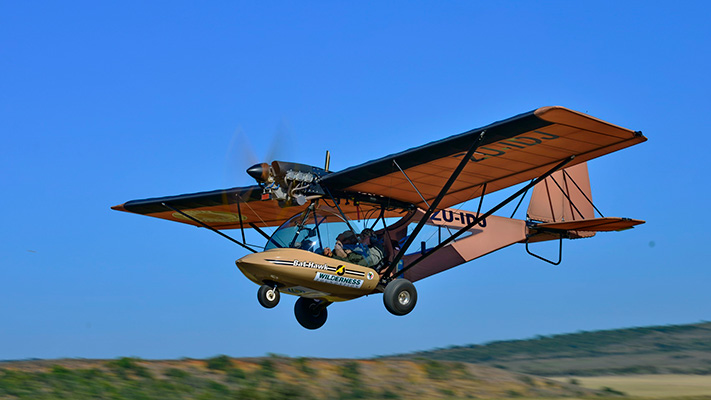 The TreadRight Bat Hawk
In 2015, Lion World Travel and the TreadRight Foundation, helped purchase the "Bat Hawk" in support of the Wilderness Foundation Africa. The Bat Hawk is a South African-made light sport aircraft used to patrol the vast Shamwari Game Reserve to monitor threatened wildlife, with a special focus on rhinos. The Bat Hawk was designed with conservation and aerial wildlife patrol as its main functions.
We continue to support the TreadRight Bat Hawk by supporting its flight time for tracking and patrolling the rhino population in the Shamwari Game Reserve.
Learn more about the TreadRight Bat Hawk.
---
Rhino Conservation & Rehabilitation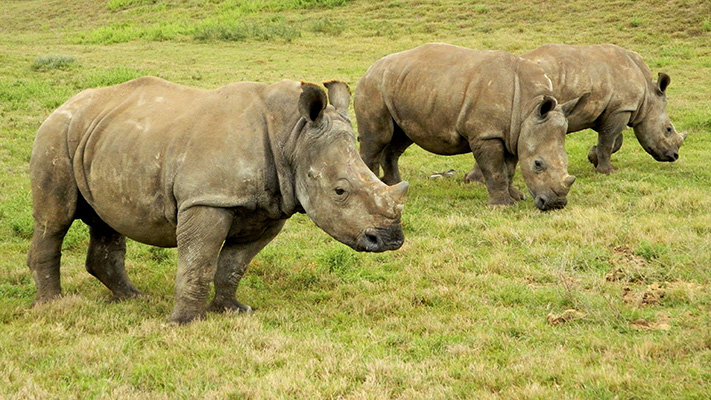 Orphaned rhinos Noelle, Winston and Chip at Shamwari in 2017.
We are passionate about protecting and conserving wildlife and we are very proud to support the Shamwari Game Reserve's important rhino conservation projects. In 2018 & 2019, when guests book Tented Safari in Style, we will make a donation to help build a new rhino section of the Rehabilitation Centre at Shamwari. This area will be custom made to care for oprhaned and injured rhino calves with the goal to re-introduce them to the wild once they are healthy. This exciting new project builds on Shamwari's success in 2017, where, with the help of Lion World Travel guests, they upgraded their rhino boma enclosure. This enclosure used to rehabilitate three orphaned rhinos, Noelle, Winston and Chip, who have now successfully returned to the wild.
A new Rhino enclosure opens at the Shamwari Wildlife Rehabilitation Centre in May 2019. Thanks to the generous donations from our travelers and The TreadRight Foundation, the new space is large enough for the Rhinos to roam free with minimal human interaction, ensuring they have the best chance to keep Rhinos wild in South Africa.
Learn more about how we support rhino conservation at Shamwari.
---
The Rhino Orphanage
In 2014, we partnered with The Rhino Orphanage in the Entabeni Safari Conservancy. The orphanage supports the development of healthy baby rhinos that have been left orphaned by poachers. We asked our community to help us name a little rhino in the orphanage and made a donation to The Rhino Orphanage. The community selected "Kidogo" as the name for the little rhino, who has since grown and been released back into the wild.
Learn more about The Rhino Orphanage and our name the little rhino contest.
---
Relate Bracelets & Rhino Conservation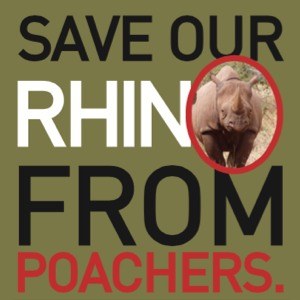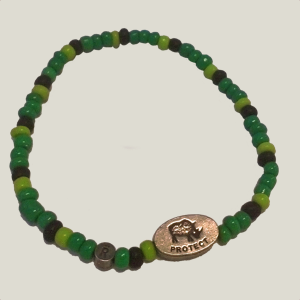 Relate is a not-for-profit social enterprise based in South Africa that sells handcrafted, beaded bracelets that support local communities and social causes. Since becoming established in 2010, Relate has helped to provide sustainable income opportunities for 250 people in South Africa.
We partnered with Relate to provide bracelets as welcome gifts for Lion World Travel guests who visit the Lion Sands region in South Africa. Funds from the purchase of the bracelets not only support local artisans who create the bracelets, but also help to finance the Endangered Wildlife Trust's ongoing efforts to fight rhino poaching in South Africa.