Photo Info

Mahali Mzuri, Maasai Mara, Kenya

Photo Info

Grumeti Reserves
Summary

Itinerary

Pricing

Options

& Add-ons
Ultimate Kenya and Tanzania
A luxury safari offering the "Best of the Best" in Kenya and Tanzania. Prepare to have your expectations exceeded!
Trip Highlights
Nairobi | Samburu Game Reserve | Maasai Mara | Serengeti
Experience
Amazing wildlife sightings in open-vehicle safaris
Enjoy evening sundowners as you watch a magical sunset
Intimate walking safaris
In migration season, witness "the greatest show on earth"
Discover
Endless plains of the Serengeti, one of Africa's greatest wildlife regions
The Samburu "special six" - unique game species of the north
Relax
In a stunning spa as you gaze out over African savannahs.
In an elegant and luxurious safari tent
Learn
About the pastoral Maasai culture
About conservation in Africa's great reserves
---
PCR Testing – we can't take the test for you, but we've got the where and how covered!
Most countries and airlines require proof of a negative Covid PCR test. As your safari experts, we know their requirements and will take care of scheduling tests during your travels in Kenya and Tanzania, so that it's conveniently planned into your itinerary and taking into consideration that results take between 24-72 hours. Tests cost between $100 and $330 per person, per test including transport to the testing facility. Your Africa Specialist will give you more information as it relates to your itinerary.
---
Day 1 - Nairobi
Jambo and Welcome to Nairobi! Relax overnight at the stunning Hemingways Nairobi. The 5-star Hemingways Nairobi is a boutique hotel that elevates the standard of luxury service for travelers. This plantation-style property is airy and spacious. Hemingways Nairobi is only a 40-minute drive away from Nairobi's Jomo Kenyatta International Airport.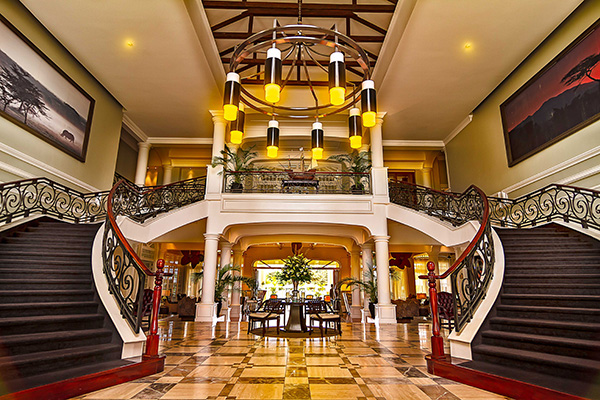 The elegant entranceway to Hemingways Nairobi
Accommodation: Hemingways Nairobi – Standard Room
Day 2 - Nairobi/Samburu
After breakfast, transfer to Wilson Airport in time for your scheduled flight to Samburu. Upon arrival at the local airstrip, you will be met by your local driver guide and with a short game drive enroute, transfer to your camp to arrive in time for lunch at the luxurious Sasaab Camp. The 5-star Sasaab Lodge is situated on a rocky ridge above the banks of the mighty Ewaso Nyiro River in north-central Kenya.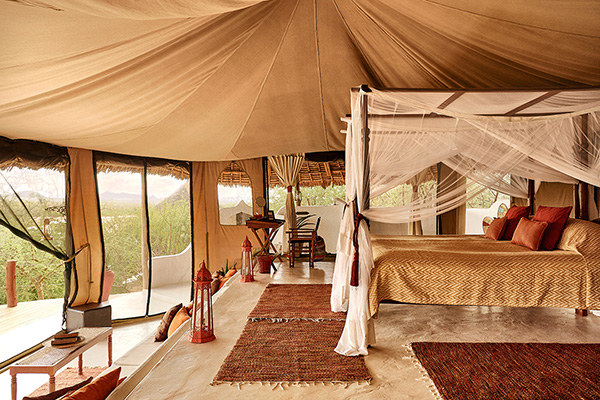 The luxurious Sasaab Lodge in Kenya
There are nine luxury rooms accommodating up to 18 guests in total at the lodge. Each room is designed to offer majestic views across the Laikipia Plateau toward the jagged peak of Mount Kenya. Its position on the river naturally facilitates watching the herds of elephant that come to bathe. The airy rooms with four poster beds, enormous, open-air bathrooms and private plunge pools, make for a completely invigorating experience.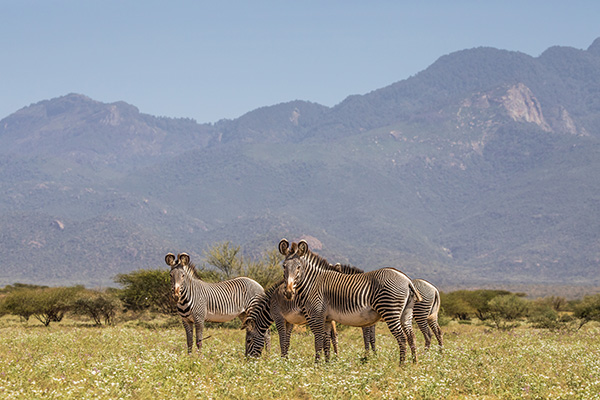 Zebras seen on a game drive at Sasaab, photo by Scott Ramsay
Spend the afternoon discovering the unique wildlife of the reserve, which is famous for its elephants and lions. Return to the camp in time to relax before dinner.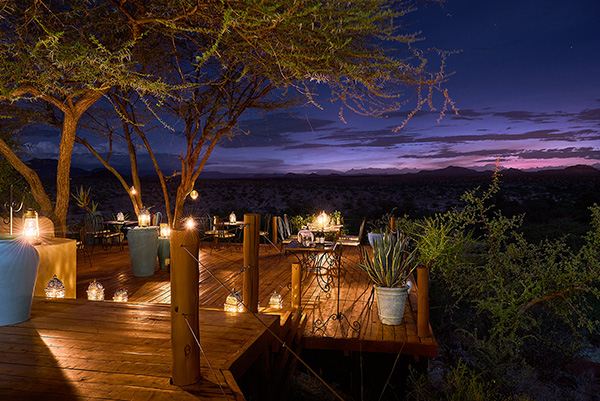 Dine under the stars at Sasaab
Accommodation: Sasaab Lodge – Luxury Room (B, L, D)
Read More
Day 3 - Samburu
Sasaab is close to the Buffalo Springs National Reserves with an astounding number of animals from huge majestic elephant to lion, leopard and cheetah and the 'Samburu Special Six': the Beisa Oryx, reticulated giraffe, Grevy's zebra, Gerenuk antelope, Guenther's dik-dik and Somali ostrich. Explore the area on a game drive.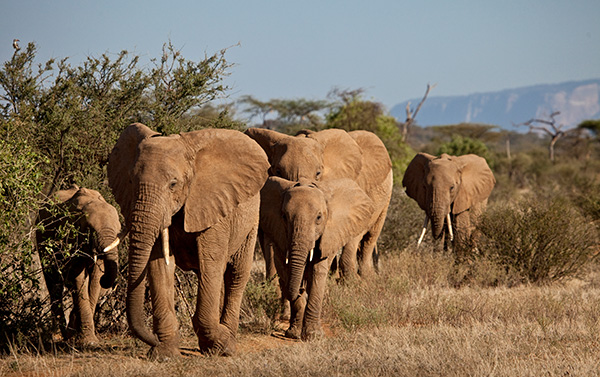 A herd of elephants in Samburu National Reserve
Enjoy guided walks, bird watching, and stargazing or for the more adventurous take a game drive or spend a night or two in the further reaches of the conservation, sleeping under the stars – additional costs may apply.

Meet and learn from the Samburu
While at Sasaab, you can visit the hospitable Samburu people, who are delighted to show you their traditions and way of life.
Accommodation: Sasaab Lodge – Luxury Room (B, L, D)
Day 4 - Samburu/Maasai Mara
After breakfast this morning you will fly to the Maasai Mara and stay in one of two stunning luxury camps: Mahali Mazuri or Angama Mara.

Spacious and private luxury tent at Mahali Mzuri
Mahali Mazuri camp is located just north of the Maasai Mara National Reserve. Gorgeous tented suites on raised platforms include a spacious bedroom, en-suite bathroom, sitting area and a large deck with views over the landscape - perfect for spotting the game that will almost certainly wander into view!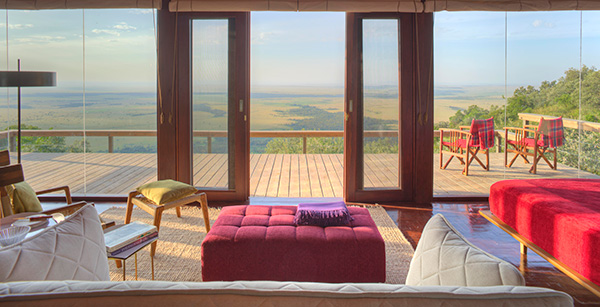 Idyllic views from Angama Mara
Angama Mara's elegant and classical tented suites have floor-to-ceiling glass front. Each tent has the same breathtaking view and the sunrise provides you with early morning theatre as the hot air balloons float gently by. Highly polished parquet floors, distinctive splashes of Maasai red, vanity with double basins, separate toilet, ample charging points, tablet with guest information and Wi-Fi. There is a butler's lobby allowing for the discreet delivery of early morning tea and coffee.
Later venture out on an evening game drive that will surely provide amazing close encounters with The Mara's fantastic wildlife.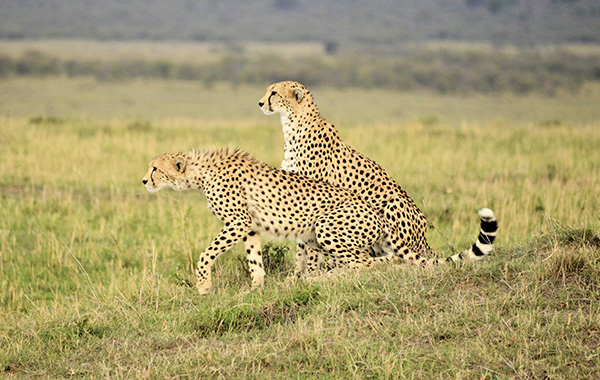 The Mara is a great place to see Cheetahs, photo by Michelle Russell Payne
Please Note: Luggage restrictions on the Kenya Tanzania light aircraft transfer flights is 15kg/33lbs in soft bags – including hand luggage.
Accommodation: Mahali Mzuri - Standard Tent OR Angama Mara - Tented Suite (B, L, D)
Day 5 - Maasai Mara
In migration season witness the Great Migration as the camp is located right in the path of the annual migration. There is an abundance of resident game all year round which will provide excellent wildlife sightings on morning and evening game drives. A number of lion pride territories meet in the Motorogi Conservancy which can make for some interesting encounters.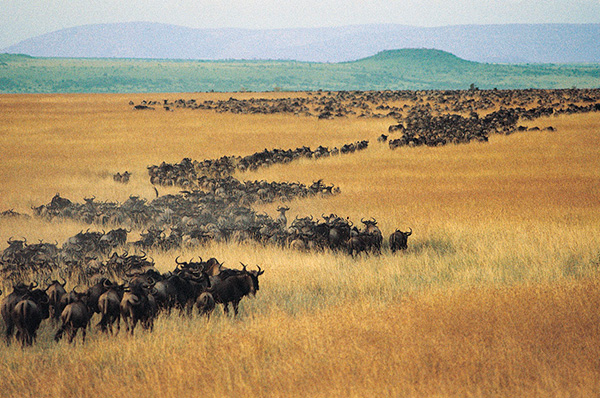 The famous wildebeest migration in East Africa
You may also take a walking safari to encounter some of the smaller denizens of the bush or learn about animal tracking, a terrific experience which is not possible within the Maasai Mara National Reserve.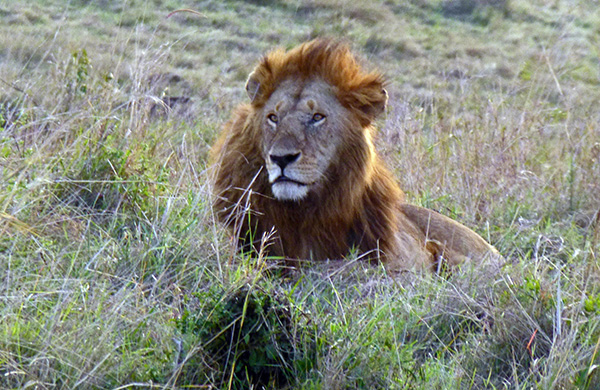 A majestic lion in the Maasai Mara, photo by Michelle Stieglitz
Accommodation: Mahali Mzuri - Standard Tent OR Angama Mara - Tented Suite (B, L, D)
Day 6 - Maasai Mara
When not game viewing, enjoy a cultural day trip to learn about the local Maasai tribe and their traditional pastoralist customs. For the adventurous soar over the area in a hot air balloon.

Take to the skies for a different view, photo by Angama Mara
Accommodation: Mahali Mzuri - Standard Tent OR Angama Mara - Tented Suite (B, L, D) 
Day 7 - Maasai Mara/Serengeti
Your once in a lifetime experience continues with a light aircraft flight and road transfer into Tanzania, and then another short flight to the Serengeti Game Reserve. (Note: in 2021 due to an airport closure you will fly from Masai Mara to Nairobi, to connect to Kilimanjaro and on to Serengeti National Reserve.)
Serengeti Bushtops is an oasis of 5-star luxury within one of the world's most magical settings. Gaze out over the stunning scenery of the Serengeti, located near the granite-studded hills of Wogakuri Kopjes in the farthest northern reaches of the Serengeti National Park. It is a secluded oasis of old-world luxury that blends in seamlessly with its pristine environment.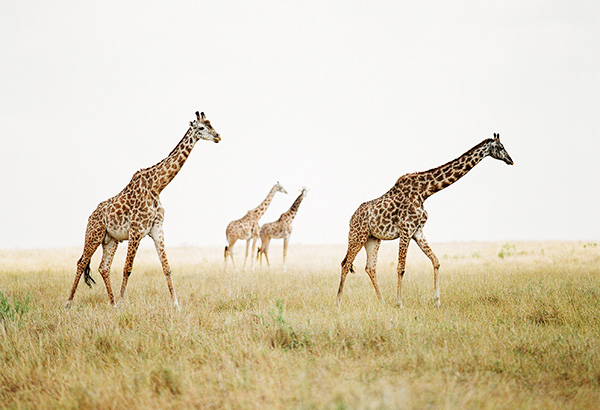 Giraffes in the Serengeti
Under Serengeti Bushtops canvas you will find the finest in luxury and twelve of the largest, most impressive ensuite tented rooms imaginable, looking over the Serengeti.
Each faces the sunset and is open on two sides, giving you an extraordinary panoramic view of nature's living masterpiece. The light, sounds, smells and breath-taking visas of the Serengeti wilderness spill into open-air living and dining spaces.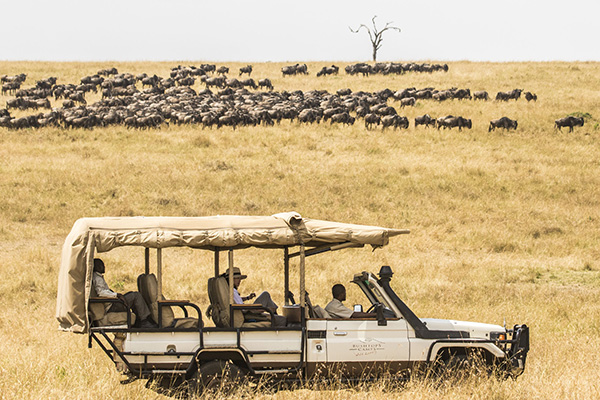 Game drive at Serengeti Bushtops
Return from safari and watch the sun set from the comfort of your patio. The combination of safari adventure, first class facilities and blissful relaxation has delivered Serengeti Bushtops' unwavering promise of wild luxury.
Accommodation: Serengeti Bushtops Camp – Luxury Tent (B, L, D)
Day 8 - Serengeti
Enjoy two game drives or a full day game drive, both on a shared basis, with a picnic lunch or a bush breakfast.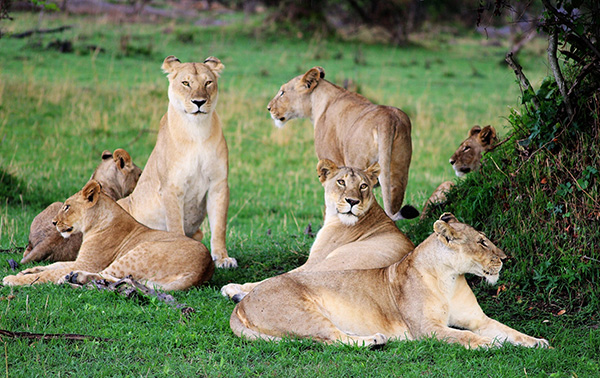 A lion pride near Serengeti Bushtops
This is a vast area, so you may not get to see all types of game but in general you could see wildebeest, zebra, a wide variety of gazelle, hippos, elephant, buffalo, mongoose and rock hyrax as well as the predators, lion, leopard, cheetah and hyena.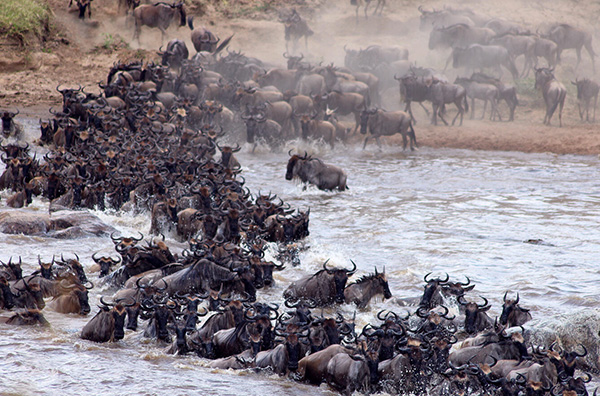 Migration crossing in the Serengeti
Accommodation: Serengeti Bushtops Camp – Luxury Tent
Day 9 - Serengeti/Kilimanjaro/Depart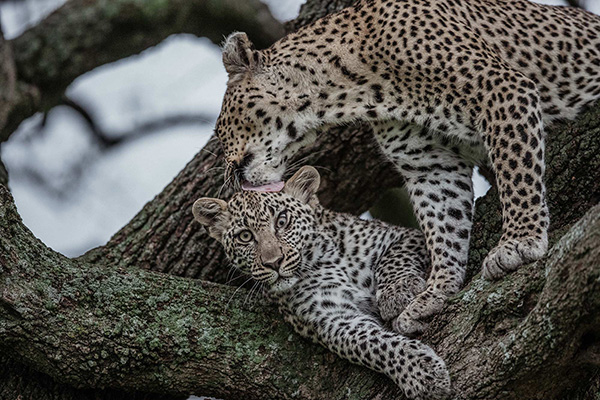 Leopards in the Serengeti
Bid farewell to an amazing experience as you fly to Kilimanjaro International Airport for your homebound flight. (B)
Return home with memories of a lifetime!
Add-Ons
Azure Zanzibar
Zanzibar is the perfect post-safari beach destination, with its white sandy beaches, azure waters and alluring culture. Check out our Azure Zanzibar itinerary or speak to one of our Africa Specialists for more information.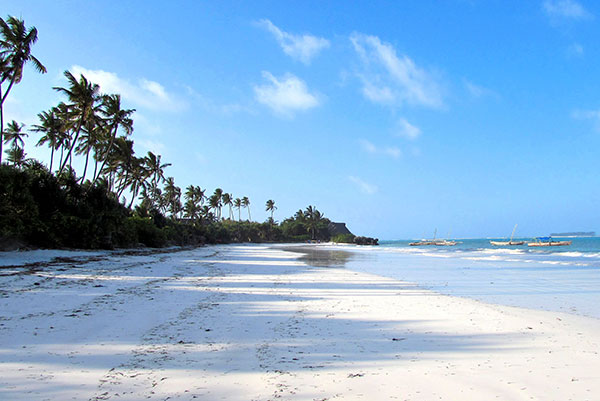 Matemwe Beach, Zanzibar. Enjoy an Island addon and Relax after your East Africa Safari
---
Gorilla Trekking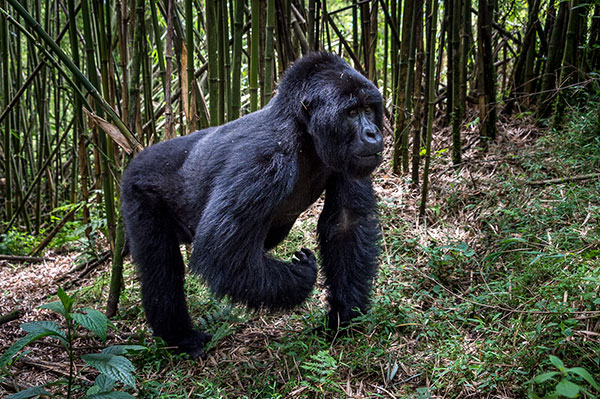 Silverback Gorilla in Rwanda, photo from Bisate Lodge
We suggest you enhance this once in a lifetime trip with a moving and poignant visit with endangered Mountain Gorillas. A 4-night extension to Rwanda to participate in gorilla trekking is highly recommended. See our Gorillas of Rwanda itinerary for more details.
---
OPTIONAL EXCURSIONS
---
Maasai Village
A visit to a local Maasai village is always an interesting cultural experience as you meet this pastoral tribe and learn about their day-to-day lives.
Hot Air Balloon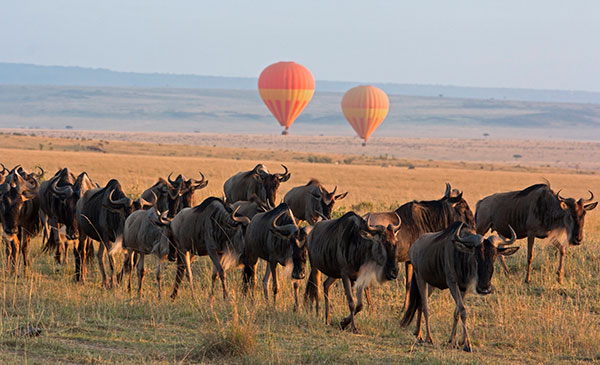 Hot Air Balloon Safari in East Africa, photo by Newmark Hotels
Enhance your safari with a peaceful and scenic view over the Serengeti in a hot air balloon.
Contact one of our Lion World Travel Africa specialist will advise you on additional costs for these extra activities.
Prices are in US Dollars and are per person based on double occupancy accommodations. Based on a minimum of 2 passengers to operate. Single supplement pricing available on request.
Angama Mara 2021
Scroll for more →
| | | | | | | |
| --- | --- | --- | --- | --- | --- | --- |
| | Jan 10 - Apr 13 | Jun | Jul-Sep | Oct | Nov 1-15 | Dec 1-15 |
| Selling Price | $12800 | $14900 | $18400 | $14900 | $12800 | $12800 |
Mahali Mzuri 2021
Scroll for more →
| | | | | | |
| --- | --- | --- | --- | --- | --- |
| | Jan 10 - Apr 13 | Jun 1-15 | Jun 16 - Oct | Nov 1-15 | Dec 1-15 |
| Selling Price | $12300 | $14500 | $16800 | $12300 | $12300 |
Angama Mara 2022
Scroll for more →
| | | | | | | |
| --- | --- | --- | --- | --- | --- | --- |
| | Jan 10 - Apr 13 | Jun | Jul-Sep | Oct | Nov 1-15 | Dec 1-15 |
| Selling Price | $13200 | $15600 | $19300 | $15600 | $13200 | $13200 |
Mahali Mzuri 2022
Scroll for more →
| | | | | | |
| --- | --- | --- | --- | --- | --- |
| | Jan 10 - Apr 13 | Jun 1-15 | Jun 16 - Oct | Nov 1-15 | Dec 1-15 |
| Selling Price | $12200 | $14600 | $16900 | $12200 | $12200 |
Inclusions:
Accommodation as stipulated in the itinerary. 
Meals as stipulated in the itinerary. 
Selected, non-premium beverages (alcohol and non-alcohol, selection varies by lodge)
Services of an English speaking driver-guide, game viewing drives. 
All meet and greet services.
All arrival and departure transfers.
Internal flights: Wilson to Samburu, Samburu to Masai Mara, Masai Mara to Wilson, Wilson to Kilimanjaro, Kilimanjaro to Kogatende and Kogatende to Kilimanjaro.
Exclusions:
International flights and flight taxes
Items of a personal nature such as laundry and telephone calls etc
All other services not mentioned 
Gratuities/Tips for game rangers, tour guides, and drivers
Costs of obtaining Passports or Visas
Trip Cancellation, Trip Interruption and Medical Insurance is required for the entire duration of your travels – please note that insurance for this trip is a mandatory requirement from suppliers in Africa – proof of insurance must be provided before bookings are confirmed. It is your personal responsibility to ensure you have enough travel insurance coverage from the provider of your choice. Please let your Africa Specialist know if you would like information on this.
Baggage
Click here for airline baggage restrictions.
Baggage allowance: Baggage is restricted to 15kg/33lb per person including hand luggage (this includes camera equipment) on safari vehicles as well as on any domestic flights, as space is limited. Soft-sided luggage or duffels are preferable to hard luggage for storage on safari vehicles and on aircraft used within East Africa. Large suitcases of dimensions greater than 24" x 17"x 7" are impossible to store in vehicles and on aircraft and should not be used. (Baggage and personal effects are at owner's risk throughout the tour and baggage insurance for members is strongly recommended).
*Prices in USD, based on double occupancy, restrictions apply
Speak to an Expert
1-800-387-2706
CLICK TO ENLARGE