Summary

Itinerary

Pricing

Options

& Add-ons
East Africa SkySafari 2021 from US$17000
Fly across Kenya and Tanzania on private planes, to luxurious and eco-friendly safari camps in East Africa's most famous parks.
Trip Highlights
Nairobi | Amboseli | Loisaba | Maasai Mara | Serengeti | Lake Manyara | Ngorongoro Crater | Arusha
The experience educates our guests on the sustainability and resiliency of community and contributes to making the destination inclusive, resilient and sustainable for generations to come.
Experience
SkySafari flights between the beautiful Elewana safari camps
Five-star luxury and a champagne welcome on your first SkySafari flight
Huge numbers of African wildlife roaming free in their natural environment
Explore
The endless plains of the Maasai Mara and Serengeti
Nature walk with a local Samburu guide in the Loisaba Conservancy
The fascinating Ngorongoro Crater, a wildlife haven
Enjoy
Game drives to spot the abundant African wildlife in Kenya and Tanzania
Relaxing spa treatments at Loisaba Tented Camp and The Manor
---
PCR Testing – we can't take the test for you, but we've got the where and how covered!
Most countries and airlines require proof of a negative Covid PCR test. As your safari experts, we know their requirements and will take care of scheduling tests during your travels in Kenya and Tanzania, so that it's conveniently planned into your itinerary and taking into consideration that results take between 24-72 hours. Tests cost between $100 and $330 per person, per test including transport to the testing facility. Your Africa Specialist will give you more information as it relates to your itinerary.
---
Day 1 - Arrive Nairobi
Welcome to Nairobi, Kenya's vibrant capital city!
On arrival at Nairobi's Jomo Kenyatta International Airport you will be met by a local Lion World Travel Africa representative and whisked away to the 5-star Hemingways, a haven of calm, built on an old coffee plantation at the foot of the Ngong Hills. The hotel is ideally placed for exploring – perhaps to feed the residents at the Giraffe Centre, meet orphaned elephants at the Sheldrick Wildlife Trust or visit the Karen Blixen Museum. Or you might choose to relax and wander the bird-filled gardens, dip in the pool, take afternoon tea on the terrace or sip cocktails in the Hemingways bar. Dinner will be at the hotel this evening.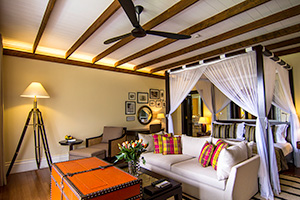 Room at Nairobi Hemingways
Accommodation: Nairobi Hemingways (D)
Day 2 - Nairobi/Amboseli
After breakfast and a briefing at the hotel, you will be transferred in a private vehicle to Nairobi's Wilson Airport for your SkySafari flight to Amboseli National Park.
On arrival enjoy a game drive en-route to Tortilis Camp. Amboseli is Africa at its most iconic. This vastness of open plains, swampland, thorn bush and fever trees unfurl below snow-capped Kilimanjaro, the world's highest freestanding peak and an unrivalled safari backdrop.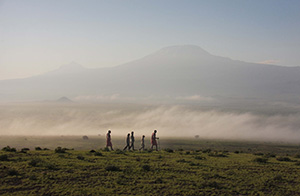 Bush walk at Tortilis with Kilimanjaro in the Background
Part of a two-million-acre ecosystem, crossing from Kenya into Tanzania, Amboseli is one of the best wildlife-viewing locations around. Most notable are its 100-strong herds of elephants, including big old tuskers, but there's an abundance of other species too, from buffalo and hyena to lion and cheetah as well as over 600 types of birds.
The spacious, well-appointed thatched tents of Elewana Tortilis Camp are set in a private conservancy, with views of Mount Kilimanjaro. An ecotourism award winner, Tortilis offers all you'd expect from a 5-star property but with a low environmental impact. Experienced guides will reveal both Amboseli's star attractions and its minute, magical details.
After lunch, enjoy and afternoon game drive followed by dinner at the camp.
Accommodation: Elewana Tortilis Camp (B, L, D)
Read More
Day 3 - Amboseli
Enjoy an early morning game drive when the animals are most active, and the big cats are returning from a night of activity. This is also a wonderful time for photographers, as dawn light gives the savanna a pink glow and Kilimanjaro is often free of cloud cover.
This is followed by a lavish Bush breakfast which more than justifies the 5am start! Lunch is back at camp and in the afternoon, head out on your next game activity.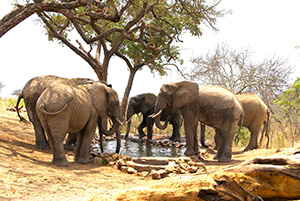 Elephants at Water Hole
Head out on a game drive for more encounters – maybe elephants up close, giraffes drinking at the waterholes and raptors swooping above. Or choose a walking safari for a different perspective: follow animal tracks, taste bush herbs, meet the Small Five and be amazed by the antics of insects, while completely (but safely) exposed to the bush. Later, raise a classic African sunset cocktail: nothing says safari like an ice-cool Gin & Tonic, sipped as the sun disappears.
Return to the camp and your private dinner.
Accommodation: Elewana Tortilis Camp (B, L, D)
Day 4 - Amboseli/Loisaba
After breakfast enjoy a morning game drive, then depart for the airstrip. Take a SkySafari flight to Loisaba Conservancy. On arrival enjoy a game drive to Loisaba Tented Camp arriving in time for lunch.
The contemporary-luxe Elewana Loisaba Tented Camp – perched on an escarpment, with unhindered views to Mt Kenya offers excellent game activities including drives, mountain biking and rafting. Or learn about the cutting-edge conservation and the extraordinary work being done here.
Spend the afternoon on a game drive. Loisaba Conservancy, Laikipia has great game and the groundbreaking attitude to conservation makes it one of the most exciting destinations in Kenya. The landscape of rolling river valleys, rich forests, and open plains is home to the 'Big Five' – Lion, Elephant, Rhino, Buffalo and Leopard – as well as endangered rarities like wild dog and more than 260 species of birds.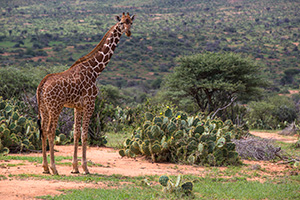 The rare Reticulated Giraffe on a Game Drive. Photo by Mario Moreno.
Solar power provides 24-hour green energy and the camp. The camp's infinity pool offers the ultimate in relaxation after your safari.
After dinner at the camp, prepare for a restful night's sleep.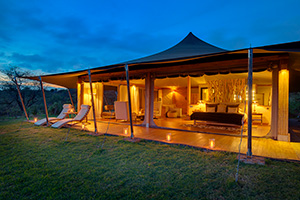 Loisaba - Spacious Luxury Tents. Photo by Mario Moreno.
Accommodation: Elewana Loisaba Tented Camp (B, L, D)
Day 5 - Loisaba Conservancy
This mornings game activity will be a walking safari, led by local, traditional Samburu Guides. Return toe the camps for breakfast.
The two permanent rivers and abundant permanent springs make Loisaba attractive to wildlife throughout the year and the conservancy is home to about 50 mammal species and more than 260 birds.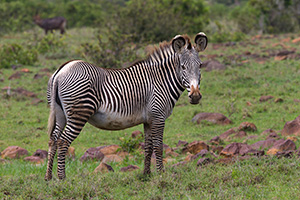 Northern Kenya is the best place to see Grevy's Zebra. Photo by Mario Moreno.
After a spa treatment and lunch at the camp, enjoy an afternoon game drive or visit the conservancy headquarters to see the extraordinary work being done here and meet the sniffer dogs and the anti-poaching team to find out how they safeguard the wilderness.
After dinner, for the ultimate unwind, sink into the camp's infinity pool before a good night's sleep.

Why not sleep under the stars tonight? A Star Bed at Loisaba.
Accommodation: Elewana Loisaba Tented Camp (B, L, D)
Day 6 - Loisaba/Maasai Mara
After breakfast depart on a game drive en-route to Loisaba airstrip for your SkySafari flight to the world-famous Maasai Mara. On arrival enjoy a game drive en-route to Sand River Maasai Mara Camp.
At Elewana Sand River Masai Mara Camp you'll feel a little bit movie star at this opulent 1920s-style camp, with its dark wood, draped four-posters and antique furnishings adding bygone glamour to the bush. Even better is the camp's location, on the banks of the serene Sand River: you might spot herds of ungulates crossing from the comfort of your own verandah.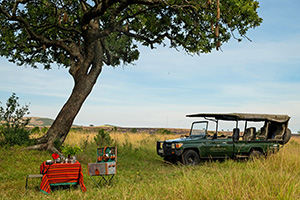 Picnic in the Bush
After lunch, explore the Maasai Mara on an afternoon game drive with a stop for cocktails (sundowners) in the bush. Nowhere in Africa is wildlife more abundant than the magnificent Maasai Mara.
While the seasonal migration of two million wildebeest, zebra and gazelle crossing from the Serengeti is one of Mother Nature's greatest spectacles, the resident wildlife – from 450 species of bird to the 'Big Five' – makes it one of the best safari spots year round. Then return to base for dinner at the camp.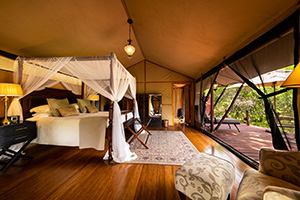 Luxury Tent at Sand River
Accommodation: Elewana Sand River Masai Mara Camp (B, L, D)
Day 7 - Maasai Mara
Have an early breakfast at the camp before setting out on a full day game drive. A picnic hamper lunch will be served in the bush.
The Mara will never disappoint. The animal encounters – often so close you hardly dare breathe – are just too good. Head further afield, in the camp's custom-designed 4WDs, with expert Maasai guides, to look for roaming elephants and lions.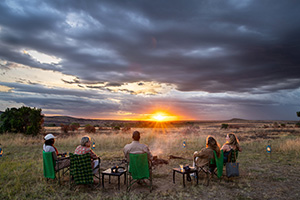 Sundowners at Sand River
Then return to camp for a private table, set up in the wilderness, for dinner under the stars.
Accommodation: Elewana Sand River Masai Mara Camp (B, L, D)
Day 8 - Maasai Mara/Serengeti
After breakfast transfer to Keekorok airstrip for your SkySafari flight to Kisumu to Lobo or Seronera (depending on the season) via Musoma and Tarime to clear immigration.
Drive to the Elewana Serengeti Pioneer or Migration Camp where you will have lunch.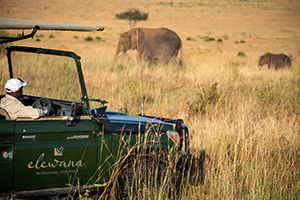 Looking for wildlife on safari
Your accommodation in the Serengeti depends on the season. You might experience the luxurious bygone style tents of Elewana Serengeti Pioneer Camp perched on a kopje (hill) in the southern Serengeti. As well as being surrounded by immense wildebeest herds for most of the year, the area is rich in unusual rock formations and prehistoric paintings while nearby Lake Magadi is usually flush with flamingos.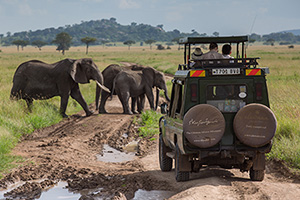 On a Game Drive at Serengeti Pioneer Camp
Alternatively, bed down in the sophisticated stilted tents of Elewana Serengeti Migration Camp, further north. This peaceful part of the park sees few other visitors; you'll feel you've arrived in your own private wilderness. The variety of wildlife here is remarkable, the drama intense, especially when the migration passes through. The camp is perfectly placed for watching the herds cross the Mara River.
Enjoy an afternoon game drive in the Serengeti National Park followed by dinner at the camp.
Accommodation: Elewana Serengeti Pioneer/Migration Camp (B, L, D)
Day 9 - Serengeti
After breakfast enjoy a full day game drive in Serengeti National Park with lunch served in the bush.
It's hard to sum up the Serengeti. At 14,763 sq km, its scale is too great. And while you can revel in the bigger picture, it's also the place to embrace the individual moments: lions stalking, crocodiles emerging from the river; the gentle movement of elephant; and the vast open spaces. Dinner tonight is served under the stars (weather permitting).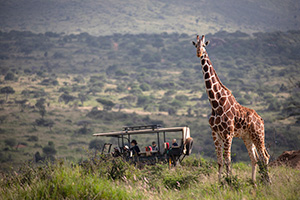 Giant Giraffes spotted on Safari
Accommodation: Elewana Serengeti Pioneer/Migration Camp (B, L, D)
Day 10 - Serengeti/Ngorongoro Conservation Area
Enjoy another full day out in the plains of the Serengeti, with a picnic hamper lunch and sundowner's served in the bush – a quintessential day on safari!
Dinner will be served on return to the camp this evening.
Accommodation: Elewana Serengeti Pioneer/Migration Camp (B, L, D)
Day 11 - Serengeti/Lake Manyara & Ngorongoro Crater
After breakfast at the camp take a game drive en-route to the airstrip for your SkySafari flight to Manyara airstrip.
After lunch and a game drive at Lake Manyara, which brings the opportunity of seeing hippos, baboons bounding and usually, hundreds of flamingoes, drive to Elewana The Manor where you have a relaxing spa treatment followed but dinner and overnight.
Elewana The Manor is possibly the most lavish stop on the safari circuit. From the elegant Cape Dutch-styled cottage, you can visit the surrounding coffee plantations and over the rim to explore the crater bottom.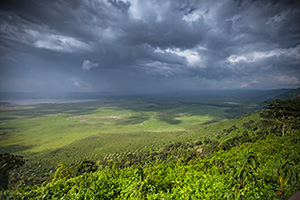 View of Ngorongoro Crater from The Manor. Photo by Silverless.
Accommodation: Elewana The Manor (B, L, D)
Day 12 - Ngorongoro Crater
After an early breakfast set out for a full day Ngorongoro Crater tour.
Descend through the early morning mists 2000 feet / 610 meters to the floor of the Ngorongoro Crater for an awesome wildlife experience. Ngorongoro Crater is the '8th Wonder of the World' - a unique biosphere that has remained virtually unchanged since the dawn of time. It is over 20km wide and 600m deep – a geological marvel and a festival of wildlife.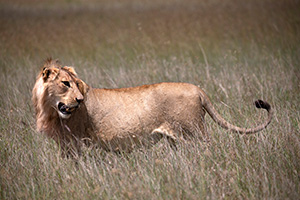 Lion in the Ngorongoro Crater
Home to around 30,000 animals, the highest density of wildlife in Africa, you can watch zebra and buffalo, lounging lions, spotted hyena and good numbers of black rhino, stopping for a gourmet picnic under the acacias.
Return in the late afternoon for dinner and overnight.
Accommodation: Elewana The Manor (B, L, D)
Day 13 - Ngorongoro Crater/Arusha
After breakfast, breath in the cool, highlands air before lifting off from the airstrip on your flight to Arusha Airport.
On arrival you will be met and transferred to Elewana Arusha Coffee Lodge, where you can relax in your own dayroom, before your transfer to Kilimanjaro Airport for your flight home.
Return home with a lifetime of memories! (B)
Add-Ons
Gorilla Trekking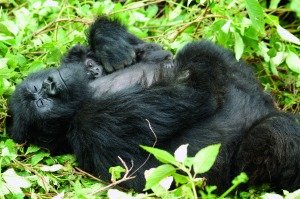 We suggest you enhance this once in a lifetime trip with a moving and poignant visit with endangered Mountain Gorillas. A 4-night extension to Rwanda to participate in gorilla trekking is highly recommended. See our Gorillas of Rwanda itinerary for more details.
Azure Zanzibar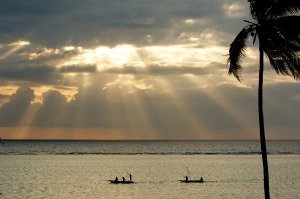 Zanzibar is the perfect post-safari beach destination, with its white sandy beaches, azure waters and alluring culture. Check out our Azure Zanzibar itinerary or speak to one of our Africa Specialists for more information.
Prices are per person in US Dollars, for land arrangements only, based on double occupancy accommodations. Based on a minimum of 4 passengers to operate. 
---
2021
---
US$17000 per person based on double occupancy
US$3700 single supplement
June 3, 5, 7, 19, 27
---
US$19000 per person based on double occupancy
US$4000 single supplement
July 5, 17, 31
August 2, 4, 12, 14, 16
September 9, 11, 13, 27
October 1, 9, 15, 23, 29
---
US$17000 per person based on double occupancy
US$3700 single supplement
November 6, 12, 20, 26
December 4, 10, 18, 24, 30
Inclusions:
All services as specified
Light aircraft transfers in a Cessna Caravan for SkySafari guests only – operated on a carbon-negative basis: Nairobi/ Amboseli/ Loisaba/ Maasai Mara/ Kisumu/ Musoma/ Serengeti/ Manyara/ Arusha
Meals and accommodation as listed in the itinerary
Game activities as specified in the itinerary in specially adapted 4x4 game drive vehicles
Mineral water, soft drinks, juices, tea/coffee, beer, house wines and selected spirits
Laundry service at all camps
Ground transportation in luxury air-conditioned vehicles
Activities specified e.g. spa massage treatments
Medical Emergency Evacuation insurance
Tips for porters, drivers, guides and lodge/camp staff
Lion World Representative Meet and Greet upon arrival with VIP fast track at Nairobi and Kilimanjaro Airports
Exclusions:
International flights and associated fuel surcharges and taxes
Items of a personal nature such as laundry in Nairobi, telephone calls, etc.
All other services not mentioned
Additional unspecified game/other activities
Cost of obtaining passport and/or visas
Trip Cancellation, Interruption and/or Medical Insurance – please note that insurance for this trip is a mandatory requirement from suppliers in Africa – proof of insurance must be provided before bookings are confirmed. It is your personal responsibility to ensure you have sufficient travel insurance coverage from the provider of your choice. Please let your Africa Specialist know if you would like information on this.
Baggage
Click here for airline baggage restrictions.
Baggage allowance: SkySafari flights have a slightly higher luggage allowance, with baggage restricted to 20kg/44lb per person for a suitcase, plus 2kg/4.4lbs for hand luggage (this includes camera equipment). Soft-sided luggage or duffels are preferable to hard luggage for storage on safari vehicles and on aircraft used within East Africa. Large suitcases of dimensions greater than 24" x 17"x 7" are impossible to store in vehicles and on aircraft and should not be used. (Baggage and personal effects are at owner's risk throughout the tour and baggage insurance for members is strongly recommended).
*Prices in USD, based on double occupancy, restrictions apply
Speak to an Expert
1-800-387-2706