Summary

Itinerary

Pricing

Options

& Add-ons
Discover East Africa - Land Only - From US$4799
Discover diverse landscapes and wildlife in Tanzania and Kenya on this popular safari.
Trip Highlights
Nairobi | Maasai Mara | Lake Nakuru | Amboseli | Lake Manyara | Ngorongoro Crater | Serengeti | Tarangire
Experience
Sleeping in a luxury tent in the Maasai Mara
Remarkable views of Mount Kilimanjaro
Huge numbers of African wildlife roaming free in their natural environment
Explore
Endless plains of the Maasai Mara and Serengeti
Lake Nakuru's rhino sanctuary
An ancient caldera teeming with wildlife
Learn
About Africa's incredible flora and fauna
About Maasai culture and customs
Choice
At Additional cost:
A balloon safari as you soar over expansive reserves
Interactions with the local Maasai on a visit to a Maasai village
---
PCR Testing – we can't take the test for you, but we've got the where and how covered!
Most countries and airlines require proof of a negative Covid PCR test. As your safari experts, we know their requirements and will take care of scheduling tests during your travels in Kenya and Tanzania, so that it's conveniently planned into your itinerary and taking into consideration that results take between 24-72 hours. Tests cost between $100 and $330 per person, per test including transport to the testing facility. Your Africa Specialist will give you more information as it relates to your itinerary.
---
Day 1 - Arrive Nairobi
On arrival in Nairobi you will be met by a Lion World Travel representative and transferred to the Panafric Hotel. You will be assisted with checking in at your hotel and given a brief for the safari ahead.
Sarova Panafric Hotel is located just 11 miles from Jomo Kenyatta International Airport, amidst beautifully landscaped gardens in a quiet suburb of Nairobi, Sarova Panafric offers 162 rooms which were all recently refurbished and decorated in a contemporary vibrant African style.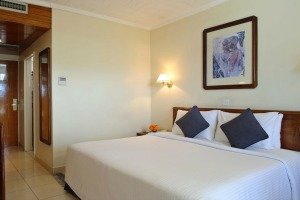 Room at Sarova Panafric
Accommodation: Sarova Panafric Hotel Nairobi – Standard Room
Day 2 - Nairobi/Maasai Mara
After breakfast, you will be driven to world-famous Maasai Mara National Reserve, backdrop to 'The greatest wildlife spectacle on earth', the annual migration of over one million wildebeest.
The Maasai Mara National Reserve is an extension of Serengeti National Park. Named for the Maasai tribespeople (the traditional inhabitants of the area) and the Mara River which divides it, it is famous for its exceptional population of wildlife.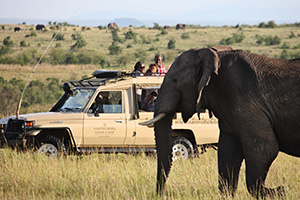 Maasai Mara Game Drive
Arrive in time for lunch followed by an afternoon game drive on safari in Kenya's most popular reserve. Return to camp in time for a swim, a hot shower, campfire cocktails and dinner in the luxurious central restaurant.
The 4-star Sarova Mara Game Camp is in the heart of the Maasai Mara Game Reserve. The Camp is uniquely laid out over rolling manicured grounds filled with indigenous shrubs and exotic trees, a large pond stocked with fish, mini bird sanctuary and an authentic Maasai village adjoining the camp.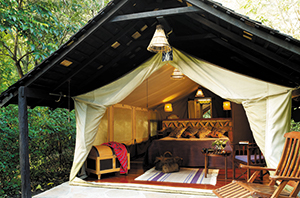 Safari Tent at Mara Camp
Sleeping in the Maasai Mara is truly an exciting experience. Sarova Mara Game Camp offers spacious canvas luxurious "tents" with large "windows", wooden flooring and a permanent roof. All have en-suite bathrooms, hot and cold running water and showers, and are equipped with a fully stocked mini bar, and hairdryers. Large wooden decks offer a place to relax outside your own tent, enjoy a wonderful view and listen to the orchestra of rasping cicadas, croaking tree frogs and the intermittent call of birds and monkeys.

Interior of Safari Tent
Accommodation: Sarova Mara Camp – Standard Tent (B, L, D)
Read More
Day 3 - Maasai Mara
Spend the day on safari in one of Africa's richest wildlife viewing arenas with morning and afternoon game drives. The Maasai Mara National Reserve offers wonderful scenery of breathtaking vistas, panoramas of vast rolling plains, hills and woodland groves, well watered by the lovely Mara River.
The Mara is home to the largest population of lions in Kenya; these magnificent predators spend most of the day sleeping in the shade of Acacia Trees. The waters of the Mara River are home to crocodiles and pools of hippo, while the woodlands and forests are favored by leopard and elephant. The open savannah areas play host to the plains' game.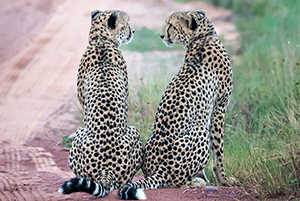 Cheetahs in Kenya
You may choose an optional visit to a Maasai village, a fantastic cultural experience (own account).
Spend the evening at the lodge where colorful Maasai dance and cultural performances are offered.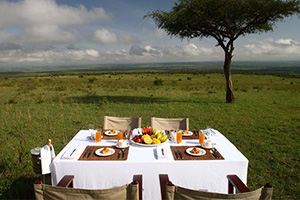 Outdoor Dining in the Mara
Accommodation: Sarova Mara Camp – Standard Tent (B, L, D)
Day 4 - Maasai Mara/Lake Nakuru
After an early morning breakfast, bid farewell to the dotted plains as you drive to Lake Nakuru which is the most famous of the Great Rift Valley lakes and home to both black and white rhinos.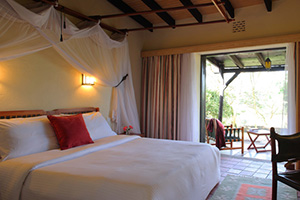 Sarova Lion Hill Lodge
Arrive in time for lunch at Sarova Lion Hill Lodge. Sarova Lion Hill Game Lodge is nestled along the Lion Hill overlooking the spectacular Lake Nakuru. Its location affords panoramic views of the lake and the picturesque Lake Nakuru National Park.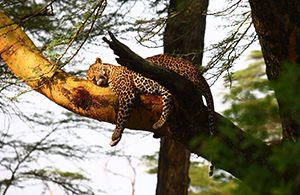 Leopard at Lake Nakuru National Park
Spend the afternoon on safari in Kenya's first and largest rhino sanctuary where sightings of both black and white rhino are almost guaranteed and where you have a higher than average chance of spotting a leopard. Other wildlife includes; lion, hippo, the rare Rothschild's giraffe, Colobus monkey, numerous plains game and 450 species of birds.
Accommodation: Sarova Lion Hill Lodge – Standard Room (B, L, D)
Day 5 - Lake Nakuru/Nairobi/Amboseli
After breakfast, drive to Nairobi arriving in time for an early lunch at a local restaurant.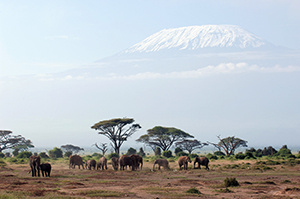 Kilimanjaro from Amboseli
After lunch drive through the scenic Athi Plains and into the bush country of Amboseli National Park, home to the legendary Maasai tribesmen and famous for huge herds of Elephant. In addition to Elephant, Antelope, Zebra, Wildebeest, Buffalo and the elusive Leopard, nearly every vista within the Park is framed by majestic Mount Kilimanjaro in the distance. Set against the magnificent backdrop of Africa's highest mountain, the glittering Mount Kilimanjaro, Amboseli Serena Lodge enjoys a uniquely privileged position at the heart of this world-famous national park.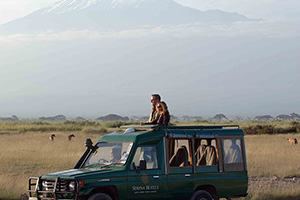 Amboseli Game Drive
At the center of 'Maasailand', the lodge's décor reflects the brilliant primary colors and iconic shapes representative of these legendary warriors. Each room is housed in a single-story building opening directly on to the grounds, each reflecting a Maasai manyatta theme: each with its own hand-painted wall frescos. All rooms have telephone and Wi-Fi connectivity, 24-hour room service, bathrobe and slippers, hair dryers and safes.
The central dining area is reached by a timbered bridge over a melt-water stream, while the lounge and bar feature a broad terrace and a blazing fire-pit where evening cocktails can be enjoyed.
Accommodation:  Amboseli Serena Lodge – Standard Room (B,L,D)
Day 6 - Amboseli
Enjoy morning and afternoon game drives where photographic opportunities are incredible, with plentiful game and Mt. Kilimanjaro (the highest freestanding mountain in the world) providing an impressive and majestic backdrop.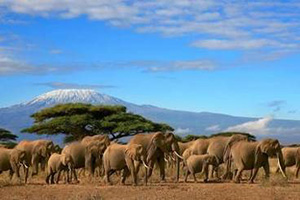 Amboseli Elephants
Amboseli, meaning "salty dust" in Maasai, is a place of stark contrast. Despite Amboseli's sometimes dry and dusty appearance, it has an endless supply of water filtered through thousands of feet of volcanic rock from Mt. Kilimanjaro's snow melt.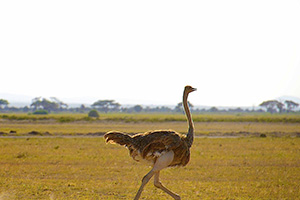 Ostrich in Amboseli
These underground streams converge into clear fresh water springs in the heart of the park. The powder like dust is volcanic ash, which was thrown from Kilimanjaro millennia ago.
An amazing spectacle of Amboseli is the shimmering dry lake bed where false mirages of populated horizons, punctuated by real herds of zebra and gnu hover in front of you. The main attraction of Amboseli is its vast herds of elephant within the park. The bull elephants here have some of the largest tusks in Kenya.
Accommodation:  Amboseli Serena Lodge – Standard Room (B, L, D)
Day 7 - Amboseli/Lake Manyara
After breakfast, bid farewell to Amboseli as you transfer to the border town of Namanga for customs and immigration. Once through immigration, your driver-guide from Leopard Tours who will be with you for the rest of your journey will take over from your Liberty Africa guide. You will then be transferred to Arusha Town arriving in time for lunch at a local restaurant.
Later, drive to the beautiful Lake Manyara, a shallow alkaline lake that shimmers in a cleft in the Great Rift Valley. Enjoy an evening game drive at Lake Manyara National Park. A small but uniquely diverse national park, Manyara is home to the world-famous tree-climbing lions, thousands of flamingos and nearly 500 species of birds.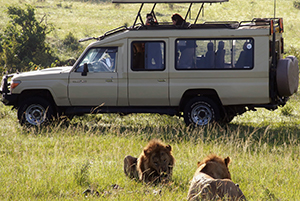 Safari Adventure
It would be difficult to find a more dramatic setting than the 4-star Lake Manyara Serena Lodge which is situated at the edge of an escarpment and overlooks both the Great Rift Valley and the beautiful soda lake of Manyara with its lavish supply of bird life. The lodge offers a unique blend of tranquillity, wildlife discovery, and ornithological richness. The rooms are housed in white-washed 'rondavels' (traditional circular buildings with thatched roofs), which are situated along the edge of the cliff so as to allow for maximum views. Each spacious room has its own small veranda while the interior décor reflects the blue of the lake and the pink of its flamingos. Facilities in the rooms include all the comforts you expect: Telephone and Wi-Fi, mineral water, hairdryers and toiletries, bathrobe and slippers.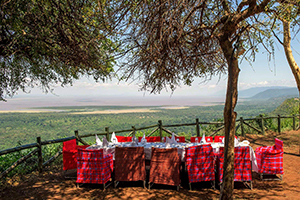 Lake Manyara Safari Lodge
Accommodation:  Lake Manyara Serena Lodge – Standard Room (B, L, D)
Day 8 - Lake Manyara/Serengeti National Park
After breakfast, drive to Serengeti National Park arriving in time for lunch at your lodge. Enjoy an afternoon game drive in the greatest game sanctuary in the world, fantastic in its natural beauty and unequalled in its scientific value. Serengeti National Park contains different types of animals including the big cats, Lion, Leopard, and the Cheetah and many more Elephant and Buffalo. The park covers 5,700 square miles of grassland plains and savanna as well as riverine forest and woodlands. The park lies in the north of the country, bordered to the north by the national Tanzania and Kenyan border, where it is continuous with the Maasai Mara National Reserve.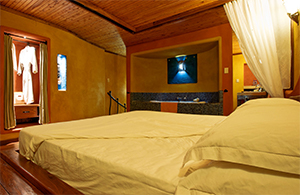 Serengeti Sopa Lodge
Accommodation:  Serengeti Sopa Lodge – Standard Room (B, L, D)
Day 9 - Serengeti National Park
After breakfast, enjoy a full day's game driving with meals taken in true safari style in the bush in the vast and sensational Serengeti.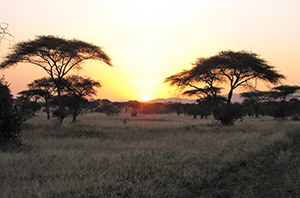 Sunrise Serengeti
Venue for 'The greatest wildlife show on Earth', the annual migration of over one million wildebeest, the park is also renowned for its lions, cheetahs, zebras, giraffes and plains game.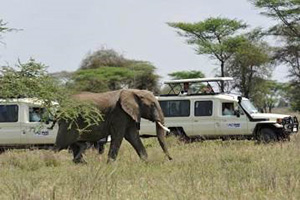 On safari in Africa
Accommodation:  Serengeti Sopa Lodge – Standard Room (B, L, D)
Day 10 - Serengeti/Ngorongoro Conservation Area
Enjoy an early morning breakfast and then depart for Ngorongoro Conservation Area which features rolling plains, lakes, craters, mountains and dormant volcanoes. Journey up the side of the vast Ngorongoro Crater, a World Heritage Site, which is one of the largest volcanic craters in the world, (almost 12 miles wide, 2,000-2,500 feet deep and covering a total area of 165 square miles) stopping en route at Olduvai Gorge. Known as the 'Cradle of Mankind', this is one of the most important prehistoric sites in the world. Pioneered by famous paleontologists Louis and Mary Leakey in the 1950's it offers a glimpse into life two million years ago. You will arrive in time for lunch at Ngorongoro Sopa Lodge.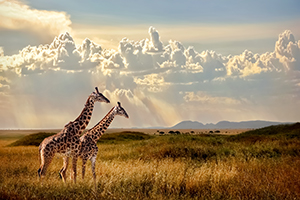 Giraffes on Serengeti
The 4-star Ngorongoro Sopa Lodge is perched on the rim of the Ngorongoro Crater well over 1600 feet above the crater floor where you are rewarded with the most magnificent views over the crater floor and the most spectacular and uninterrupted sunsets.
The lodge is themed around traditionally circular African houses with conical roofs and decorated with examples of artistic traditions by way of rich woodcarvings and sculptures. All the bedrooms are spacious with ensuite bathroom, private lounge and balcony.

Ngorongoro Sopa Lodge
Because of its altitude the lodge can be chilly at night, so each room has central heating; hot water bottles are placed in every bed during the evening turndown service; and the luxuriously appointed bathrooms have extremely spacious showers.
Accommodation:  Ngorongoro Sopa Lodge – Standard Room (B,L,D)
Day 11 - Ngorongoro Crater
After breakfast, descend into the '8th Wonder of the World', a unique biosphere that has remained virtually unchanged since the dawn of time. Enclosed within its towering walls are grasslands, swamps, forests, saltpans, a fresh water lake and a glorious variety of birdlife.
Over 30,000 animals live within this enormous natural bowl, the most densely packed concentration of wildlife in Africa. You should see wildebeest, elephant, lion, dik-dik, and wart-hog, whilst on the lakeside there are pelican, ibis and flamingo. Here too are all the members of the 'Big Five' (lion, elephant, rhino, leopard and buffalo) as well as a large cast of plains game and one of Africa's densest populations of predators. Enjoy a picnic lunch on the crater floor before climbing back up to the lodge in time for relaxation before dinner.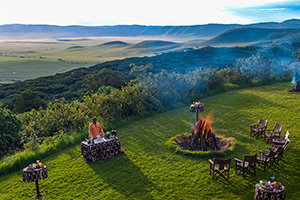 Sundowners at Ngorongoro
Accommodation:  Ngorongoro Sopa Lodge – Standard Room (B, L, D)
Day 12 - Ngorongoro Crater/Tarangire
After breakfast, drive to Tarangire National Park arriving in time for lunch at Tarangire Sopa Lodge. The park is well known for its huge herds of elephant and buffalo, as well as lion, cheetah and leopard. With its varied habitats and the constant water areas, the park hosts a large diversity of wildlife; 94 species of mammals and over 500 bird species.
After enjoying a leisurely game drive between herds of wild animals and along miles of Africa's seemingly endless roads, you come over a slight rise and the lodge appears almost immediately below you.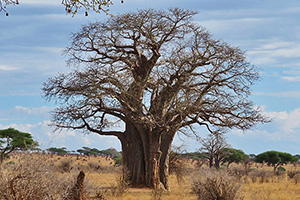 Baobab Tree at Tarangire
Built to blend in with the vastness of its surroundings, the 4-star Tarangire Sopa Lodge lies hidden among the kopjes, ancient baobab and grasses of the Tarangire National Park - home to the greatest concentration of elephants in Africa.
When you arrive, you are immediately aware of the large and spacious main lobby, with its cool marble floors and high vaulted ceilings. From here a short flight of steps takes you up a level and into the lounge and bar with floor to ceiling windows, an outdoor terrace where you can enjoy a drink at sunset.
The circular guest suites offer a sense of space and airiness, and wonderful views from their sheltered veranda. All suites have mosquito nets, private lounge with a mini bar and an extremely spacious, well-appointed bathroom.
Accommodation:  Tarangire Sopa Lodge - Standard Room (B, L, D)
DAY 13 - Tarangire/Arusha/Kilimanjaro/Depart
After breakfast, drive to Arusha town in time for lunch at a local restaurant.  Thereafter transfer to Kilimanjaro International Airport in time for your departure flight. Bid farewell to Africa until the next time. (B, L)
Add-Ons
Gorilla Trekking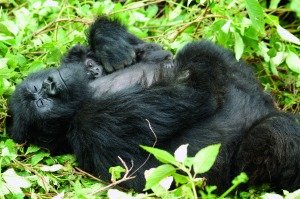 We suggest you enhance this once in a lifetime trip with a moving and poignant visit with endangered Mountain Gorillas. A 4-night extension to Rwanda to participate in gorilla trekking is highly recommended. See our Gorillas of Rwanda itinerary for more details.
Azure Zanzibar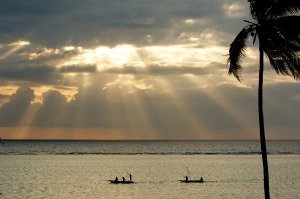 Zanzibar is the perfect post-safari beach destination, with its white sandy beaches, azure waters and alluring culture. Check out our Azure Zanzibar itinerary or speak to one of our Africa Specialists for more information.
---
OPTIONAL EXCURSIONS
---
Maasai Village
A visit to a local Maasai village is always an interesting cultural experience as you meet this pastoral tribe and learn about their day-to-day lives.
Hot Air Balloon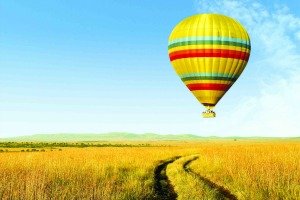 Enhance your safari with a peaceful and scenic view over the Maasai Mara in a hot air balloon. Speak to your Africa Specialist for more information.
Prices are in US Dollars and are per person based on double occupancy accommodations. Based on a minimum of 4 passengers to operate.
---
---
US$5499 per person based on double occupancy
US$950 single supplement
January 20
February 16
---
US$4999 per person based on double occupancy
US$900 single supplement
March 15
---
US$4799 per person based on double occupancy
No single supplement based on limited availability
April 12
May 17
---
US$4999 per person based on double occupancy
US$950 single supplement
June 14
---
US$5799 per person based on double occupancy
US$950 single supplement
June 28
---
US$5899 per person based on double occupancy
US$1090 single supplement
July 12, 26
August 1, 9, 23
September 5, 13
---
US$5899 per person based on double occupancy
US$950 single supplement
September 27
October 11, 16, 25
---
US$4999 per person based on double occupancy
US$750 single supplement
November 1, 8, 22
December 6
Inclusions:
All land transport and game drives in a chauffeur driven minivan in Kenya & 4x4 vehicle in Tanzania both with pop-up roofs for easy game viewing & photography, with an English-speaking driver/guide
Accommodation as specified
Meals: 12 breakfasts / 12 lunches / 11 dinners
All park fees
All government taxes
Lion World Travel Representative Meet & Greet upon arrival
Exclusions:
All international and domestic flights and associated fuel surcharges and taxes
Telephone bills, laundry and any items of a personal nature
Drinks, dining room tips, porterage
Any item not specified above
Costs of Passports and Visas
Driver/Guide gratuities
Trip Cancellation, Trip Interruption and Medical Insurance are required – please note that insurance for this trip is a mandatory requirement from suppliers in Africa – proof of insurance must be provided before bookings are confirmed. It is your personal responsibility to ensure you have enough travel insurance coverage, for the entire duration of your travels, from the provider of your choice. Please let your Africa Specialist know if you would like information on this.
Baggage
Click here for airline baggage restrictions.
Baggage allowance: Baggage is restricted to 15kg/33lb per person including hand luggage (this includes camera equipment) on safari vehicles as well as on any domestic flights, as space is limited. Soft-sided luggage or duffels are preferable to hard luggage for storage on safari vehicles and on aircraft used within East Africa. Large suitcases of dimensions greater than 24" x 17"x 7" are impossible to store in vehicles and on aircraft and should not be used. (Baggage and personal effects are at owner's risk throughout the tour and baggage insurance for members is strongly recommended).
*Prices in USD, based on double occupancy, restrictions apply
Speak to an Expert
1-800-387-2706
TRAVELER TESTIMONIAL
We had an absolutely fabulous time. We lost count of the lions after seeing about 60 — your company lives up to its name! And thanks to our guide, Mau, we got to see the big five.
Everything went off without a hitch and we truly appreciated the hand holding at the airport and border crossing. And the weather couldn't have been better! It was awesome to have the entire tour to ourselves! I can't imagine how busy it is during high season. Both guides were excellent with many years of experience.
Thanks for everything,
Jen M.