World Ranger Day 2021 - Celebrating with Navas at Kadizora Camp in Botswana
July 31, 2021
July 31st is World Ranger Day, and we're venturing into Botswana this year to talk with one of the guides who our Lion World Travel guests may be lucky enough to meet on our Best of Cape Town & Botswana safari. Read on to find out more about Navas!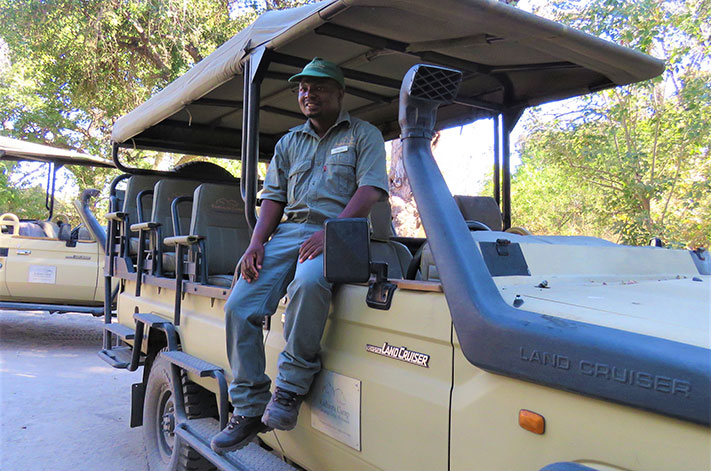 In Conversation with Olathilwe Kamanaga, who goes by the name of Navas
Wildlife is the big draw for going on a safari, but it is the Rangers and Professional Guides who bring things to life with stories of the animals, places and people you come across during your time in Africa. Navas is one Professional Guide we hope you have a chance to meet on a Lion World Travel safari to Kadizora Camp in Botswana.
Navas was born and raised in the Northern Okavango Delta, his home is the small village of Eerthsa, one of the 5 villages that forms the Okavango Community Trust.
Here is his story for World Ranger Day.
As a Professional Guide, you are responsible for guests at Kadizora Camp in Botswana. Tell us how your guiding career began.
Navas: I started my career as a Specialist Guide in 2012. A Specialist Guide in Botswana is qualified to guide guests in a mokoro, this is an iconic delta activity. It is a replica of a dugout canoe roughly 6 meters (19 feet) long. The Specialist Guide (also called a poler) stands at the back of the mokoro and uses a pole (Nkashi) to punt and direct the canoe. It can traverse in very shallow water as it has a flat bottom. As a Specialist Guide I would spend a lot of time with guests, sharing information and interesting facts with them as we explore the delta.
In Botswana, what does it take to become a Professional Guide?
Navas: To achieve Professional Guide certification in Botswana, additional schooling, experience and training is required. From starting as a Specialist Guide, I had my sites on becoming a Professional Guide and studied further. In 2013 I qualified as a Professional Guide and have been a guide for 9 years now.
What inspired you to choose this career?
Navas: My inspiration to follow a career as a guide was a natural choice, I was born and raised in the Okavango Delta, I was interested in the outdoors and nature as a young boy. What could be better than making a career in the beautiful Okavango Delta, sharing knowledge of the fauna and flora, meeting people from all parts of the world. The bush is my office and I enjoy sharing it with guests and teaching people about beautiful Botswana.
A hippo near Kadizora Camp in the Okavango Delta
What's your favorite part of the job?
Navas: My favourite interest in guiding is walking safaris. Along the way you will get the chance to learn about different details in the environment and the smaller creatures that are often overlooked when you are on a game drive; like insects, flowers and birds' nests. Although less ground is covered on foot, you still stand the chance of seeing elephants, antelope and other large wildlife.
What makes a Botswana safari special?
Navas: A safari in Botswana is an adventure not to be missed. The Okavango Delta is an oasis in the desert. There is water all year round, a flood arriving in the winter and then summer rainfall, this creates an environment that is sustainable for animals to thrive. Wildlife is free to move - they are not fenced in, the landscapes are varied, flood plains, riverine, forests, savanna, desert areas and ancient pans.
Game drives in Botswana have an element of surprise, we have large areas to cover and difficult terrain to traverse in the flood season. It is exciting, exhilarating and rewarding for both guides and guests.
Do you have any personal tips or words of advice for someone going on their first safari?
Navas: My advice to guests traveling to Botswana would be do some homework of the areas you will be visiting in advance. Pack right, a hat, comfortable walking shoes, sunscreen, warm clothing in the winter, a small torch (flashlight) is always useful, binoculars, a camera, understand our camps are in remote areas and we are off grid. Yes, we do have insects especially in the rainy season, however we supply insect repellent. Feel free to engage with your guide at any time and ask as many questions as you would like to. Point out anything you may see when you're on the move.
Bond with your guide and enjoy the ride.
A luxury tent at Kadizora Camp
Meet the guides of Kadizora Camp, and perhaps Navas, in person on Best of Cape Town & Botswana, now booking 2022 departures.