Today is Reptile Awareness Day!
October 21, 2020
By Leeann Phayre-Mallo
Enjoy this post by our resident reptile lover, Leeann!
October 21st of each year is Reptile Awareness Day. This often much-maligned class of animal includes snakes, lizards, crocodiles, turtles and tortoises.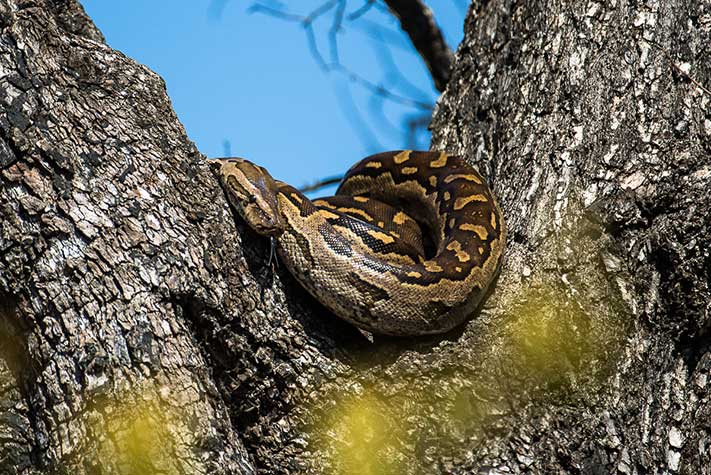 It's fair to say that most people are afraid of these ancient creatures, not surprising when you consider how they are portrayed – think of the House of Slytherin in the Harry Potter movies, or terms such as 'a snake in the grass'. 
Chameleons and tortoises tend to be less frightening and I always ask rangers and trackers to try and find these little guys when we're on game drives. I'm also a huge fan of geckos because they feed on mosquitoes!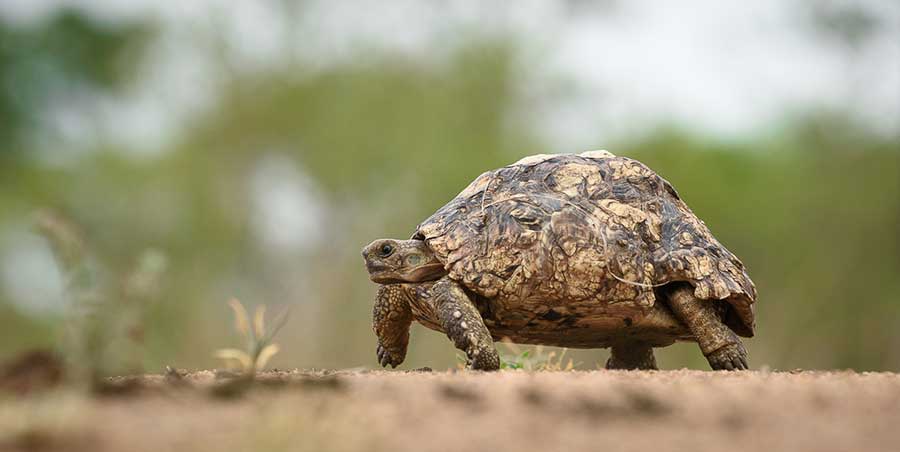 Tortoise in South Africa, from Sabi Sabi
While plenty can be written about many of the reptile family, I'll be concentrating on just three of them in this blog. Despite their scary reputation, reptiles aren't lying in wait to get you, they are inclined to be shy and prefer avoiding humans as much as possible.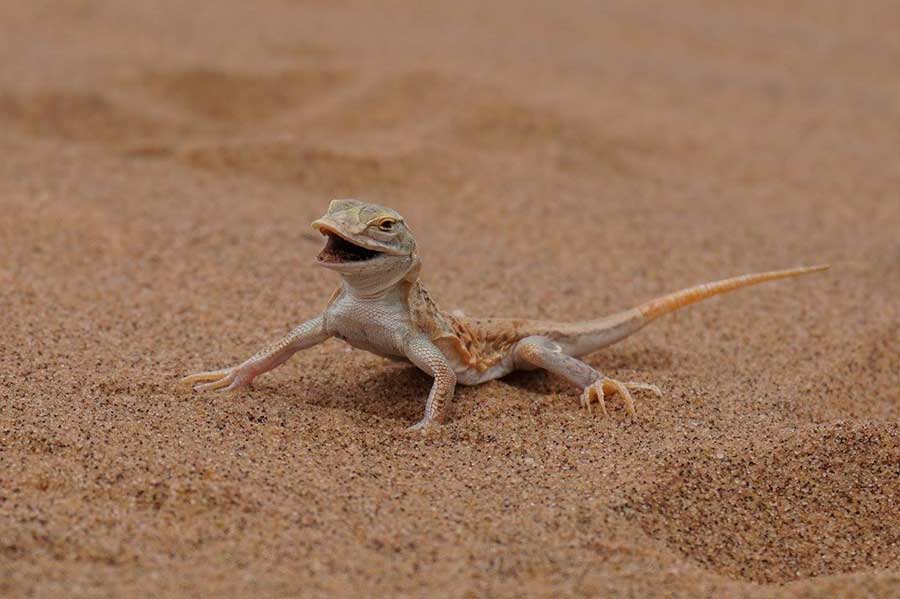 Lizard in Africa, by Andrea Lee
I was on a game drive in the Marakele Game Reserve and as we turned onto one of the dusty roads, our ranger spotted a Mozambican Spitting Cobra warming itself in the sun. This is where having an exceptionally knowledgeable game ranger is so important!  We hung a very respectful 20 or so feet back.  The snake did rear up to have a look at us but assessing that we were no threat, settled down again.  Rather than bother his sunbathing, we backed up and went along a different route and when we returned about an hour later, he was gone.
A relatively unknown fact about snakes is in most of them, only their right lung functions fully – the left one is either very small or non-existent. Also – while you tend to think of snakes as slimy, their smooth scales are dry to the touch.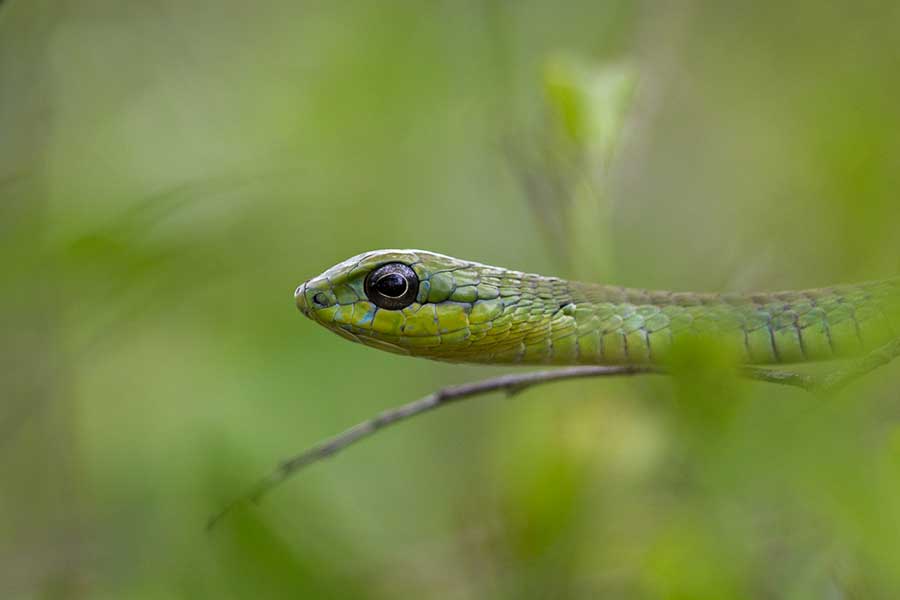 Snake at Sabi Sabi
Did you know that you can find otters in Malawi?  Did you know otters are not lizards?  Of course, you do.  They are not difficult to tell apart, or so you'd think! 
Many years ago, I did a kayaking trip to several small islands in Lake Malawi.  The first island I kayaked to was small enough to swim around and so after the hard work of getting there, and under the beautiful African sun with the call of fish-eagles encouraging me (or so I thought), I decided to do just that.  I was about three quarters of the way around when flipped onto my back to float, relaxing and enjoying the clear open sky.  Righting myself up a few minutes later, I saw what I thought was an otter swimming towards me.  Beyond excited and totally ignoring all the rules that I've followed my whole life about interactions with wild animals, I started to swim towards it.  Four strokes in I realized it was a monitor lizard. To say I'd have left Michael Phelps on the starting block would be an understatement.  I made it to the shore in record time, collapsing in nervous, relieved laughter. 
An impressive Monitor Lizard, from Sabi Sabi
It's important to note that monitor lizards, just like snakes, generally flee from people. I do believe in hindsight, this particular one wasn't actually swimming towards me, but rather to the rocks on the edge of the island where he was later seen warming himself, no doubt shaking his head at my antics – monitor lizards are after all regarded as the most intelligent of all lizards.
The last reptile I'd like to talk about is the chameleon.  I love that these modern-day mini dinosaurs seem so unimpressed with everything. 
It's as if they have much more pressing things going on in their minds and everything else is trivial.  On the game drives that I've been fortunate to have done in the Greater Kruger area, Pilanesberg and KwaZulu Natal game reserves, I've only seen chameleons a handful of times and always at night.  It's easier to find them then as they tend to settle on the ends of branches, curled up waiting for the sun to come up to warm them, and also where it is easy for them to drop down into shrubs and grass to hide from predators.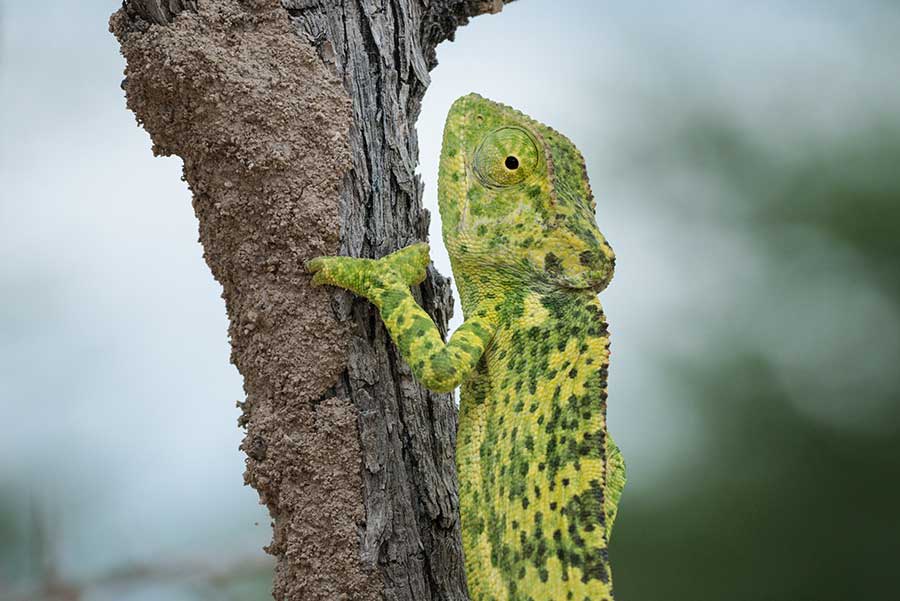 Chameleon by Natural Selection
The Afrikaans word for chameleon is 'verkleurmannetjie' which directly translated means small discolor man.  Chameleon's change color not only to camouflage themselves to protect against predators, but they also change in response to emotions, changes in light, temperature and humidity.  They also use it to communicate, a female can change color to accept or reject a suitor and to show that she is pregnant.  Their eyes can move independently of each other, and they have a full 360-degree view, but did you know they can change focus quickly and, like a camera lens, they can also enlarge what they are looking at.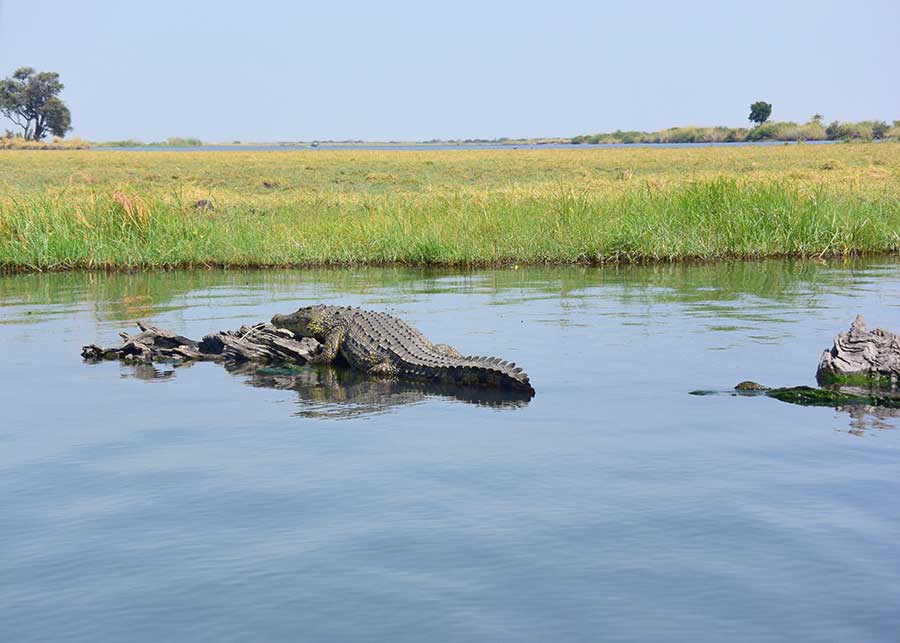 Crocodile in Africa, by Stan Falkenstein
The truth is, in the case of snakes for example, their role in the eco-system is vital. They keep down pesky rodent populations that if left could reduce grazing and food for so many other species. 
Chameleons feed on insects that could also cause damage to crops, impacting not only animals but people too.  And they in-turn all have predators, it's the circle of life.
I hope this blog will encourage you to learn more about reptiles. They may not all be the prettiest of creatures, but they are to be admired, and at the very least respected, for what they are.