A Family Week in Kenya: Our Life-changing Trip with ME to WE
July 28, 2019
By Brett Tollman, CEO, The Travel Corporation (TTC)
This month, some of my family and I were privileged to go on an incredible "purpose driven" trip to Kenya. My wife Miranda, two of our kids Ella (17) and Jake (14), my sister Vicki, her partner Francoise-Eric and my niece Kelley (22) all shared this week of truly life changing memories.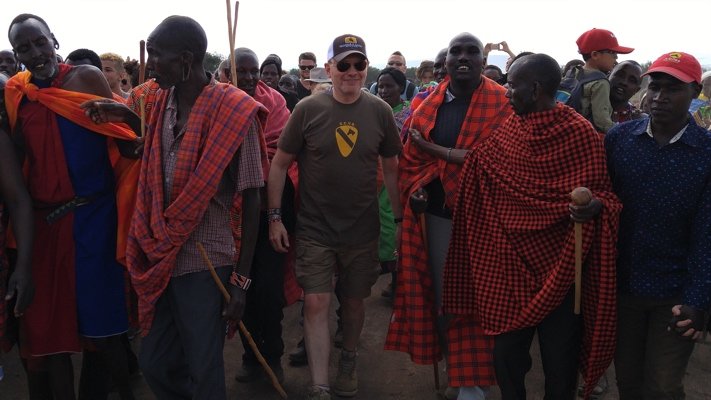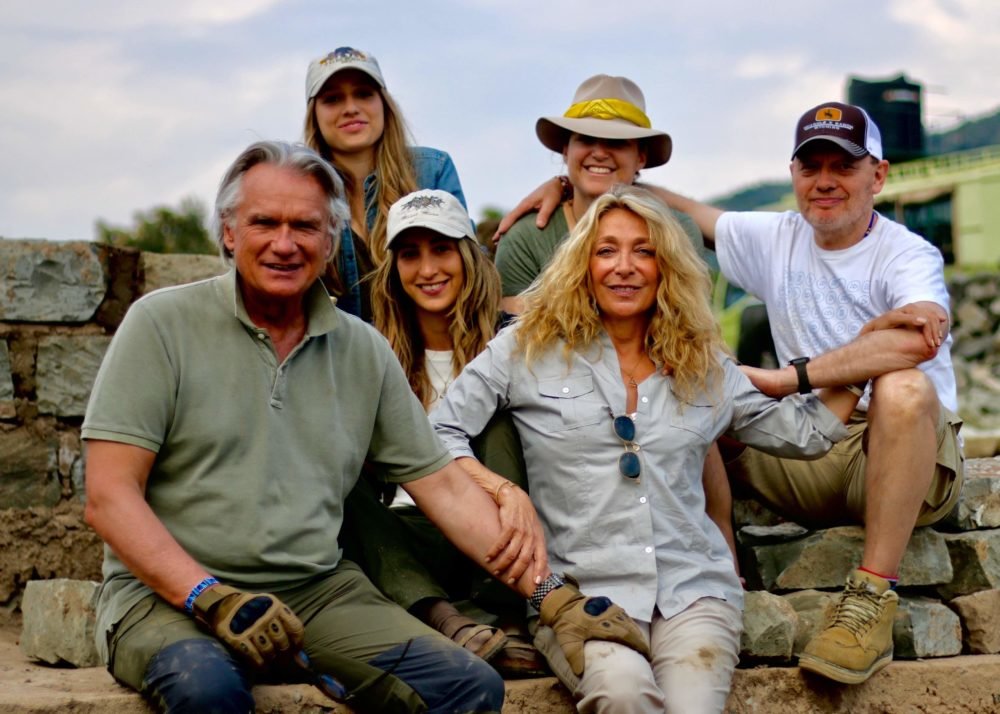 Back left to front right – My Daughter Ella, my niece Kelley, my wife Miranda, myself, Francoise-Eric and my sister Vicki.
It was a remarkable ME to WE trip, guided and organized by Craig and Marc Kielburger, that included other involved and passionate families from Canada and the US, and our friend Spencer West, who is an inspiring, motivational speaker for WE (and has been involved so far in over 70 WE Days). On the trip as well was the actor Jordan Fisher, who recently completed four months in the super hit musical "Hamilton" (a really nice young man). The ages of the other families and guests on the trip ranged from 4 up to 60. We stayed at "Bogani Camp", which WE operates in the middle of the Maasai Mara, with wildlife all around us.
Learning to Make a Difference: Empowering Community Members and Interacting in Daily Life Activities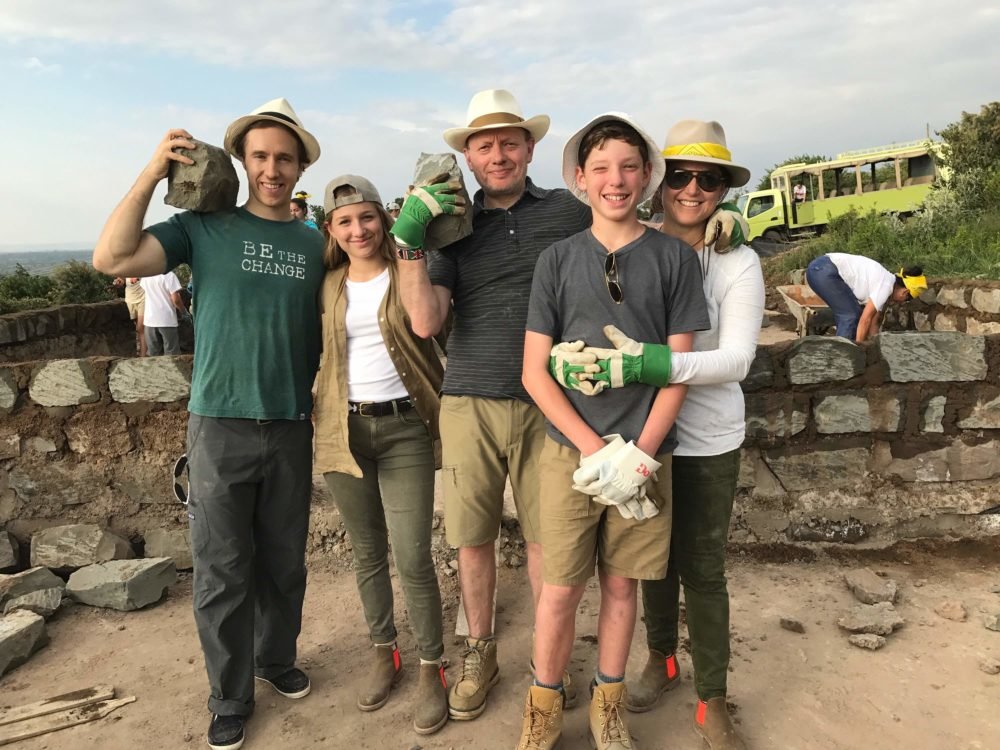 From left to right – the most inspirational Craig Kielburger, my beautiful daughter Ella, myself, my amazing son Jake, and wonderful wife Miranda.
It was a week of learning, exploration, observation and participation. We experienced the itinerary we are promoting and selling for them in Kenya. We also got an in-depth view of the social change that ME to WE has brought to the communities in the Maasai Mara over the past 20 years. They have built schools and clean water wells, provided the first hospital and ambulance service, built farms, helped empower women and are now in the midst of building a college.
The B-Corp activities and sales of WE Charity and ME to WE generate income to provide the capital to build these needed community facilities and operate them, in addition to ongoing generous contributions from people around the world.
The Travel Corporation (TTC) has made what I believe is a very worthy and appropriate commitment to Craig, Marc and the ME to WE organization to continue to support them and sell more of their trips for them. Our family also personally donates to their causes.
Supporting ME to WE's Holistic and Sustainable Development Model
From what we saw in person of the truly astounding work and accomplishments they have achieved in the Maasai Mara, I am more committed than ever to ensure The Travel Corporation (TTC) helps them continue to grow and prosper as a B-Corp charity, to keep on doing the very important work they are doing.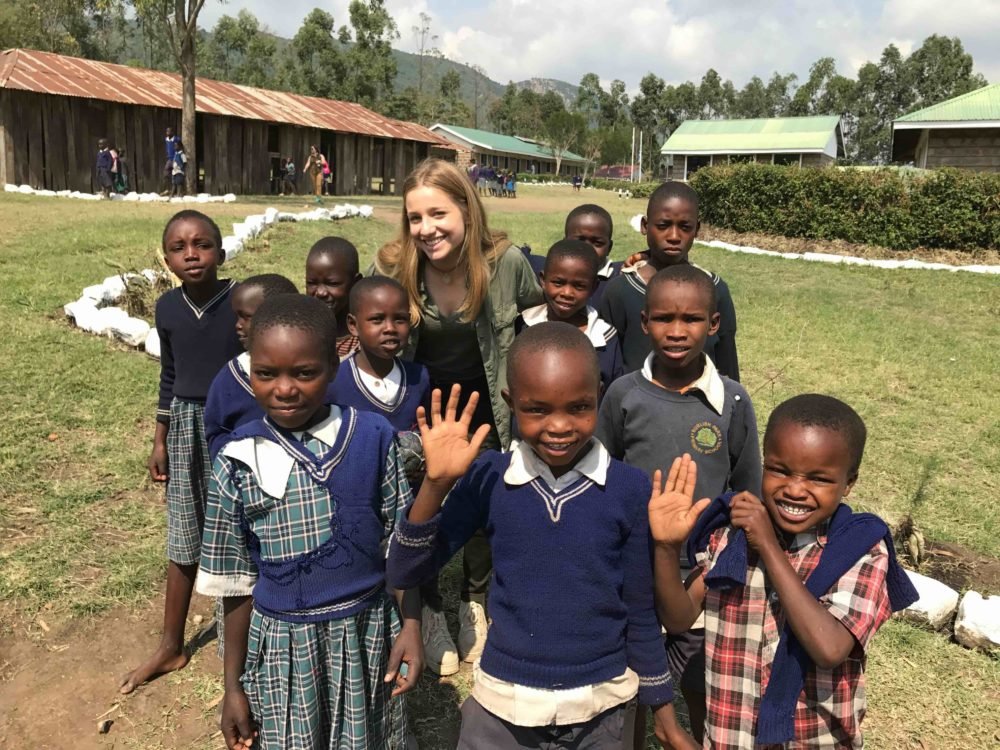 My daughter Ella taking a moving photo with these amazing and talented children.
We saw and visited some of the schools they have built, going back 20 years. They are now doing a multi-year project to build WE College, to teach doctors, nurses, hospitality people, educators and more. Over several days, we helped to build the walls of a dormitory for the young men on that campus. Each school was immaculate, well looked after and completely self sustaining – Marc proudly mentioned the first pre-school they built 18 years ago has now installed solar panels on their own initiative. (Attached are photos of us sitting in an old mud hut class room and one of the new one's they've built, which replaced these dingy, dark and dank rooms, with 70 kids squeezed in – a desk/chair combo we grew up with for one, would accommodate four there.)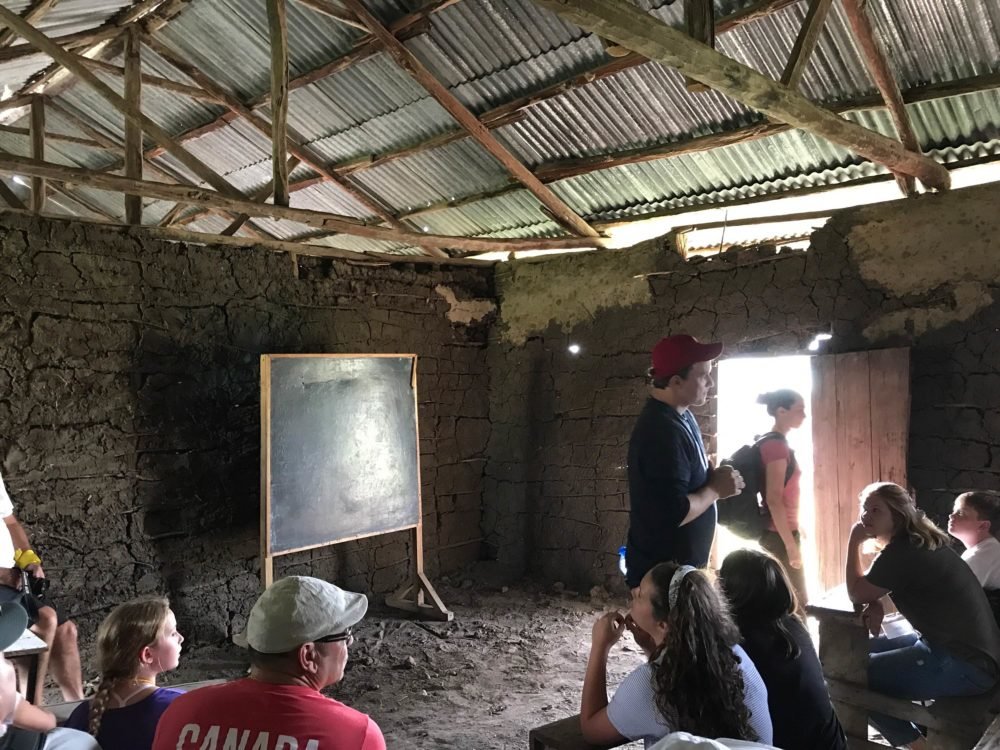 The old classroom.

The amazing and fully upgraded new classrooms!
A very memorable, touching moment for all of us, which so powerfully reminded us how truly lucky and fortunate we are, was a question asked by an 8-year old girl within our group – "if these kids are on winter holiday break right now, why are they still wearing their uniforms?" The answer being because those are the only clothes they have. Yet we saw only big, wide smiles and no sense of self-pity. All of the high school kids that we spoke to excitedly told us of their ambitions to continue on to college and have careers back in the region they are from, to further empower and better their communities.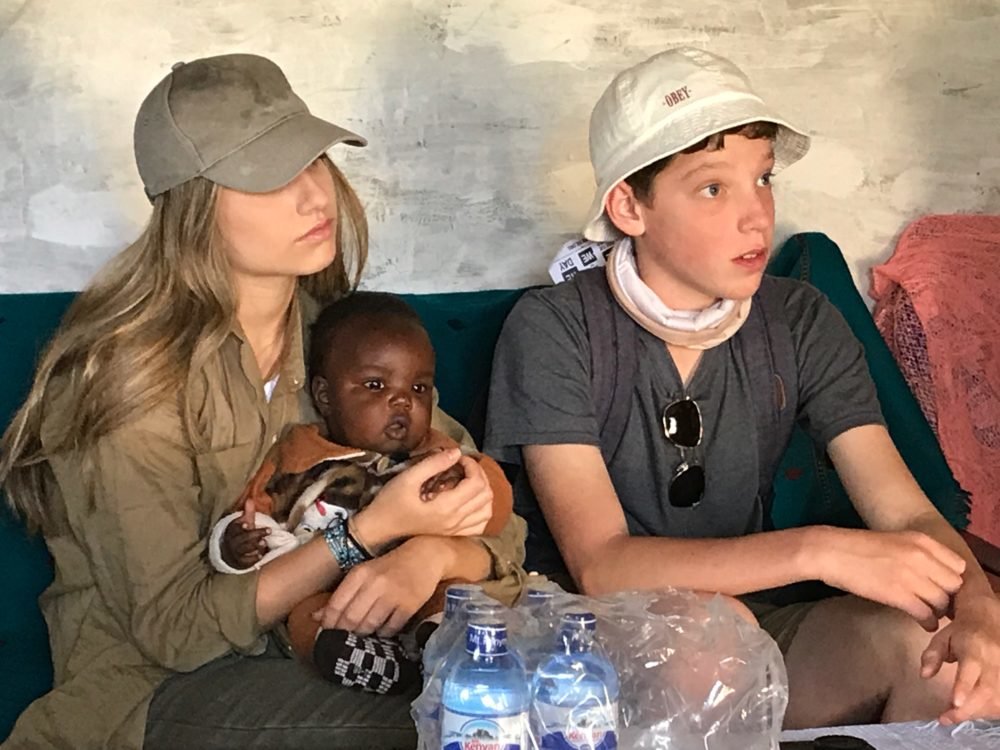 Ella and Jake learning about the local hospital 'Baraka' meaning 'Blessed'.
We visited the local hospital they built over the past several years, "Baraka" (which means "Blessed" in the local language-Swahili) which serves the local community of over 20,000 people. It has delivered over 600 babies this past year with not one fatality (we heard a baby being delivered during our visit, another joyful moment), a radiology room was being installed while we were visiting, and it has clearly made a huge difference to their community - previously one had to be carried several hours by wheel barrow to the nearest road, and then 6 hours to Nairobi by bus to get any medical help. The several ambulances they operate now are a first in the Mara.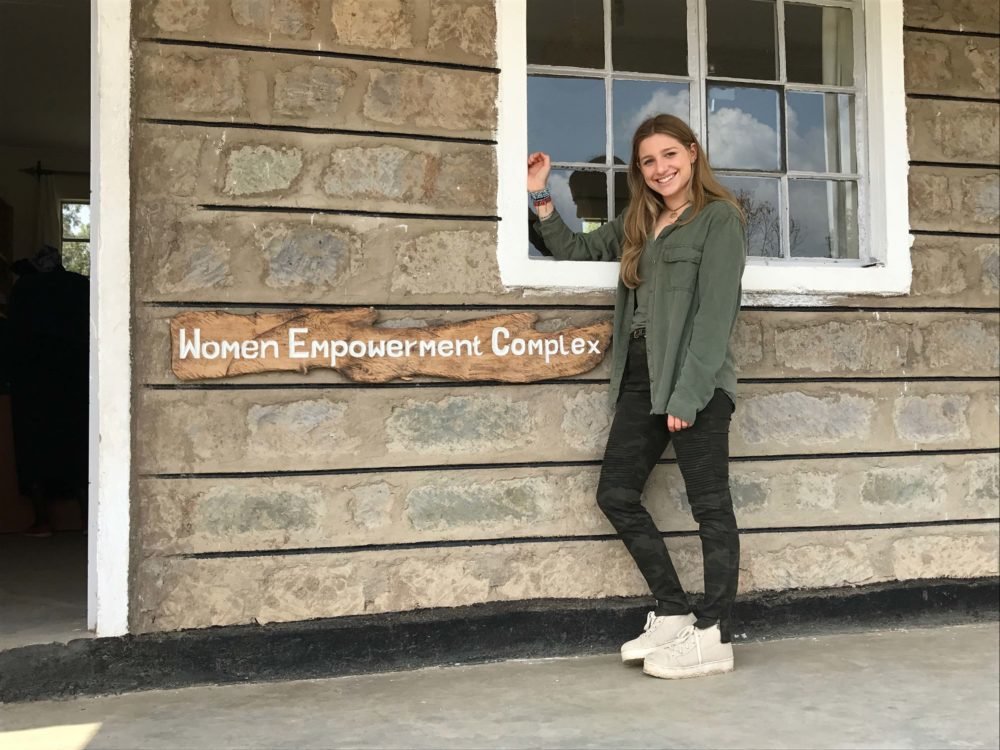 Ella at the entrance of the Women Empowerment Complex.
We visited a women's empowerment center, where women today get to work beading beautiful items and garments, which are sold in many department stores like Nordstrom's, Bloomingdales and Walgreens throughout North America, and online. These sales generate over $15mm in profit a year that goes back into the charity, to help support all their admirable efforts. The women are paid by the piece, which gives them an income to buy or build a home, have more livestock (still so important in all of their communities), helping them to afford school fees for their children and even to pursue their own life goals. One experience that was so powerful to observe, was visiting one of the "Mamas" as they are referred to (in the photos here standing proudly in her house, and with her daughter and my sister Vicki). Mama Jane, a strong and statuesque woman in her late 50's, explained how since the age of 10, she has been carrying 20L (or 50 pounds) – heavy, I can assure you when walking up and down hills for 1-2 miles - plastic drums of water from the polluted river (which in turn made them and their children sick) as drinking water, for their livestock and to water their gardens. At one point during the construction of her modest home, she did this 30-35 times a day! That was all she did all day, starting at 4:00am. (See photos here of us carrying the water to experience it, just once.)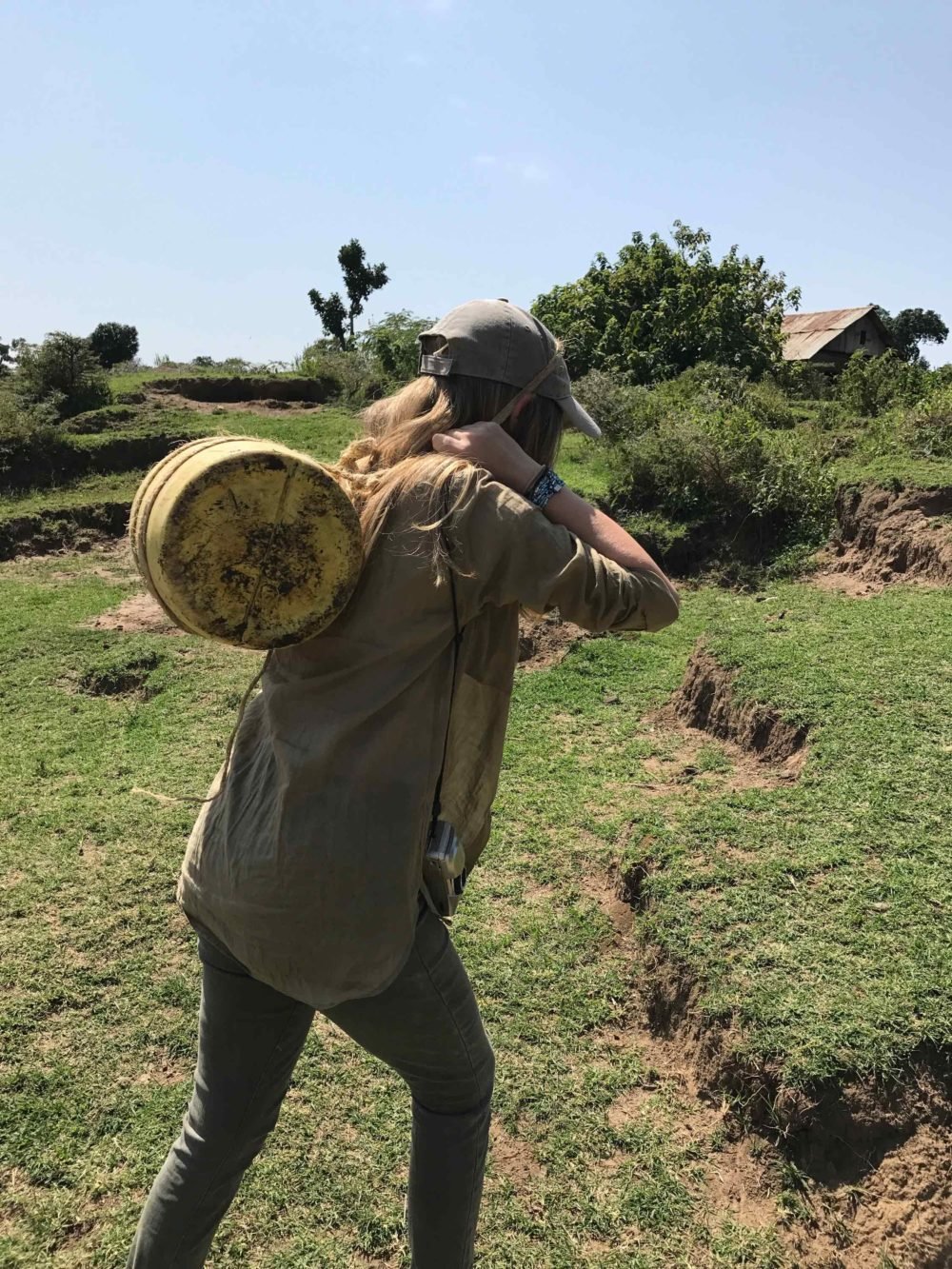 My beautiful niece Kelley has always made an impact to the social and cultural communities she has touched. An incredibly talented and intelligent young woman.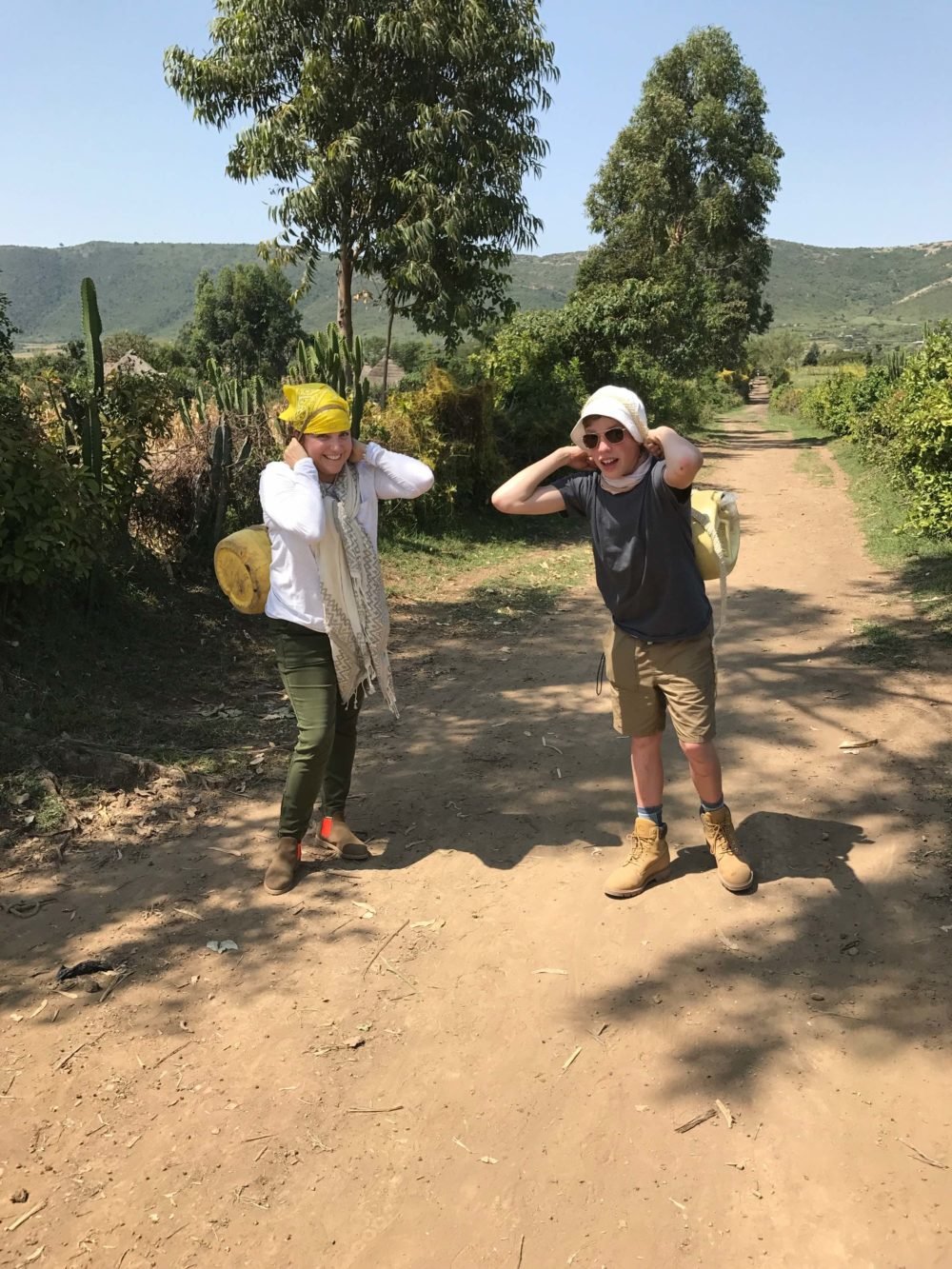 The most incredible woman my wife Miranda, who I am blessed to be with. Truly the driving force behind the amazing qualities that she has instilled in our brilliant and wonderful children.
Today, with WE having installed water wells and clean water filling stations throughout the communities, they no longer get sick, no longer need to do this and can now spend their days earning a living, growing a better diet of vegetables in their garden, and have a reasonable income. In addition, their girls are able to go to school, since they are no longer having to make this long trek to the rivers to fetch water for their families. The pride, self respect and happiness that this amazing woman expressed was unforgettable.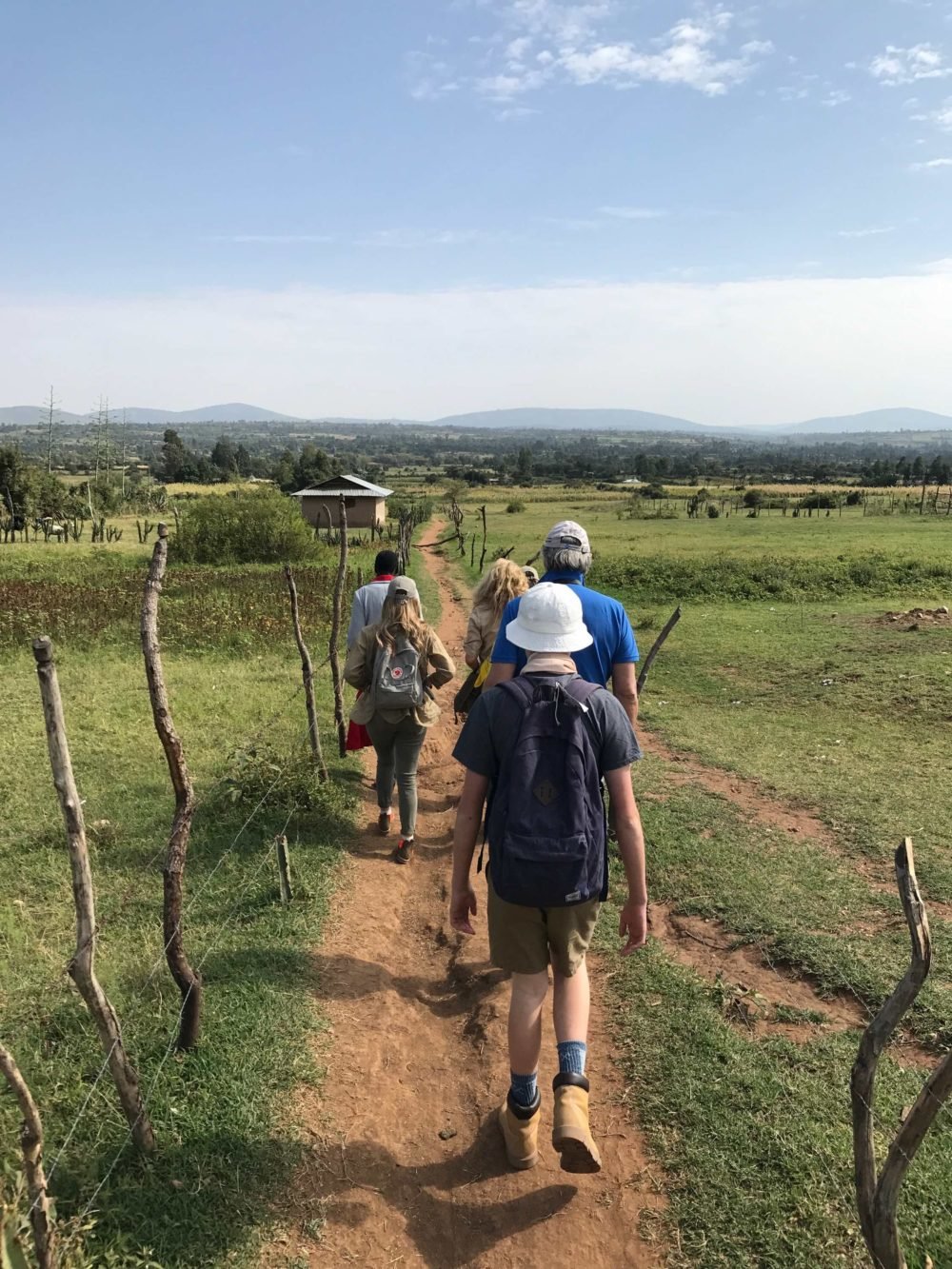 Visiting the 250 acre farm, nurtured to produce year-round organic fruit and vegetables.
We also visited a 250 acre farm they have nurtured over the past several years, that produces year round organic fruit and vegetables (including strawberries, passion fruit, lemons, oranges, papaya, pineapple, broccoli, green beans, aubergine, zucchini, carrots, potatoes, snow peas, tomatoes, and corn) which feeds the community, the schools and Bogani, their camp where we stayed and worked.
Why ME to WE Trips Make a Lasting Impact
We were all blown away – it is a truly sustainable community model they have built, which as they say is all about "giving a hand up, not a hand out" to the people in the communities they are involved with. This entire region of Kenya has been lifted out of despair, and the hope and excitement is palpable.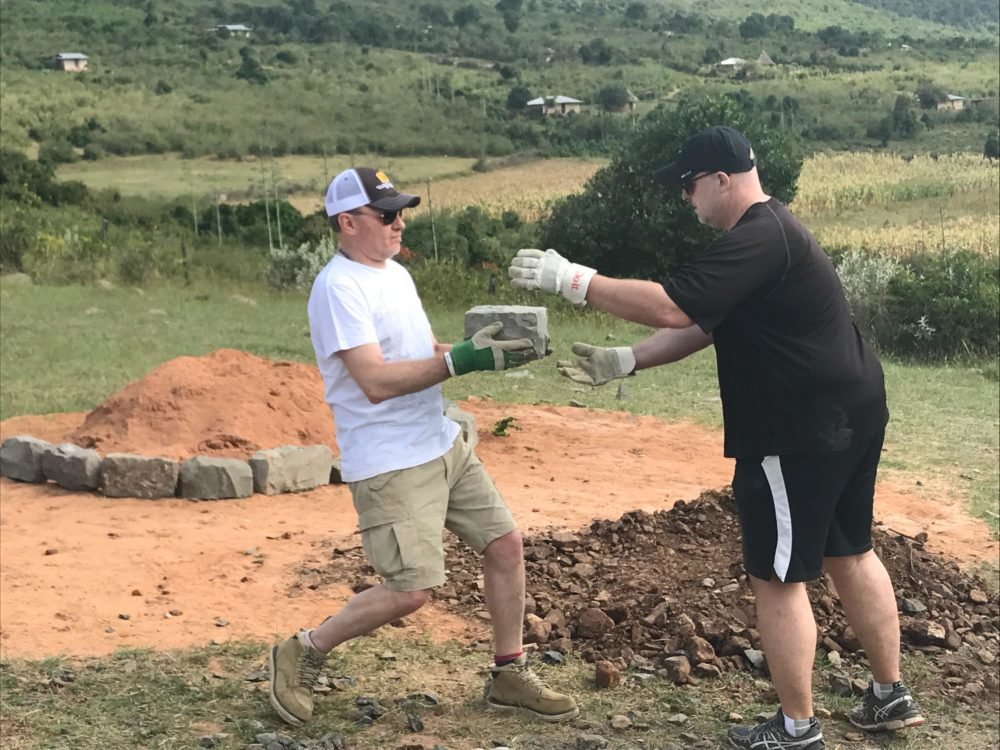 Building a bright future together with one of the most amazing teams and organizations in the world, ME to WE.
The ME to WE team are working hard to keep building on this extraordinary model with the intention that more can and will be done elsewhere – they are in eight countries now, and are also starting to work in Sierra Leone. If this model can be extended to other communities in other countries, it can hopefully help reduce or eliminate some of the social injustices, discrimination, violence and unrest which is seen throughout Africa.
And if this can be achieved more extensively in other countries, this can directly help reduce the migrant crisis in Europe too, and more. This is their goal to help do so, and we in turn must and can do our part I believe.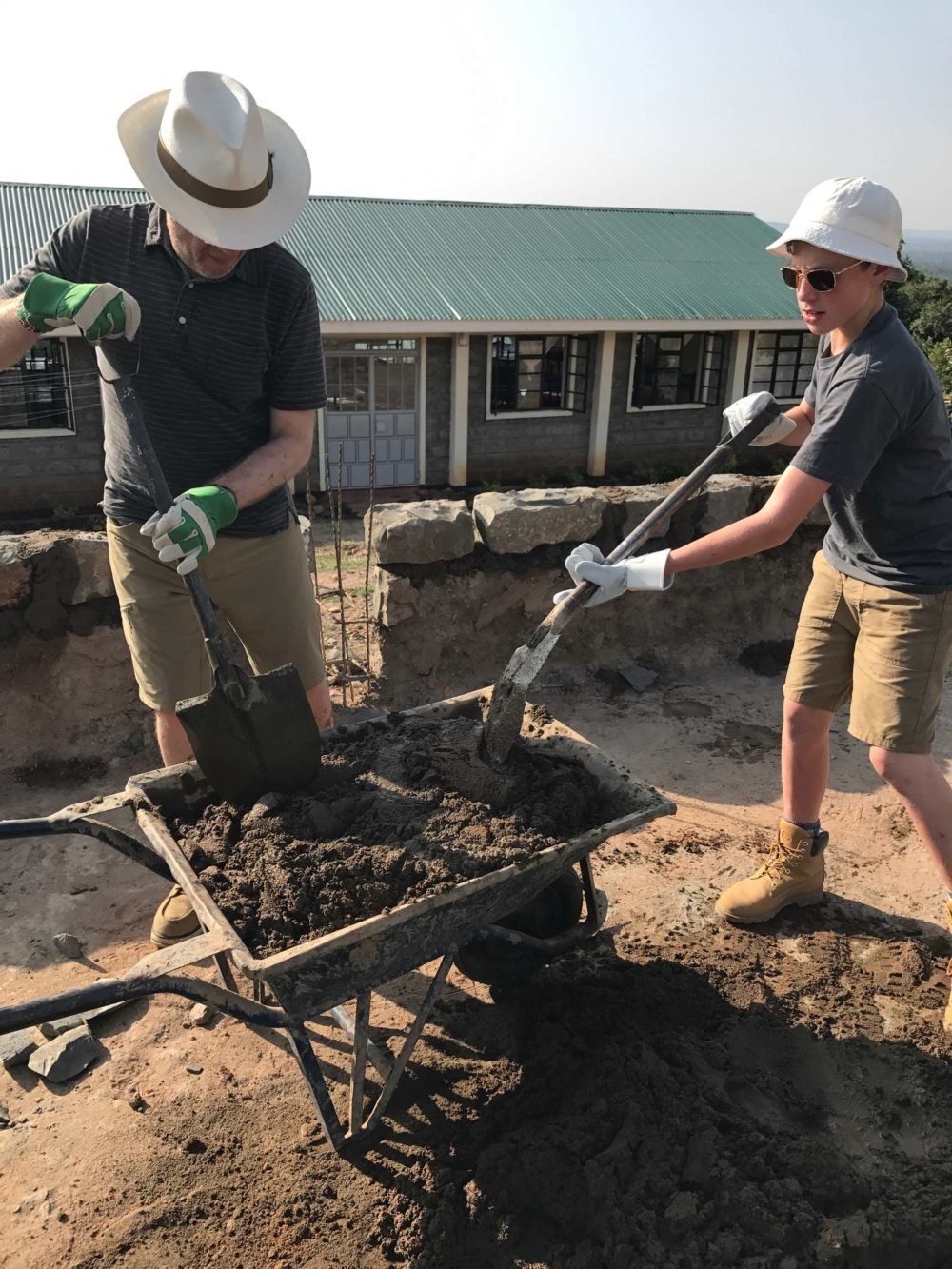 Father and Son working shoulder to shoulder.
On another note, being in the business of providing extraordinary trips for people to see the world, and selling life changing experiences for individuals and families, I personally believe that this was one of the most meaningful journeys I have ever had with my family. Working shoulder to shoulder with my children to help a community, meeting so many people with whom we bonded in these villages despite our cultural differences, and sharing the beautiful scenery of Kenya together, makes this an ideal bonding family holiday.
Our Continued TTC Partnership: Promoting ME to WE's One-of-a-Kind Trips and WE Villages
Lion World Travel offers this incredible ME to WE trip extension, giving guests the opportunity to immerse themselves with the Maasai and Kipsigis communities.
On this trip, our valued guests will learn more about the WE Villages development model and their 5 pillars of international sustainable development including:
Education – providing quality education for primary students
Water – providing sustainable clean water solutions and sanitation
Health – providing access to health care services and personal hygiene through healthy living
Food – providing food programs including improving agriculture and food security
Opportunity – assisting community members with alternative sources of income