Celebrate World Ranger Day With Andrew Taylor
July 31, 2020
On July 31st World Ranger Day celebrates the dedication and vital work that rangers do every day around the world. Not only do safari rangers provide our guests with a fantastic wildlife experience on their trips to Africa, they also display their unwavering commitment to protect their parks environment and flora and fauna.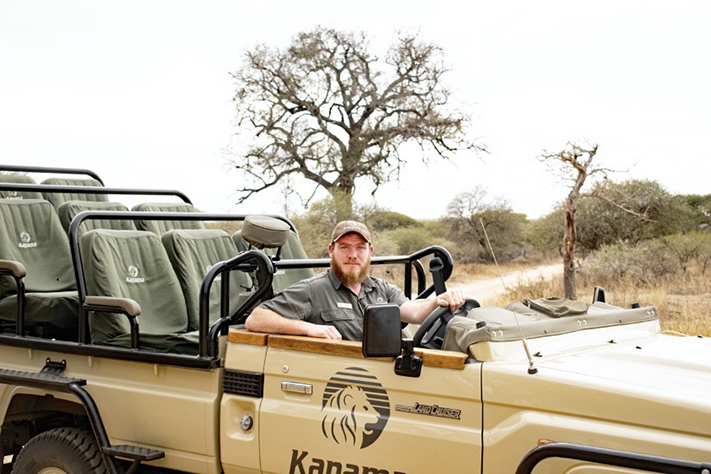 In Conversation with Kapama's Head Ranger, Andrew Taylor
Lion World Travel had the privilege of speaking with Andrew Taylor, Head Ranger of Kapama Game Reserve, in a one on one interview in 2020 to learn more about rangers and celebrate World Ranger Day.
What inspired you to become a ranger?
Andrew Taylor: The inspiration for becoming a ranger came from many places, but the biggest influence I would definitely say was when I was young and travelled to all the different game reserves in South Africa that we could explore as a family. All I can remember is being enthralled with what we were able to witness and what our rangers were able to show us. The knowledge that they would share with us was just incredible and I was inspired to become a ranger and be able to give others that same experience. 
What's your favorite part of the job?
AT: My favorite part of the job would be seeing the expression on the face of a guest who has never experienced something like this and the appreciation for the incredible wildlife that we are so privileged to see on a regular basis. It's an amazing feeling showing people what South Africa is really about.
What's the worst part of the job?
AT: Saying goodbye to the guests after spending a few wonderful days with them!
Any words of advice to youngsters who would like to become rangers?
AT: Stay focused on what you would like to do and let that passion develop into something that you want to make a career out of. You can achieve success if you are passionate about what you do, and nobody can stop you but yourself.
---
"Just by coming to visit our lodge you are contributing to funding the Anti-Poaching Unit who strive to keep our wildlife safe at all times."
---
How does being a ranger protect wildlife?
AT: Wildlife has issues at the moment due to different circumstances and one of the main things is decreasing numbers of certain animals due to poaching. Just by being out on the reserve for our game drives, showing a presence and keeping an eye out for anything that may be suspicious or any wildlife in trouble, we can with the assistance of the Anti-Poaching Unit help to make a difference in our wildlife population.
What can others do to make a difference and contribute to the protection of wildlife in their own small way?
AT:  Wildlife is something that we must protect and conserve to be able to continue to give the experiences that we do to people from all over the world. Just by coming to visit our lodge you are contributing to funding the Anti-Poaching Unit who strive to keep our wildlife safe at all times. Just by switching from using mostly plastic to re-usable glass any person can make a difference in our wildlife because that will contribute to keeping our earth free of litter and reducing the need for plastic which causes many issues for our wildlife. Once again there are so many things that can be done it just involves a little bit of research and understanding.
By educating themselves, and those around them, about the plight of certain species of animals, they will be making a difference on a much larger scale. It starts with you.
What kind of training or certification does it take to become a ranger?
AT: To become a ranger one needs to complete exams and practical assessments that will make sure you are competent enough as a ranger to do what is required. Some of these modules include Astronomy, Geology, Weather and Climate, Botany, Mammals, Reptiles, Taxonomy, Birds and more depending on how far you would like to go in the industry. With that comes many qualifications and certificates for various courses that may have been completed in your journey in becoming a ranger. 
If you are wanting to become a ranger who can also do walking safaris, this is a completely different qualification as you will need to be able to handle various situations and know how to operate in the bush without the protection of a vehicle. This part also requires an immense amount of knowledge and experience in animal behavior and is achieved by getting the experience first-hand with other qualified walking guides and instructors as your mentors to prepare you for when you are able to walk your own guests. 
Video Credit: Andrew Taylor - Kapama Private Game Reserve
Tell us about one of your most memorable recent ranger experiences.
AT: There have been so many amazing experiences but one of the most memorable would be recently after spending some time with a pride of lions, we encountered something that will not soon be forgotten. Another ranger and I were following the pride of lions which consisted of two adult females and four younger lions including one male all approximately 3 years old which are the offspring of the two adults. They were in a surprisingly playful mood after failing miserably with their attempt to hunt some wildebeest out in the open plains just as darkness had fallen.
We spent a considerable amount of time with them but with them being on the hunt at night and us being as ethical as possible we don't put any lights on either party during the hunt not to give any advantage to either side and it can take quite some time for them to stalk towards their prey before they go after it. Now that is when we use our other senses. With the tension and excitement building up they finally went for it and not being able to see anything we could hear every movement and sound that was made during the commotion. When we knew that their attempt was over, we turned the lights back on and waited for the dust to settle. They missed. I was thinking that the evening safari couldn't have gone any better than it did, we were still following the same pride of lions away from that hunting attempt and I was answering a bout of questions about the hunt from my excited guests.
We stuck back with a young lioness that decided to climb up onto a low hanging branch and play around for a bit and the other ranger with his guests that was close by carried on a bit further and then called me on the radio and told me that I should catch up to the rest of the pride just ahead of us and I won't be disappointed. PANGOLIN!
As we crept forward about another 200 feet to where the rest of the pride was, we were greeted with the sight of the young male of the pride trying to open and feast on one of the rarest mammals that you could ever encounter in the wild. The Temmincks ground pangolin is covered in protective keratin scales and when disturbed it will roll into a tight ball and not move until it is sure that the danger Is gone. The lion soon lost interest in the Pangolin because it could not penetrate the scales and he did not want to be left behind by the rest of the pride, so it continued on and left the Pangolin in peace. Once the lions had moved off, we had the most amazing sighting of the ground pangolin emerging from its protective casing unharmed and it started going about its business as if the lions were never there. What an amazing experience.
What is your favorite animal and why?
AT: My favorite animal is always a tricky one with so many contenders in the race but there is always one that sticks out above the rest. The leopard. An animal that can be so elusive at times yet just following the tracks or trying to catch up with one that has been in the area can be the most exhilarating experience out here. It's almost like a game of 'Hide and Seek' and the leopard is one of the best players. When you do catch up to that leopard, observing its behavior is fascinating because they can be so unpredictable at times and it can bring an awesome sense of mystery to the safari experience. "What's it going to do?" "Will he try to hunt that antelope?" "How will it get down from there?". It's always an exciting experience.
Can you share one of your best photographs with us?
Do you have any personal tips or words of advice for someone going on their first safari?
AT: Enjoy the smaller things. There are so many different things to experience out here on Safari and if you try to skip some of the smaller things that do not stand out as much to the everyday tourist and keep chasing after sightings of the 'Big 5' then you may miss out on some amazing parts of the safari that would add a different element to the whole experience.
If you could be a ranger in any other country or reserve, where would you choose?
AT: There are so many different options of where to go and what to see but one of the places I would love to spend some time working is in Mana Pools National Park in Zimbabwe. The wildlife is very accustomed to people on foot in certain areas which allows for amazing photographic opportunities to get lower down giving the person viewing the photograph a sense that it is not staged in any way and it is one of the only areas in the world that massive elephants will be dwarfed by large trees and those elephants will impressively stand up on their hind legs and reach up with their trunks for the higher branches. Other than that, I think it would be very difficult to find another place with as much excitement and biodiversity as I am seeing now.
---
See the rangers of Kapama Game Reserve in person on Best of South Africa, now booking 2021 departures. Learn more about our conservation work with Kapama on our Lion World Cares page.