Bea Tollman's Honeycomb Ice Cream
August 7, 2019
Mrs Beatrice Tollman is President and Founder of the luxurious Red Carnation Hotel Collection that includes three hotels in South Africa: The Twelve Apostles Hotel and Spa which we feature in many of our luxury itineraries, The Oyster Box Hotel and Bushman's Kloof.
Bea Tollman has been recognized for unparalleled levels of service, excellence and luxury across all of the collection's properties and is renowned for her outstanding recipes many of which are featured in her cookbook "A Life in Food". This book is a celebration of recipes that have either been passed down in the family or discovered while travelling, and all have been perfected from her personal experience and expertise in the kitchen.
We are honored to feature her absolutely divine, but easy, Honeycomb Ice Cream recipe.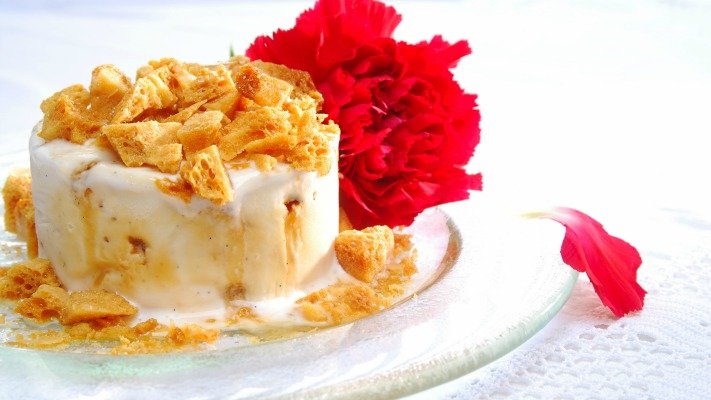 "We come from a long line of sweet eaters and ice cream connoisseurs. My children and I have always enjoyed combining different chopped up chewy, crunchy ingredients with scrumptious ice cream flavors. One day early in my cooking career, I developed this ice cream recipe when we opened the Blue Fox restaurant at The Oxford Hotel in Johannesburg. From that point on, I have always had a container of honeycomb ice cream in the freezer at home. My children say that this is my signature dessert." -Beatrice "Bea" Tollman (Founder and President of Lion World Travel's sister company, Red Carnation Hotels)
Serves 8
Ingredients
    1 cup (250 ml) corn syrup
    8 oz (250 g) granulated sugar
    1 tablespoon white vinegar
    1 tablespoon baking soda
    1 quart (1 liter) premium vanilla ice cream
Preparation
Dissolve the syrup, sugar and vinegar over a medium heat. Turn the heat up high and boil until the syrup turns into a light caramel color. Remove the pan off the stove and quickly stir in the baking soda. Then pour the mix into a baking pan that has been lined with parchment paper and greased with butter. Leave to cool and harden; do not refrigerate. Once hardened, this brittle and crunchy slab becomes your honeycomb base.
Slightly soften the vanilla ice cream in a chilled ceramic bowl. Carefully break the honeycomb slab into various sizes, none more than 1/2" square, and quickly fold half into the ice cream. Pour the ice cream into a desired ice cream mould or back into original ice cream container and freeze again. Keep the remaining honeycomb in an air tight container to add as a topping to the ice cream when serving.