Photo Info

Sanctuary Retreats

Photo Info

Serengeti Pioneer Camp

Photo Info

Sanctuary Retreats

Photo Info

Sanctuary Retreats
Summary

Itinerary

Pricing

Options

& Add-ons
Tanzania: In the Footsteps of the Migration 2018 & 2019
Witness the amazing spectacle of the great migration and experience Tanzania's wildlife.
Trip Highlights
Tarangire |  Ngorongoro Crater | Serengeti
Experience
Witness the great Migration, "the Greatest Show on Earth"
Close encounters with Africa's wildlife in open safari vehicles
A descent into world's largest volcanic caldera 
Ultra-luxurious safari camps
Explore
Three wildlife areas: Tarangire's baobab studded landscapes, the wildlife rich plains of The Serengeti and the unique Ngorongoro crater home to the densest population of animals in Africa
Taste
A picnic lunch on the floor of the Ngorongoro Crater
Choice
At additional cost:
Soar over savannahs on a balloon safari
Visit a traditional Maasai homestead
Day 1 - Kilimanjaro/Arusha
On arrival in Kilimanjaro you will be warmly greeted and transferred to Arusha Coffee Lodge nestled amongst evergreen coffee fields. Luxurious rooms have welcoming fireplaces and comfortable, homely furnishings.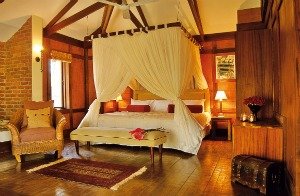 Accommodation: Arusha Coffee Lodge - Plantation Room
Day 2 - Tarangire
Fly to the Tarangire National Park one of the most exciting and least visited parks in the country.
On arrival enjoy a game drive en route to Tarangire Treetops.  Twenty treehouses elevated above the ground afford stunning views over the tops of surrounding marula and spectacular baobab trees. Each treehouse boasts one of the largest bedrooms in any camp in East Africa and all with an exotic double shower and en suite bathroom.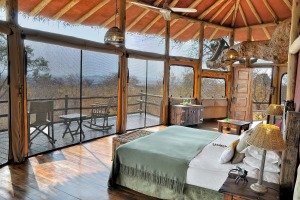 Accommodation: Tarangire Treetops - Treetop Room (B, L, D)
Read More
Day 3 - Tarangire
On morning and afternoon safaris you are sure to encounter the large concentrations of elephant.
The river attracts an abundance of game and you may find leopard resting in the shady trees.When not out on game drives enjoy a bush walk or a visit to the local Maasai community, or perhaps soar over the park in a hot air balloon, enjoying a safari from a bird's point of view!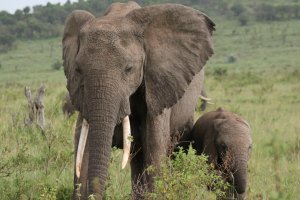 Accommodation: Tarangire Treetops - Treetop Room (B, L, D)
Day 4 - Ngorongoro Crater
Drive to Ngorongoro Serena Lodge with a delectable picnic lunch en route at Gibbs Farm. Today you will stay at Ngorongoro Serena Lodge, with its blend of luxury and ethnic style, hugging the crater rim, and offering stunning views. Regularly voted one of the best hotels in the world, this unique lodge clings to the rim of the magnificent Ngorongoro Crater, the largest and most perfect volcanic crater on Earth. The lodge is built from local river stone and camouflaged with indigenous vines. Designed to blend completely into the landscape, it is entirely invisible from the floor of the Crater below.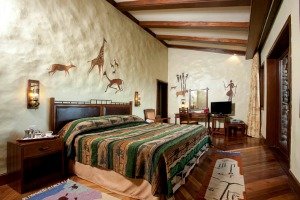 Known as 'the eighth wonder of the world' the Ngorongoro Crater is one of Africa's best-known wildlife arenas. A UNESCO World Heritage Site, it offers a unique biosphere, which has remained virtually unchanged since the dawn of time. Deep within the Crater, enclosed by towering walls, some 25,000 large mammals wander the plains, lakes and forests of 'the land that time forgot', dominated by enormous bull elephants, rhinos and lions.
Accommodation: Ngorongoro Serena Lodge - Standard Room (B, L, D)
Day 5 - Ngorongoro Crater
Today, descend into the Ngorongoro Crater, an ancient caldera nearly three million years old, which shelters 25,000 large mammals. Enjoy a picnic lunch at a scenic spot on the crater floor.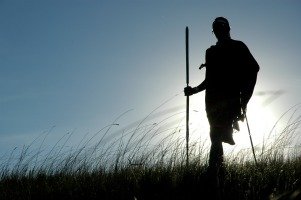 Accommodation: Ngorongoro Serena Lodge - Standard Room (B, L, D)
Day 6 - Serengeti
Fly to the Serengeti and transfer to your camp which has been carefully chosen for the best possibility of witnessing the Great Migration.
Between December and March
You will stay at the remote Sanctuary Kusini Camp in the Southern Serengeti. The camp overlooks plains where game are seen all year round and the migrating wildebeest and zebra congregate between December and March. Spacious open-plan tents, with large private verandahs have lovely views and personal attendants to cater to your every need.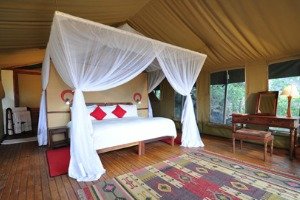 Between April and May
Fly to the Serengeti Pioneer Camp located in South Central Serengeti and ideally situated for terrific access to the annual migration. Tents with amazing views are designed to evoke the best of an era long-gone. Evocative room interiors combined with exemplary service and exceptional game viewing opportunities make this a top choice.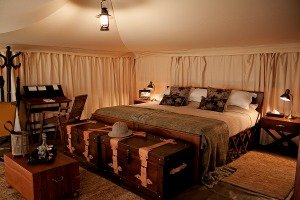 Between June and July
A member of the Small Luxury Hotels of the World group, Kirawira Serena Camp offers the epitome of classic 'Out of Africa' safari camp luxury. It is located adjacent to the famous western corridor of the Serengeti National Park - arena of the 'Greatest Wildlife Show on Earth', the annual migration of over one million wildebeest.
Designed in typically Edwardian style, this exclusive camp has 25 widely-spaced luxury tents, raised on timber platforms, each with a glorious view of the plains. Each tent has a spacious furnished deck leading to a bedroom furnished in antique Edwardian style with steamer-trunks, writing desk, brass lamps, rugs, sepia photographs and four-poster bed with patchwork quilt. Each tent has its own personal valet.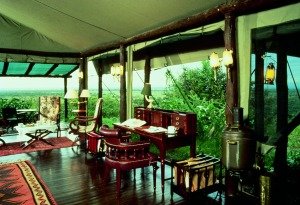 Between August and November
Serengeti Bushtops Camp, with the famous Mara River just 15 miles away is situated directly in the path of the spectacular annual wildebeest migration, which takes place here between June and November. Serengeti Bushtops' is an oasis of 5-star luxury within a magical setting. Huge tents offer seductive luxury and lavish facilities including a large private terrace, a hot tub, 24-hour butler service and massages available in your tent.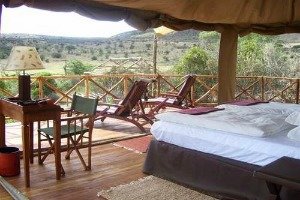 Accommodation: Sanctuary Kusini Camp  OR Kirawira Luxury Tented Camp OR Serengeti Pioneer Camp  OR Serengeti Bushtops Luxury Tented Camp (B, L, D)
Day 7 - Serengeti
Morning and afternoon game drives provide amazing opportunities to photograph resident wildlife and go in search of the Great Migration and the predators that accompany them. Whether it is their birthing season on the plains, or a crossing of the Grumeti or Mara Rivers, if the timing is right you may be lucky enough to witness this amazing spectacle!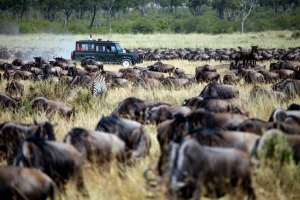 Accommodation: Sanctuary Kusini Camp OR Kirawira Luxury Tented Camp OR Serengeti Pioneer Camp OR Serengeti Bushtops Luxury Tented Camp (B, L, D)
Day 8 - Serengeti
Another day of thrilling game viewing, finishing off with relaxing sundowners as you watch the sun set over the vast Serengeti, the classic end to a day on safari.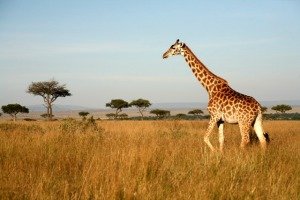 After the excitement of game viewing, savour a superb gourmet meal, accompanied by a selection of fine wines.
Accommodation: Sanctuary Kusini Camp OR Kirawira Luxury Tented Camp OR Serengeti Pioneer Camp OR Serengeti Bushtops Luxury Tented Camp (B, L, D)
Day 9
Bid Africa goodbye as you fly to Kilimanjaro for your international or ongoing connection (B)
Add-Ons
Gorillas of Rwanda
For a truly amazing wildlife adventure, visit Rwanda to see the mystical Mountain Gorillas in their natural habitat, a magnificent experience.
See the detailed  itinerary
here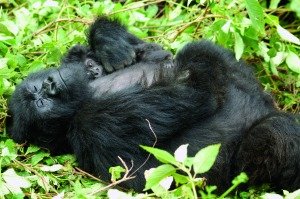 Azure Zanzibar
The perfect complement to your African adventure! Relax on sun-kissed beaches, explore coral reefs, and learn about Zanzibar's fascinating history.
Click for more details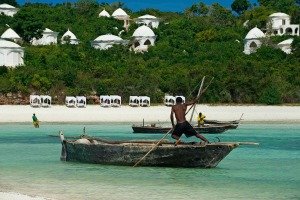 Contact a Lion World Travel Africa Specialist to learn about adding these adventures onto your travels.
Travel Insurance
We strongly recommend that you purchase travel insurance. Your Africa Specialist will be able to direct you to information regarding travel insurance.
Prices are per person in US Dollars, for land arrangements only, based on double occupancy accommodations.
Jan - Mar 2019 (Sanctuary Kusini)
Scroll for more →
| | | | |
| --- | --- | --- | --- |
| | Jan | Feb | Mar |
| Selling Price | $7699 | $7699 | $7299 |
| Single Supplement | $1975 | $1975 | $1885 |
Apr - May 2019 (Serengeti Pioneer Camp)
Scroll for more →
| | | |
| --- | --- | --- |
| | Apr | May |
| Selling Price | $5699 | $5699 |
| Single Supplement | $1200 | $1200 |
Jun - Jul 2018 & 2019 (Kirawira)
Scroll for more →
| | | |
| --- | --- | --- |
| | Jun 2019 | Jul 2019 |
| Selling Price | $6899 | $7399 |
| Single Supplement | $1125 | $1400 |
Aug - Nov 2018 & 2019 (Serengeti Bushtops)
Scroll for more →
| | | | | | | | | |
| --- | --- | --- | --- | --- | --- | --- | --- | --- |
| | Aug 2018 | Sep 2018 | Oct 2018 | Nov 2018 | Aug 2019 | Sep 2019 | Oct 2019 | Nov 2019 |
| Selling Price | $8799 | $8799 | $8799 | $7199 | $9299 | $9299 | $9299 | $7499 |
| Single Supplement | $1790 | $1790 | $1790 | $1400 | $1900 | $1900 | $1900 | $1400 |
Dec 2018 & 2019 (Sanctuary Kusini)
Scroll for more →
| | | |
| --- | --- | --- |
| | Dec 1-15 2018 | Dec 1-15 2019 |
| Selling Price | $5999 | $5999 |
| Single Supplement | $625 | $625 |
Inclusions:
Meet and greet services
Seat in 4x4 vehicle with photo roof  
Services of an English speaking driver-guide 
Guaranteed window seat
Game drives 
Internal flights
All accommodation and meals as specified 
All park fees and government taxes 
Exclusions:
Visas or passports
International flights and flight taxes
Driver guide or local escort gratuities 
Drinks and dining rooms tips, porterage, personal travel and baggage insurance 
Telephone bill, laundry and any items of a personal nature
Trip cancellation, interruption and/or medical insurance
Baggage
*Prices in USD, based on double occupancy, restrictions apply
Speak to an Expert
1-800-387-2706