Who Knew? 7 Marvelous Meerkat Facts
March 16, 2018
By Lucille Sive
Meerkats are one of Africa's most well-known small mammals. Meerkats are sometimes hard to see on safari, but when you do, they always make for a fascinating sighting. Their fun social behaviour and iconic stance (resting on their hind legs to survey the terrain around them) is always a delight to behold. I invite you to learn more about marvelous meerkats on our blog!
1) Despite Their Name, Meerkats Are Not Cats
The origin of the term "meerkat" comes from Afrikaans via Dutch. "Meerkat" in Dutch means "lake cat", even though meerkats are not part of the cat family. Why did the Dutch select a name that misidentifies these animals? Scholars have speculated that the term derives from the Sanskrit name markaṭa, which means "ape". The theory goes that Indian sailors traveling aboard Dutch trading ships used the word "markaṭa" to describe the animal and the Dutch adapted it to a word they recognized—it just so happens that word means "lake cat".
Nowadays, in colloquial Afrikaans, "meirkat" has come to mean "termite mongoose". Considering meerkats love to feast on termites and often inhabit abandoned termite mounds for shelter, "termite mongoose" is a much more suitable name!
2) Meerkats Call Southern Africa Home
Meerkats thrive in harsh desert environments, which is why they can be found throughout Botswana's Kalahari Desert, Namibia's Namib Desert and other arid ecosystems in both Angola and South Africa.
3) Meerkats Are Excellent Diggers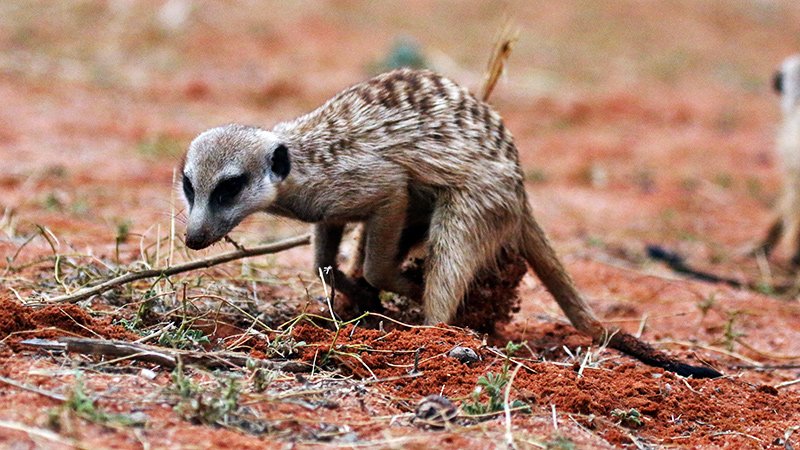 A digging meerkat. Photo by Charles J Sharp, CC BY-SA 4.0.
Using the long claws of their forefeet, meerkats are able to dig through sand equal to their own weight (up to 5 pounds) in mere seconds. This superior digging skill comes in handy to forage for food, create new burrows and even to make clouds of dust to evade predators.
4) Meerkats Live in (Really) Large Families
In the wild, meerkats live in large families that called "mobs", "gangs" or "clans". Average meerkat mobs have about 20 members in them, but researchers have discovered so-called "super families" that feature as many as 50 members. That's a lot of brothers and sisters!
5) Meerkats Are Insectivores
A meerkat's diet consists mainly of insects. Termites, in particular, are a favorite. Meerkats also eat other small animals including lizards, snakes, spiders and scorpions. With such a wide-ranging diet, it's a good thing that meerkats are immune to certain types of poison, such as scorpion venom.
6) Meerkats Forage in Groups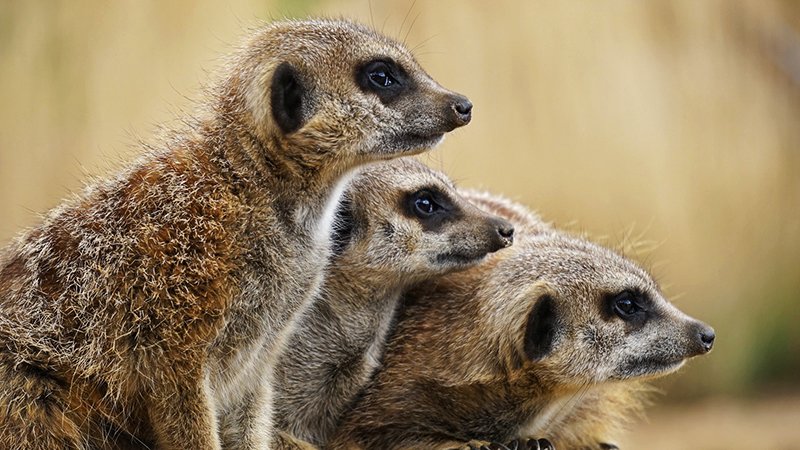 Meerkats on the look out.
After a meerkat has reached 1 month in age, it accompanies an adult meerkat to learn how to forage for food. While the meerkat group forages for food, at least one member of the clan is put on sentry duty to watch for predators. Look-out duty can last for an hour and, if the coast is clear, the sentry meerkat will continually make small peeping sounds to let the foraging clan know that all is well.
7) Meerkats Are Vocal
Different types of meerkat calls mean different things. For example, if a sentry meerkat spots a potential predator, she will begin an alarm call (which could be a trill, growl, bark, or chirrup, depending the meerkat and circumstance) which will increase in intensity as the detected threat approaches. The type of alarm call also varies based on whether the predator is aerial or terrestrial. This allows the alerted meerkats to adjust their behaviour based on the type of predator: bird threats will cause meerkats to crouch down and closely watch the sky, while land-based threats will cause meerkats to take shelter and scan the area.