My Inspiring Trip to the Shamwari Game Reserve
June 2, 2016
By Lucille Sive
I had the opportunity to visit the beautiful Shamwari Game Reserve in the Eastern Cape on my recent trip to South Africa. I was absolutely blown away by what I experienced there—the stunning landscapes, big game, 5-star service and luxurious accommodations all exceeded my expectations. But what really excited me about Shamwari was their commitment to wildlife preservation and conservation. They are an example of successful sustainable tourism that I found truly inspiring and I think you will too!
"Shamwari" is Shona for "my friend" and this forms the basis of Shamwari's vision of conservation and sustainable tourism. The animals of Shamwari are viewed as equals and so the care, protection and oversight that they receive from Shamwari's wildlife team is second to none. For a behind-the-scenes look at conservation on the ground at Shamwari, be sure to check out my interview with Shamwari's Director of Wildlife, Dr. Johan Joubert. I was lucky to experience two of Shamwari's conservation initiatives first hand: I took a short flight in the TreadRight Bat Hawk and I visited the Wildlife Rehabilitation Centre.
The TreadRight Bat Hawk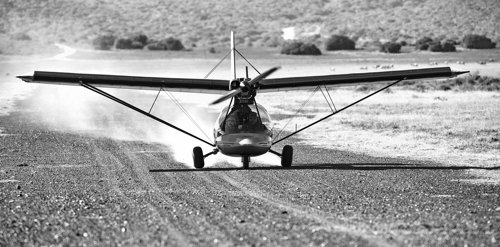 Taking off in the Bat Hawk
In 2015, Lion World Travel's sustainability partner, the TreadRight Foundation, helped to purchase the "Bat Hawk", a South African-made light sport aircraft that is used to patrol the vast Shamwari Game Reserve to monitor threatened wildlife populations, such as rhinos. The Bat Hawk has been designed with conservation and aerial wildlife patrol as its main functions. The high propeller, for example, is mounted away from the ground to avoid damage from bush debris, sticks, stones, etc. during take off and landing. The position of the propeller also improves visibility and makes it easy for the patrol team to view Shamwari's animals without obstruction.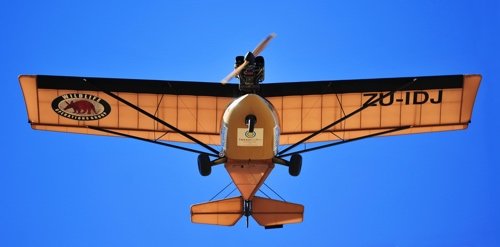 The Bat Hawk in flight
Taking off in the Bat Hawk was a thrill! The small cockpit is similar to a helicopter, so I was sitting right beside the pilot as we left the ground. High above Shamwari we were able to see animals such as rhino easily. Because of the Bat Hawk's light weight and fast movement, we were able to survey a vast area of Shamwari quickly and efficiently. I now have a better understanding of why the Bat Hawk is such an effective tool for wildlife monitoring and conservation!
Click here to learn more about the TreadRight Bat Hawk and how it helps protect South Africa's rhinos.
The Wildlife Rehabilitation Centre
Beyond monitoring wildlife, Shamwari's conservation program also rehabilitates orphaned and wounded animals before returning them to the wild. Guests at Shamwari all have the opportunity to visit the Wildlife Rehabilitation Centre and after spending an afternoon there myself, I highly recommend it!
When I visited, I met two baby orphaned rhinos. I am a huge animal lover so seeing these little rhinos up close was a moving experience. They were keen for us to feed them milk (which they drank in record time!) and, just like any other mammal, wanted some tender loving care! Rubbing the rhinos' necks helped to calm them and make them feel more comfortable. I was absolutely inspired by how well looked after these rhinos were and how deeply the Shamwari team cared for their wellbeing. Seeing them happy, healthy and eager reminded me that there is hope for the rhino species.
I encourage travelers to visit Shamwari so that they can directly support a fantastic game reserve that does so much to protect local wildlife. You can visit the Wildlife Rehabilitation Centre to learn how conservation works at Shamwari and the Ian Player Rhino Awareness Centre, where you can learn about the plight of the rhino in South Africa!
Ready to visit Shamwari Game Reserve? Our Tented Safari In Style itinerary includes a 3-night stay at Shamwari's luxury Bayethe Lodge for a thrilling safari experience.