HOW WE TREAD RIGHT
Travel is a great privilege. With the education, compassion, and lifelong memories it provides us comes a great responsibility. At Lion World Travel, our mission is to ensure that travel has a positive impact on the planet we call home, the people and communities whose homes we visit, and the rich wildlife we find there. We work toward this mission in two ways: through our partnership with the TreadRight Foundation, which funds sustainable tourism initiatives of organizations all over the world, and through our strategic efforts to address the environmental and social impacts of The Travel Corporation's (TTC's) family of brands.
How We Tread Right (HWTR) is TTC's new five-year sustainability strategy. Engaging our brands, employees, and guests, it is our most robust sustainability strategy to date. Our strategy is based on 11 measurable goals developed to address Lion World's Travel impact on Planet, People, and Wildlife.
These goals, anchored to the United Nations' Global Goals, address:
People – community support and cultural preservation by targeting overtourism through the inclusion of new MAKE TRAVEL MATTER® experiences, the creation of a standalone strategy to encourage greater diversity and inclusion at Lion World Travel, and our global give-back efforts.
Planet – sustainability and conservation by targeting climate change, sustainable food production and responsible consumption through carbon management, renewable energy, the food cycle, waste reduction, and the elimination of single-use plastics.
Wildlife – conservation and protection by targeting animal welfare and conservation, and ethical wildlife experiences through TreadRight's Animal Welfare Policy.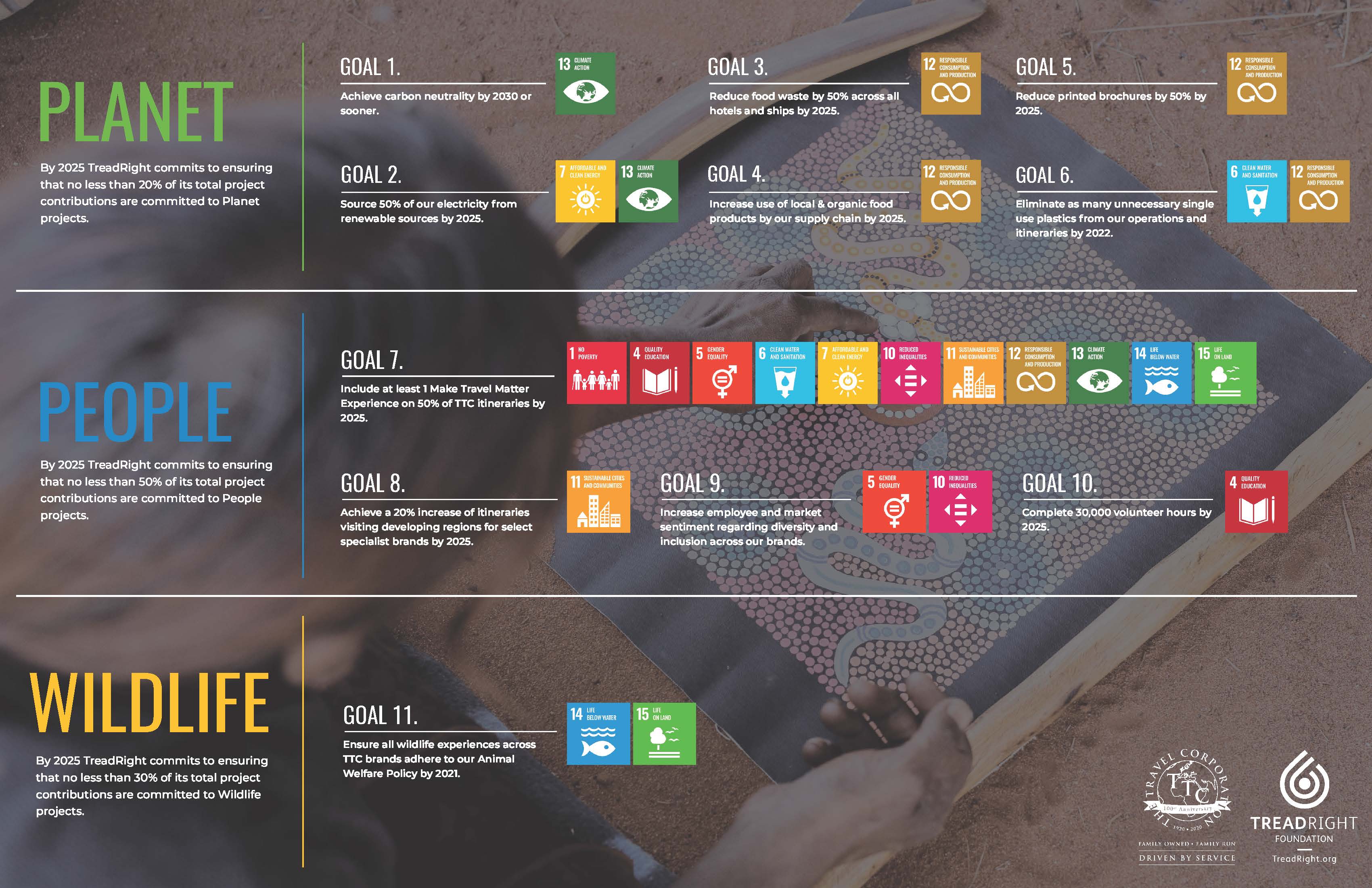 How We Tread Right Global Goals
(Click on photo to view larger)
OUR CLIMATE ACTION PLAN
Goals #1 and #2 of our sustainability strategy, HWTR respectively commit to becoming carbon neutral by 2030 or sooner, and to ensuring that 50% of our electricity is secured from renewable sources by 2025. To ensure we are successful, we've built a Climate Action Plan. Our five-point plan will help us manage the carbon footprint of our business and trips, and prioritizes reducing and removing emissions ahead of offsetting. In addition, we commit to learning and adapting as technology and innovation help us in our transition to a low-carbon business.


Xigera Safari Lodge, part of the Red Carnation Hotel Collection, is powered by a Tesla solar-hybrid system which supplies more than 95% of the lodge's energy needs.
Our plan builds on progress made to date and evaluates how we become a part of the global effort to reach net-zero emissions by mid-century, as outlined by the International Panel on Climate Change.
Beginning in 2022, all our offices and employee air business travel will be offset as part of our Climate Action Plan. In partnership with our carbon offset provider, South Pole, we will compensate these emissions by investing in a verified forest conservation offset project in Victoria, Australia.
Learn more
about how choosing Lion World Travel means choosing a travel company that puts sustainability and the planet at the core of everything we do.