A Day on Safari in South Africa
Every day on safari, extraordinary experiences are sure to unfold. Safaris in South Africa provide exceptional game viewing opportunities of elephant, lion, rhino, cheetah, giraffe and zebra. You'll encounter amazing wildlife thanks to knowledgeable guides. There is no way to know exactly what the safari experience will bring from day to day, but a typical day might be something like this, depending on the lodge:
Experience a Magical Day on Safari in Africa
A TYPICAL DAY ON SAFARI IN SOUTH AFRICA
Early Morning
Your day begins early with a warm drink as you depart on a game drive with your experienced ranger and tracker team who will ensure that you have an exciting adventure as you watch the animals in their natural habitat. 
A stop at a scenic spot for a snack and warm beverage will give you the opportunity to stretch your legs and chat with your tracker and guide to learn more about the surrounding bush and wildlife.
There is no way to know exactly what the safari experience will bring from day to day, but it will be memorable so don't forget your camera and binoculars.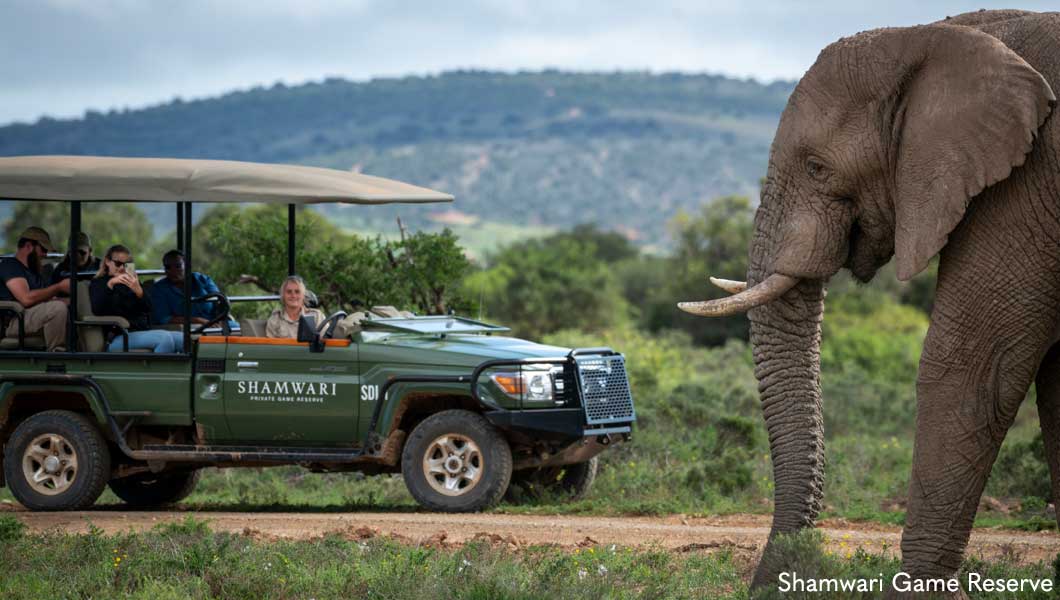 Mid Morning
Return to the lodge for a hearty breakfast. You'll have built up quite an appetite!
Early Afternoon
Time to relax. Take a dip in the refreshing infinity pool, take an enlightening bush walk with your guide to learn the secrets of tracking or simply lounge in your hammock, taking in the sounds and tranquility of the bush. 
NOON
A delicious lunch of freshly prepared specialties from local recipes and international favorites awaits you. Enjoy the surrounding landscape as you relax over lunch. Afterwards, perhaps stroll the lush grounds of your luxurious lodge.  
Late Afternoon
As animals retreat to the shade, spend a leisurely afternoon of pampering with a rejuvenating spa treatment or explore the local community. Visit a children's school and the local village, or drop in at a wildlife conservation center to learn how its programs protect the animals as well as create jobs and benefit the people. Speak to your African Specialist for options that fit into your itinerary.
Time to eat again. Enjoy afternoon tea with delicious sweet or savory treats before heading out for the late afternoon/evening game drive now that the day has cooled.
Early Evening
As the afternoon turns into evening, the wildlife rouses from their lazy afternoon naps and the predators begin to go in search of their next meal. Your late afternoon game drive provides the opportunity to witness the bush in action.  You may be lucky to follow a lion on the hunt or watch a herd of elephants come down to the river to drink and play.  Perhaps keep an eye out for hyenas as they steal a kill from earlier in the day. Gaze at a vivid African sunset as you enjoy sundowners at a scenic spot. Then move on looking out for wildlife by way of a carefully shone spotlight, making sure not to disturb the nocturnal animals in the darkening bush. 
The Evening
Return to the lodge where a welcome shower awaits. Then look forward to a multi-course meal served at an elegantly set table or in an open "boma" under the stars. After dinner, gather around the campfire to exchange stories of the day's sightings, stargaze, or retire in preparation for another breathtaking day on safari in Africa.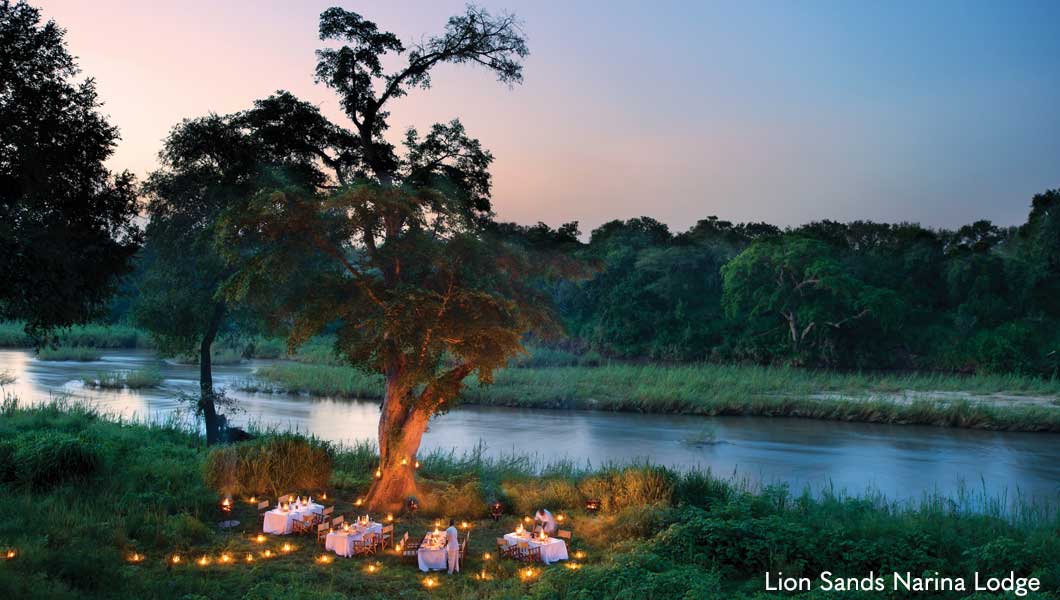 Check our
blog post
 to read about the safari vehicle you may be traveling in during your trip.