Photo Info

Wilderness Safaris
Interested in a Botswana luxury safari? Botswana offers unmatched safari diversity, some of the most stunning landscapes, along with magnificent sunsets and amazing stargazing. From the thriving waterways of the Okavango Delta, to the mighty Kalahari Desert's ancient baobabs and meerkats, and Chobe National Park, where immense herds of elephants can be found. Botswana offers you equal parts adventure and comfort, see below why we think you will love a Botswana luxury safari.
---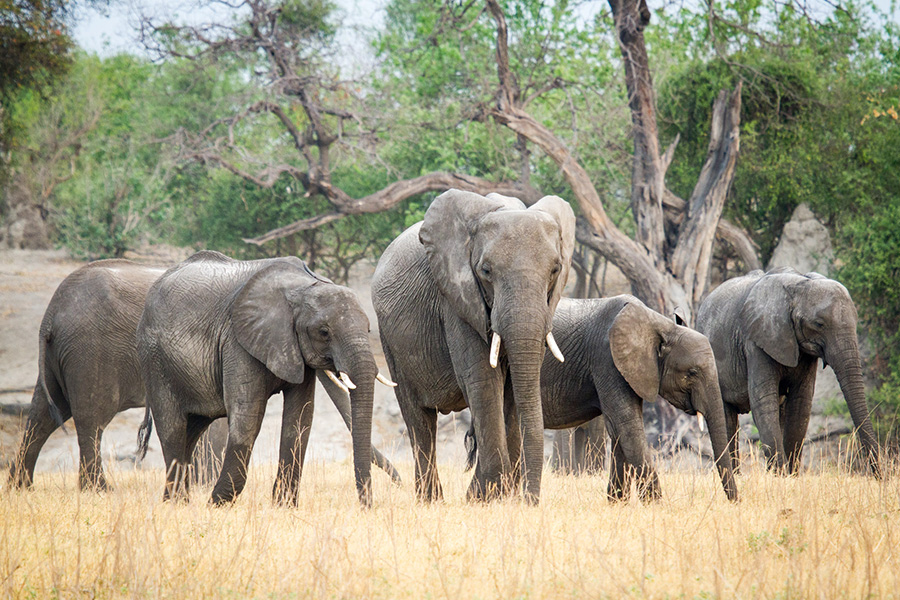 Herd of elephants in the Okavango Delta, by Desert & Delta
(Click on photo to view larger)
---
These are Lion World Travel's must visit locations for the best Botswana safaris.
---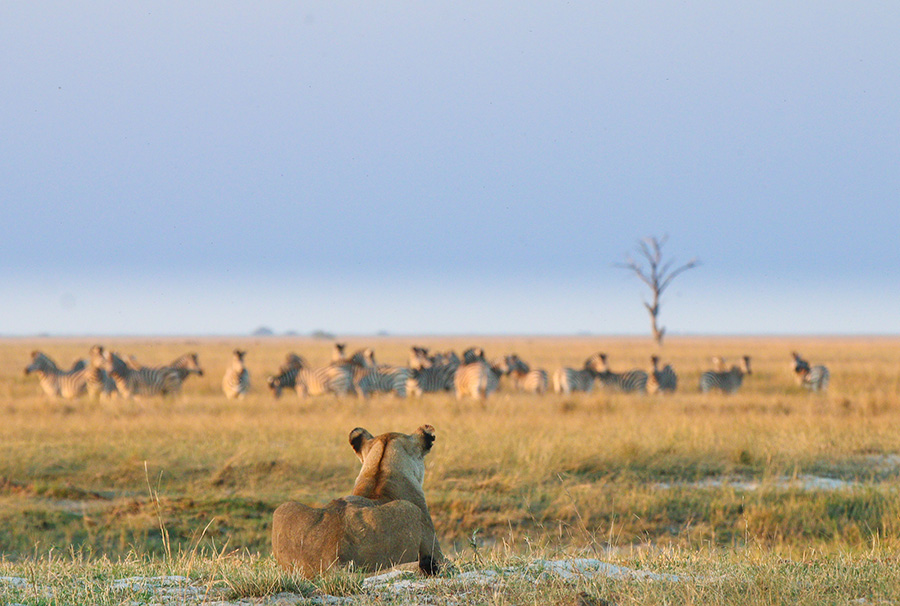 Lion watching Zebra in Chobe National Park, Botswana. Photo by Desert & Delta.
(Click on photo to view larger)
The Chobe National Park is in northern Botswana and is known for its large herds of elephants as they converge along the banks of the Chobe River in the dry months to drink and play at the water's edge in their boisterous herds. The floodable grasslands of the Savuti Marsh attract numerous bird species, plus migrating zebras. Lions, antelopes, and hippos inhabit the woods and lagoons around Linyanti Marsh. Virtually all safaris to Botswana include a visit to Chobe National Park.
Suggested Safari? Best of Cape Town & Botswana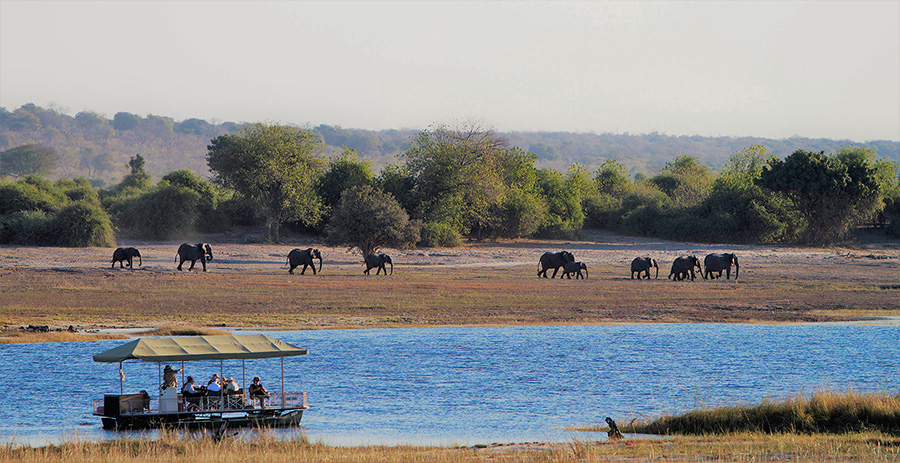 Elephant viewing in Chobe National Park, Botswana. Photo by Chobe Savanna Lodge.
(Click on photo to view larger)
Bordering the southern section of the famous Moremi Game Reserve this private concession is home to a wide variety of big game including elephant, buffalo, giraffe, hippo, lion, leopard, cheetah, and wild dog. One of the best ways to see the wildlife is in one of the locally made dugout canoes, known as a mokoro. Float around the waterways and lagoons that make up the delta, looking out for hippos and crocodiles in the water, but also getting a remarkable view of the plains game from a new and exciting angle. When it comes to Botswana luxury safaris, many of the best safari camps and lodges can be found in the Okavango.
Suggested Safari? Ultimate Botswana & Zambia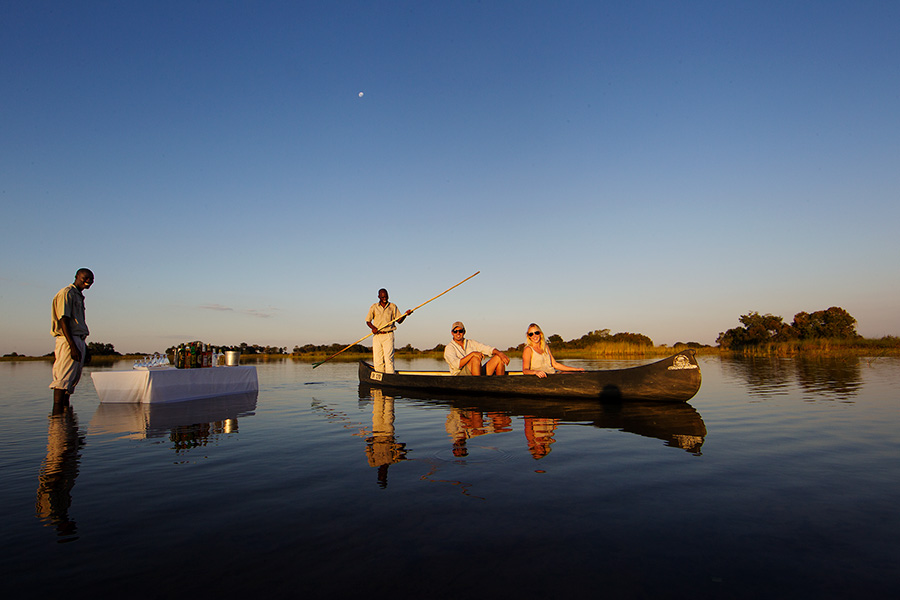 Mokoro Ride to a Bar, only in Botswana! Photo by Camp Okavango.
(Click on photo to view larger)
The Moremi Reserve is situated at the heart of the Okavango Delta and was the first wildlife area to be protected by the local tribal people. Botswana wildlife is abundant in all the parks we mention here, yet Moremi remains a special wildlife haven that allows free movement of animals according to seasonal migration. Home to the most endangered species of large mammals: the cheetah, white rhinoceros, black rhinoceros, African wild dog, and lion. There are over 500 bird species and over a 1,000 species of plants. This ecosystem is amongst the richest in Africa.
Suggested Safari? Botswana for the Discerning Traveler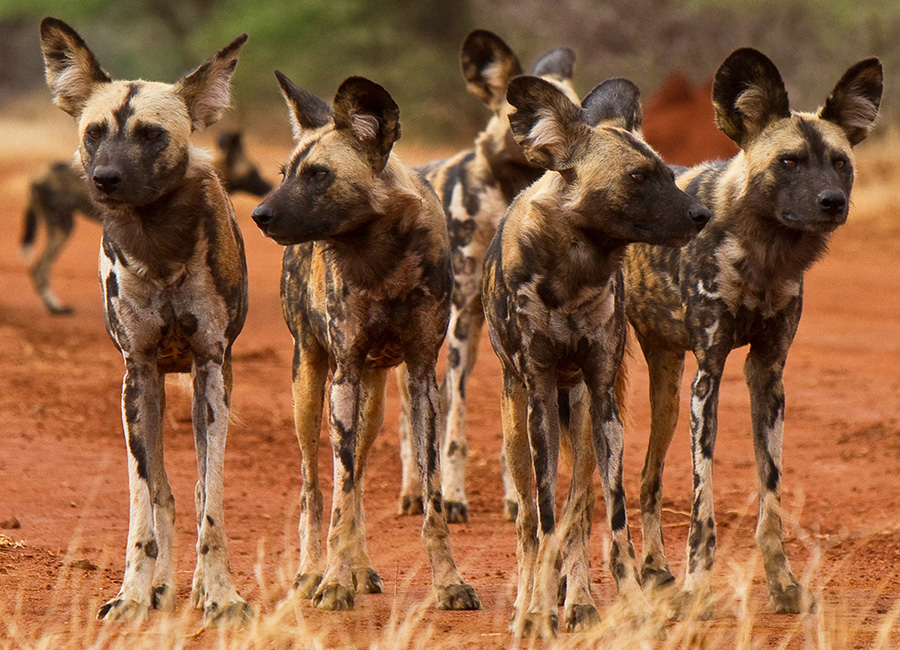 See Wild Dogs in Botswana. Photo by Sanctuary Retreats.
(Click on photo to view larger)
Linyanti is an excellent stop on a safari to Botswana. This enormous reserve is teeming in wildlife, covering an area of 481 square miles. The limited number of lodges and camps creates an unrivalled atmosphere of remoteness and vastness. Although the concession lies within the greater Chobe National Park, it has a distinctly different eco-system with the permanently flowing Linyanti River forming channels and lagoons which provide a permanent water source attracting wildlife all year long. During the dry winter months, the elephant population swells to several thousand.
Suggested Safari? Platinum Botswana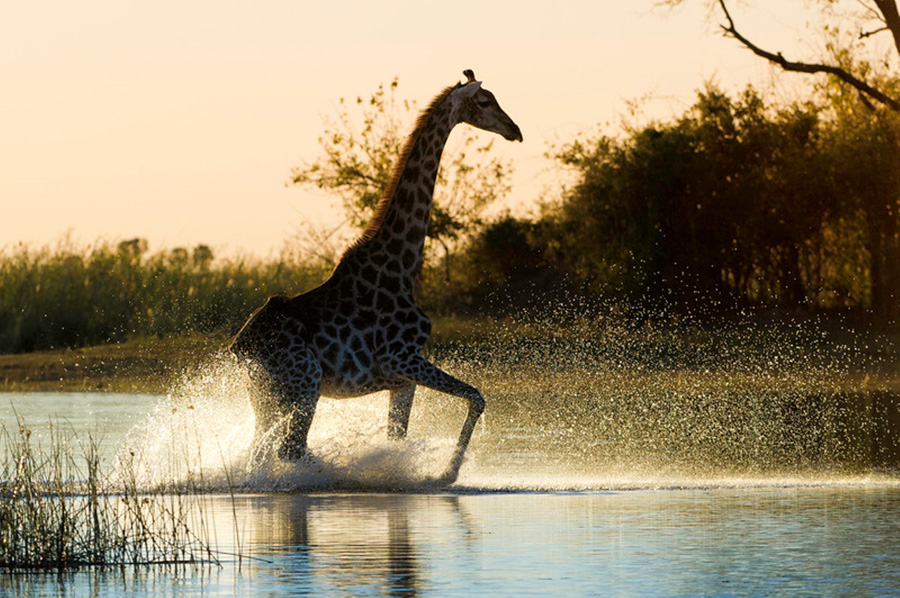 Giraffe walking in Water in Linyanti, Botswana. Photo by Dana Allen.
(Click on photo to view larger)
The Kalahari Desert
The Kalahari Desert is a large semi-arid sandy savannah. It covers much of Botswana, the eastern third of Namibia and the northernmost part of the Northern Cape Province in South Africa. The Kalahari Desert is not actually a desert in the as it receives too much rainfall (between 5 and 10 inches annually). The rain filters rapidly through the vast expanses of sand, leaving nothing on the surface, turning the Kalahari into the "thirstland". Arid-adapted game includes springbok, gemsbok (oryx), wildebeest, and kudu. Desert specialties such as meerkat, bat-eared foxes, cape fox and brown hyena can be found here too. All three African big cats can be found here as well – cheetah, leopard, and the famous black-maned Kalahari lions.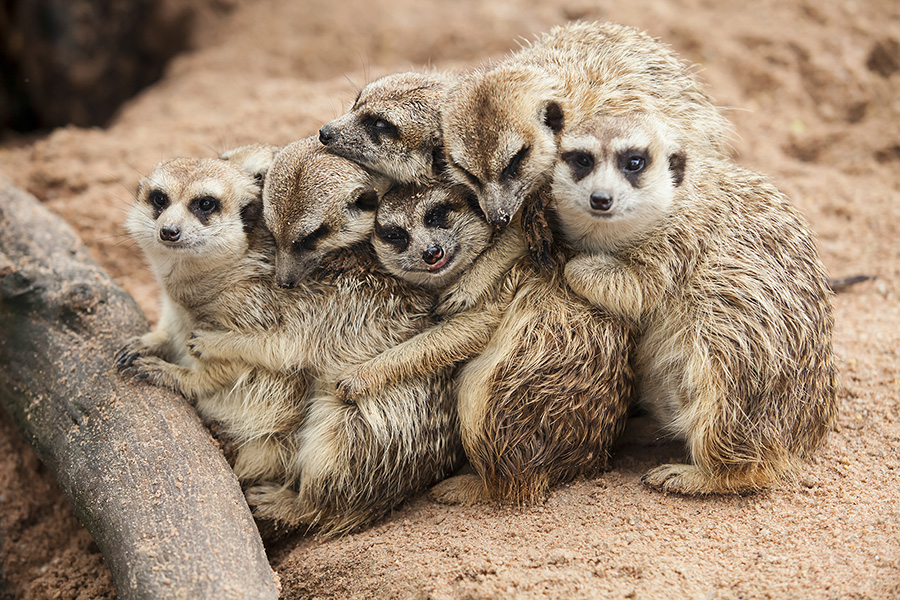 Botswana is a great destination to see Meerkats
(Click on photo to view larger)
---
Botswana Luxury Safari Reviews
"We had a fantastic time touring Botswana using Lion World Travel and staying at the Belmond Lodges of Savute and Eagle Island.
We felt so cared for by being greeted and guided each step of the way, once we reached Johannesburg. The experience far exceeded any expectations we had. The experience of the guides, the comfort of the lodges and the vast number of animals that we got to sit and enjoy at length were all more than we expected.

Impressive Springbok and Gemsbok in Botswana. Photo by Mike Myers.
(Click on photo to view larger)
This was a trip of a lifetime and we definitely took a step up in the pamper level and enjoyed it thoroughly. Our kids, 17 and 20, both were awed by the experience and expressed how glad they were that they were old enough to truly appreciate it and take it all in. We were happily surprised that Belmond Savute had filtererd water throughout and that there was wifi available,which we hadn't expected. 
The guides were truly amazing. We loved hearing about how they ended up as guides, where they grew up and the vast knowledge they had about life with the animals. It was way more than just seeing animals and checking off what you had seen. We had time to sit and get to know the animals and watch their behaviors. We never got tired of watching them move, interact and even play.
Can't say enough about this trip".
Susan G (Via Tripadvisor)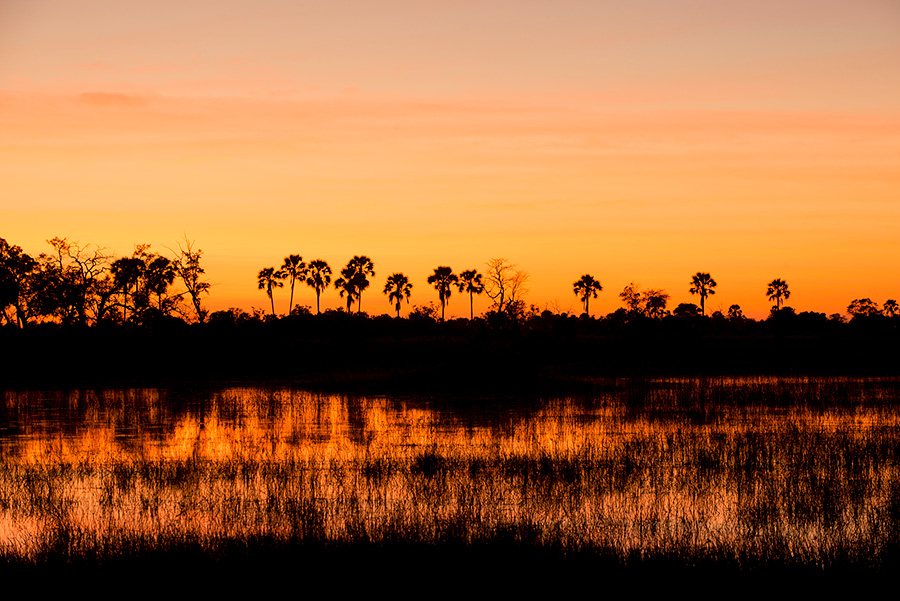 Botswana Sunset at Nxabega in the Okavango Delta
(Click on photo to view larger)
Visit Tripadvisor to see what guests are saying about Botswana safaris from Lion World Travel.
Contact a Botswana safari specialist to see the best option for you.
---
Botswana Travel Restrictions and Visa Tool:
Visit our Travel Restrictions and Visas page, powered by our partner Sherpa, to learn what the most recent travel requirements are for Botswana travelers.

---
Weather
Temperature (ºC) – These are the average lows and highs:

| Jan | Feb | Mar | Apr | May | Jun | Jul | Aug | sept | oct | nov | dec |
| --- | --- | --- | --- | --- | --- | --- | --- | --- | --- | --- | --- |
| 19/32 | 19/31 | 18/31 | 14/31 | 9/28 | 6/25 | 6/25 | 9/28 | 13/33 | 18/35 | 19/34 | 19/32 |
Temperature (ºF) – These are the average lows and highs:

| jan | feb | mar | apr | may | jun | jul | aug | sept | oct | nov | dec |
| --- | --- | --- | --- | --- | --- | --- | --- | --- | --- | --- | --- |
| 66/89 | 66/87 | 64/87 | 57/87 | 48/82 | 43/77 | 42/77 | 48/82 | 55/91 | 64/95 | 66/93 | 66/89 |
Average Rainfall (inches) – This varies according to the year and location:

| jan | feb | mar | apr | may | jun | jul | aug | sept | oct | nov | dec |
| --- | --- | --- | --- | --- | --- | --- | --- | --- | --- | --- | --- |
| 4.3 | 3.2 | 2.7 | 1.0 | 0.3 | 0.1 | 0.0 | 0.0 | 0.0 | 1.2 | 1.9 | 3.7 |
---