Photo Info

Red Carnation Hotels

Photo Info

Natural Selection
Summary

Itinerary

Pricing

Options

& Add-ons
Platinum Botswana
A luxury safari for those who want something different! Enjoy a magical meerkat experience at Jack's Camp, the wildlife-rich Zarafa Camp, and ultra-luxury at Xigera in Botswana.
Trip Highlights
OKAVANGO DELTA | KALAHARI DESERT | MAKGADIKGADI PANS | SELINDA RESERVE | MOREMI GAME RESERVE
Our Platinum Botswana safari showcases and/or supports renewable energy and takes action on climate change and reduces its impacts.
Discover
Striking scenery and wildlife in pristine and unspoiled wilderness areas
The waterways of the intriguing Okavango Delta while silently gliding in mokoro canoe
Experience
The second largest Zebra and Wildebeest migration in Africa
A special Meerkat experience at Jack's Camp
Aerial views of wildlife from your small bush plane
Relax
Enjoy luxuriously appointed intimate safari camps in ideal locations
Taste
Superb cuisine by top notch chefs
Traditional African sundowners on evening game drives
---
Welcome to Botswana and Xigera Safari Lodge
Brett Tollman, CEO of The Travel Corporation, presents an introduction to some of the finer details at Xigera Safari Lodge.
---
Discover the beauty of Xigera Safari Lodge, situated in the western reaches of Botswana's iconic Moremi Game Reserve.
---
---
PCR Testing – we can't take the test for you, but we've got the where and how covered!
Most countries and airlines require proof of a negative Covid PCR test. As your safari experts, we know their requirements and will take care of scheduling tests during your travels in Botswana, so that it's conveniently planned into your itinerary and taking into consideration that results take between 24-72 hours. Tests cost between $100 and $330 per person, per test including transport to the testing facility. Your Africa Specialist will give you more information as it relates to your itinerary.
---
Day 1 - Arrive Johannesburg
On arrival you will be met and transferred to the Saxon Hotel where you will spend the night.
Nestled in lush landscaped gardens in the exclusive Sandhurst suburb of Sandton, the 5-star Saxon Hotel & Spa makes a world-class statement of ethnic African elegance, combined with personalized attention to detail.
Airy and spacious, all rooms also incorporate a strong element of African art and are a peaceful oasis of marble, light wood and plush furnishings. Latticed shutters cover large bay windows that look onto the tranquil gardens or pool area.
The Saxon has witnessed history within its walls as it became home to Nelson Mandela after he was released from prison. It was during this time that South Africa's former President used the serene setting of the hotel to edit his autobiography "Long Walk to Freedom". Saxon Qunu Grill is named for the late former Presidents hometown. It was also the site of Oprah Winfrey's 50th birthday party.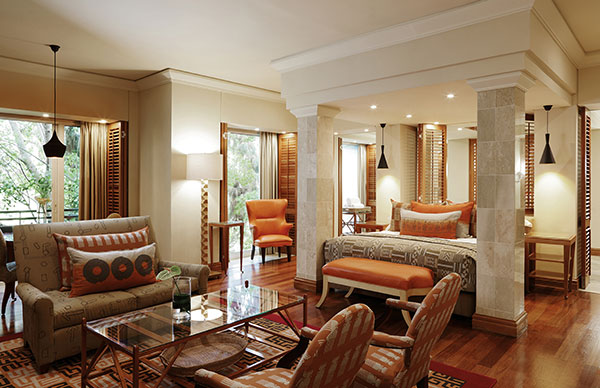 Luxury Suite at The Saxon Hotel & Spa
Accommodation: The Saxon Boutique Hotel & Spa – Luxury Suite
Day 2 - Johannesburg/Maun/Selinda Reserve
This morning after breakfast, you will be transferred to Johannesburg Airport for your flight to Maun. On arrival in Maun, you will connect with your light aircraft transfer to Zarafa Camp.
Please Note: Luggage restrictions on the Botswana light aircraft transfer flights is 20kg/44lbs in soft bags – including hand luggage.
Zarafa Camp is located on the on the far eastern edge of the private 320,000-acre Selinda Reserve in northern Botswana. The camp was originally called Zibadianja when it opened in 2008, but its beautiful design, "green" construction and amazing position overlooking the lagoon quickly made it the beloved of all who laid eyes on it. So, it became Zarafa, which is Arabic for "The Beloved One".
Just four magnificent tented villas and a spectacular main area, all raised on decking to take advantage of views over the lagoon, reflect the desire for exclusivity and privacy which inspired Zarafa's design. The result is a safari camp like no other, and one that you will quickly fall in love with and want to return to, time and again.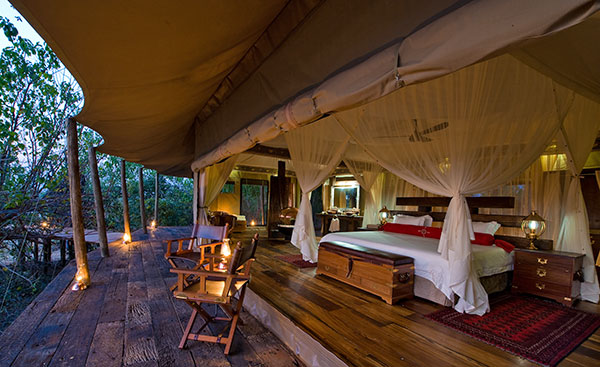 View from your Luxury Tented Suite at Zarafa Camp, Botswana
The Selinda Reserve has abundant wildlife in a wide variety of species but is most noted for its very large elephant population which can reach enormous densities during the dry winter months. The area boasts year-round populations of antelope, zebra, cheetah, wild dog and lion.
Enjoy morning and afternoon game drives in open 4x4 Land Rovers each accommodating a maximum of seven people, allowing each guest a 'window' seat. Night drives with spotlights allow you to find those nocturnal animals you wouldn't see during the day.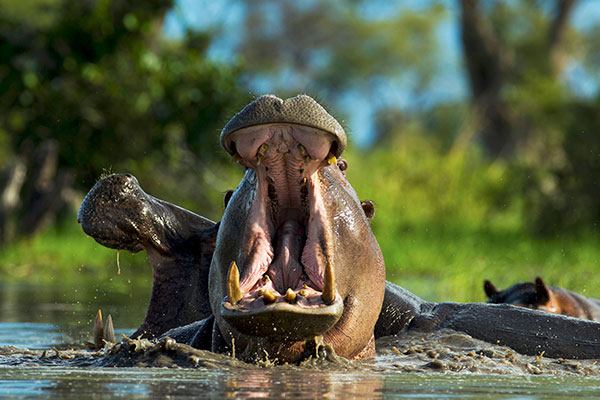 Hippos seen on a Game Drive at Zarafa Camp
Accommodation: Zarafa Camp – Luxury Suite (B, L, D)
Read More
Day 3 - Zarafa Camp
Game drives are in 10-seater open 4x4 Land Rovers each accommodating maximum six guests, allowing you an outside seat. The camp has a supply of bean bags for you to use to steady your camera while on game drives. You can take a walking safari (on request as dependent on walking guides being in camp).
Apart from the simple appeal of watching the elephants at the water's edge from the luxury of the raised decks of Zarafa Camp, spectacular wildlife viewing is available on day and night game drives and walks.
Cruising on the Zibadianja Lagoon is possible when water levels permit. The camp also has an open-air gym and offers in-room massages.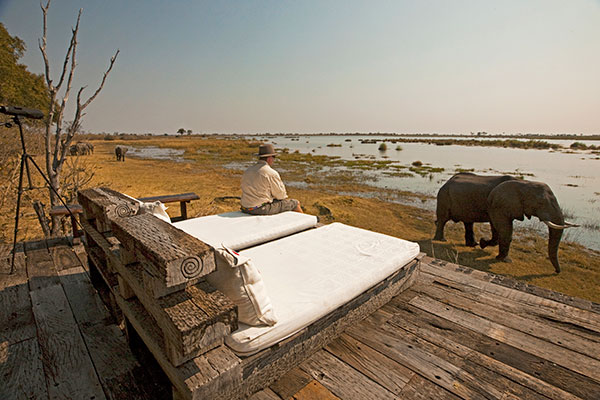 Elephants Walking by Zarafa Camp
Accommodation: Zarafa Camp – Tent (B, L, D)
Day 4 - Zarafa Camp
Enjoy another day exploring the Selinda Reserve on game drives and bush walks.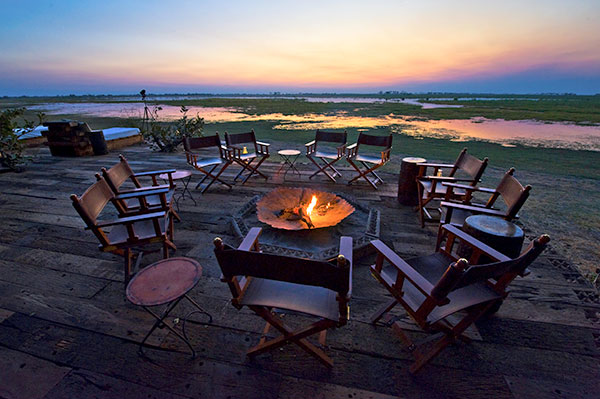 Time to Relax by the Fire after a Day of Game Drives at Zarafa Camp
Accommodation: Zarafa Camp – Tent (B, L, D)
Day 5 - Selinda Reserve/Makgadikgadi
Today you will be transferred by light aircraft to and transfer to Jack's Camp, one of the most legendary and iconic camps in Southern Africa. Founded by explorer Jack Bousfield in the 1960s, the camp sits in a striking spot on the edge of Botswana's Makgadikgadi Pans, gazing over glittering salt pans and shimmering expanses of sun-scorched earth.
Please Note: Luggage restrictions on the Botswana light aircraft transfer flights is 20kg/44lbs in soft bags – including hand luggage.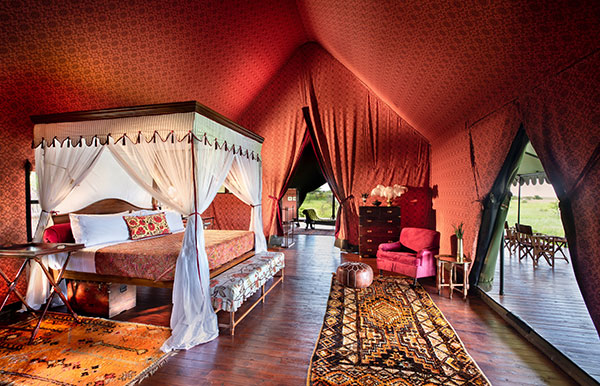 Luxury Guest Tent at Jack's Camp, Botswana
Jack's Camp is an oasis of style and comfort in the middle of Botswana's Kalahari Desert. A beautiful authentic, 1940's style tented safari camp, which includes a private museum, shop, iconic tea tent and a pool pavilion. Spectacular vistas, creative surprises, expert guiding, old-world safari styling and superb cuisine all come together to create an experience that is completely different to any other.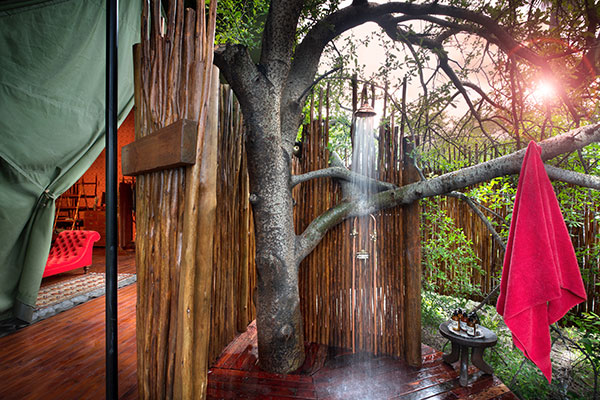 Private Outdoor Safari Shower? Or Indoor Shower? It's your choice at Jack's Camp
Jack's Camp features ten, Bedouin-style tents with en-suite bathrooms featuring indoor and private outdoor showers, scattered below a soft canopy of molokwane palms, each one an ode to safaris of old.
At the mess tent, a museum of vintage artefacts, maps, photos, and manuscripts all collected by the Bousfield family, is the centre piece of the 1940s-style canvas pavilion. And if you weren't already completely and utterly blown away, wait until you see the sleek swimming pool tent, and the fact that it's the only one of its kind on the continent.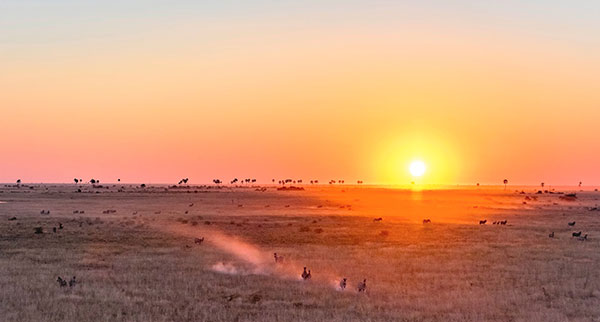 Watching Wildlife at Jack's Camp while the sun sets
The desert is never a place of abundance. The Makgadikgadi is full of elusive species and desert-adapted animals and the perfect complement to Botswana's traditionally game-rich areas, like the Khwai Private Reserve and the Okavango Delta.
Accommodation: Jack's Camp – Luxury Tent (B, L, D)
Day 6 - Makgadikgadi
While staying at Jack's Camp you will have the opportunity to go out on safari game drives.
On these guided game drives, you have the opportunity to explore the 6,200 square miles of Makgadikgadi Salt pans further to see rare desert species. Ornithology enthusiasts will enjoy birding walks to seek migratory and resident bird species.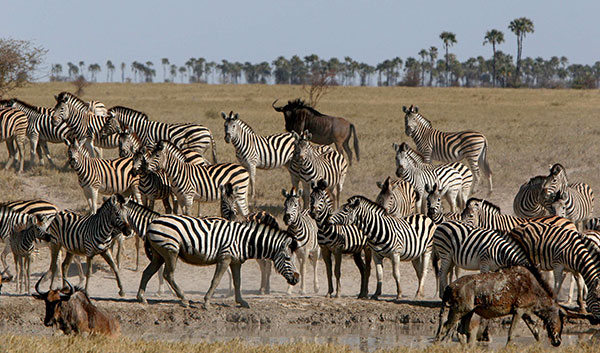 Zebra Migration in Botswana, Jack's Camp
Nature and anthropology walks to seek ancient stone tools dated 2,000 to 500,000 years old. Sunset "sundowners" on the pans and surreal astronomy evenings with the guides. During the wet, rainy season 35-75,000 zebra and wildebeest migrate into the area with regular sightings of lion, cheetah and other predators on the hunt of their trail. See hundreds of thousands of Pink Flamingo on the soda lake at Kubu Island in the wet season - the greatest flock on earth.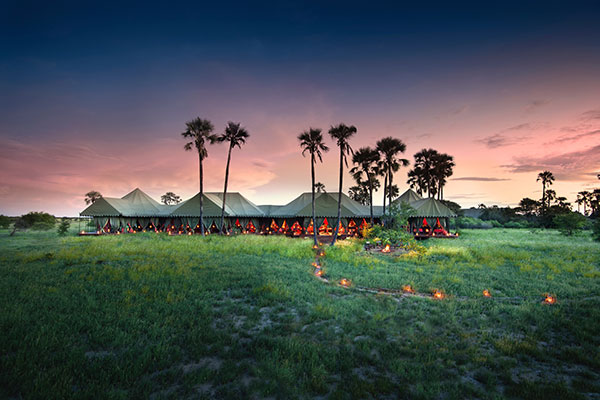 View of the Mess Tent before Dinner at Jack's Camp
Accommodation: Jack's Camp – Luxury Tent (B, L, D)
Day 7 - Makgadikgadi
Enjoy a day of wildlife viewing. A visit to the Makgadikgadi means getting up close and personal with the local meerkat families.
Years of scientific study have resulted in several meerkat colonies in Botswana being semi-habituated. Here you can have a great meerkat experience, with the opportunity to meet these social mongooses, giving unique insights into how Kalahari meerkats band together to face the challenges of this unique and unforgiving environment. Head out from camp just as the sun it is rising, so that you are on the ground as these little guys set off in search of their breakfast.

See amazing meerkats up close at Jack's Camp
Walk amongst them (you're not allowed to touch or feed them) and if you take a seat you might be lucky enough to be mistaken for a termite mound, where you will be used as a look out point for predators.
Spend time walking and interacting with a group of Zu/'hoasi Bushmen and gain insight into their ancient culture.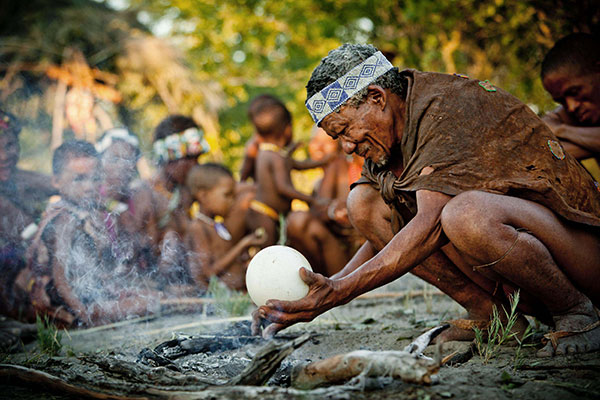 Learning from the Zu/'hoasi Bushmen in Botswana
During the dry season, go quad biking across the lunar expanse of the pans. During the green season, experience the spectacular migration of zebra and wildebeest – the second biggest in Africa, and the last remaining in Southern Africa.
Accommodation: Jack's Camp – Luxury Tent (B, L, D)
Day 8 - Makgadikgadi/Okavango Delta
Today you will take a light aircraft transfer to the Okavango Delta. On arrival at the camp airstrip you will be met and transferred to the spectacular Xigera Safari Lodge, where you will spend 3-nights, including all meals and two activities each day.
Please Note: Luggage restrictions on the Botswana light aircraft transfer flights is 20kg/44lbs in soft bags – including hand luggage.
Xigera ("Kee-jera") Safari Lodge is a bold new statement in Botswana's most unspoiled wilderness on the western side of the Moremi Game Reserve, in the heart of the Okavango Delta.
Discover 12 suites suspended above the forest floor, with a deck that extends to an outdoor daybed with uninterrupted views over the floodplains and passing wildlife. Floating delicately above the water and allowing wildlife to pass uninterruptedly beneath, the suites are situated on two islands, bridged together with an extraordinary bronze lily centrepiece designed by Anton de Kock and created by Otto du Plessis.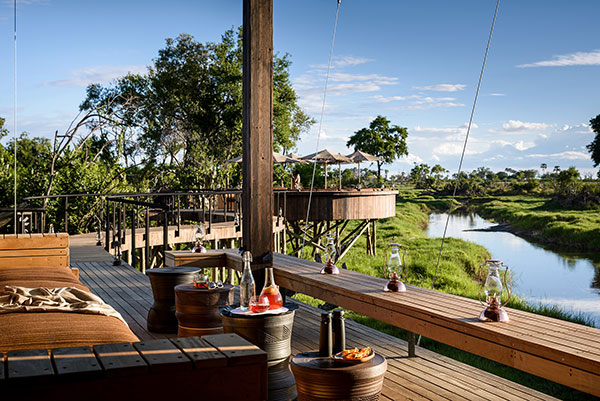 Pavilion with Viewing Platform at Xigera Safari Lodge
Each guest suite is fully air conditioned and solar powered by the Xigera Energy Centre, which supplies over 95% of Xigera's energy needs. Water is also purified using an innovative Reverse Osmosis mineralising process, to enable guests to drink the water.
The lodge is surrounded by palm-filled islands, breath-taking floodplains and riverine forests: a pristine lacework of islands, papyrus swamps and dense trees. This afternoon enjoy your first scheduled game viewing activity in the Okavango Delta, where you might encounter lions, leopards, elephants, crocodiles and more than 450 bird species.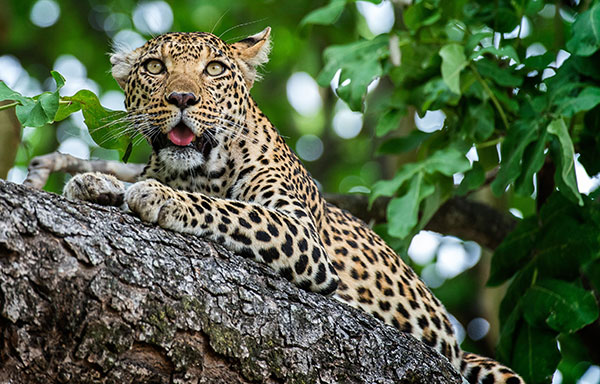 Leopard near Xigera Safari Camp, photo by Mike Myers
During your free time, admire Xigera's 'living gallery' of bespoke works commissioned exclusively by Africa's most exciting artists and craftspeople. Ground-breaking in its scope and vision, it will be the first design project of this scale on the continent, in partnership with award-winning gallery Southern Guild.
Relax around a totemic firepit sculpture by blacksmith artist Conrad Hicks, holding the fire as a boma centrepiece and offering a contemporary take on the traditional boma setting.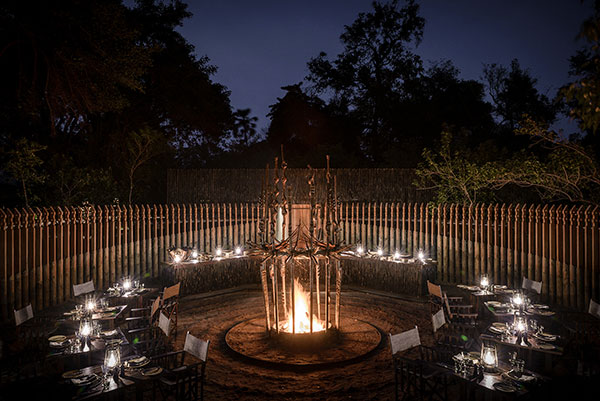 Boma at Xigera Safari Lodge
The spectacular spa provides a tranquil haven, with an extensive spa programme focused on mindfulness, wellness and holistic healing, tapping into the natural healing powers of the bush. Practise yoga each day, spend time in the gym or swim in the flowing water of the swimming pool, which overlooks the river, with a deck for relaxation.
Dining at Xigera is a true bush experience. Beneath the velvet night sky, dine on delicious dishes that are inspired by the Delta, using the very best fresh and local ingredients. African-inspired menus, designed by experienced Red Carnation Executive Chefs, are complemented by much-loved signature recipes and a cellar that showcases a superb selection of award-winning Bouchard Finlayson wines.
Accommodation: Xigera Safari Lodge – Luxury Suite (B, L, D)
Day 9 - Okavango Delta
At Xigera, you're at the heart of one of the most incredible eco-systems in Africa. It's a wetlands paradise where the ebb and flow of the seasons paints an ever-changing vista to frame your wildlife experiences.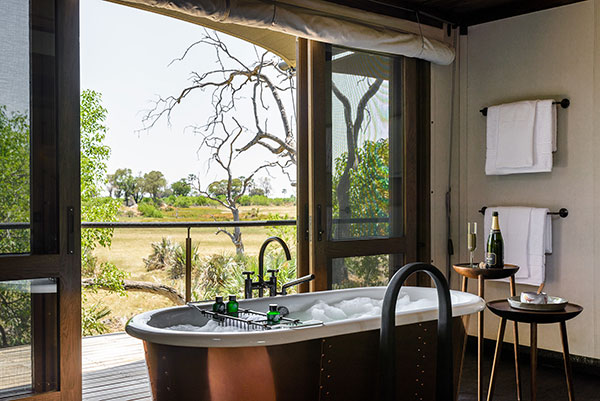 Bath tub views from your suite at Xigera Safari Lodge
Embark on you game viewing experiences, as Xigera's expert guides generously share a lifetime's knowledge of the local flora and fauna. Take a flexible game drive or walking safari, or journey through labyrinthine waterways on a mokoro craft or sleek motorboat.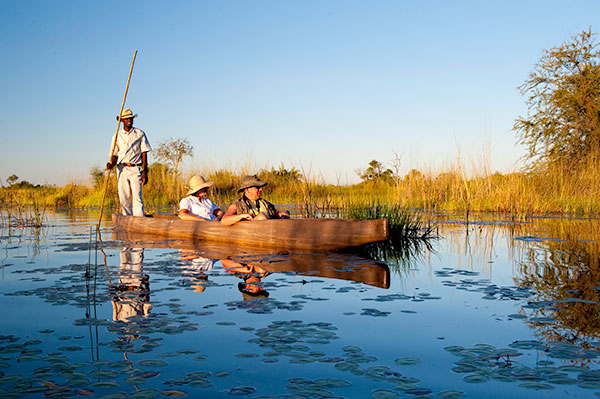 Gliding along the Okavango Delta in a Mokoro at Xigera
Accomodation: Xigera Safari Lodge – Luxury Suite (B, L, D)
Day 10 - Okavango Delta
Exquisite palm forests and long miscanthus grass; papyrus-lined channels and large floodwater lagoons all form the dramatic stage of an ancient land that showcases one of Africa's greatest natural wildernesses. Witness this magical world come to life on a walking safari, with the opportunity to spot wildlife that might otherwise be missed from a vehicle.
On nature walks discover the smaller miracles of the bush, things sometimes missed in a vehicle.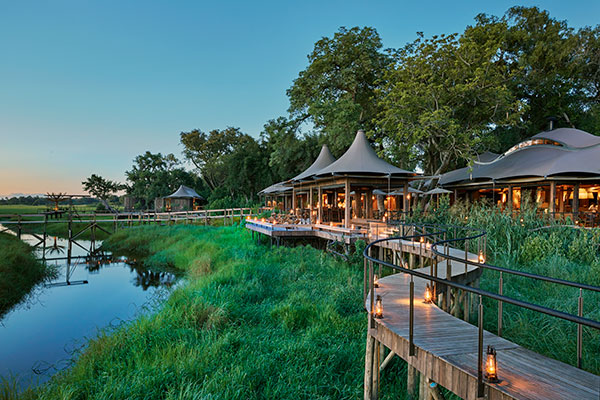 Boardwalk at Xigera Safari Lodge, Botswana
Accommodation: Xigera Safari Lodge – Luxury Suite (B, L, D)
Day 11 - Okavango/Maun/Johannesburg
It is time to say goodbye to depart from your luxury wildlife experience as you transfer by light aircraft to Maun Airport.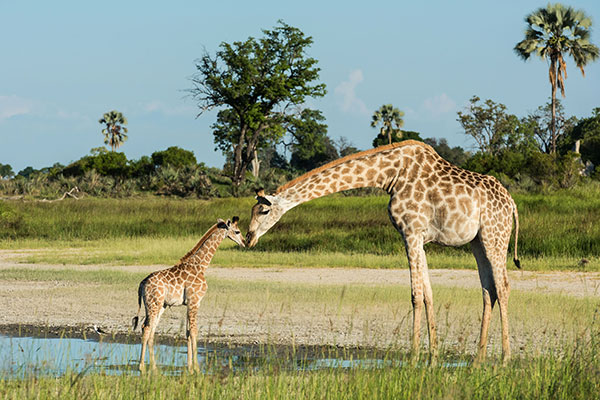 Baby Giraffe and mother at Xigera Safari Lodge, photo by Mike Myers
Please Note: Luggage restrictions on the Botswana light aircraft transfer flights is 20kg/44lbs in soft bags – including hand luggage.
On arrival in Maun, you will connect with your regional flight to Johannesburg and then onto your international flight. (B)
Add-Ons
You are so close - don't miss the amazing Victoria Falls! The "Legend of the Falls" itinerary, is a popular add-on.
On this 3-night package you will spend a night in Johannesburg followed by 2 nights in Livingstone on the Zambian side of the Victoria Falls, one of the Seven Natural Wonders of the World. Experience the wonder of the mighty Falls as well as a tranquil cruise on the Zambezi River.
Visit "Legend of the Falls" for the detailed itinerary and pricing.
Prices are per person in US Dollars, for land arrangements only, based on double occupancy accommodations. Based on a minimum of 2 passengers to operate. Single supplement pricing available on request.
2021
Scroll for more →
Jan 16 - Mar 31
Apr
May
Jun 1-14
Jun 15-30
Jul 1 - Aug 31
Sep
Oct
Nov - Dec 09
Selling Price
$19600
$23200
$24800
$27900
$31200
$31900
$30900
$31200
$22900
Single Supplement
2022
Scroll for more →
| | | | | | | | | |
| --- | --- | --- | --- | --- | --- | --- | --- | --- |
| | Jan 16 - Mar 31 | Apr | May | Jun 1-14 | Jun 15-30 | Jul 1 - Aug 31 | Sep - Oct | Nov - Dec 14 |
| Selling Price | $21300 | $25800 | $27700 | $31400 | $34800 | $35700 | $34800 | $25700 |
Inclusions:
All scheduled charter flights between the lodges and Maun as listed
Accommodation as specified
Tours and activities as specified
Meals as specified in the itinerary
All services and transfers as specified
Transportation in luxury vehicles
Light aircraft transfers as listed in the itinerary
Entrance fees for sight-seeing as indicated
Game drives as specified in itinerary
Services of Rangers/Trackers
Platinum Meet and Greet upon arrival
Exclusions:
Roundtrip, International airfare
Domestic flights in Southern Africa
Items of a personal nature such as drinks, laundry, telephone calls, etc.
All other services not mentioned above 
Gratuities/tips for game rangers, tour guides, and drivers 
Costs of obtaining passports and/or visas
Trip cancellation, interruption and/or medical insurance – please note that insurance for this trip is a mandatory requirement from suppliers in Southern Africa – proof of insurance must be provided before bookings are confirmed. It is your personal responsibility to ensure you have sufficient insurance coverage.
Baggage
*Prices in USD, based on double occupancy, restrictions apply
Speak to an Expert
1-800-387-2706