Photo Info

Durban Tourism

Photo Info

Durban Tourism

Photo Info

Durban Tourism
Summary

Itinerary

Pricing

Options

& Add-ons
Durban Sightseeing Tours
Experience scenic Durban on our collection of half day and full day tours.
Trip Highlights
Explore
Durban's white sandy beaches
The bustling African and Indian markets at Warwick Triangle
Learn
Local history and culture through the enigmatic Bushman paintings
About South Africa's struggle against apartheid on a visit to Nelson Mandela's capture site
Discover
Traditional Zulu culture and customs on a tour of Shakaland
The history of Anglo-Zulu conflict on a tour of the battlefields of Islandwana and Rorke's Drift
This is the wet 'n wild city, where the sun shines all year round, where the warm Indian Ocean calls, and the fun never sets. From the dramatic peaks of the exquisite Drakensberg mountain range to traditional Zulu villages, magnificent game reserves, historic battle sites and the warm Indian Ocean lapping onto wide, sandy beaches, KwaZulu-Natal is a tourist's paradise. Let Thompsons Africa help you discover the treasures of this region.
All pricing is based on a minimum of 2 people traveling and includes the pick-up and drop off from Umhlanga hotels:
---
Full Day Tours
---
Drakensberg World Heritage Tour
Departs Tue, Thu, Sat between 6:00am and 6:30am. Returns approx. 5:30pm.
Discover the beauty of the undulating Drakensberg Mountain range as you travel through such breathtaking vistas as we visit the World Heritage Site of Giant's Castle.
The enigmatic Bushman paintings in the vicinity are not far, so you set off on foot for a leisurely 3km round hike to the site of the caves to discover this magical legacy of the Bushmen (moderate fitness level required). Your guide there will share his knowledge of the paintings which date back 2 000 years. You're bound to have built up an appetite, so tuck into the hearty lunch laid on. Your return to Durban is via a visit to the Nelson Mandela Capture site – a historically significant moment in South African history and now commemorated with a world class sculpture, in memory of Nelson Mandela and his heroic role in the struggle against apartheid.
---
Shakaland Tour
Departs Tue, Thu, Sat between 8:30am and 8:45am. Returns approx. 4:30pm.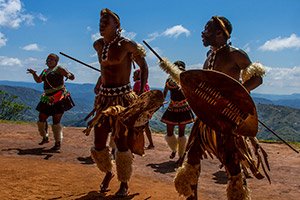 Experience traditional Zulu culture and customs at the largest Zulu kraal in all of Zululand, look into the future with an iSangoma or traditional healer...all this and more, packed into one exhilarating day.
There will be some traditional Zulu beer for you to sample, while the craftsmen and community who make the spears, shields, beadwork, pots and their huts, open their doors so you can witness their skills and artistry.
The Zulu dancers will thrill with their grace and energy, and you'll be treated to a most satisfying lunchtime feast! Come live a day in the life of a traditional community – you'll find it informative and a far cry from anything you've ever experienced!
---
Islandwana & Rorke's Drift Tour
Departs Sat between 6:15am and 6:45am. Returns approx. 7:30pm.
Historians will love it for sure, but if you enjoy a really great story, the Battlefields tour is for you too – it's both a thriller and a drama.
KwaZulu-Natal is rich in Anglo-Zulu war history, where two of the most famous, at times heart-wrenching battles fought between the Zulu and British Armies took place.
You visit the eerie battlefields of Isandlwana and Rorke's Drift, and let your imagination paint mental pictures of the battle scenes played out here.
Your tour includes lunch, and then you wind our way home thereafter through some of the most spectacular scenery in the province of Kwazulu Natal.
*A Specialist Battlefield Guide is available at a surcharge on request.
---
You also have the option of hiring a driver and guide for a half or full day and tailor making the excursion to meet your requirements. 
Add-Ons
TRAVEL INSURANCE
Trip Cancellation, Interruption and/or Medical Insurance – please note that insurance for this trip is a mandatory requirement from suppliers in Africa – proof of insurance must be provided before bookings are confirmed. It is your personal responsibility to ensure you have enough travel insurance coverage from the provider of your choice. Please let your Africa Specialist know if you would like information on this.
To avoid disappointment, we recommend booking your preferred tours well in advance of your departure date. Speak to your Africa Specialist for more information.
Prices are per person based on a minimum of two people in US Dollars. Private tour rates are based on two people traveling. For scheduled tours, collection from hotels outside of the city center will incur an additional fee.
Pricing Valid to October 31, 2020
| | | | |
| --- | --- | --- | --- |
| TOUR | SCHEDULED TOUR DEPARTURES | SCHEDULED TOUR PRICE | PRIVATE TOUR PRICE |
| Drakensberg World Heritage Tour - Full Day | Tue, Thur, Sat | $210 | $325 |
| Shakaland Tour - Full Day | Tue, Thur, Sat | $160 | $320 |
| Islandwana & Rorke's Drift Tour - Full Day | Sat | $240 | $450 |
*Prices in USD, based on double occupancy, restrictions apply
Speak to an Expert
1-800-387-2706