Single Women Travelers
February 11, 2020
By Lucille Sive
As a woman who regularly travels alone, I am not unique! Whether it is for business or pleasure, thousands of women travel solo every year. While all travelers should take precautions, women travelers are a distinct demographic in terms of their safety.  Couples or groups have safety in numbers, while single women are easier targets than men for theft and harassment and are exposed to gender inequality prevalent in many countries.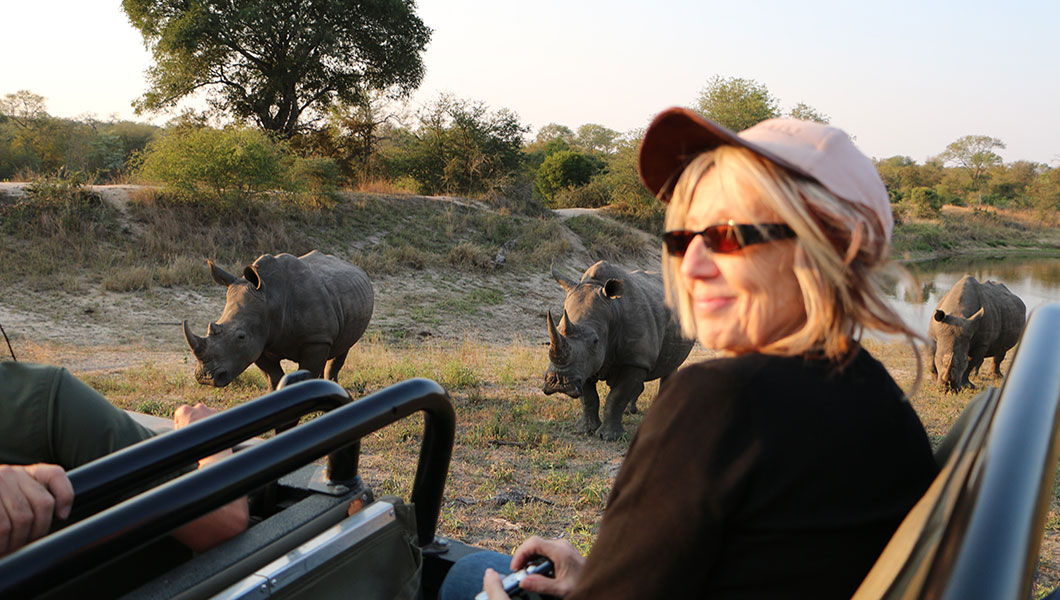 So what do you need to know if you are a woman traveling alone in Africa?
Firstly – don't let fear or apprehension prevent you from travelling. There is no greater joy than seeing new and unique places, meeting different cultures and experiencing exciting adventures. We have tried to make that within everyone's reach by offering a great selection of itineraries where no or low single supplement is applied. Check our single room specials for those itineraries.
However just a few precautions may make the world of difference to your safety and comfort while traveling.
Let's start with your flight. Whenever you check in your bags make certain that the airline baggage tag on your luggage is labelled with the airport code for the right destination before the bag is put on the conveyor belt or otherwise taken to the aircraft! With check in personnel handling many bags it is easy for an error to occur and I know you will want to see your luggage on the airport carousel when you arrive at your destination, especially if you are like me and travel with 5 pairs of shoes!  If you are not familiar with the airport code for your destination, these can easily be found on-line or ask your travel consultant for assistance.
It is a good idea to request an airport Meet and Greet so a local representative welcomes you on arrival at your first point of entry into the country. You can ask the representative any questions you may have and get some initial tips and information on your trip, as well as knowing you will be safely transported to your hotel. We routinely arrange this service for all our clients.
Take these few tips into account when making or requesting hotel reservations.
- Location is of utmost importance. You don't want to find yourself alone in a quiet part of town. Book a hotel that is in close proximity to shopping and restaurants so that you may feel comfortable taking a walk or getting to a restaurant in a lively and public space, especially at night.
- Ask for a room close to the elevator. It makes it more difficult to be followed.
- Rooms on a higher floor are difficult to break into. Stay away from ground floor rooms.
- If you are visiting a game lodge, ask to be as close to the main areas of the lodge as possible so you don't feel too isolated.
- Always leave your cash and valuables in your hotel room safe, or if you are at a safari lodge with no safes, have the lodge manager store valuables for you.
Be street savvy. Always be prepared with cash, and a map or guidebook so that you are self-sufficient. If you inadvertently wander into an unfriendly area, go into a store or restaurant to ask for assistance, rather than asking a random person on the street. As well, if you need to check your map, it's a good idea to do so discreetly inside a store or restaurant rather than out in the open.
If you need to draw cash from an ATM, do so in daylight hours and make sure there are no strange characters loitering about.
In countries where there is a large Muslim population, such as Kenya or Tanzania and especially in Mombasa or Zanzibar, it is best to dress conservatively. No miniskirts, skimpy shorts, tank tops or revealing tops and dresses.
Here are two useful government links for information regarding women traveling alone:
Government of Canada: Her own way – a woman's safe-travel guide
United States Dept. of State: Information for Women Travelers
We have no hesitation in sending single female travelers on any of our trips to Southern or East Africa. Our trips are all to countries welcoming tourism and will not think it unusual to see a woman traveling alone. In Africa a smile or greeting from the locals is a common sign of friendliness and usually not a hint of anything improper.  The warm sun, friendly people, exceptional wildlife and breathtaking scenery will all welcome you back! Relax and enjoy Africa – it is a great place to travel.