Who Knew? 5 Fascinating Facts About Giraffes
August 14, 2019
By Lucille Sive
Africa is home to many iconic animals, but one of the most fun species to see on safari is none other than the giraffe! With their long necks, fun spots and graceful movements, the giraffe is always a treat to witness in person. But there is more to this exciting animal than meets the eye. Did you know, for example, that a giraffe's hair-covered horns are actually called ossicones? Giraffes, it turns out, are one of a few species that are born with a set of these "hairy" horns. Read on for more fun facts about the world's tallest land mammal.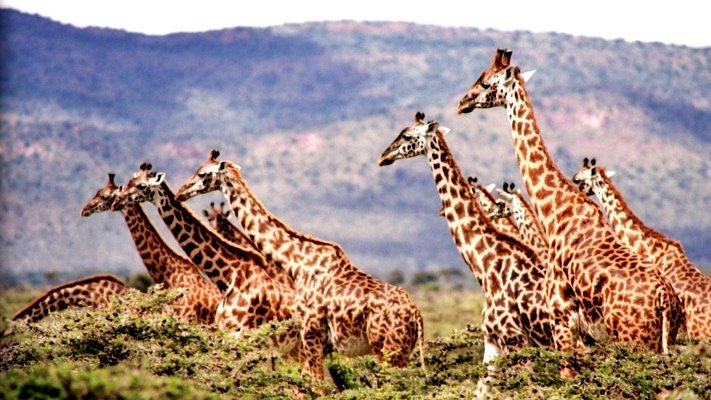 1) There Are Four Giraffe Species
In 2016, scientists made a blockbuster discovery about the world's tallest land mammals: giraffes actually come in four separate species. Previously, scientists thought that giraffes all belonged to one species, with many subspecies, but this assumption has been overturned. The four species of giraffes are the Southern Giraffe, the Northern Giraffe, the Maasai Giraffe, and the Reticulated Giraffe.
2) Maasai Giraffes and Reticulated Giraffes Look Different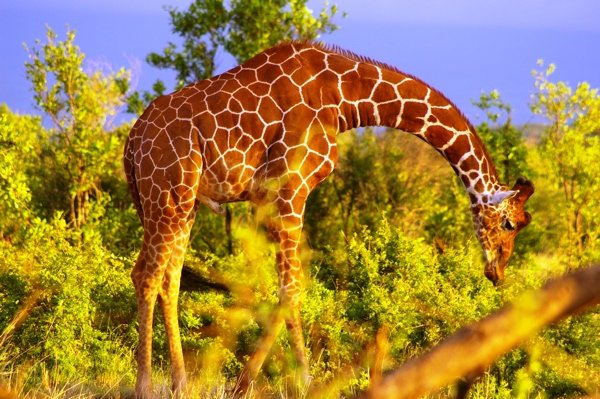 A reticulated giraffe.
The differences between the four species of giraffe are many, but one obvious visual cue exists between the reticulated giraffe and Maasai giraffe. Both the Maasai giraffe and reticulated giraffe are found in East Africa but their appearance is quite distinct. The patches on a Maasai Giraffe are noticeably darker and smaller and are separated by light brown lines. The reticulated giraffe, on the other hand, features large orange-brown patches separated by thin white lines.
3) Giraffe Tongues Are Impressive
Giraffe tongues, much like the animal itself, are huge. The average length is around 20 inches. This extra length allows the giraffe to use their tongues to grab and hook leaves from hard to reach Acacia trees, ensuring they get whatever food is within their reach. Since Giraffes eat up to 66 pounds of food a day, they use their tongues a lot; so much so that the black color of their tongues helps to prevent sunburns, ensuring that they can eat all day without interruption.
4) Giraffes Have the Same Number of Bones In Their Necks as Humans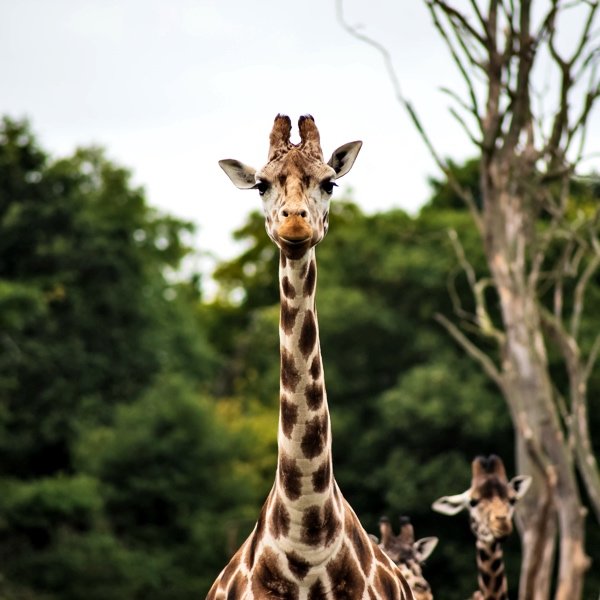 A giraffe's long neck.
With their long necks, giraffes are the tallest land-based mammals on Earth. The tallest species of giraffe can reach up to 20 feet tall—that's equivalent to two basketball nets stacked on top of each other. Despite this impressive height, Giraffes possess the same number of neck vertebrae as humans: seven. The difference is in the in the size of the vertebrae—Giraffe vertebrae can measure up to 11 inches in length and when combined with the other vertebrae and the skull, can weigh up to 600 pounds.
5) Giraffe populations are in decline
While giraffes are under less of a population threat than elephants or rhinos, their population has declined 40% over the past 50 years. Today, scientists' best estimates show that about 80,000 giraffes remain in Africa. Unfortunately, some species of giraffe are more threatened than others: both the northern giraffe and the reticulated giraffe have less than 10,000 individuals left in the wild. What caused this decline? Poaching and habitat loss are the two biggest factors in the decline of the wild giraffe population.