Who Knew? 5 Charming Cheetah Facts
April 14, 2020
By Lucille Sive
Africa is like no other place on Earth when it comes to the variety and majesty of its wildlife. The big five—lions, leopards, buffalo, elephants, rhinos—famously call Africa home, but so too do other large animals including one of our guests' favourites, the cheetah. It's well-known that cheetahs are the world's fastest land-based animal; they can reach top speeds of 75 mph during sprints, and it only takes them three seconds  to accelerate from 0 to 60 mph. But beyond their incredible speed, there is much to learn and love about cheetahs.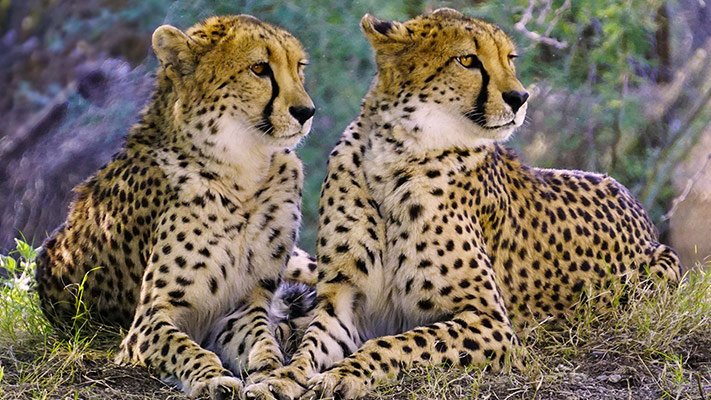 1) Cheetah Tear Marks Act Like Sunglasses
If you look closely at a cheetah's face, you'll notice that they have black tear marks that begin from the corner of the eye and run down the sides of their face from their nose down to their mouths. This unique feature has big benefits for cheetahs: since they primarily hunt during the day, unlike other big cats, the tear marks help to reflect away the sun's glare, making it easier for them to focus on hunting their prey.
2) Cheetahs Rely on Their Tails To Maneuver at High Speeds
Cheetah tails are long and muscular, making them quite different from the tails of their fellow big cats. What's the reason for this? Well, when cheetahs are in pursuit of their prey, their large tails act like a sort of rudder that helps them to steer and make sharp turns when chasing prey.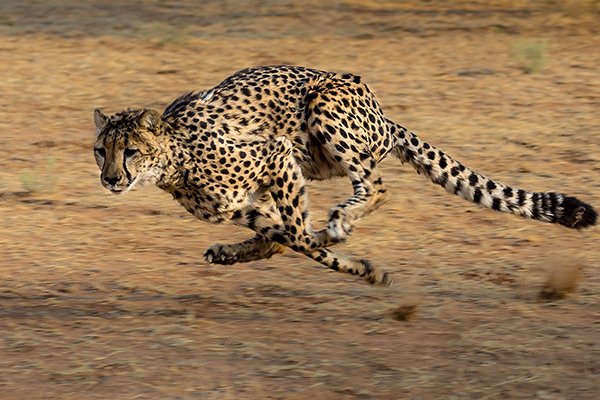 A sprinting cheetah
3) The Word "Cheetah" Has Two Different Meanings
The word "cheetah" dates back to 1704 and comes from the Hindi word cītā, which in turn derives from the Sanskrit word citrakāyaḥ. Consequently, "cheetah" has two prominent meanings: "hunting leopard" and "many-coloured, distinctively marked", owing to the cheetah's bright, spotted appearance.
4) A Cheetah Cub's Wild Hair Is More Than a Fashion Statement
Cheetah cubs, at first glance, appear to have extra hair compared to adult cheetahs. This "wild" hair is called a "mantle" and serves two purposes: the first is that, with the long hair on their back and neck, the mantle can make a cheetah cub resemble a honey badger—a nasty species feared by many animals—ensuring that predators keep their distance. Since cheetah cubs spend the first few months of their life hidden in dense vegetation, the long hair also helps to camouflage the cubs from other predators.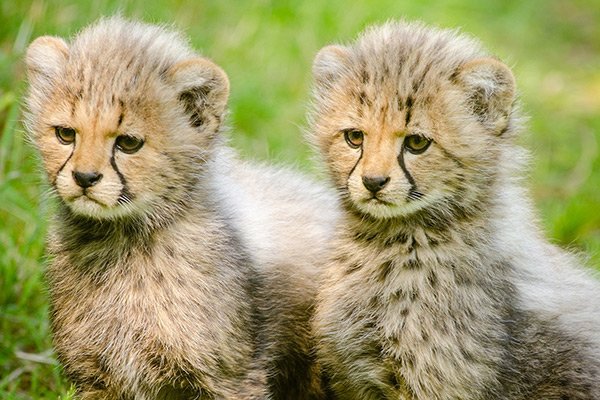 A cheetah cub's extra hair is called a mantle
5) Cheetahs Are Vulnerable
Of all of Africa's big cats, cheetahs, unfortunately, are the most endangered. Experts estimate that only 8,000 cheetahs are left in the wild in Africa. Habitat loss through agriculture and industrial expansion is largely to blame for the declining numbers of wild cheetahs. Fortunately, effective conservation organizations across Africa are doing what they can to preserve this beautiful species for future generations.