Who Knew? 10 Incredible Facts About Rhinos
January 2, 2020
September 22nd is the fourth anniversary of World Rhino Day, a day to celebrate rhinos around the world and to raise awareness about the threats these magnificent creatures continue to face in the wild. In celebration of one of Africa's "Big Five", here is a list of incredible rhino facts.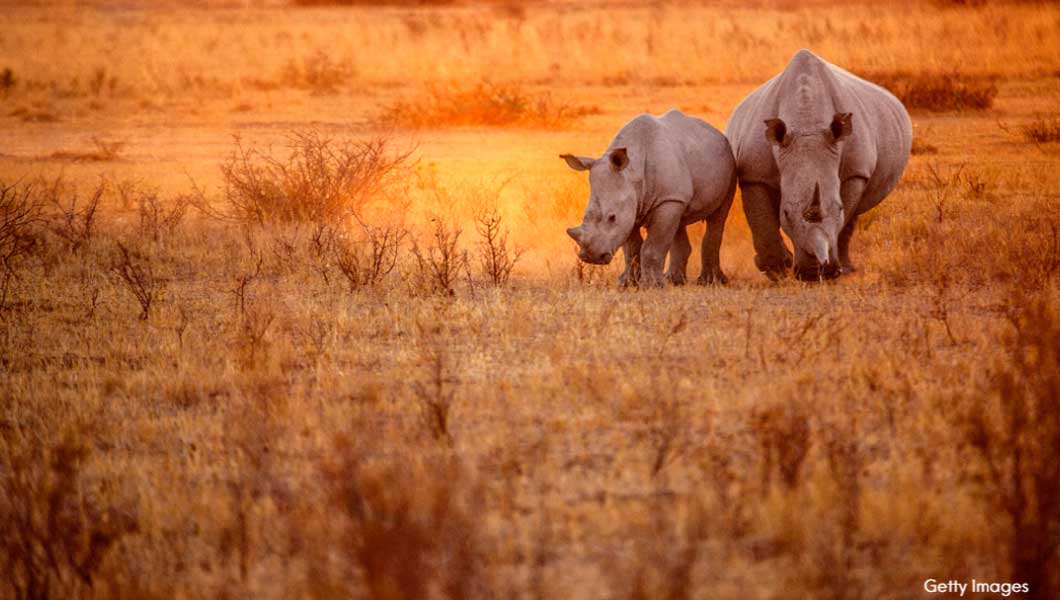 1) There are 5 species of rhinos, 3 of which are critically endangered
White, Black, Indian, Javan, and Sumatran make up the five species of rhino in the world. White and black rhinoceros are native to Africa, while Indian, Javan and Sumatran can be found in India and Asia. Due to widespread poaching, all rhinos are under threat, but the black rhino, Javan rhino and Sumatran rhino are classified as critically endangered and could become extinct in as few as three generations.
2) Rhino horns are made of the same substance as hair and fingernails
Despite its appearance, a rhino horn is not made of bone, instead the core substance of rhino horn is a protein called keratin, the same substance found in the fingernails and hair of many mammals (including humans). Keratin in a rhino horn is a compacted mass of hairs that grows throughout the life of a rhino.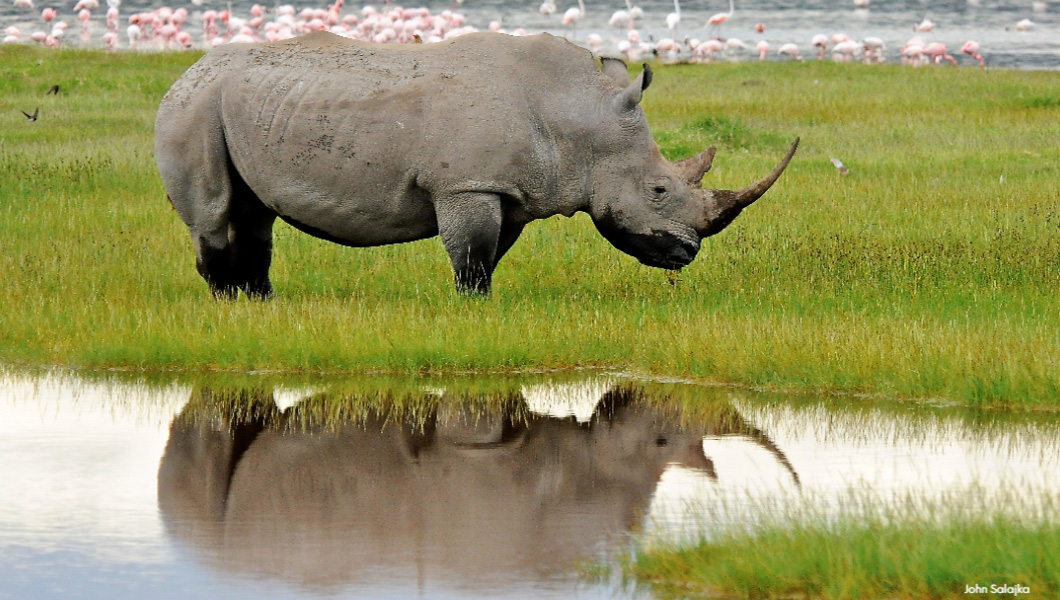 3) Rhinos Communicate with Sound (and Poop)
For rhinos, snorts signal anger, huffs are greetings, while surprised squeaks often mean confusion. In addition to these forms of communication, rhino droppings are also meaningful. By smelling rhino droppings, rhinos can identify a variety of characteristics about its owner including the sex and approximate age of the rhino. The location of the droppings also marks territory for different groups of rhino.
4) Rhinos Are Fast, Really Fast
Rhinos can reach speeds of up to 30 miles per hour. The world's fastest humans, by comparison, only reach speeds of 28 miles per hour in a short 100-meter sprint. Interestingly, while running their top speed, rhinos run on their toes.
5) Rhinos are Massive
Africa's white rhino, the largest of the world's five species of rhinos, can weigh in at 5,000 pounds, making it the world's second largest land mammal behind elephants. All that weight is distributed across a 6 foot tall frame that can reach up to 11 feet in length.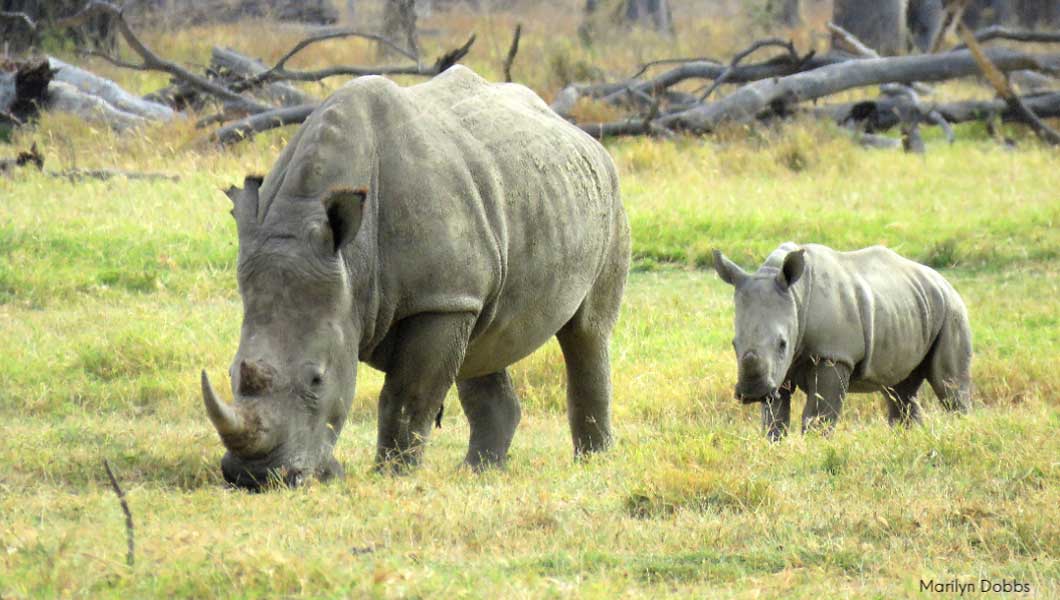 6) Rhinos Have Thick, But Sensitive, Skin
Similar to elephants, a rhino's skin can be up to 2 inches thick, but is still susceptible to sunburn. That's why, when you are on safari, you will often see rhinos rolling around in the mud. Once the mud dries, it provides a layer of protection from both the sun and insects.
7) Rhinos Are Ancient
Ancestors of today's rhinos roamed the earth 50 million years ago and though the rhinos of today share many similarities to their forebears, the thick, curly coat of hair found on the woolly rhino is not one of them!
8) Oxpeckers are a Rhino's Best Friend
Oxpeckers are small, colorful birds that are found throughout Sub-Saharan Africa and, more specifically, on the backs of white and black rhinos. The reason? Oxpeckers eat insects and ticks off the backs of rhinos, keeping the rhinos free from some of the more annoying pests in the wild. Close study of the relationship between oxpeckers and rhinos has also revealed that when an oxpecker makes a commotion, this alerts the rhino to potential dangers nearby.
9) Rhinos have a strong sense of smell and hearing, but poor eyesight
Rhinos make up for their poor eyesight—they sometimes have trouble visually detecting other animals on an open plain who are less than a hundred feet away—with their olfactory (smell) and auditory (hearing) senses. In fact, the largest part of the rhino brain is dedicated to the olfactory sense, indicating just how important a rhino's sense of smell is to its survival.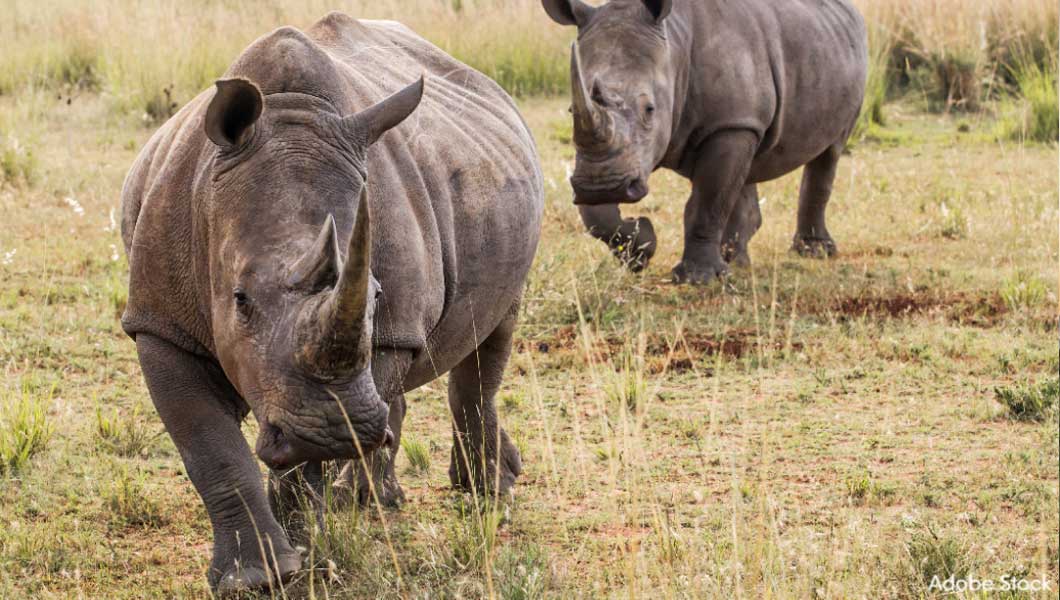 10) A group of rhinos is called a "crash"
While a group of rhinos is more commonly referred to as a "herd", these same groups are occasionally referred to as a "crash". Why? Well, the term officially refers to a group of rhinos that is moving at a high speed and shows, pretty clearly, that they are a force to be reckoned with.
Lion World Travel partners with the TreadRight Foundation to support critical rhino conservation initiatives in Africa with the Endangered Wildlife Trust and WildAid. Learn more about our rhino conservation work.
Sources: