Fun Facts About Victoria Falls -The Mosi-Oa-Tunya
October 24, 2019
By David (Red) Hunt & Andrew Lee  
How much do you know about Victoria Falls? Known locally as Mosi-oa-tunya, meaning "the smoke that thunders", this natural wonder of the world is a popular tourist attraction. Since 40% of our South Africa safari travelers book tours that include Victoria Falls, or add it as an extension to their Southern and Eastern Africa safaris, something special draws people to this magnificent waterfall.
Here are some Victoria Falls facts to help you appreciate this natural wonder even more.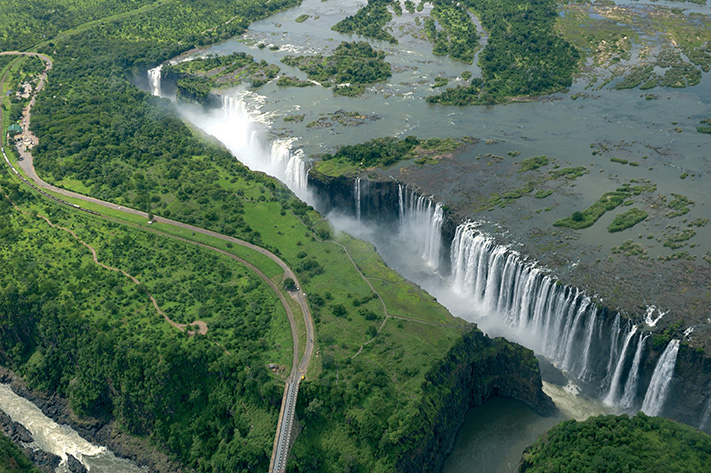 1. LIKE NIAGARA FALLS, IT BORDERS TWO COUNTRIES
Victoria Falls is situated between two countries; Zimbabwe is south, and Zambia is north. If you want to sound cool when you visit Africa, you can call them Zim and Zam!
2. IT IS THE BIGGEST WATERFALL IN THE WORLD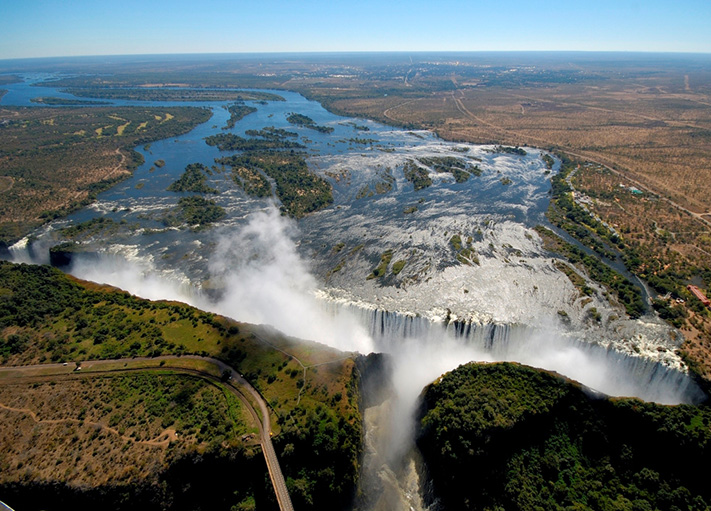 Victoria Falls is the biggest waterfall in the world.
Surprised? Can you think of a bigger waterfall than Victoria Falls? This title is a bit controversial, but it is proven to be true. Although Victoria Falls is not the tallest in the world (Angel Falls is), it does not have the highest water flow in the world (other falls do). And, depending on rainfall levels and river flows, it may not be the biggest waterfall in the world all year round. But Victoria Falls does officially measure to have the biggest dimensions. There is no other waterfall that has a combined height and width bigger than Victoria Falls! Iguazu Falls in South America is very close, and at high volume can temporarily surpass Victoria Falls.
3. YOU SHOULDN'T CALL IT VICTORIA FALLS
Named after Queen Victoria, historically the falls go by other local names. The most popular name for the waterfall is Mosi-oa-tunya, which means "the smoke that thunders" in the Kololo and Lozi languages.
4. SOMETIMES MOON RAINBOWS OCCUR AT VICTORIA FALLS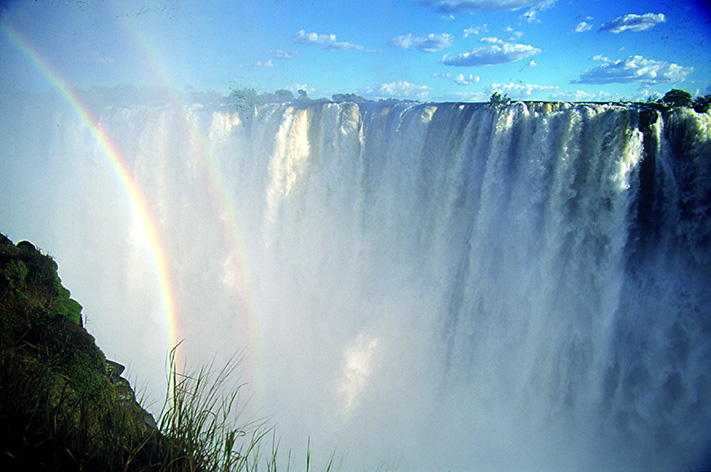 Rainbows are common at Victoria Fall. Be lucky enough to see one at night!
A moon rainbow, or more appropriately, a lunar rainbow, can occur at Victoria Falls! If water levels are high enough to create a large amount of spray and mist, light from the moon can create a rainbow at night. The best time of year to see this phenomenon is during a Full Moon of course. While the park area is usually closed at night, they do open during full moons for this special sighting.
5. THE VICTORIA FALLS BRIDGE IS MORE THAN 100 YEARS OLD
The Victoria Falls Bridge
Built in 1905, the Victoria Falls Bridge was part of a vision by Cecil John Rhodes to create a rail link up to Cairo. There is little rail traffic now, but the bridge provides a great photo viewpoint of the falls, and for the very adventurous, there is a bungee jump you can do if you feel like jumping and falling more than 110m off the bridge!
6. THE FALLS SERVE AN ECONOMIC PURPOSE
Not only is Victoria Falls a popular tourist attraction, it also serves the economic purpose of supplying energy to multiple cities across Zimbabwe and Zambia. More than just a pretty waterfall, Victoria Falls helps power people's lives every day.
7. VICTORIA FALLS HAS A RAINFOREST
The Victoria Falls Rainforest is the only place in the world where it rains everyday.
If you are the Zimbabwean side of the falls, you can visit the Victoria Falls Rainforest. Believe it or not, it is the only place on the planet with consistent rain on a 24/7 basis (day and night). The falls' rising water vapor causes the constant rain to splash down on the many plants and wildlife this magical rainforest houses. Be sure to bring your rain jacket and boots if visiting this rainforest.
8. It's One of the Seven Natural Wonders of the World
Along with the Great Barrier Reef, Grand Canyon, the Aurora Borealis, the Paricutin Volcano, the Harbor of Rio de Janeiro and Mount Everest, Victoria Falls is one of seven of the Natural Wonders of the World. Its thunderous sounds will reverberate within your entire body and its spectacular beauty is truly a sight to behold.
Whether you're on the Zimbabwean or Zambian side, Victoria Falls is a must-see attraction on your African vacation. You'll be amazed by its sheer power and gigantic size. Just remember your raincoat because it's going to get very wet! Visit our "Safaris" page to explore all the options that include Victoria Falls. If you have any questions feel free to call us for more information.