Skabenga … The Cat With (At Least) Nine Lives
November 13, 2019
In this guest blog from our friends at The Oyster Box Hotel in Durban, South Africa, we invite you to get to know Skabenga, the hotel's resident feline who seems to have a penchant for adventure ...and trouble! This adorable cat has made headlines in South Africa thanks to his incredible feats and famous birthday parties.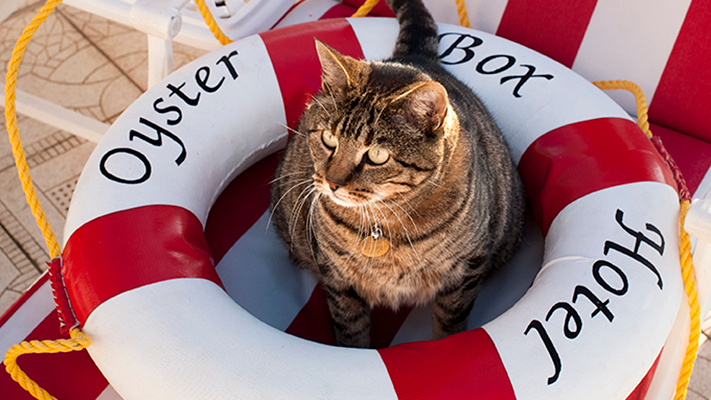 By Joanne Hayes, The Oyster Box Hotel
Skabenga (which means hooligan or vagabond in Zulu), a Tabby cat, has been a permanent resident at The Oyster Box, for more years than anybody can remember. Having wandered onto the property as a stray, he was fed tasty, expensive titbits by guests and with life so good…who can blame him for never wanting to leave!

Skabenga is always looking to help.
During the renovation operations, when the hotel was closed for two years, he was cared for by a cat-lover and brought 'home', shortly before the property re-opened. Initially, he wouldn't leave the back-office. Skittish and nervous, hissing at anybody who came near him, the staff tried everything to make him 'feel at home'; giving him his own basket and a bling collar, but nothing seemed to work. Until one day…he emerged in the reception area and never looked back.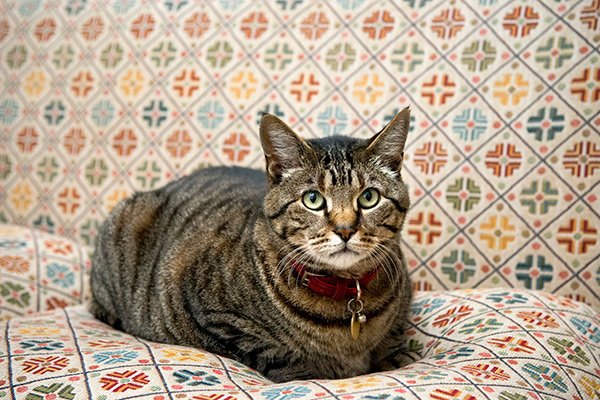 He sure doesn't look like much of a trouble maker.
Over the past few years Skabenga has really given meaning to the saying, that a cat has 'nine lives'. On one occasion, he 'disappeared' from the property…and miraculously re-appeared a few days later, in good health, thanks to the contact details on the brass name-tag around his neck. We never did find out where that adventure took him to…if only cat's could speak!
On another, he arrived back at the hotel, after some late night, off-site adventuring, with a badly broken leg; the vet suspected that he'd been hit by a car. His condition was so bad, that we thought we were going to lose him. He even missed his own birthday party that year, which we know he'd never do, as it's his favourite day of the year and gives him the chance to see his many fans, both young and old, and share a piece of birthday cake.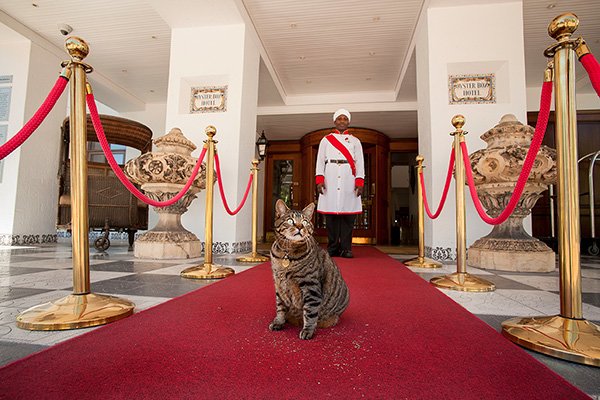 Skabenga loves the limelight.
Skabenga thoroughly enjoys the spoils that come with being the 'Main Cat' on the block! He loves regular treats of Catnip, has a favourite couch and chair and chosen spots around the hotel, which he retreats to, when not taking 'inspection' strolls around the property.
Skabenga remains a favourite with all our guests and he continues to receive piles of fan mail. There is even a book about him and he has his own Facebook page!