Our Memories Will Last a Lifetime
April 4, 2018
Cheryl,
Sarah and I wanted to express our sincere gratitude to you for organizing our recent safari in northern Tanzania. We will never forget this bucket list trip.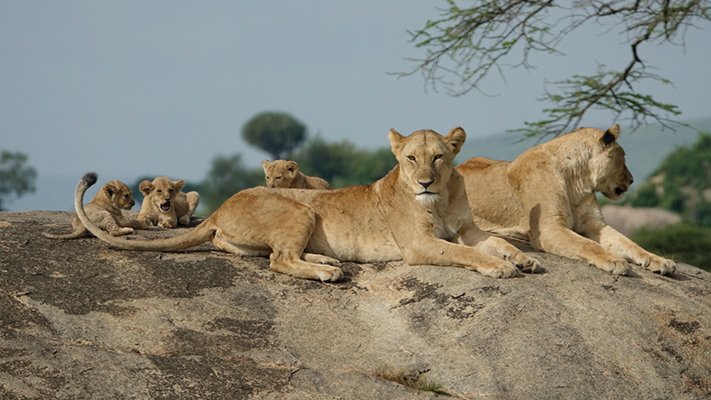 Except for operational inefficiencies we encountered at the Addis Ababa airport connection during our trip home, all aspects of our trip were excellent. Vendors selected by Lion World Travel for our safari including Ethiopian Airlines, Leopard Tours and Serena Hotels did not disappoint.
We were fortunate to travel to northern Tanzania in March. The weather was moderate and we missed the beginning of the heavy rain season the majority of our journey. The lush vegetation and concentration of wildlife and young animals coupled with reduced crowds during the shoulder season combined for a great safari.
We enjoyed the places we visited including national parks in Lake Manyara and the Serengeti as well as the Ngorongoro Crater and conservation area. Our favorite was the Serengeti where we experienced the expanse, wonder and awe of the Great Migration - twice - on our way in and out of the park. The balloon ride over the Serengeti and British bush breakfast was also a unique experience.
We were very fortunate indeed to have David Msuya of Leopard Tours assigned as our driver. David is experienced and seasoned, and a consummate professional who provided us with expert knowledge of Tanzania and history, the people and culture, and the areas we visited. In particular, David's knowledge of wildlife is superb. He is a patient and kind family man who is respected by his peers. Without hesitation, we heartily recommend David to anyone interested in a quality safari experience.
In summary, our trip exceeded our expectations and our memories will last a lifetime.
Cheryl - we appreciate your expert guidance and direction before, during, and after our decision to purchase this trip. When folks ask us about our safari trip, rest assured that we will recommend you and Lion World Travel.
Dean & Sarah