New Friends and Animal Encounters in Tanzania
February 18, 2020
By Lucille Sive
As I landed in Kilimanjaro, I felt very excited to begin my recent Tanzania safari. From the snow-capped summit of Mount Kilimanjaro to the vast herds of game grazing on the endless plains of the Serengeti and the game rich Ngorongoro Crater, Tanzania is a land that has an exciting appeal.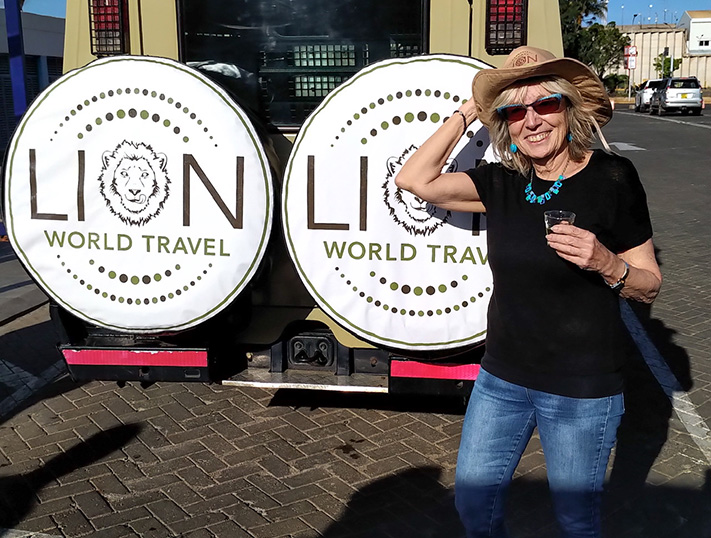 My first night was spent at the well situated Four Points by Sheraton Arusha Hotel, one of the oldest hotels in East Africa. Saturated with the history of a bygone era, the hotel offers luxurious stylish rooms overlooking lush gardens.
After a relaxing night our group departed to visit the local market in Arusha. It's a bustling colourful place offering a variety of beadwork and plenty of wood carvings and paintings. At the Maasai Market, I met Agnes who sells beaded items for a group of women who live in an isolated area of the Mkonoo-Terrat Villages outside of Arusha Town. Through the sale of their hand-made beaded decorations their community benefits because these women can then feed and clothe their children, send them to school and care for their elders with the money that they earn. We have purchased hand-made beaded coasters as a gift for our clients, to help support these women.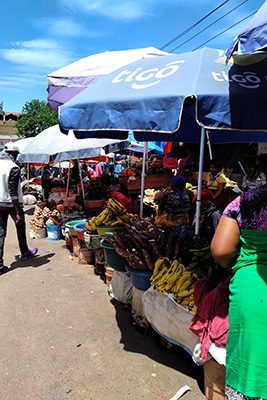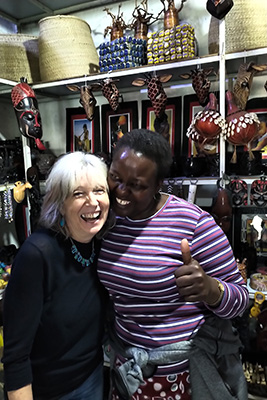 Maasai Market and my new friend Agnes
We then went on to visit two orphanages. We met and spent time with the kids, who were so excited to entertain us and show us around. We also attended a graduation ceremony and dinner at the second orphanage, where two of the young girls proudly advanced onto college to study teaching and one will become a pastor. It was a very heartwarming visit.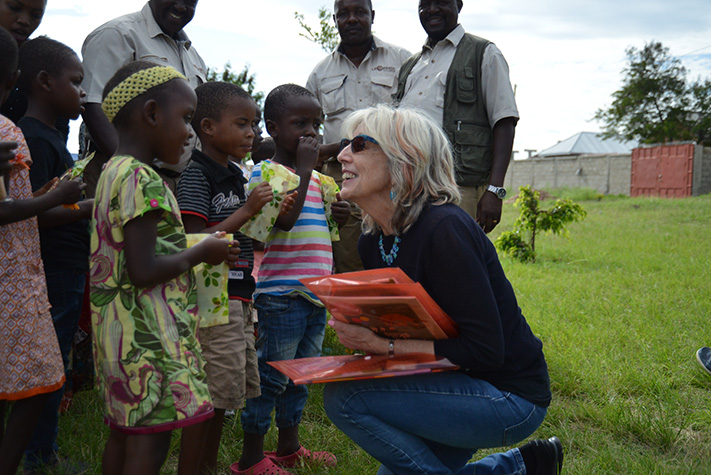 Smiling kids at the orphanage
The next day as we depart, that familiar excitement of being on safari grows. It's like being at one with nature, especially when you are sitting in your safari vehicle, just feet away from a lion out on the plains.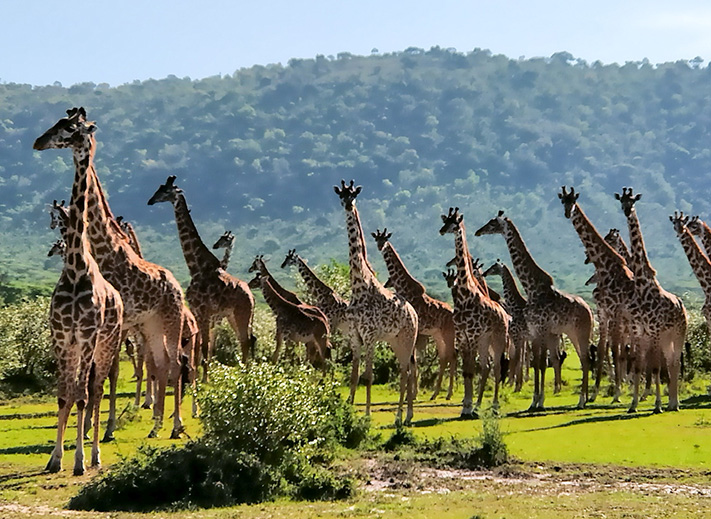 Wildlife near Ngorongoro Crater
On the drive to the Ngorongoro Conservation Area there are wildlife sightings throughout the trip. Known as 'the eighth wonder of the world' the Ngorongoro Crater is one of Africa's best-known wildlife arenas. A UNESCO World Heritage Site, it offers a unique biosphere, which has remained virtually unchanged since the dawn of time. Within the crater, there are 25,000 large mammals wandering the plains, lakes and forests of 'the land that time forgot'.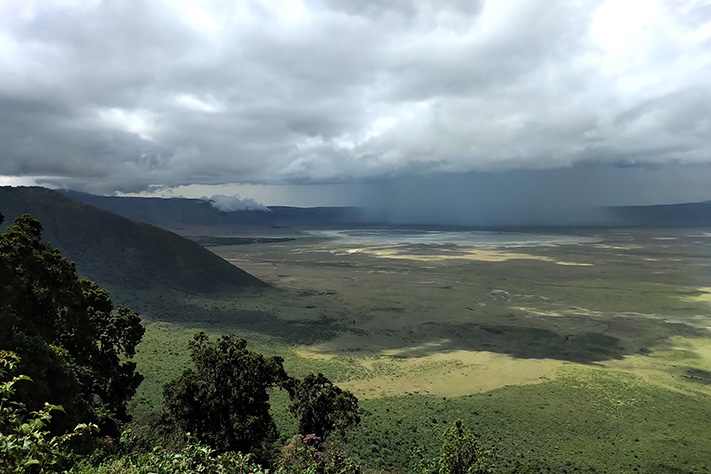 Ngorongoro Crater
Arriving in time for lunch, we were treated to an impressive private sit-down lunch in a reserved area of the crater floor. What an awesome experience to dine at tables set with tablecloths and glistening silver cutlery. Just imagine a mouth-watering meal served against the backdrop of groups of zebras and other wildlife strolling along the crater floor. After lunch we continued to the Ngorongoro Serena Lodge where we were met by a vibrant group of Maasai dancers, who made us feel so welcome.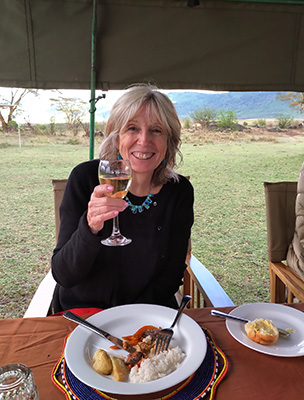 Lunch at Ngorongoro
Nestled high above the plains into the Crater's jagged rim, with its blend of luxury and ethnic style, the luxury Ngorongoro Serena Safari offers stunning views. Framed by arched stone passages and timbered decks, its torch-lit walls are adorned with cave paintings. At the stone heart of the lodge burns a glowing fire, which is kept constantly alight. All the rooms are looped around the Crater rim and each has its own rock-enclosed balcony offering uninterrupted views of the volcanic amphitheater far below.
There's nothing quite like waking up in this gorgeous wilderness. As the sun rose, I took a moment to enjoy the view from my balcony overlooking the crater. After breakfast the thrill of descending through the early morning mist into the Ngorongoro Crater is palpable, knowing that we are in for an awesome wildlife experience.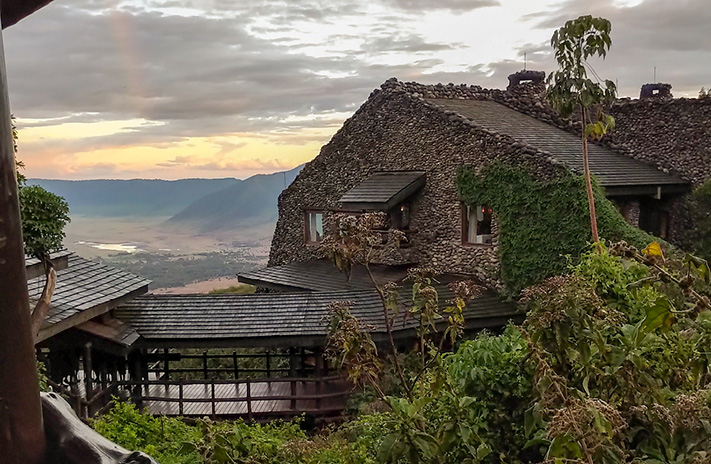 Ngorongoro Serena Lodge
It took us about 30 minutes to reach the crater floor. Our first wildlife sighting was a lone hyena boldly approaching a small group of zebras, but the zebras were bold enough to give chase to the hyena. After leaving the crater the adventure continues as our drive takes us to the Serengeti where since time began the endless cycle of millions of wildebeest, zebra and other grazing animals cross the plains in search of fresh grass. The vast open savannah always delivers superb game viewing experiences and we were so lucky to have seen the Serengeti teeming with herds of wildebeest and zebra and their adorable babies.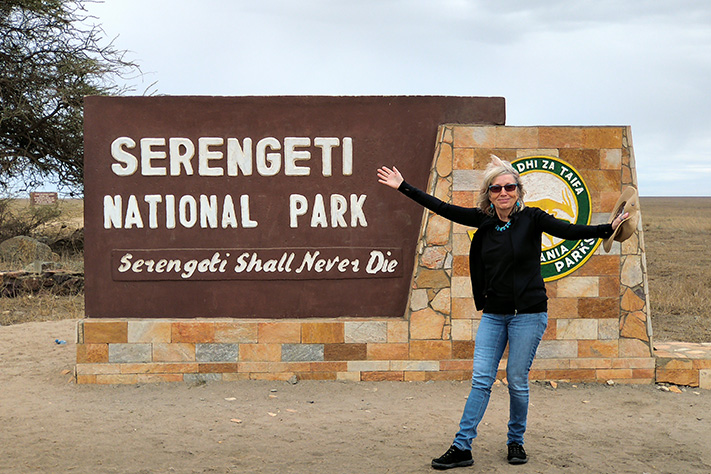 Lucille at the Serengeti Sign
It was a long drive to the northern Serengeti. We arrived at the 5-star luxury TAASA Lodge in time for dinner. At the lodge there are 15 luxurious and spacious en-suite tents, blending modern comforts with uniquely African accents. The en-suite bathrooms add a touch of indulgence in the bush.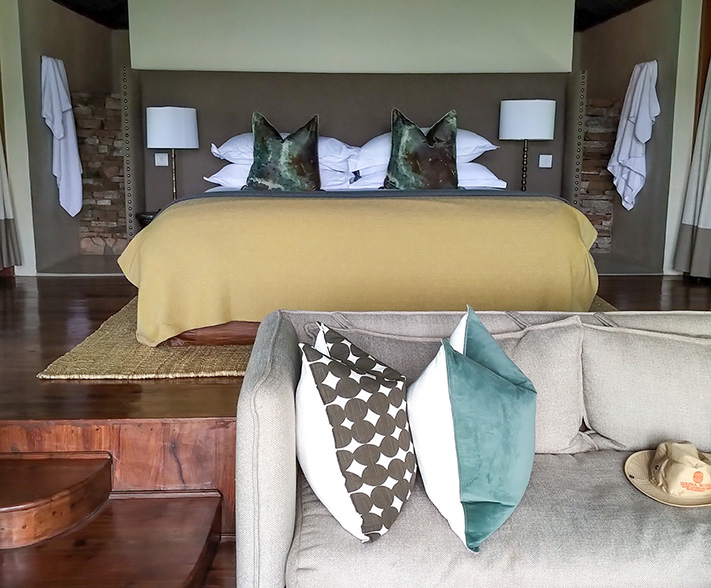 TAASA Lodge
While staying at Taasa Lodge, we got to enjoy some of the Taasa moments on offer. One of those memorable moments was a bush dinner. As we sat perched on a hill above the tents overlooking the valley, we marveled at the setting sun, we were warmed by the boma (bonfire) with drinks and tasty treats, especially the vegetarian samosas that were a special request. After cocktails – with the fire blazing and stars twinkling above, we enjoyed a classic African dinner, while listening to the sound of a howling hyena or two in the distance.
In the morning some of our group visited the local Maasai Village and got to meet the head of the village who is also a qualified veterinarian. Even though they have kept their Maasai roots and customs, they have also had the opportunity to get a further education.
I chose to take a hike/walking safari. I enjoy walking in the bush, surrounded by the sights, sounds and smells of Africa. It is a completely different and more personal experience than a drive in a safari vehicle.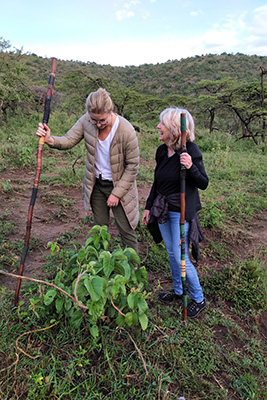 Nature Walk in Tanzania
Our Maasai guide was a wealth of information, explaining all about medicinal plants, how to start a fire with sticks, and the wildlife one might encounter.
After an exhilarating safari we flew from Lobo Airstrip to Nairobi via Arusha, to Kilimanjaro and onto Nairobi. Taking a light aircraft transfer afforded the opportunity to enjoy some spectacular views and wildlife viewing from the air.
When we arrived in Nairobi, we had a very emotional visit at the Sheldrick Wildlife Trust – a haven for Elephants and Rhinos. At the heart of the Sheldrick Wildlife Trust's conservation activities is the Orphans' Project, which has achieved world-wide acclaim through its hugely successful elephant and rhino rescue and rehabilitation program. Home to orphans aged three and under, their nursery provides specialized and intensive care for a variety of orphaned animals. Everyone in our group got to meet and bond with their adopted elephant babies. My elephant calf Ziwadi was born in March, just like me. It was just meant to be!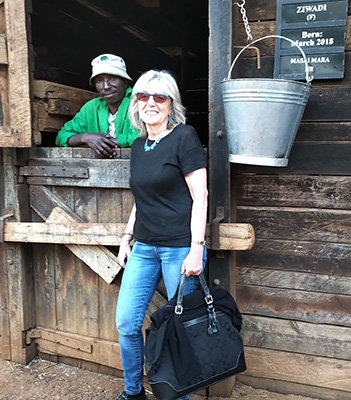 Elephant Orphanage, Nairobi
What an amazing way to end a successful Tanzania safari. Every time I depart Africa, I leave a piece of my heart. I returned home feeling refreshed and thankful for this spectacular experience. Tanzania is truly a special place, the people and the wildlife are unforgettable, and I hope that you too can experience what I've just experienced, at least once in your lifetime.