Most Wonderful Time
June 12, 2017
Hi Cheryl,
We had the most wonderful time and joke that we will be moving to Kadizora to help Paula and Greg run their camp!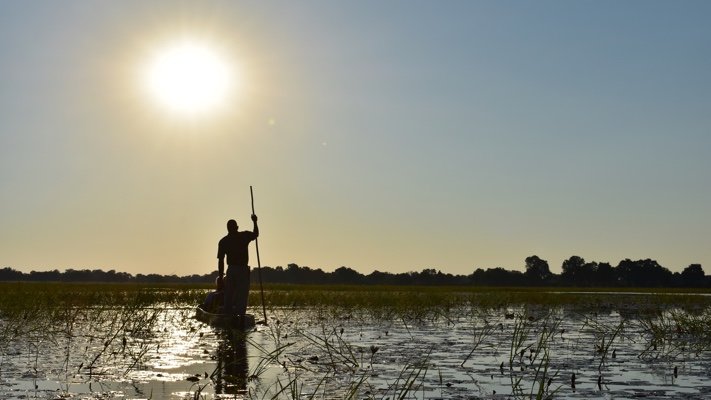 Everything went exceptionally well. Cape Town was great and Kadizora started out with quite a bit of adventure. It took three tries to land on the strip, because there was a lion chasing warthogs across it as we tried to land each time. KT picked us up and didn't miss a beat. He drove right off of the strip and tried to track that lion for us. The camp and staff were beyond amazing and made us feel at home and like we were with old friends. I was a bit nervous to be so close to all off the animals and did not sleep much the first night. I did hear them walking by the tents and as nervous as I was, it was so exciting. The food was amazing and the staff could not have been more helpful. The delta was by far our favorite spot. It was such a great community setting and we met so many amazing people.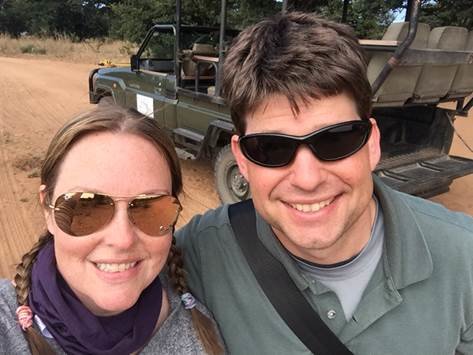 Cheryl and Richard on safari in Botswana.
The hot air balloon ride was fantastic and such a unique experience. They went above and beyond and had tea and coffee set up in the field before our flight and then had champagne and snacks set up after our flight.
Elephant Valley/Chobe was nice, but it was tough to love it as much after the warm welcome and closeness that we experienced at Kadizora. Chobe park was also great and we were able to get some great shots of the animals, but I loved the freedom of being able to off road in the delta to search out the animals. The food at Elephant Valley was good, but again Kadizora knocked it out of the park. There wasn't much mingling with other guests, but we enjoyed the time with our new found travel companions.
The Victoria Falls River Lodge—what can I say? WOW! They whisked us up the river and treated us with cool towels and fresh lemonade. It was the perfect way to end such a unique experience and the pampering was beyond compare. The staff all knew our names and were ready to assist at any moment. The food was 5 star hotel quality and amazing. Our room was pure heaven and the only disappointment was that the elephant didn't drink out of our pool. The staff and guides were so knowledgeable and passionate. We look forward to visiting after their tree houses are open.
Most people say that this is the trip of a lifetime, but we are already thinking about when we can go back and where we would visit next. I can't thank you enough for assisting us with planning this adventure.
Cheryl & Richard N.
New York, NY