Most Unbelievable Trip of My Life
January 6, 2017
Just wanted to write to say thank you for the most unbelievable trip of my life.
It was a dream of mine, six months ago, or a calling, to climb Mt. Kilimanjaro. I worked with your firm to book, read books, trained, and mentally prepared for the biggest adventure of my life. I chose the toughest five day route per time restrictions, but all my arrangements worked out perfectly between flights and tour. The tour group that you selected for me was awesome, and each individual involved more helpful and nice as they could be.
My guide, Elibariki Simon Kitomari, was not only very experienced and professional, but took every step to make sure that I was safe, protected, happy, and accompanied as I was both traveling and climbing alone. He both supported and encouraged me in a very difficult mental and physical feat, and together we moved slowly up the mountain with his team including a cook, waiter, and three porters.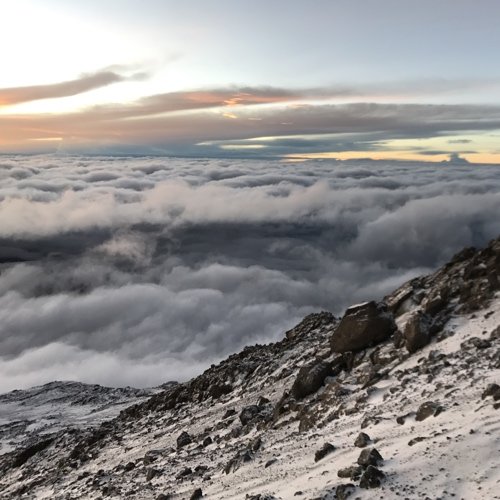 The view from Mt. Kilimanjaro.
The huts were clean, as were the bathrooms. The food was carefully prepared and varied, and one could tell that great pride was taken in making it. The waiter catered to my every need: water, afternoon tea, meals, packing, and making sure that I was okay.
My group was very organized, prompt, and on top of every detail. I successfully made it to the top (with great effort), and then back down, leaving almost the same day to travel home. Not a minute has passed that I don't miss the experience, and the people that made it happen, and at any opportunity would most definitely do it all over again.
Best,
Wendy B.