Memories for a lifetime!
November 1, 2017
Dear Cheryl,
First of all, in a word, I would describe our trip as "perfect"!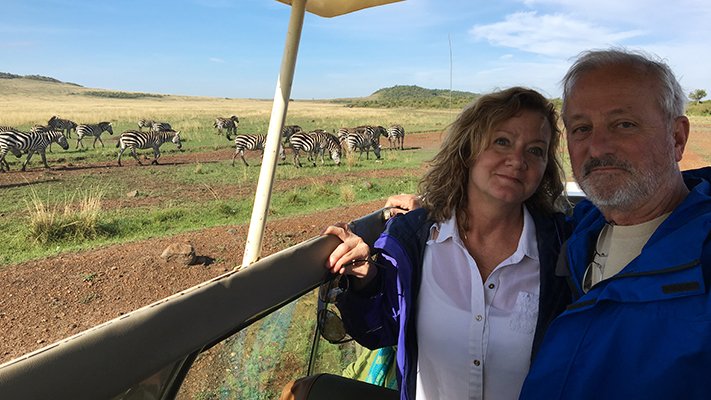 The weather was fantastic and we didn't even see one mosquito! Also, I must say that our guide, Po Po, was extraordinary. He made sure we saw the Big Five and he took very good care of us. We knew we were safe in his hands. At the end of the trip, we all hugged him goodbye and told him what a wonderful person he was!
I want you to know that you did an amazing job setting everything up for us. All of our flights and transfers went on without a hitch. The Serena properties were just beautiful and very comfortable, especially the hot water bottles toasting our feet each night! You were always very responsive to my emails and got back to me quickly with answers to questions, and that really counts a lot.
The Maasai Village experience was very educational and entertaining. The hot air balloon ride was a dream come true! Breakfast at the hippo pool was exceptional!
We saw about 40+ species of animals, lions copulating, elephants with their babies, zebras on the run - I could go on and on. I think you mentioned that this trip would be a different experience from our trip to South Africa and you were right - the wildlife was much more abundant. But I have to say, we loved both experiences equally.
I used your company because our trip five years ago was so amazing and, once again, you did a fabulous job. I've already recommended four of our friends and they have booked with Lion World Travel for a trip in January. I would definitely use Lion World Travel again and will continue to describe your company as an excellent choice for a trip that will leave memories for a lifetime!
Thank you very much for everything you did for us.
Sincerely,
Judy & Robert F.