Lion World Travel Donates Funds to Support Rhino Conservation at Shamwari Game Reserve
June 26, 2019
By Lucille Sive
On my latest trip to Shamwari Game Reserve, I was proud to represent Lion World Travel in making a generous donation supporting Shamwari's crucial rhino conservation programs.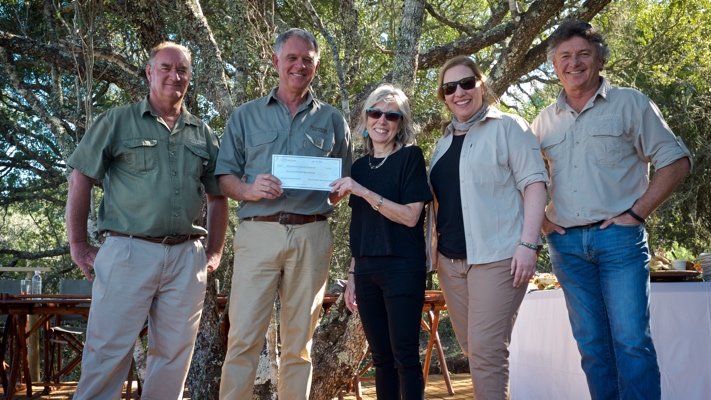 I was joined by Lion World Travel staff where we had the opportunity to begin construction on a new rhino boma for Shamwari's current rhino "crash"—Noelle, Winston and Chip. Noelle and Winston came to Shamwari as orphans, after poachers killed their mothers. Since arriving at Shamwari, the two have become inseparable: they do everything together including eating, playing and sleeping. Chip is the most recent addition to the rhino crash.
I presented a check for R100,000 to general manager Joe Cloete, Dr. Johan Joubert, head veterinarian, and chief ecologist John O'Brien. The donation is the first of many planned as part of our ongoing partnership with the game reserve.
We are passionate about preserving and protecting the places we visit and we're especially passionate about rhino conservation, given that 95% of the world's rhinos have been wiped off the face of the earth. To be able to visit Shamwari with my team to help build a rhino boma and to present this check was so rewarding, as we know it will go a long ways toward protecting and preserving rhinos.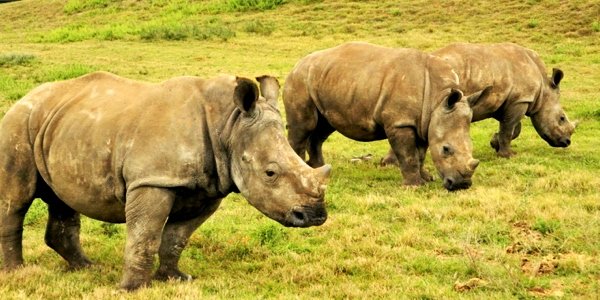 Shamwari's rhino crash: Noelle, Winston and Chip
We have participated in previous rhino conservation programs including purchasing the "Bat Hawk" sport aircraft, a specially designed lightweight vehicle used for aerial anti-poaching operations, and supporting Shamwari's rhino microchipping program. To assist the local anti-poaching team with identification, all rhino at Shamwari are fitted with three microchips and DNA genotyped to ensure that their populations can be tracked accurately.
With the donation, the team at Shamwari will be able to continue to care for the orphaned rhinos in their Animal Rehabilitation Centre. This includes the construction of a new rhino boma which staff from Lion World Travel pitched in to help build during our visit.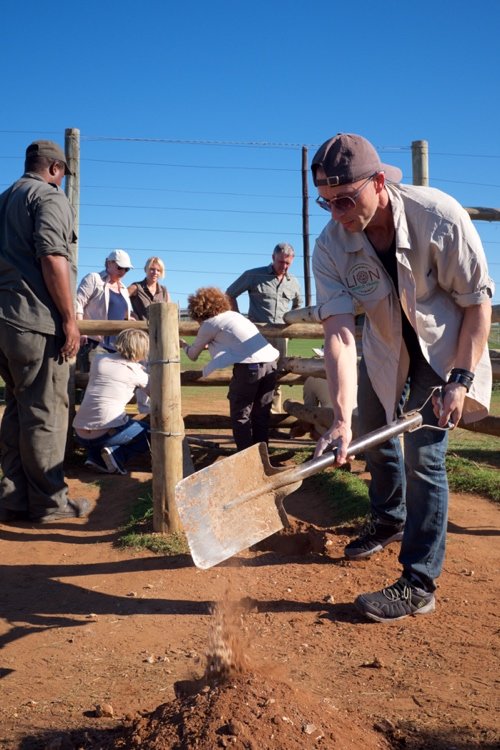 John Almeida works with the Lion World Travel team on the rhino boma. Photo by Kelly Scott.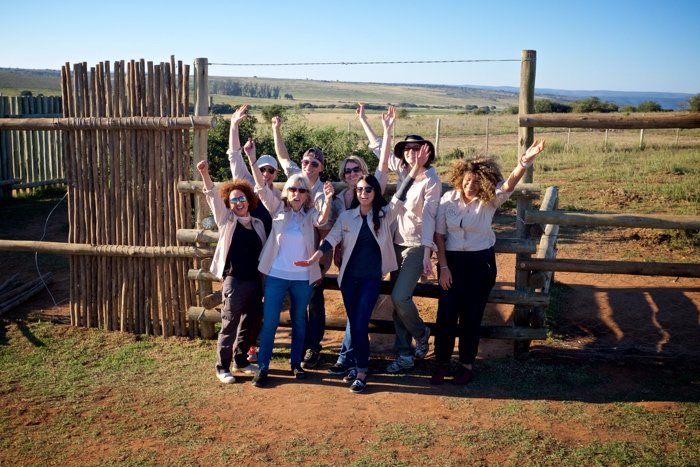 The Lion World Travel team celebrates after completing the rhino boma. Photo by Kelly Scott.
The donation was presented in partnership with TreadRight, a not-for-profit initiative between The Travel Corporation's (TTC) family of brands. With 2017 designated the year of sustainable tourism development by the UNWTO, this donation to support wildlife conservation comes at a crucial time for Africa's rhino species. We are proud to provide sustainable travel opportunities for our guests and we encourage all travelers to choose responsible tour operators—your choice can make a big impact in ensuring the destinations you visit remain vital for generations to come.
When guests book Tented Safari in Style, they will be supporting rhino conservation at Shamwari Game Reserve.