Fantastic, 10/10!
June 8, 2016
Dear Cheryl,
Our trip to South Africa and Zimbabwe was fantastic, 10/10! We were very lucky and the weather was perfect the entire trip.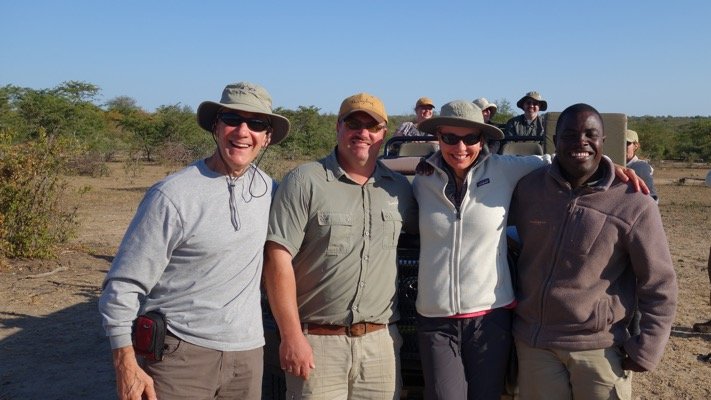 All four hotels were great (Table Bay, Jackalberry Lodge, DaVinci Hotel and Victoria Falls River Lodge). The staff at all the hotels were wonderful. The activities you planned for us in Cape Town including the helicopter ride, high tea, and Gold Restaurant were outstanding.
Our day trip to Franschhoek for wine-tasting was fantastic. Our driver, Faisel, was very informative and it was a pleasure to spend time with him during our van ride back and forth to Franschhoek.
Our ranger and tracker, Gerhard and Lucas at Jackalberry Lodge were awesome and our butler Lucy was a pleasure. Gerhard and Lucas know Thornybush Game Reserve like the back of their hands and taught us how to "read" the various animal footprints and identify their poop!
We saw such a wide assortment of animals (large and small) including the big five plus zebra, impala, nyalas, hippos, giraffes, crocodiles, birds, reptiles and a dung beetle at work pushing a ball of buffalo dung.
Our travel on South African Airways was efficient and stress-free and all of our transfers with Thompsons were flawless. We all loved our relaxing boat rides on the Zambezi watching for hippos, crocs and elephants and enjoying a sundowner or two.
Victoria Falls is breath-taking and for lunch we dined at the Lookout restaurant where the views overlooking the falls are spectacular.
The trip that you set up for us was amazing…it really was one of the best life experiences for all six of us. Southern Africa is a very long way from Los Angeles but it was worth every minute. Thank you so much for your expertise and guidance. You knocked it out of the park.
Warmly and gratefully,
David Rahm and Yvette La-Garde
Los Angeles, CA