The Essential Cape Town Bucket List: 19 Experiences to Try in 2020
May 5, 2020
With the arrival of the new year, it's a great time to start planning your dream vacation to South Africa. The Rainbow Nation is home to many exciting attractions, but Cape Town should absolutely be at the top of your South Africa travel to-do list.
To help get you started, we have compiled a list of 19 Cape Town experiences to try in 2020. Make your time in Cape Town as memorable as possible with these exciting bucket list experiences.

1) Explore the Kirstenbosch National Botanical Garden
Known as one of the great botanical gardens of the world, Kirstenbosch is a required visit. This garden paradise is situated on the eastern base of Table Mountain and is perhaps the best place in South Africa to become more familiar with the exceptional Cape Floral kingdom. The gardens feature an assortment of local vegetation (fynbos, proteas, ericas, etc.), sculptures and branching pathways. One highlight is the 425-feet long centenary tree canopy walkway, known to locals as the "boomslang" (meaning "tree snake"), which takes guests along an elevated walkway through the garden's trees.
2) Take the Cableway or Hike Up Table Mountain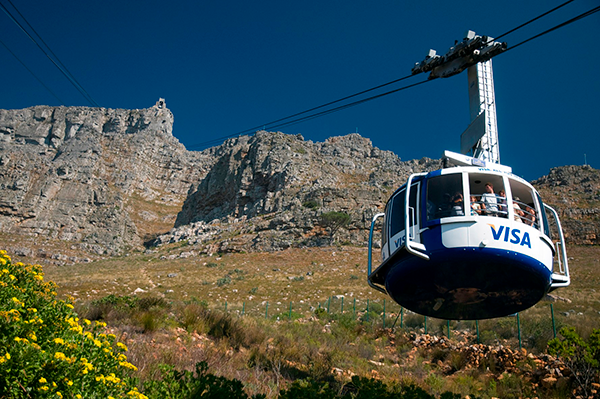 Cableway to Table Mountain
Table Mountain forms the majestic backdrop of Cape Town. Named after its distinct plateau, which is approximately 1.8 miles in length from one side to the other, Table Mountain is a popular attraction thanks to the incredible views and hiking opportunities that the feature provides. The Table Mountain aerial cableway is perhaps the most popular way to ascend to the summit of Table Mountain, but for the more adventurous traveler, guided hikes are also available. Hike lengths can range from 2.5 - 6 hours and vary in difficulty and scenic routes.
3) Experience South Africa's Heritage on a Tour of Robben Island
South Africa's recent history is one of a country overcoming apartheid and transforming into a modern democracy that has inspired the world. Robben Island, located just off the coast of Cape Town, was home to a notorious prison that at one time counted Nelson Mandela among its prisoners. On a half day ferry ride and tour, you will learn the moving history of the island and how Mandela and other political prisoners turned the island into a symbol of the power of the human spirit.
4) Sample South Africa's renowned wines on a Cape Winelands tour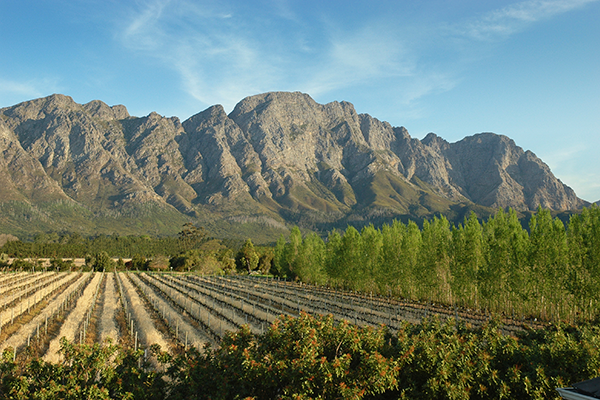 Cape Winelands
No visit to Cape Town is complete without discovering the region's acclaimed vintages and wineries. We recommend taking a full day to explore the incredible Franschhoek and Stellenbosch regions of the Cape Winelands, not just to taste wines but to take in the spectacular scenery, learn about the history of winemaking and to enjoy the delectable food that pairs perfectly with your glass of vino. La Bourgogne Wine Farm and Rickety Bridge Winery are two award-winning wineries that are absolutely worth visiting on your day in the Cape Winelands. Our Tented Safari in Style 2020 affordable luxury safari vacation includes a full-day tour of the Cape Winelands.
5) Visit the Oranjezicht Farm Market
Each weekend, the Oranjezicht Farmer's Market opens its doors to the public so that independent farmers and artisans can share their bounty with locals and visitors alike. Conveniently situated in the historic Granger Bay of the Victoria & Alfred Waterfront, this market is a short walk for visitors staying in the waterfront. Shop for delicious local foods or simply enjoy the sights, sounds and smells of this lovely market to start your day in Cape Town on the right foot.
6) See the Cape of Good Hope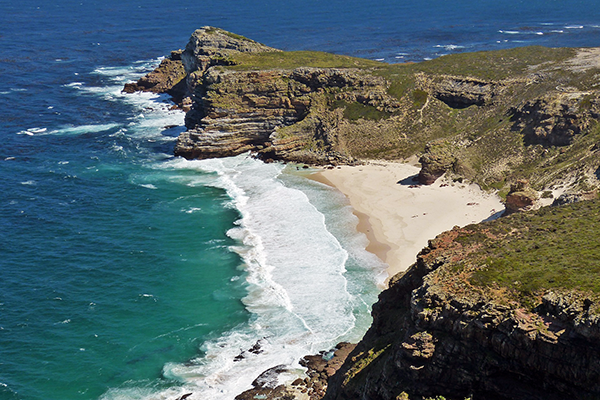 Cape of Good Hope
The Cape of Good Hope is about 43 miles south of Cape Town, located on the southernmost tip of the Cape Peninsula. Travelers of all types are sure to love the rugged geography, the crashing waves and the spectacular views that you can take in from the light house and on the rocky coast. The drive down to the point is also a thrill: it takes you along the twisting roads of Chapman's Peak drive where you can see astonishing coastal scenery. Of course, no trip along the peninsula is complete without a…
7) Visit the Penguins at Boulders Beach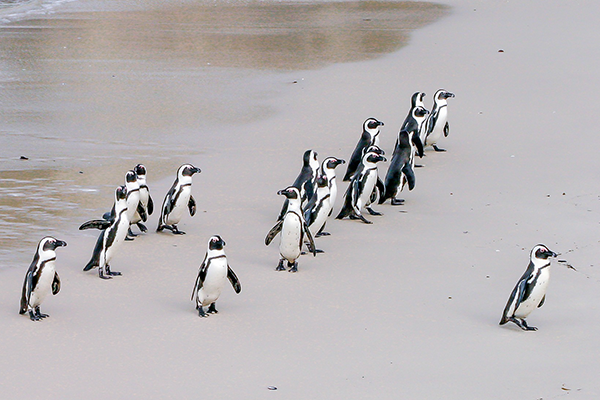 African Penguins
Our full-day Cape Peninsula tour includes a stop at the famous Boulders Beach where you can see a colony of African penguins enjoy the beach and waves of this rocky encampment. It is a delight to stroll along the boardwalk of Boulders Beach snapping photos of these incredible animals thriving in their natural habitat. Our popular Classic South Africa 2020 itinerary includes a Cape Peninsula tour, which travels along Chapman's Peak drive, stops at the Cape of Good Hope and ends with a visit to Boulders Beach.
8) Go Kayaking in Table Bay
Travelers looking to see Cape Town from a completely different perspective should investigate guided kayak tours of Table Bay. Launching from Sea Point, these guided kayak tours offer incredible photo opportunities of the city, Lion's Head, Signal Hill, the Twelve Apostles and more. If you are lucky enough, you may even encounter pods of Heaviside's dolphins, the native dolphin species to the area. Your tour will cover 2-3 miles of ocean and departs at various times throughout the day, weather dependent.
9) Discover Cape Malay Culture
Cape Town's cultural diversity gives the city its many unique flavors. One important culture is the Cape Malay, who have helped to define the diverse beauty of the Mother City. Cape Malay cuisine is an important part of this: the aromatic stews, curries, lamb and fish, kebabs, pickled vegetables and spicy pastries are a few of the tasty foods that everyone should sample on their visit to Cape Town. The Bo-Kaap neighborhood is also a must visit thanks to its colorful houses and distinct character. The Bo Kaap museum is situated in this same neighborhood, allowing visitors to learn more about the history of the Cape Malay.
10) See the Art of Africa on a Visit to the Zeitz Museum of Contemporary Art Africa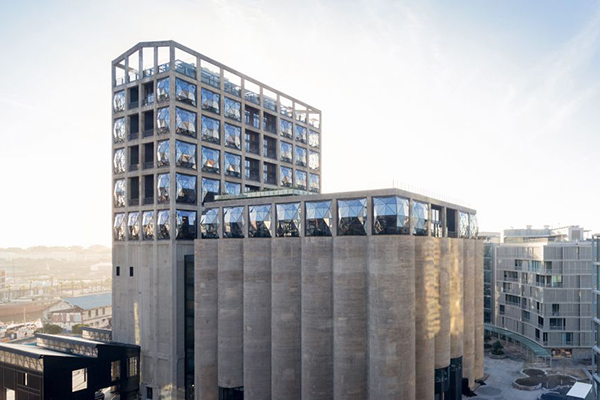 Zeitz Museum of Contemporary Art Africa. Photo: Zeitz MOCAA.
Cape Town is one of Africa's major cultural hubs thanks to a variety of galleries and museums that cater to all tastes. The largest art museum in the city (and all of Africa, for that matter) is the Zeitz Museum of Contemporary Art Africa. The objective of the Zeitz MOCAA is to display the contemporary art of Africa for the world. Spread over nine stories and nearly 65,000 square feet, this massive building is an incredible showcase of contemporary culture in Africa. We recommend planning to spend anywhere from a half day to a full day to take in as much wonderful art as possible.
11) Have Royal Tea at The Silo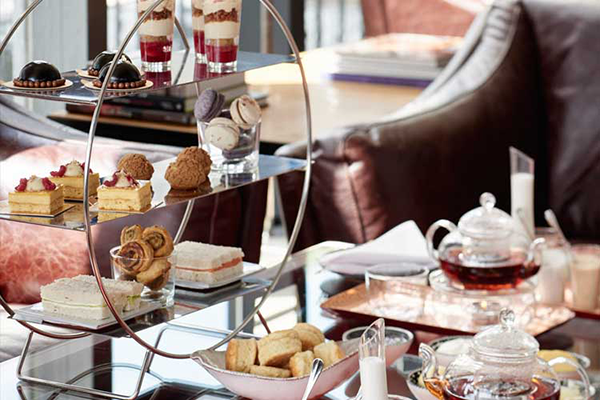 The Royal Tea at The Silo. Photo: The Royal Portfolio
The Silo is one of Cape Town's newest luxury hotels, sitting high above the Zeitz Museum of Contemporary Art in a building originally built in to house a grain silo. The Silo is also home to one of the city's most popular high tea experiences: Royal Tea at the Silo. This posh affair comes with an assortment of teas and three-tiered trays of pastries, desserts and savory delights. Food highlights can include buttermilk scones, salmon-and-dill finger sandwiches, bobotie empanadas, and cherry & pistachio petit fours. This luxurious experience is a must for culinary-oriented travelers.
12) Tour the Newlands Brewery, one of South Africa's oldest Breweries
South Africa is known around the world for its wines, but Cape Town's craft beer scene has been taking off in recent years. That's why a guided "Beer Experience" tour of the Newlands Brewery, Cape Town's oldest brewery dating back to 1820, is a recommended for guests who consider themselves beer enthusiasts. On the tour you will learn about the history of brewing in Cape Town and how modern ale is produced using sustainable methods at Newlands. No beer tour is complete without samples, which is why your tour ends enjoying a pint (or two) in the brewery's pub.
13) Attend a Kirstenbosch Summer Sunset Concert
During the summer months (November through March), the Kirstenbosch Botanical Gardens is home to weekly concerts featuring musicians from South Africa and around the world. These open-air events are the perfect way to spend a lazy Sunday afternoon, especially when combined with a blanket and picnic lunch. We recommend purchasing your tickets in advance.
14) Enjoy a Spa Day at The Twelve Apostles Hotel & Spa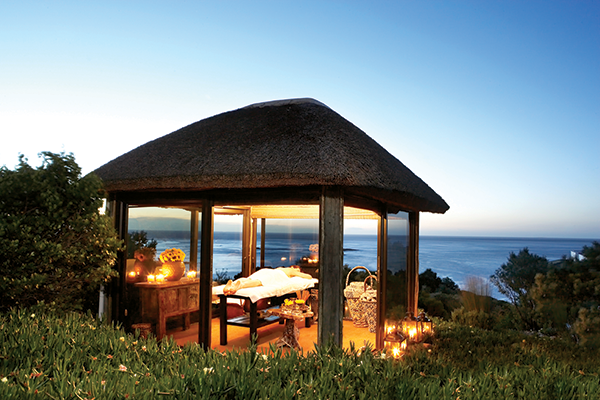 Twelve Apostles Hotel & Spa Outdoor Spa Gazebo
Cape Town is a busy city with so much to see and do, it's only natural that you may want to take a day to indulge in some rest and relaxation. And what better way to rejuvenate than with a visit to the spa? There's no shortage of spas in Cape Town, but we recommend the Twelve Apostles Hotel & Spa because of its incredible location (the hotel sits between the Atlantic Ocean and the Twelve Apostles Mountain range) and excellent service. The Spa offers a variety of treatments to ensure you walk away feeling like your best self. Looking for the ultimate spa experience? Consider the romantic "Mountain Serenade" package; your massage is done in an outdoor gazebo that overlooks the Atlantic Ocean and is followed by enjoying some sparkling wine and chocolate-dipped strawberries. Guests on Best of South Africa 2020 stay at the Twelve Apostles Hotel & Spa, making it an ease to arrange a re-invigorating spa day.
15) Take a Sidecar Tour Around the Mother City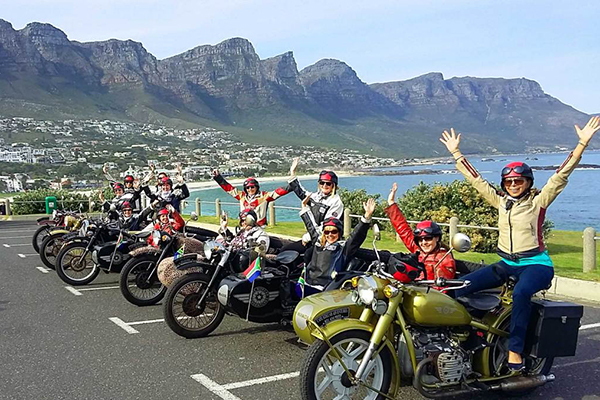 Sidecar Tour. Photo: Cape Sidecar Adventures
On your visit to Cape Town one thing is certain: you will never grow tired of the stunning scenery and vistas that the city provides. A unique way to see more of the city is to go on a "sidecar" tour. Sidecars are side seats added to motorcycles to allow for a second passenger to tag along on trips. Touring Cape Town in a sidecar is a thrill that allows you to take in truly uninterrupted views of the city. Tours range from 2-hour rides to full-day excursions, across a variety of routes.
16) Be a Beach Bum in Camp's Bay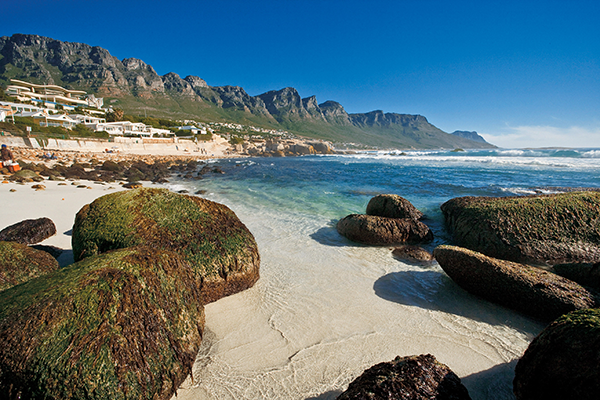 Camps Bay
Cape Town hosts an incredible assortment of beaches, but Camps Bay is one of the most popular thanks to its white sand, natural rock swimming pool and palm tree-lined boulevard. On a warm summer day, there's no better place to spend the day lounging in the sand, swimming in the waves and enjoying the scenery of the Cape. At night, the strip of lovely restaurants, bars and shops will keep your beach day fun going long into the evening.
17) Watch a Soccer Match in Cape Town Stadium
In 2010, South Africa hosted the FIFA World Cup, bringing with it a global sporting spotlight that has had lasting impacts on the country. Cape Town was one of the host cities during that tournament and benefitted with the construction of the new Cape Town Stadium. Today, the stadium is home to Cape Town City FC, a South African premier league soccer team. 
18) Explore the Bustling Victoria & Alfred Waterfront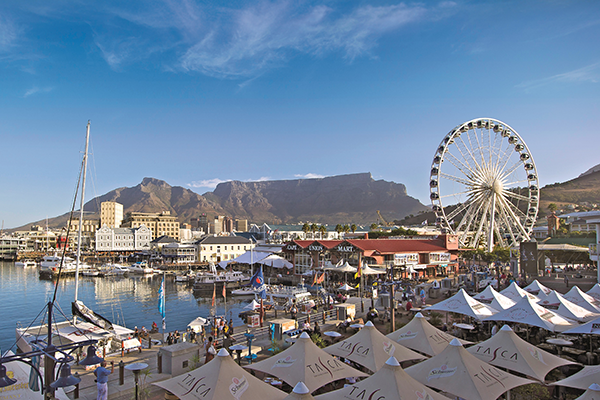 Victoria & Alfred Waterfront
The Victoria & Alfred Waterfront features an amazing selection of restaurants, open-air bars, boutique shops, local performers, and attractions that are sure to keep you busy. The Cape Wheel is an entertaining attraction worth experiencing for the breathtaking views of the city it provides, while the over-sized Cape Town photo frame is a photo-op must. On South Africa in Absolute Style 2020, you will stay at the luxury Table Bay Hotel, situated in the heart of the V&A Waterfront.
19) Visit the Two Oceans Aquarium
Another wonderful attraction located in the V&A Waterfront, the Two Oceans Aquarium is the perfect family-friendly place to spend an afternoon. The aquarium features large viewing windows and seven different themed exhibitions. The ocean exhibit lets you discover the magical underwater world that lives just outside the city, while the predator exhibit features ragged-tooth sharks and other large sea life local to Southern Africa. Aspiring biologists can learn about the plight of African penguins and their environment at the Penguin exhibit.
This list just scratches the surface of the phenomenal experiences that are available in Cape Town. Consult our Cape Town Sightseeing Tours to discover more exciting tours and, when you're ready, speak to your Lion World Travel Africa Specialist to plan and customize your time in Cape Town. One thing is for certain: time spent in Cape Town will not soon be forgotten!