Celebrating Lucille Sive, the Travel Industry's "African Queen," on International Women's Day
March 8, 2020
In celebration of International Women's Day 2020, we shine a spotlight on one of the travel industry's most beloved, dynamic and accomplished women, Lucille Sive. International Women's Day, which falls on March 8, is also Sive's birthday.
Sive has devoted an incredible 35 years of service to Lion World Travel and African Travel Inc., both part of The Travel Corporation (TTC) family of brands, and currently serves as CEO of TTC's Africa Division. Affectionately known in the travel industry as "The African Queen," Sive, who was born in South Africa, is thrilled that she has been able to spend her career helping others discover the continent that she grew up on.
"I am proud to see that Africa is one of the hottest destinations for travelers in 2020," Sive said. "I love what I do, and the business is thriving!"
Sive regularly travels back and forth to her beloved Africa not only for business reasons, but also to participate in the many philanthropic and conservation projects that she is involved with through TTC.
"Sustainability and responsible travel initiatives in Africa are so important, and so close to my heart," she said. "We are working closely with game reserves in South Africa to rehabilitate and conserve the rhino population there. One of my absolute career highlights was helping to implant microchips in rhinos in South Africa. Seeing how dedicated the conservation specialists are to preserving this magnificent species up close is an experience that I will never forget."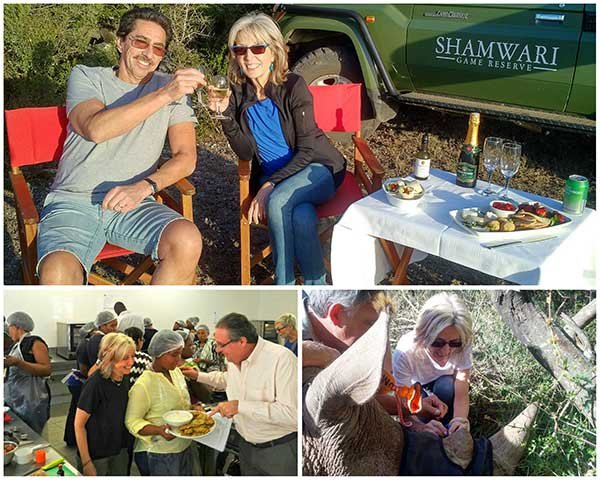 Top: Lucille with her husband Robert enjoying sundowners at the beautiful Shamwari Game Reserve.
Left: Kevin Chaplin and a student in the culinary program at the Amy Foundation cooking Lucille's favourite dish – vegetarian pakoras!
Right: Dr. Johan Joubert, Head Veterinarian of Shamwari Game Reserve, provides instructions on how to implant a microchip into a rhino.
Sive has also helped spearhead partnerships with local businesses in Africa to support sustainable economic growth for communities. One of her favorite partnerships is with Khayelitsha Cookies, a local micro-business in Cape Town led by women, where the proceeds of the cookies purchased by hotels as welcome gifts for guests go directly towards supporting people in the township of Khayelitsha. She is also passionate about the Amy Foundation, which provides after-school programs in dance, drama, sports, music, cooking and more to children living in vulnerable communities around Cape Town.
In 1982, shortly after immigrating to Canada, Sive started working at Lion World in a marketing capacity, and quickly rose through the ranks. Though her career trajectory has been stellar, Sive recognizes that there are both difficult and rewarding parts of being a female business leader in the travel industry, which is largely dominated by men at the executive level (though less so now than in the past).
---
"What's most rewarding is looking back and seeing what I've accomplished, while maintaining my principles, creating a successful, critically-acclaimed business."
---
"I think being a female business leader in any industry can be a challenge or an opportunity – it depends on how you look at it," she said. "Up until a few years ago, I was very familiar with being the only woman in the room, but these days we have more and more female executives, which is especially great in our industry where most of the staff who deal with clients are women, and most of the decision- making for travel is made by women."
At TTC, Sive was the first female executive in North America outside of the Tollman family (who own the company), and now women hold several senior executive positions across many of its brands. The marketing, public relations and sales teams in every region are also led by women.
Sive believes that regardless of gender, success and good leadership is achieved through hard work, dedication, making mistakes, learning as you go, and staying true to yourself.
"What's most rewarding is looking back and seeing what I've accomplished, while maintaining my principles, creating a successful, critically-acclaimed business," Sive said. "It's also very rewarding to perhaps serve as an example of success for other women. Women perform at the highest levels in leadership roles; we must persist to break through that glass ceiling."
We salute this inspiring and accomplished woman on March 8, International Women's Day.