We are Family
June 11, 2020
At Lion World Travel, we proudly hire some of the best professionals in the industry, many of them hailing from Africa. Together, they boast a combined total of over 300 years of experience in making travelers' dreams of an African vacation a reality.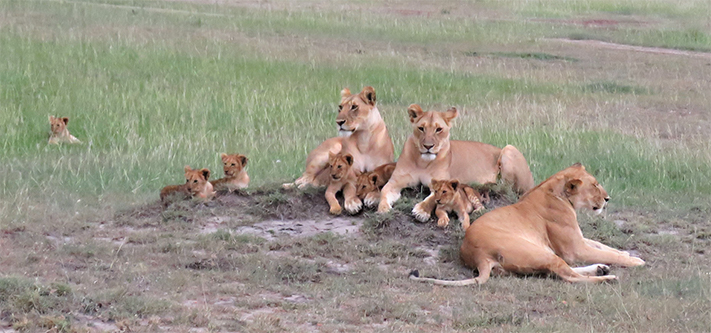 We are highlighting three of our long-time Lion World work family who have each been with us for 20 plus years! John Almeida, Lyn Flanagan and Raymond Wu are such an important part of our company. Their dedication, knowledge and hard work is an example to everyone on our team! The office is definitely a happier place with them in it.
---
Lyn Flanagan joined Lion World Travel in 1996 as a travel consultant. She then found her niche in ticketing and is Lion World Travel's Airfare Specialist and Air Department Manager. 
Lyn and her family immigrated from South Africa to Canada in 1994 and has returned to South Africa 7 times. She has many wonderful memories from her years at Lion World, particularly a fun staff trip to Las Vegas. 
Exploring Africa's natural wildlife, ethnic and cultural diversity is something that she loves to do. So on a recent trip to Kenya, it was an exciting experience to spend a night at The Ark in the Aberdare National Park where she got to witness an elephant and rhino having a heated conversation at the salt lick as to who could stay, and the elephant was victorious! Lyn recalls that the most exciting thing she saw on safari was a lioness walking with four cubs alongside the safari vehicle. They were so close she could hear the cubs purring.
Having travelled to many different places in the world, Lyn is very passionate about Africa. A gorilla trek in Rwanda is on Lyn's list for her next visit.
When asked if there is anything else that she would like to add, Lyn said "My gratitude is working for Lion World Travel. As I often say we have and still are having an amazing Lion World journey".
---
Raymond Wu joined Lion World Travel in 1999 in the accounting department. He holds the position of Financial Manager. 
In 1989 Raymond immigrated to Canada from Hong Kong with his family. He attended the University of Toronto where he graduated with a Bachelor of Arts degree in Economics and jumped right into the travel industry. Raymond has continued his studies and earned the Certified General Accountant designation along with a Master of Business and Administration and Master of Financial Accountability.
Raymond's fascinating and adventurous travels to South Africa have helped him to further appreciate the wonders of Africa and he has gained more knowledge about the continent. Seeing the Big-5 was his favorite memory of his first safari experience in Africa and giraffes and elephants are on the top of his wildlife viewing list.
He plans on travelling with his family to Cape Town on his next visit to South Africa, as he didn't get a chance to go on his last safari.
Raymond said that "looking at pictures of Africa is very different from actually being there. Viewing the wildlife and experiencing the warm hospitality, beautiful scenery and amazing food definitely makes it a trip of a lifetime."
---
John Almeida started with Lion World Travel in 2000. He began in the documents and administration department. He then moved on to working as a travel consultant and then the groups department that he has managed for many years. Although John is from Toronto, having visited different areas in Africa many times throughout his career, he thinks of Africa as his second home. 
Over the years John has escorted numerous groups to Africa and has been to Africa 11 times. One of his favorite memories is of one group of 300 passengers that he travelled with years ago. Although it was a lot of work, the trip went off without a hitch and was a complete success!
John's favorite memory is traveling with his family to Africa, and seeing his kids' faces the first time they saw a lion on safari. To this day, they still say that Tanzania was their best trip ever! When asked the three words to describe Africa John said "magical, life-changing and beautiful".
John's most exciting safari experience was in Botswana, where he saw a pride of lions stalking a herd of buffalo until the sun set and then it was time for action. One lion hid from the buffalo behind the safari vehicle. To witness the strategy and teamwork of this pride was incredible and thrilling!
He says "Although I have been with Lion World for 20 years, it really feels like it was just yesterday when I started. I guess it is true what they say – time flies when you're having fun!"