Dream Honeymoon Safari to Tanzania and Zanzibar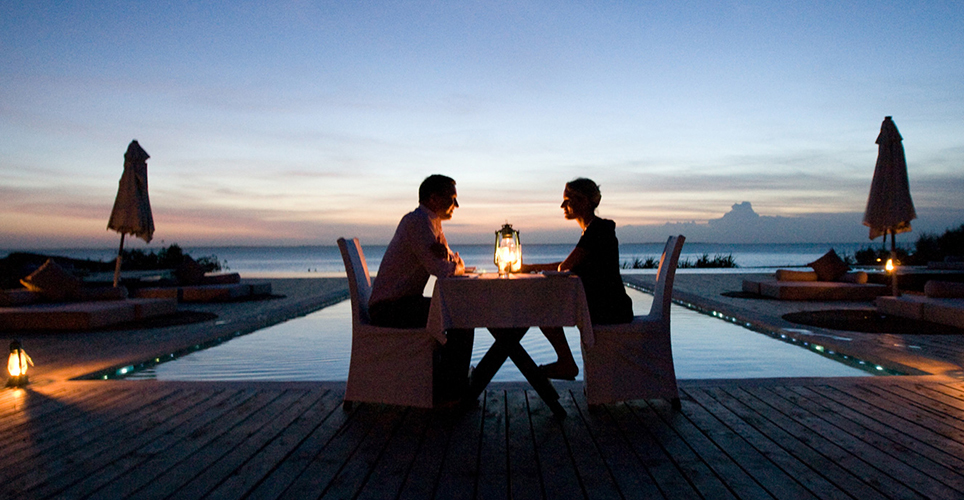 Call Lion World Travel at
1 800 387 2706
to contribute
You are previewing a sample celebration honeymoon itinerary. We can create a celebration itinerary for any special occassion including wedding anniversaries, graduations, birthdays and more!
While this sample honeymoon in Africa features Tanzania and Zanzibar, our Africa Specialists can work with you to create a dream honeymoon to many Africa destinations including Botswana, Kenya, South Africa and Victoria Falls. Read more about our Honeymoon Registry.
---
Day 1 - Arrive Tanzania/Arusha
Welcome to Tanzania. A Lion World Travel representative will meet you on arrival at Kilimanjaro International Airport and transfer you to Four Points by Sheraton Arusha Hotel where you will spend the night.
Established in 1894, the Four Points by Sheraton Arusha is one of the oldest hotels in East Africa. Saturated with the history of a bygone era, traditional ambience is effortlessly combined with style and service. The hotel offers stylish rooms, free Wi-Fi, outdoor pool, 24-hour gym, Parachichi Restaurant and the famous Hatari Bar. Parachichi Restaurant, 'avocado' in Swahili, overlooks the lush garden and is the perfect spot to enjoy a meal.
Accommodation: Four Points by Sheraton Arusha Hotel – Queen Room
Day 2 - Arusha/Tarangire National Park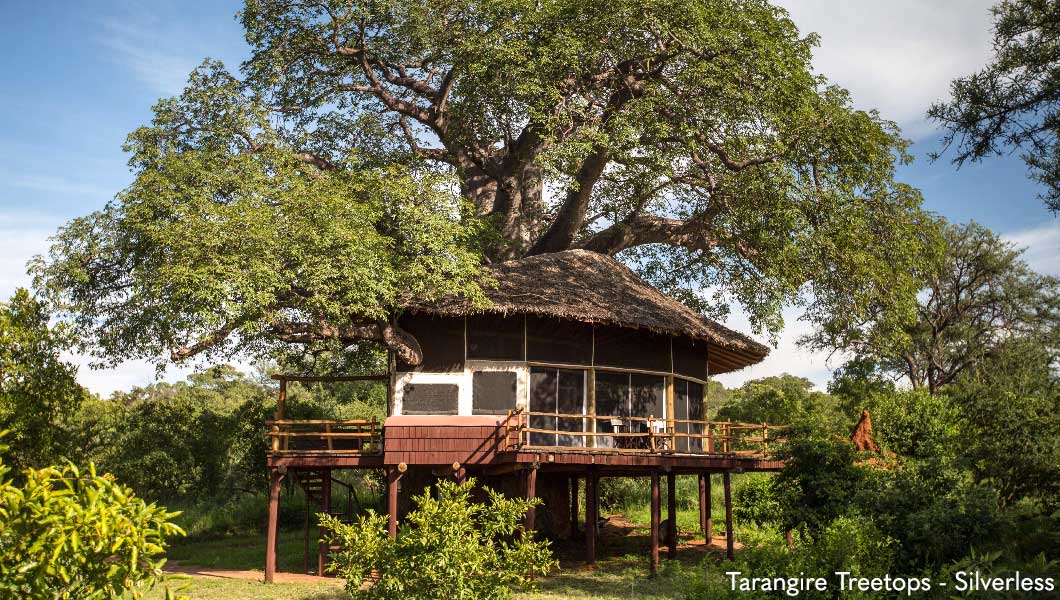 After breakfast you will drive to the Tarangire National Park, arriving in time for lunch at Tarangire Treetops Lodge. Innovative and stunningly original, the 5-star Tarangire Treetops consists of 20 luxury en-suite tree houses built upon tree-attached platforms, overlooking the Tarangire Sand River amongst a cluster of Baobab, Mopani and Wild Fig Trees.
Each spacious suite has a private veranda and lounge area, with sweeping views over the surrounding bush. This luxury safari lodge is located within the Tarangire Conservation Area on the eastern border of Tarangire National Park and features a swimming pool and elephant waterhole.
In the late afternoon depart on a guided walking safari (approximately two hours), followed by sundowners.
There is no better way to up close and personal to the wild than to take a walking safari. Feels the ancient earth beneath every step you take as you tread on the tracks of animals that have walked the same path minutes before. In the company of an experienced guide, learn about the flora as well as the fauna, and begin to understand the true majesty of the indigenous peoples that live and thrive on the land.
Experience the drama and beauty of Africa in one of the most iconic locations that Tarangire has to offer. Sunset Hill is the perfect locations to sit atop and enjoy the deep orange sunsets that often welcome in the starry skies. With food and drinks served by one of the Treetops staff, this is truly a magical experience not to be missed.
Accommodation: Tarangire Treetops – Treetops Room (B, L, D)
Day 3 - Tarangire National Park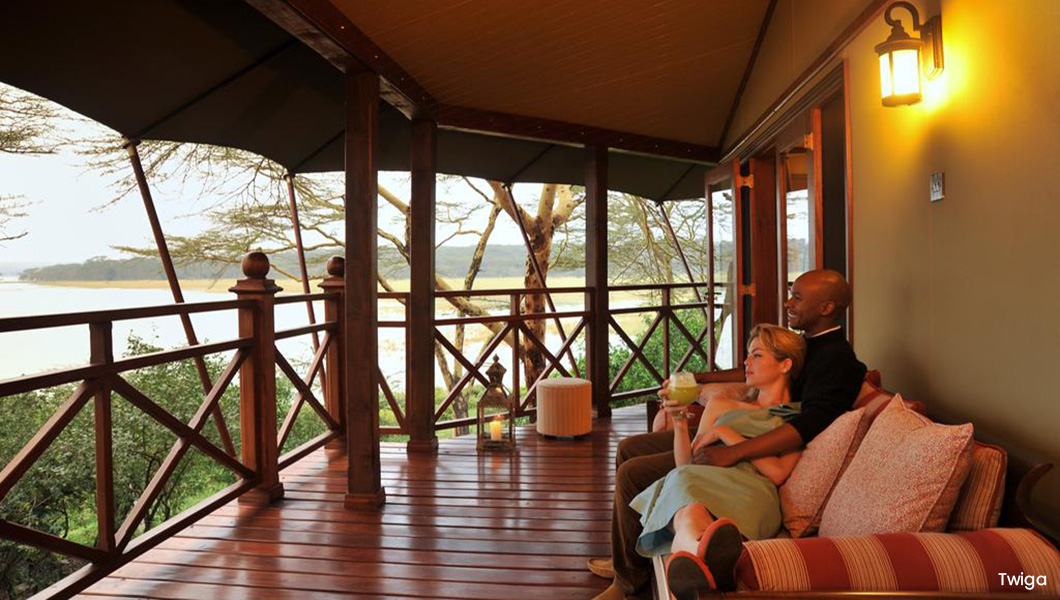 This morning you will enjoy a bush breakfast before departing on a game drive. Safari game drives bring you close to the large concentrations of elephant. The river attracts an abundance of game and you may find leopard resting in the shady trees. Tarangire was named after the river that flows the length of the park and provides a constant water source for the animals. It is also noted for its signature baobab trees and beautiful stands of acacia tortillis trees.
During a game drive through the famed Tarangire National Park there is nothing more enjoyable than arriving to a private area in the park for a delicious and relaxing luncheon. A variety of locales are selected depending on the season, and of course the animals. Continue with a late afternoon drive back to the lodge. Arrive with time to freshen up before dinner.
Accommodation: Tarangire Treetops – Treetops Room (B, L, D)
Day 4 - Tarangire/Karatu/Ngorongoro
After breakfast you will depart on a drive to the peaceful sanctuary of Gibbs Farm arriving in time for lunch. After lunch and time for relaxation continue on your drive to the Ngorongoro Conservation Area, arriving at the Ngorongoro Serena Lodge, with its blend of luxury and ethnic style and offering stunning views.
Hugging the contours of the jagged Crater rim, the lodge takes its inspiration from the so-called 'Cradle of Mankind', the prehistoric site of Olduvai Gorge, which lies close by. Linked by arched stone passages and timbered decks, its walls are decorated with stylized prehistoric cave paintings and lit by flaring torches. At the stone heart of the lodge burns a glowing fire, which is kept constantly alight. Each room has its own rock- enclosed balcony, and all enjoy completely uninterrupted views of the volcanic amphitheatre far below.
The Ngorongoro Crater, a remnant of an ancient volcano with one of the greatest concentrations of wildlife in Africa. Known as 'the eighth wonder of the world' the Ngorongoro Crater is one of Africa's best-known wildlife arenas. A UNESCO World Heritage Site, it offers a unique biosphere, which has remained virtually unchanged since the dawn of time. Deep within the Crater, enclosed by towering walls, some 25,000 large mammals wander the plains, lakes and forests of 'the land that time forgot', dominated by enormous bull elephants, rhinos and lions.
Accommodation: Ngorongoro Serena Lodge – Standard Room (B, L, D)
Day 5 - Ngorongoro Conservation Area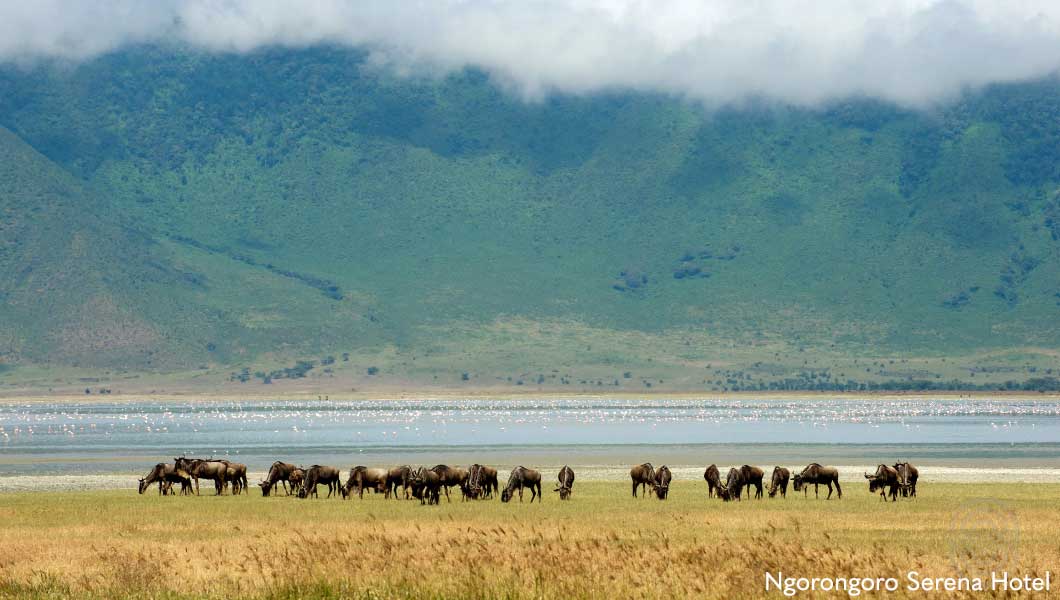 After breakfast, descend through the early morning mist into Ngorongoro Crater.
The Crater is a world heritage site that is a haven for a variety of wildlife. Ngorongoro is the remnant of a volcano that blew apart, leaving a flat plain area ringed with steep walls, which now has a large soda lake, fresh springs and sheltering forests.
There is a large concentration of animals in the Crater and sightings of the "Big Five" - Lion, Elephant, Buffalo, Rhino and Leopard - are almost guaranteed. The structure of the Crater and the wildlife it attracts makes for a great African wildlife experience.
You will enjoy a private bush lunch in the crater before returning to the lodge in the late afternoon.
Accommodation: Ngorongoro Serena Lodge – Standard Room (B, L, D)
Day 6 - Ngorongoro/Serengeti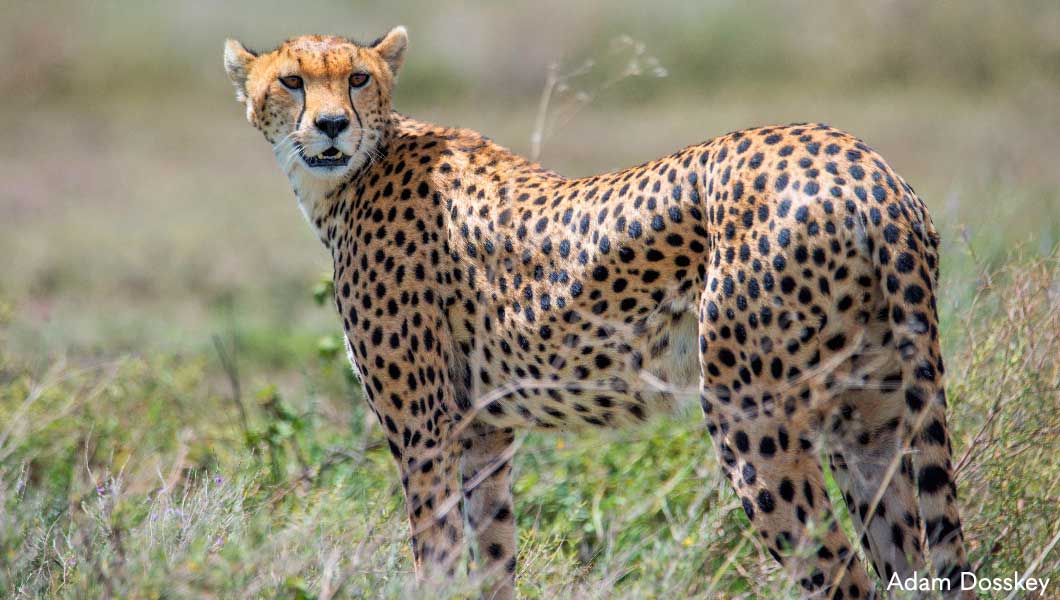 After an early breakfast at the lodge, transfer to the Manyara Airstrip for your scheduled flight to Lobo Airstrip. On arrival you will be met by a TAASA Safari Lodge vehicle and transferred to the 5-star luxury Taasa Lodge located in a private concession in the Serengeti National Park.
There are 15 luxurious and spacious en-suite tents. Each one seamlessly blends modern comforts with uniquely African accents. En-suite bathrooms are complete with soaking tub, separate shower, double vanity, and hair dryer, along with sumptuous robes and towels – a touch of indulgence in the bush. Enjoy stunning views from the serenity of your private verandah or cool off in the infinity pool, built seamlessly within the lush gardens.
The main lodge is finished with a combination of precious timbers and large picture windows. The main lounge, with its opulent leather settees and indoor fireplace, is located on a second level next to the lounge bar, with a selection of fine wines and spirits.
Meals are offered inside the main lodge, outside 'el fresco' on the terrace, or on your private veranda outside your tent upon request. Or you can enjoy a picnic in the bush.
In the late afternoon it is time to load into the open-sided Toyota Land Cruiser with warm blankets and head out as the sun sets and into the dark of night under starlit skies. There will be a stop for a drink at sunset in the bush. The experience of a game drive at night is very different from one during the day and you may see striped hyena on the prowl or lions on hunt.
Your Maasai guide will be in his tracker's chair mounted on the vehicle front with his floodlight sweeping for reflective eyes of predators. One never knows what will be lurking in the dark, but it is guaranteed to be electrifying and totally unlike your daytime game drives.
Return to the lodge with time to relax at the large outdoor patio perched on a hill above the tents and overlooking the valley, as you sit around a bonfire with fire pit and lounge chairs providing the perfect venue for aperitifs and hors d'oeuvres or simply for reading, relaxing and meeting other guests. After cocktails with the fire blazing and stars twinkling above you will enjoy a classic African dinner.
Accommodation: TAASA Safari Lodge - Luxury Tent (B, L, D)
Day 7 - Serengeti National Park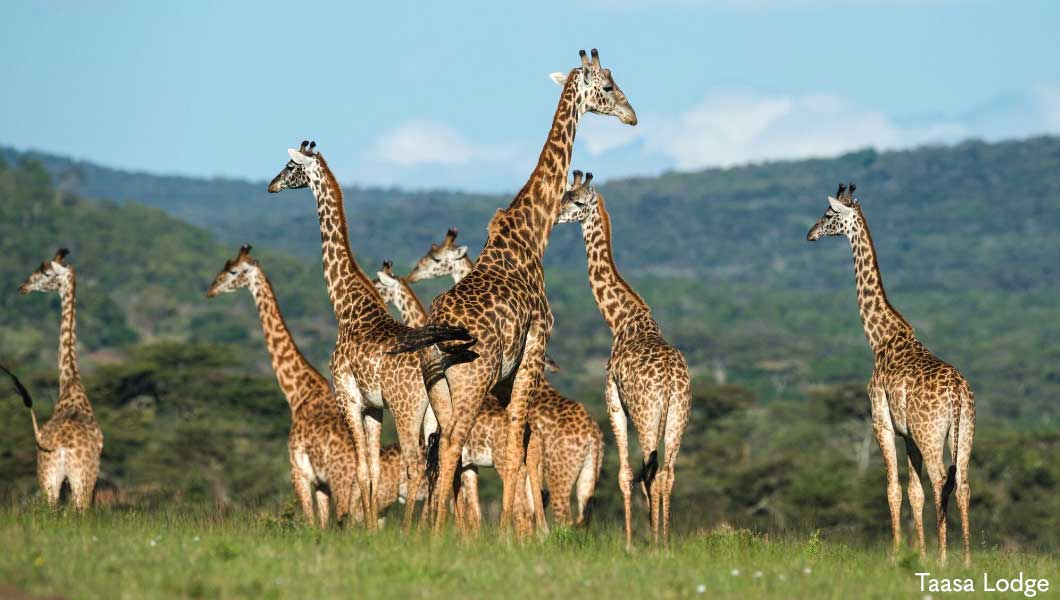 You have the option to experience the expanse of the Serengeti from above on an early morning magical balloon safari (added charge).
As the sun rises, the crew completes the necessary preparations to ensure a safe and enjoyable flight. The pilot gives you a last-minute briefing on safety procedures and the powerful burners are ignited to bring the colorful craft to life. The balloon silently soars over the vast Serengeti savanna revealing the wildlife roaming below. The pilot gently lands on the open plains. Return to the lodge for breakfast. You can take a guided game/nature walk followed by visit to a remote Maasai Village if you choose or just take the time to relax at the lodge.
The Maasai are among the best known of African tribes due to their adherence of distinctive customs and dress. Whereas many of the Maasai bomas found in the Northern Tanzanian safari circuit are geared entirely towards visiting tourists, the Maasai of Ololosokwan remain unaffected by large scale tourism and are therefore always enthusiastic about sharing their cultural beliefs with the few visitors they receive. A visit among the local people of Tanzania can easily become one of the most rewarding experiences of a visit to Africa.
TAASA's private concession offers a unique opportunity to experience a walking safari which is not allowed in the National Parks. Many tourists miss out by driving past the small wonders of the bush.
Return to the lodge for lunch and relaxation. The new infinity pool is built seamlessly within the lush gardens that surround the main lodge terrace, inviting you to relax and take in the nearly endless expanse of the Serengeti.
Depart in the afternoon for game viewing in the Serengeti National Park. The bush comes alive at night and is a very different experience than during the day.
TAASA is one of a select few lodges in Tanzania that can offer night drives under the starry African skies. Throughout the year, there are ample lion, cheetah and hyena. While on night drives you may also get to see genet cats and serval cats.
If you're lucky, you might even spot the resident leopard in the bush. The world-famous Serengeti plains are a popular feeding grounds for herd animals, including buffalo, elephant, giraffe, wildebeest, zebra, eland, Thomsons gazelle, and the endangered rhino.
Return to the lodge for sundowners followed by a boma dinner.
Accommodation: TAASA Safari Lodge - Luxury Tent (B, L, D)
Day 8 - Serengeti National Park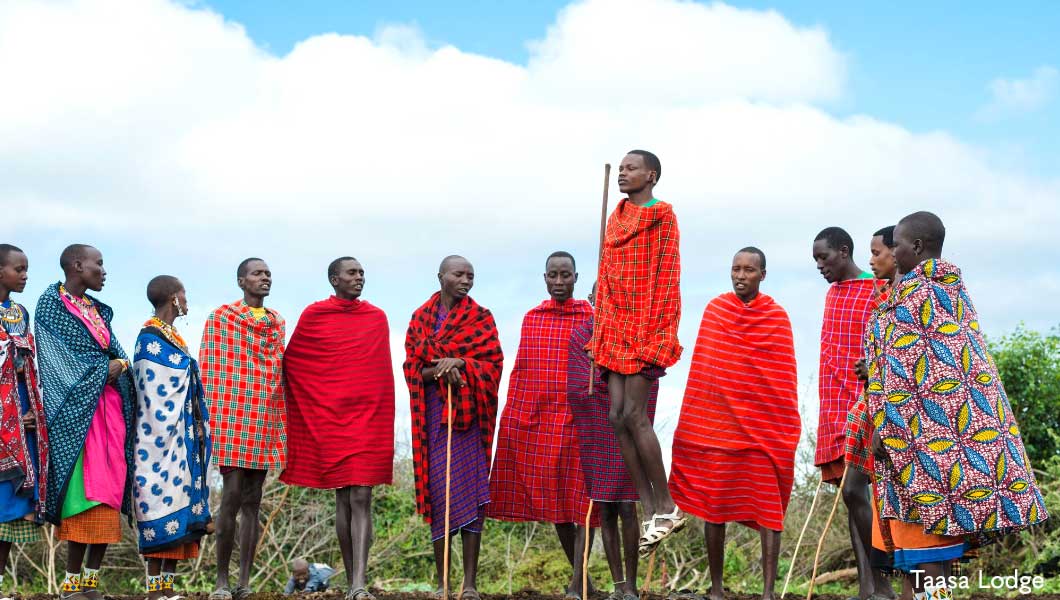 Your adventure begins just before dawn. Leave for a morning walking safari with a Maasai guide, get up close to the nature, later return to the lodge for breakfast. Walking in the bush, surrounded by all the sights, sounds and smells of Africa is completely different and very personal experience. Learn about medicinal plants, how to start a fire with sticks, and the wildlife you might encounter.
During certain months of the year (typically June – October) the migratory herds of wildebeest and zebra make for one of the natural world's most spectacular sights. River crossings, especially, are not to be missed. After dithering back and forth on the banks one brave wildebeest jumps in, with hundreds following behind. The migration is a phenomenon that must be seen to be believed.
You will be mesmerized by the sights and sounds of the natural world at its most impressive. During morning and afternoon game viewing activities you can observe and photograph the wildlife. As enduring as the game-viewing, you are sure to be in awe of the liberating sense of space that characterizes the Serengeti Plains.
Accommodation: TAASA Safari Lodge - Luxury Tent (B, L, D)
Day 9 - Serengeti/Zanzibar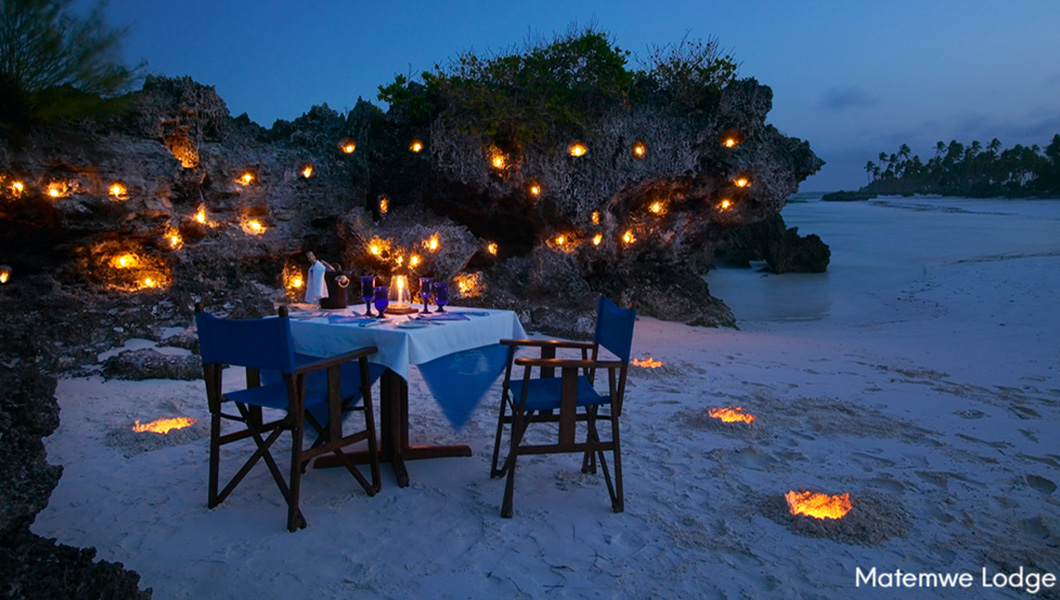 After breakfast you will transfer to the Lobo Airstrip for scheduled flight to Arusha. On arrival at Arusha Airport you will transfer to your flight to Zanzibar, for a romantic escape and relaxing beach time.
On arrival at Zanzibar Airport you will be met by a Lion World Travel representative and transferred to your selected hotel, where you will spend 3-nights relaxing and exploring the island. With a mixture of Indian and Middle Eastern cuisine, Zanzibar is known as the "Spice Island".
Accommodation: Kilindi Zanzibar - Luxury Pavilion, OR Matemwe Lodge - Suite, OR Matemwe Retreat - Villa
Day 10 - Zanzibar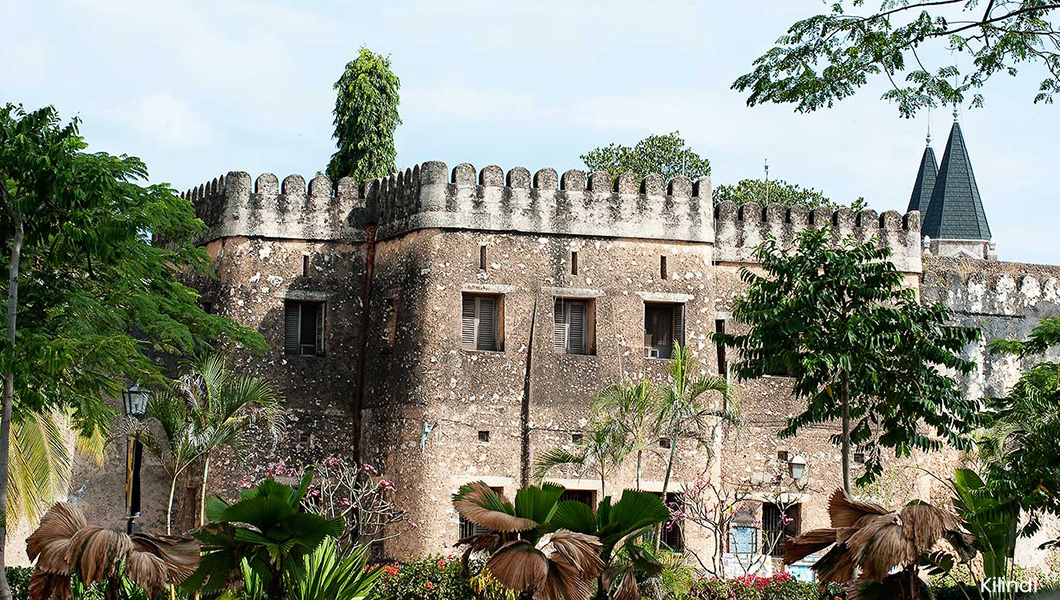 The day is at leisure to lounge on the beach, enjoy watersports, take leisurely walks or indulge in a spa treatment.
Accommodation: Kilindi Zanzibar - Luxury Pavilion, OR Matemwe Lodge - Suite, OR Matemwe Retreat - Villa
Day 11 - Zanzibar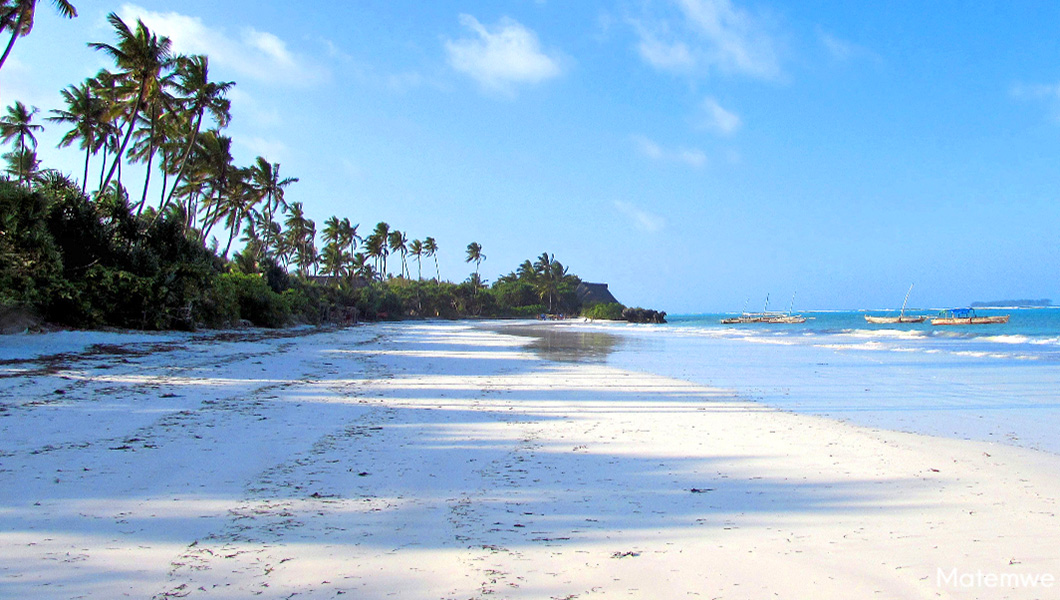 Explore Stone Town on a half day tour, the world's oldest Swahili coastal trading city and a UNESCO World Heritage Site. Browse the curios and artworks in the bazaars and markets or just mosey around the mosques and temples.
If the history of rock music is your passion, you can even check out the birthplace of the legendary Freddie Mercury!
Enjoy the rest of your day at leisure. Perhaps experience an additional excursion at additional cost. Excursions include: visiting Prison Island by a traditional wooden dhow, formerly a detention centre for the African slaves, nowadays, this is an ideal place to sunbathe or snorkel with giant turtles, dolphin cruises, scuba diving, spice tours or trip into Jozini Forest for some hiking in search of the rare red colobus monkey.
Accommodation: Kilindi Zanzibar - Luxury Pavilion, OR Matemwe Lodge - Suite, OR Matemwe Retreat - Villa
Day 12 - Zanzibar
After breakfast you have some free time before being transferred to Zanzibar Airport in time to check in for your flight.
---
Accommodation Option Details for Zanzibar
Kilindi Zanzibar - Luxury Pavilion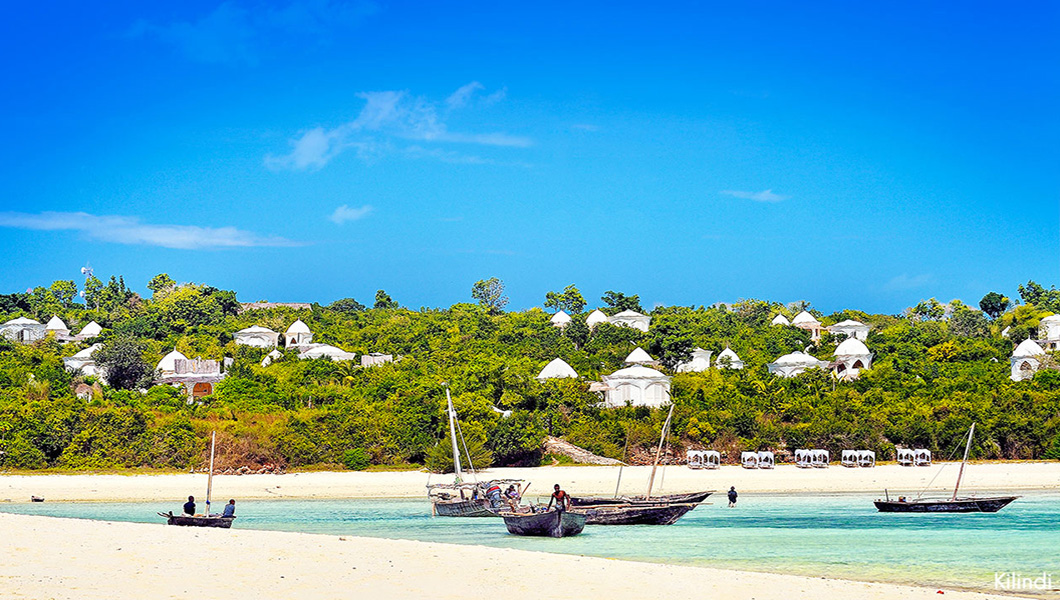 All meals included. Drinks included (except for Champagne, private cellar wines and spirits). Activities such as paddle boarding and kayaking included. Adults only (nobody under 16 years old).
Originally designed for Benny Andersson, from the Abba pop group, Kilindi Zanzibar is a rare gem in the world of luxury boutique hotels. 15 eastern-styled domed Pavilions with private plunge pools, nestling amongst a 50-acre tropical garden are perfect and intimate retreats. Dedicated Butlers will cater to your every need.
Matemwe Lodge - Suite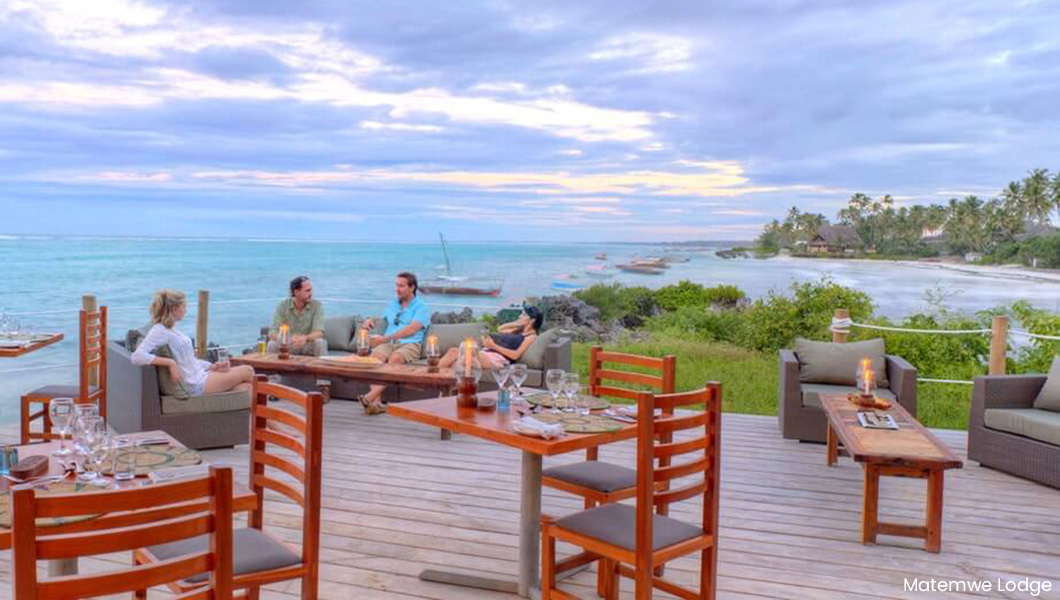 Breakfast and dinner included. Activities such as guided reef walks, kayaking and cultural visits included.
Matemwe's relaxed atmosphere and peaceful location, adjacent to one of the best stretches of beach on the east coast, makes it the ideal place to unwind. Each of the 12 spacious suites has a private veranda with expansive views of the Indian Ocean.
Matemwe Retreat - Villa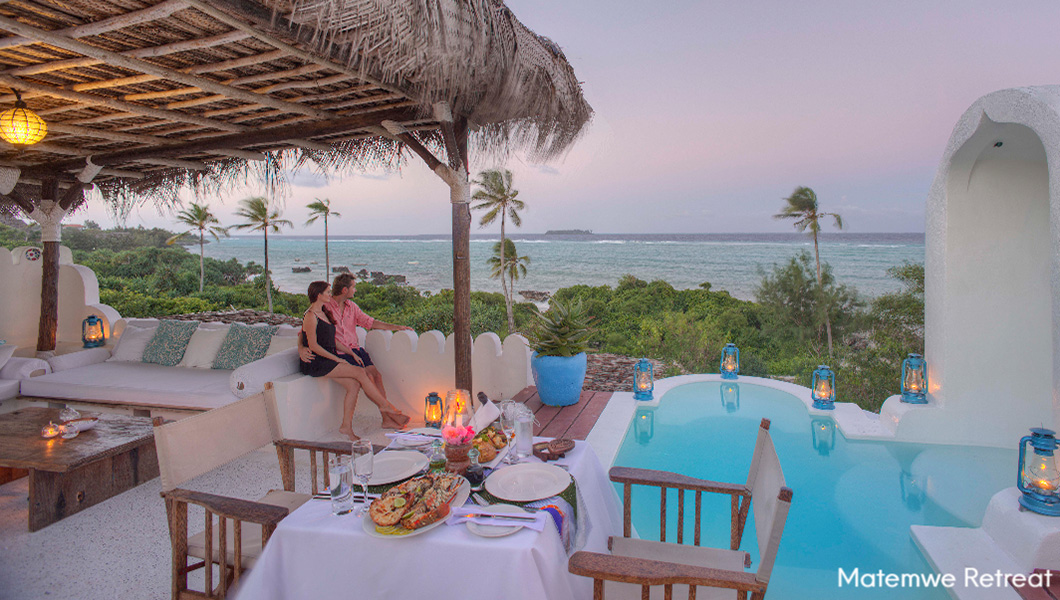 All-inclusive. Daily meals and local alcoholic drinks included. Some exceptions apply. Activities include a snorkel trip, guided reef walk and guided cultural village walk.
Catering for those looking for pure escapism and total privacy, Matemwe Retreat's four private villas, offer uninterrupted views of the turquoise Indian Ocean and feature in- house dining and private butler service. Wooden walkways allow guests to access the main lodge and restaurant.