Tanzania Group Safari Package - November 2023
Welcome back to Africa!
The past couple of years have been a time of reflection instead of travel. During this time, Lion World Travel was able to work with some of our partners in Africa to put together an exclusive group safari departure to Tanzania for November 2023.
These itineraries have been created specifically for group travel, with your health and safety in mind in this new world that we are living in.
Once in Africa, you will travel with your group in your own bubble and travel in frequently sanitized vehicles with well-being measures in place throughout your safari. These and other measures will ensure that your group has a worry-free and magical experience in Africa!
November 2023 Group Itinerary to Tanzania
WEDNESDAY - 2 NOVEMBER 2023 - ARRIVE KILIMANJARO/TRANSFER ARUSHA
On arrival in Kilimanjaro you will be met by a Lion World Travel representative and transferred to the 4-star Arusha Serena Hotel Resort & Spa.
Nestled at the foot of the wooded slopes of Mount Meru, the hotel is set amid coffee plantations on the shores of tranquil Lake Duluti. Accommodation is in cottage-styled rooms surrounded by extensive landscaped grounds. Spacious and elegant, the rooms feature marble bathrooms, double French doors leading out into the gardens and large and comfortable beds. 
Once you've settled in you might want to take in the lovely surroundings with a walk, mountain biking or canoeing on the lake – all activities are offered at the hotel.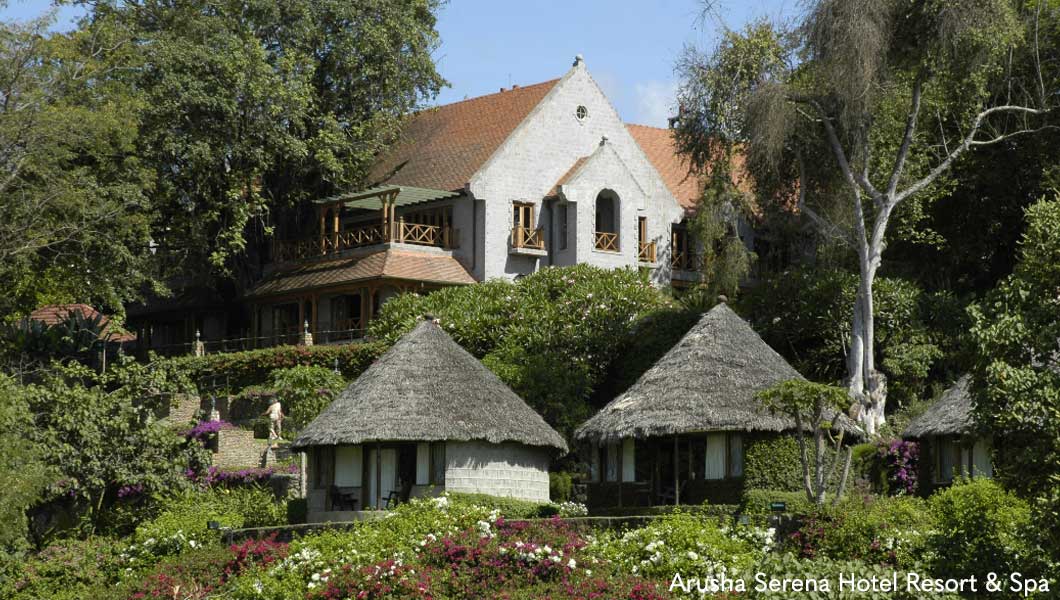 Arusha Serena Hotel Resort & Spa
ACCOMMODATION: ARUSHA SERENA HOTEL RESORT & SPA - STANDARD ROOM (D)
THURSDAY - 3 NOVEMBER 2023 - ARUSHA/LAKE MANYARA SERENA LODGE
After breakfast, bid farewell to Arusha as you drive to the beautiful Lake Manyara, a shallow alkaline lake that shimmers in a cleft in the Great Rift Valley. Enjoy an evening game drive at Lake Manyara National Park.
A small but uniquely diverse national park, Manyara is home to the world-famous tree-climbing lions, thousands of flamingos and nearly 500 species of birds.
It would be difficult to find a more dramatic setting than the 4-star Lake Manyara Serena Lodge which is situated at the edge of an escarpment and overlooks both the Great Rift Valley and the beautiful soda lake of Manyara with its lavish supply of bird life. The lodge offers a unique blend of tranquillity, wildlife discovery, and ornithological richness. The rooms are housed in white-washed 'rondavels' (traditional circular buildings with thatched roofs), which are situated along the edge of the cliff to allow for maximum views. Each spacious room has its own small veranda while the interior décor reflects the blue of the lake and the pink of its flamingos. Facilities in the rooms include all the comforts you expect: Telephone and Wi-Fi, mineral water, hairdryers and toiletries, bathrobe and slippers.
The bar and restaurant offer guests both indoor and outdoor seating at each meal. Sumptuous menus, buffets and barbecues are served to guests alongside authentic African dishes.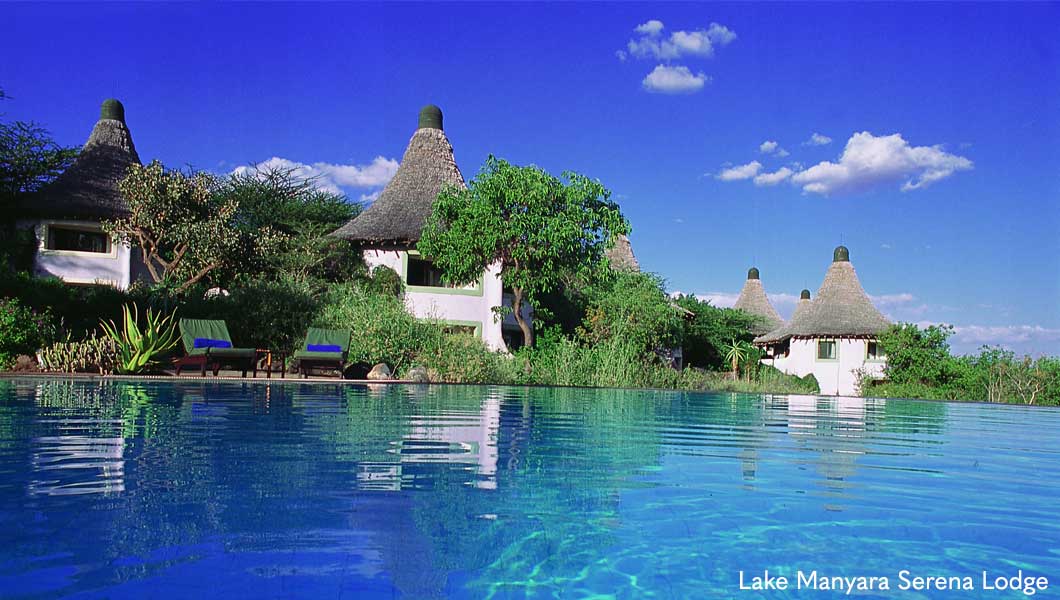 Lake Manyara Serena Lodge
ACCOMMODATION: LAKE MANYARA SERENA LODGE - STANDARD ROOM (B,L,D)
FRIDAY - 4 NOVEMBER 2023 - LAKE MANYARA NATIONAL PARK
After breakfast you will depart with picnic boxes on a full day of game drives.
Lake Manyara National Park offers ground water forests, bush plains, baobab strewn cliffs, and algae-streaked hot springs. This is an area rich in wildlife. The alkaline soda of Lake Manyara is home to an incredible array of bird life that thrives on its brackish waters. Pink flamingo stoop and graze by the thousands. Yellow-billed storks swoop and corkscrew on thermal winds rising up from the escarpment, and herons flap their wings against the sun-drenched sky.
Lake Manyara's famous tree-climbing lions are another reason to pay a visit to this park. The only kind of their species in the world, they make the ancient mahogany and elegant acacias their home during the rainy season and are a well-known but rather rare feature of the northern park. In addition to the lions, the national park is also home to the largest concentration of baboons anywhere in the world — a fact that accounts for interesting game viewing of large families of the primates. 
Inland of the floodplain, a narrow belt of acacia woodland is the favored haunt of Manyara's legendary tree-climbing lions and impressively tusked elephants. Squadrons of banded mongoose dart between the acacias, whereas the diminutive Kirk's dik-dik forages in their shade. Pairs of klipspringers are often seen silhouetted on the rocks above a field of searing hot springs that steams and bubbles adjacent to the lakeshore in the far south of the park.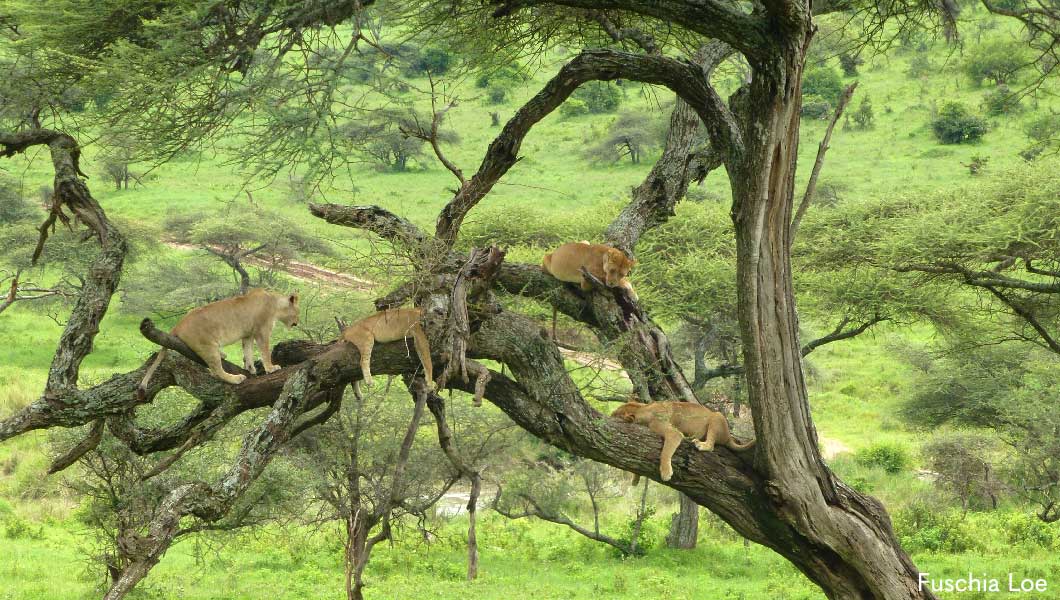 Tree-Climbing Lions, by Lion World Travel guest Fuschia Loe
ACCOMMODATION: LAKE MANYARA SERENA LODGE - STANDARD ROOM - (B,L,D)
SATURDAY - 5 NOVEMBER 2023 - LAKE MANYARA/SERENGETI
Your adventure continues as you set off after breakfast to the vast plains of the Serengeti National Park with a picnic lunch en route. 
You will probably start spotting game well before you get into the park.  The Serengeti offers some of the most entertaining game-viewing in Africa.
Great herds of buffalo, smaller groups of elephant and giraffe, and thousands upon thousands of eland, topi, impala and Grant's gazelle. Lion prides feast on the abundance of plain grazers. Solitary leopards haunt the acacia trees lining the Seronera River, while a high density of cheetahs prowls the south eastern plains.
Serengeti Serena Lodge offers comfortable rooms with awesome views across the sweeping plains. Inspired by a traditional African village, separate "rondavel huts" house the luxury en-suite guest rooms each with a balcony. Set high on the saddle of a tree-clad ridge, commanding panoramic views across the Serengeti, this lodge is the ultimate fusion of traditional African architecture and world-class style. Winner of numerous awards from the world travel press, it is perhaps the finest venue the Serengeti has to offer.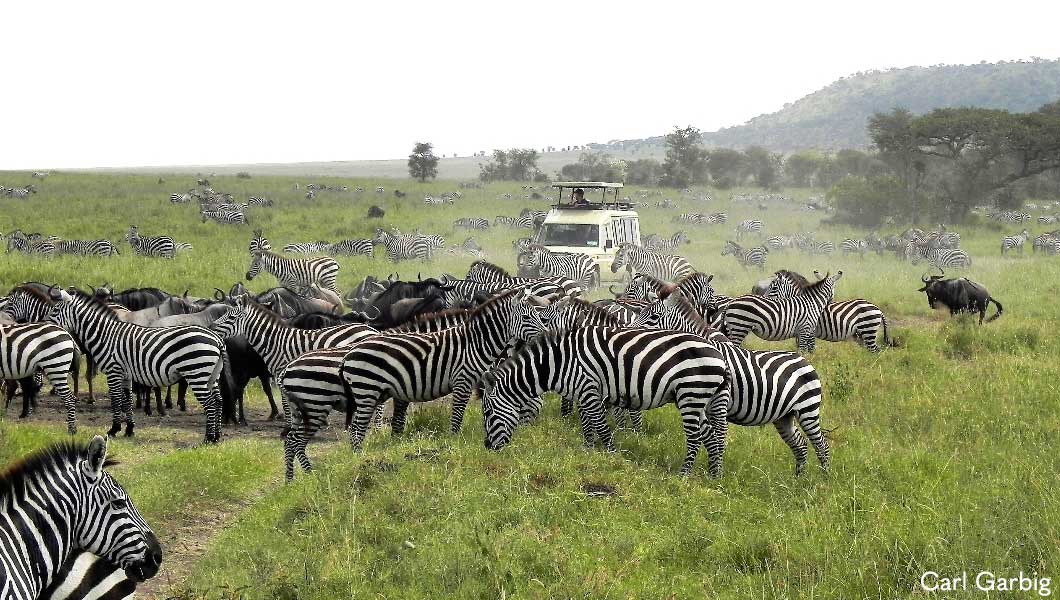 Zebra on a Game Drive in Tanzania, by Carl Garbig
ACCOMMODATION: SERENGETI SERENA LODGE - STANDARD ROOM (B,L,D)
SUNDAY - 6 NOVEMBER 2023 - SERENGETI
Explore the grass plains (loosely translated from the Maasai language, Serengeti appropriately means 'endless plain'), during full day or morning and afternoon game drives when the animals are most active. In the early morning watch hippos return to water; giraffes foraging from trees; and lions returning from the evening hunt to relax in the shade of a tree. In the afternoon look out for cheetahs, crocodiles and leopards.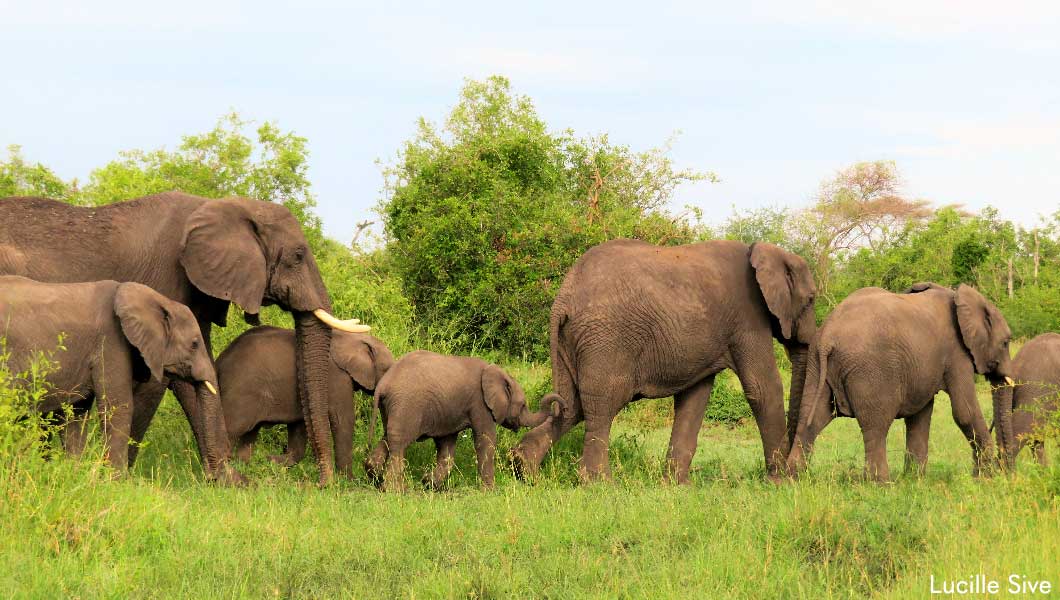 Elephant Family, Tanzania
ACCOMMODATION: SERENGETI SERENA LODGE - STANDARD ROOM (B,L,D)
MONDAY - 7 NOVEMBER 2023 - SERENGETI 
During game viewing activities you can observe and photograph the wildlife at your leisure.  As enduring as the game-viewing, you are sure to be in awe of the liberating sense of space that characterizes the Serengeti Plains.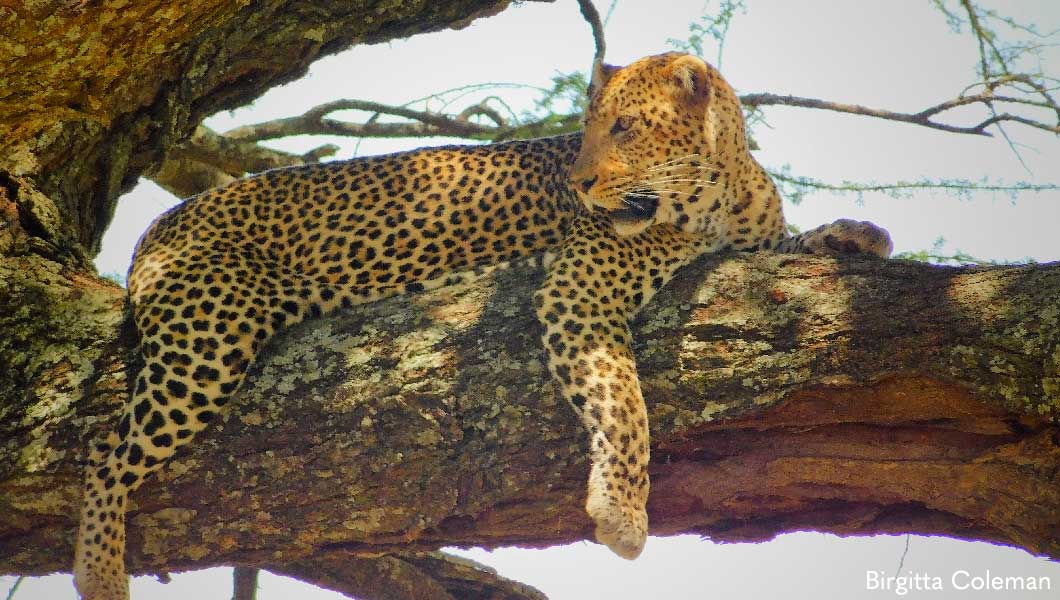 Leopard in tree, Serengeti. By Lion World Travel guest Birgitta Coleman
ACCOMMODATION: SERENGETI SERENA LODGE - STANDARD ROOM (B,L,D)
TUESDAY - 8 NOVEMBER 2023 - SERENGETI/NGORONGORO CRATER
Enjoy a game drive and picnic lunch on route to the Ngorongoro Crater, a remnant of an ancient volcano with one of the greatest concentrations of wildlife in Africa.
Known as 'the eighth wonder of the world' the Ngorongoro Crater is one of Africa's best-known wildlife arenas.  A UNESCO World Heritage Site, it offers a unique biosphere, which has remained virtually unchanged since the dawn of time. Deep within the Crater, enclosed by towering walls, some 25,000 large mammals wander the plains, lakes and forests of 'the land that time forgot', dominated by enormous bull elephants, rhinos and lions.
Stay at Ngorongoro Serena Lodge, with its blend of luxury and ethnic style and offering stunning views. Hugging the contours of the jagged Crater rim, the lodge takes its inspiration from the so-called 'Cradle of Mankind', the prehistoric site of Olduvai Gorge, which lies close by. Linked by arched stone passages and timbered decks, its walls are decorated with stylized prehistoric cave paintings and lit by flaring torches. At the stone heart of the lodge burns a glowing fire, which is kept constantly alight.
Each room has its own rock- enclosed balcony, and all enjoy completely uninterrupted views of the volcanic amphitheatre far below.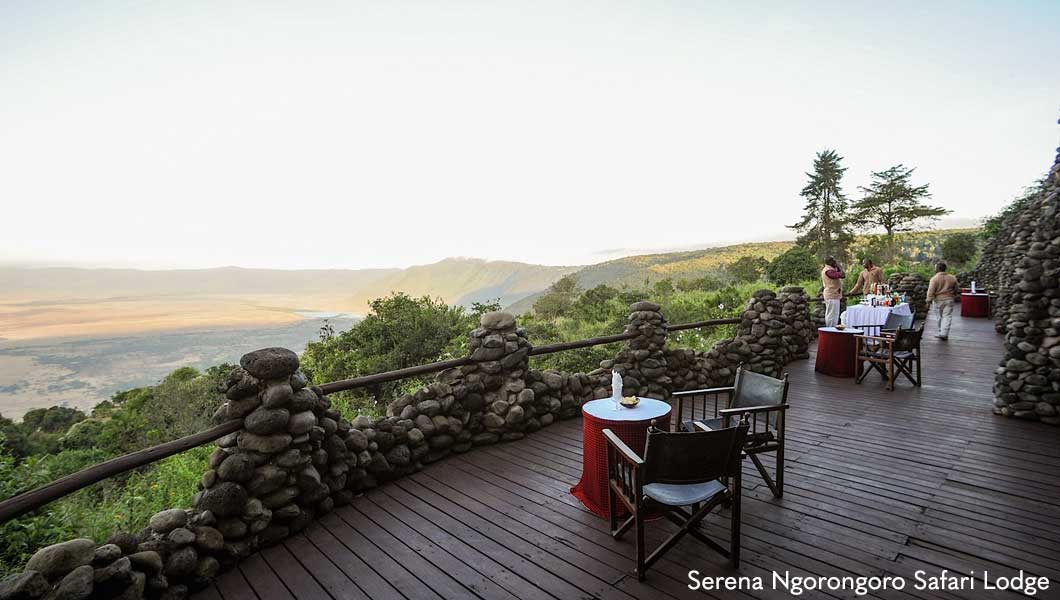 Views of Ngorongoro Crater, from Serena Ngorongoro Safari Lodge
ACCOMMODATION: NGORONGORO SERENA LODGE - STANDARD ROOM (B,L,D)
WEDNESDAY - 9 NOVEMBER 2023 - NGORONGORO CRATER
After breakfast descend through the early morning mist 2,000 feet into the crater for an awesome wildlife experience.  Stop for a picnic lunch at a scenic spot inside the crater, returning to the lodge in the late afternoon.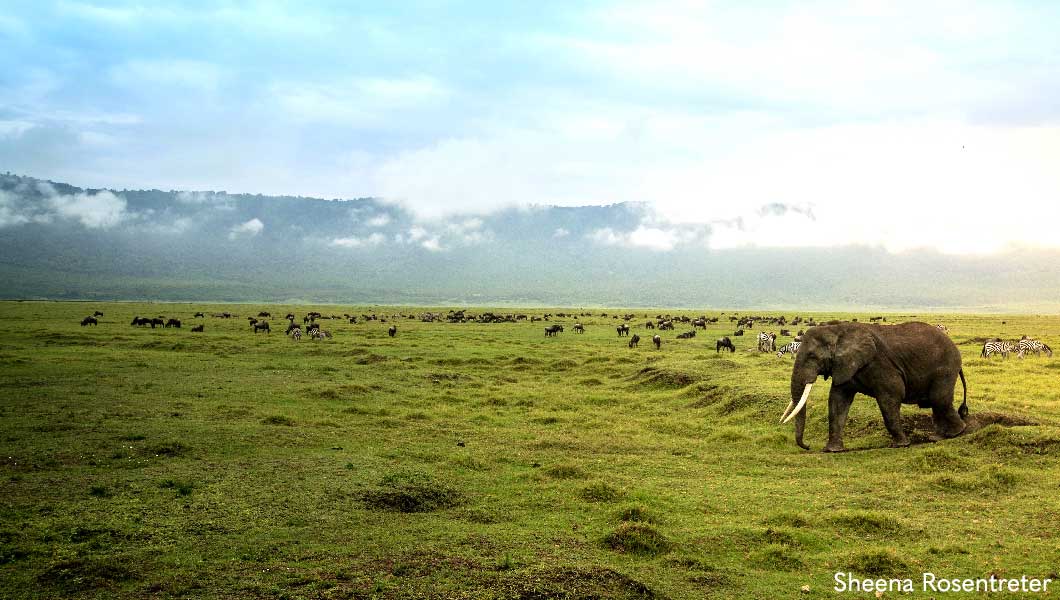 Elephant in Ngorongoro Crater by Lion World Travel guest Sheena Rosentreter
ACCOMMODATION: NGORONGORO SERENA LODGE - STANDARD ROOM (B,L,D)
THURSDAY - 10 NOVEMBER 2023 - NGORONGORO/ARUSHA/KILIMANJARO/DEPART
Depart after breakfast and head to Arusha for lunch followed by a transfer to the airport to connect with your scheduled flight. (B, L)
B = Breakfast
L = Lunch
D = Dinner
---
LAND ONLY PRICING
USD $3595 (Includes Park Fees & Taxes) 
Rate person based on double occupancy
Single supplement: USD $550
(Rates valid for November 2023 based on a minimum 6 passengers)
INCLUDES:
All transport and game drives in an 8-seater 4x4 safari vehicle with an English-speaking driver/guide
Accommodation as specified
Meals as specified
All park fees
All government taxes
Lion World Travel Representative meet and greet upon arrival
EXCLUDES:
International airfare and taxes as indicated
Telephone bills, laundry and any items of a personal nature
Drinks, dining room tips, porterage
Any item not specified above
Costs of Passports and Visas
Driver/Guide gratuities
Trip Cancellation, Trip Interruption and Medical Insurance are required for the entire duration of your travels – please note that insurance for this trip is a mandatory requirement from suppliers in Africa – proof of insurance must be provided before bookings are confirmed. It is your personal responsibility to ensure you have sufficient travel insurance coverage from the provider of your choice. Please let your Africa Specialist know if you would like information on this.
Return to our Groups Travel page to see our other special group itineraries.