Photo Info

African Anthology

Photo Info

African Anthology

Photo Info

South African Tourism
Summary

Itinerary

Pricing

Options

& Add-ons
Best of Cape Town & Botswana 2019 - Air Included - From US$5699
Discover captivating Cape Town and Botswana - our most popular Botswana safari.
Trip Highlights
Cape Town | Okavango Delta | Chobe Game Reserve
Explore
Cape Town with its scenic beauty, culture and great restaurants
The Okavango Delta with its spectacular landscape and wealth of wildlife
The Chobe River where hippos yawn and elephants come to play
Experience
Close encounters with Botswana's great wildlife from an open safari vehicle
A river safari to view animals from a different perspective
Silently gliding in a mokoro along the Okavango Delta
Enjoy
Browsing at Cape Town's bustling Victoria & Alfred Waterfront
Accommodation in a stunning tent
Sipping a sundowner while watching extraordinary African sunsets
Choice
At additional cost:
A Walk to Freedom Tour to discover the energy of the Townships and their people
On a Winelands tour sip world class wines and browse the picturesque historical towns
A Cape Peninsula tour offers breathtaking scenery and loveable penguins.
---
#LionWorldTales
Explore South Africa & Botswana Through the Eyes of Our Guests
Day 1 - Depart USA
Depart on your international South African Airways flight from New York (JFK) or Washington D.C. (Dulles) to Cape Town, South Africa via Johannesburg. From the moment you board your South African Airways flight you will feel the warm and welcoming African hospitality in every detail of the world-class service you are about to experience.
Day 2 - Johannesburg/Cape Town
Arrive at Johannesburg's Oliver Tambo International Airport and  connect to a domestic flight to Cape Town. A Lion World Travel representative will meet you for your transfer to your hotel.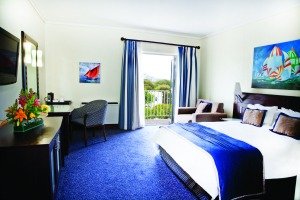 Commmodore Accommodations
The 4-star Commodore Hotel exemplifies deluxe accommodation, stylish living and quality service, overlooking the Victoria and Alfred Waterfront, with views of Table Mountain, Robben Island, the Harbour and the Atlantic Ocean.
Well situated just a short walk from the vibrant Waterfront that offers shopping, entertainment and a multitude of restaurants. All rooms have individual air conditioning, tea and coffee making facilities, hair dryers, 24-hour room service and personalized safes.
Accommodation: Commodore Hotel - Standard Room
Read More
Day 3 - Cape Town
Today you have the option of joining a Cape Peninsula Tour, exclusively for our Lion World Travel guests, at a special price of $150 per person – please let us know if you would like to join this excursion.
On this tour you will see why the area earned the name of The Fairest Cape. Sit back and relax, as you drive along the exquisite stretch of coastline known as Millionaire's Paradise – from Clifton to Camps Bay, to the exclusive beach hamlet of Llandudno – towards the charming working harbor of Hout Bay.
The tour then winds its way along the legendary Chapman's Peak Drive, hugging the cliffs and relishing the breathtaking ocean views. After a stop for lunch (your own account), visit the wild and beautiful Cape of Good Hope Section of the Table Mountain National Park, an integral part of the world-renowned Cape Floral Kingdom. You will have the opportunity to ride the Flying Dutchman funicular (optional and own account) to the old lighthouse for awe-inspiring views!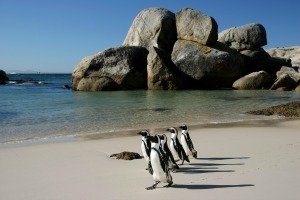 Boulders Beach Penguins
Finally, the tour makes its way back along the coast towards the City, visiting the historic naval port of Simon's Town and the endearing African penguin colony at Boulders Beach.
Did you know that the African Penguin used to be called a "jackass" penguin because its call is like that of a braying donkey!
Accommodation: Commodore Hotel - Standard Room (B)
Day 4 - Cape Town
During your leisure time in Cape Town, we recommend filling your days (or parts of them) with excursions. We can arrange a private guide and vehicle to tailor make a day out for you based on your personal interests or reserve space on one of the scheduled tours (shared with other guests or on a private basis) that we offer.
Suggested tours - Perhaps take the ferry to Robben Island for a moving half day experience to see where Nelson Mandela spent many years imprisoned.
Another popular tour is a day tour to the magnificent Winelands. The Cape Winelands region with its classic Cape-Dutch homesteads, scenic mountainous vistas, picturesque towns and fine restaurants is the Cape's Culinary Capital.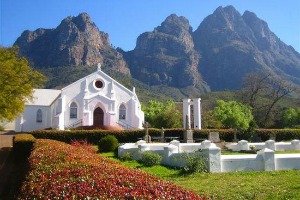 Stellenbosch
Cape Town is the most popular tourist destination in South Africa due to its good climate, culture and scenic beauty. The city has several well-known natural features that attract tourists, most notably Table Mountain, for panoramic views of the city.
During your stay you will enjoy a complimentary dinner at The Portswood Quarterdeck Restaurant.
Accommodation: Commodore Hotel - Standard Room (B, D)
Day 5 - Cape Town
Your final day in Cape Town! Enjoy a day of leisure exploring the many attractions in and around this cosmopolitan city, or simply relax on the fashionable beaches of Camps Bay or Clifton. Cape Town offers historic and cultural sites, world-class museums and bustling markets, inviting beaches and lush gardens, as well as great restaurants, wonderful shopping and culture.
Accommodation: Commodore Hotel - Standard Room (B)
Day 6 - Cape Town/Johannesburg/Maun
Today you will be transferred from your hotel to Cape Town Airport for your flight to Maun, gateway to Botswana's famed Okavango Delta. On arrival in Maun you will be whisked away by light  charter flight to the Kadizora airstrip near your camp. Spend three nights at Kadizora on a fully inclusive basis (including 3 meals daily, local drinks and daily game activities).
Kadizora Camp is situated in the remote northern part of the Okavango Delta overlooking a panoramic seasonal floodplain. Giant Marulas, Sycamore figs, Jackalberries and Rain trees provide a canopy of shade throughout the camp. The bar, lounge, reception and dining area form a horse-shoe shape around the sandy fire pit. From there, a decked walkway leads you to an inviting swimming pool with a view over the floodplain.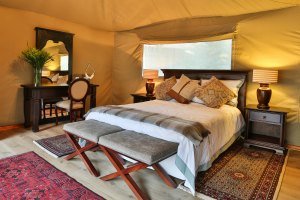 Kadizora Luxury Tent
The tented accommodation is spacious and furnished in a classic style ensuring that time between activities is spent relaxing comfortably. Each tent has an En‐suite bathroom with a feature bath, his and hers vanities, outdoor shower, tea & coffee making facilities and private viewing deck.
The camp offers the ultimate Okavango Delta experience, with a wide range of activities, a beautiful location, diverse wildlife and warm, local hospitality. Kadizora is the only camp in the Okavango Delta to offer hot air ballooning. You have the option, of booking an early morning hot air balloon flight to soar over the Delta at sunrise and view game from above. Kadizora Camp also offers open vehicle safaris, walking safaris and boating. Mokoro (dug-out canoe) excursions provide a fabulous and traditional way to explore the meandering water channels. Float quietly amongst the water-lilies and experience a spectacular bird lovers' paradise.
There is the option to arrange a day trip to a traditional village. Visit the church, the clinic, local primary school and meet family members of the camp staff. Fishing is available in season.
Arrive in time to take a late afternoon game activity - sure to be a thrilling experience!
Accommodation: Kadizora Camp – Luxury Tent (B, L, D)
Day 7 - Kadizora Camp-Okavango Delta
Enjoy the day discovering the awesome wildlife of this unique region. Botswana's gem is the Okavango Delta, the world's largest inland delta. Explore the waterways in a traditional mokoro looking out for tiny frogs, blooming water lilies, hippos, crocodiles and a myriad of birds. Or venture into unspoiled wilderness on foot or by open safari vehicles going in search of plains game and predators.
A vast stretch of channels, lagoons, forests and reed islands spreads across northern Botswana and disappears into the sands of the Kalahari. Birdlife is amazing here and game viewing too is very special; not only because of the variety and number of animals but also because you can do a great deal on the water, giving a totally different perspective to the traditional game drives.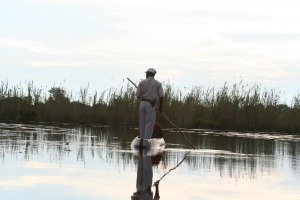 Mokoro Ride
During your afternoon/evening game drive you will have the opportunity to see nocturnal mammals such as civet, genet and bush babies, as well as owls and if you're lucky even the elusive leopard. Walking safaris with skilled guides offers you the exciting opportunity of coming across big game on foot as well as observing the smaller things you miss when travelling by vehicle.
Accommodation: Kadizora Camp – Luxury Tent (B, L, D)
Day 8 - Kadizora Camp-Okavango Delta
Enjoy another day to participate in game drives in an open safari vehicle, allowing you to explore some of the varied vegetation this World Heritage site has to offer. Drive through semi-desert sands, dense Mopani woodlands and marshy floodplains. The area is home to a vast species of game including elephant, buffalo, lion, leopard, cheetah, wild dogs, hyena, giraffe, zebra, wildebeest, kudu, red lechwe, impala, honey badgers, hippos and crocodile, to name a few.
The region is also home to countless resident and migratory birds and birdwatching is particularly favorable when the Delta waters arrive in February and dry up in late September.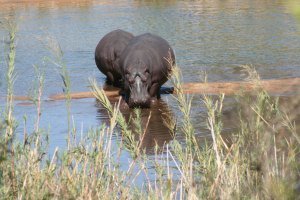 Accommodation: Kadizora Camp – Luxury Tent (B, L, D)
Day 9 - Okavango Delta/Chobe National Park
Today you will take a flight to Kasane. On arrival you will be transferred by road to either Chobe Bush Lodge or Elephant Valley Lodge where you will spend two nights with all meals and daily game activities included.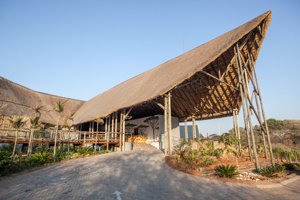 Chobe Bush Lodge
Chobe Bush Lodge is situated in Kasane directly on the border of Chobe National Park and within close proximity of the Chobe River. Chobe Bush Lodge is an excellent gateway location to Chobe, Victoria Falls and Caprivi, because four African countries meet right on their doorstep - Botswana, Namibia, Zimbabwe and Zambia.
There are 38 spacious luxury en-suite rooms each one with open plan bathroom featuring a bath and a shower, air-conditioning, TV and safe. The rooms are completed in modern bush-style design, with exquisite views over Chobe National Park.
Elephant Valley Lodge is situated among sturdy acacia trees that reach high above the camp, forming large canopies of shade, under which you will find 20 custom built meru style luxury safari tents. Given the concentration of elephant in this wildlife sanctuary, the camp is fenced and ensures peace of mind whilst not limiting the cacophony of night sounds as you drift off to sleep after an exhilarating day of game viewing.
The camp can accommodate a maximum of 40 guests in spacious and tastefully furnished tents, each features en-suite shower and toilet as well as tea and coffee making facilities, fan and mini safe.
Accommodation: Chobe Bush Lodge OR Elephant Valley Lodge (B, L, D)
Day 10 - Chobe Bush Lodge-Chobe National Park
Today enjoy morning and afternoon game viewing activities in this wildlife haven. Safaris are in 10 seater open vehicles in both the Chobe and Kasane forest reserve. The Chobe National Park is home to the largest population of Elephant, it is estimated to number more than 80,000. The park and its surrounds sustain a wide diversity of wildlife, in part, due to the spectacular Chobe River.
Game drives offer opportunities to see and photograph the stunning range and concentration of wild life that the Chobe National Park and is famous for. As you drive along the river bank looking for fresh tracks, the experienced guides can interpret the bush signs and track the animals that left them. Being the first observers at a special sighting is very exciting. The thrill of finding spoor and tracking game must be experienced to be appreciated. Impala are everywhere and giraffe are commonly encountered. Elephant and herds of buffalo abound.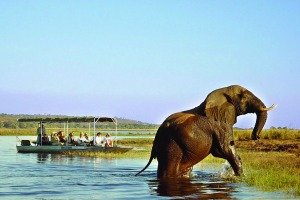 In the afternoons you can enjoy a sundowner cruise along the river to capture the sunset on camera. It is also during the late afternoon that game becomes most active and is seen along the water's edge. On boat trips down the Chobe River you can enjoy watching herds of elephants drinking, swimming and playing in the water.
The animals and birds move freely in the valley between the game-rich conservation areas of the neighbouring Chobe Game Reserve and the National Parks of Zimbabwe. From the comfort and tranquillity of the lodge you can watch creatures great and small, dropping by for a thirst quenching drink at the lodge's waterhole.
Accommodation: Chobe Bush Lodge OR Elephant Valley Lodge (B, L, D)
Day 11 - Chobe National Park/Kasane/Johannesburg
Make the most of your last morning as you take in all the sights and sounds on your final game activity of this trip before heading to Kasane for your journey home. (B)
We highly recommend an easy extension to see the magnificent Victoria Falls. Click on options and add-ons for details.
If you do not opt for the Victoria Falls Extension, you will then transfer by road to Kasane and connect with your flight to Johannesburg. On arrival at Johannesburg's O.R. Tambo International Airport you will connect with your South African Airways flight to New York or Washington (Dulles).
Day 12 - Arrive USA
Arrive home with a lifetime of memories!
Add-Ons
Victoria Falls Extension - The Kingdom at Victoria Falls
Extend your safari vacation with a trip to Victoria Falls, one of the Seven Natural Wonders of the World.
---
Day 11 - Chobe National Park/Victoria Falls
Transfer by road to Victoria Falls arriving at The Kingdom at Victoria Falls.
A 4-star hotel, The Kingdom at Victoria Falls, is a modern tribute to Africa's ancient allure. Built around a man-made water feature, the 294 bedroom hotel creates an impression of having been built on a lake and is well located in the small resort town of Victoria Falls, just a short walk from the Falls themselves.
The distinctive architectural design is based on the Great Zimbabwe monument in Masvingo and lends a unique atmosphere to the property. The spacious, en-suite bedrooms are well equipped as you would expect of a 4-star property with digital satellite television, coffee & tea making facilities and views of the lake.
This evening enjoy a buffet dinner at the hotel.
Accommodation: The Kingdom at Victoria Falls - Standard Room (B, D)
---
Day 12 - Victoria Falls
After breakfast enjoy a guided walking tour of Victoria Falls, one of seven natural wonders of the world. This tour takes you through the magnificent rain forest where you are able to view the Cataracts, Livingstone's statue and a wide variety of birds and plants.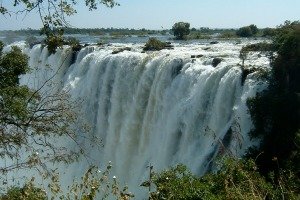 Victoria Falls
Finish off the afternoon with a tranquil sunset cruise on the Zambezi River. The area of the Zambezi that the cruise is on is one of outstanding natural, scenic beauty with a wide diversity of game and bird life. One has a unique vantage point to spot large animals such as elephants, hippo and crocodiles, as this area lies within Zambezi National Park.
After returning to the hotel to freshen up, you will be transferred by road to Victoria Falls Safari Lodge to enjoy dinner at The Boma Restaurant.
The award winning Boma restaurant offers a unique African experience that bombards the senses with the tastes, sights, sounds and smells of Africa - coupled with the warmth and hospitality of the local people. Styled in the traditional manner, the thatched boma has an open fire to enhance the vibrant atmosphere. Specializing in a superb selection of traditional dishes, there is also a good selection of salads and vegetables for vegetarians. Traditional customs such as local beer tasting and pre-dinner hand washing are observed, while the sights and sounds of the evening are accentuated by Ndebele performers who captivate diners with their colourful and energetic songs and dance.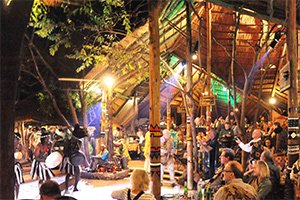 The Boma Restaurant
Steeped in mystery, a witchdoctor adds a touch of drama and after-dinner guests are invited to while away the evening with the restaurant's Sangoma - a traditional story teller - to learn more about the country's folklore, culture and heritage.
After dinner, you will be transferred back to your hotel.
Accommodation: The Kingdom at Victoria Falls - Standard Room (B, D)
---
Day 13 - Victoria Falls/Johannesburg/USA
After breakfast you will be transferred by road to Victoria Falls Airport for your flight back to Johannesburg. (B)
---
Day 14 - Arrive USA
Arrive home with a lifetime of memories!
---
PRICING: The Kingdom at Victoria Falls
January - December:
US$700 per person based on double occupancy accommodations
US$200 single supplement
---
INCLUDES:
Road transfer from Kasane
Regional flight from Victoria Falls to Johannesburg
All services as specified
Meals: 3 Breakfasts / 2 Dinners
Accommodation in standard rooms
Transportation in luxury air-conditioned vehicles
Sightseeing as specified
Entrance fees for sightseeing as indicated above
Tour of Victoria Falls and a sundowner cruise
Lion World Travel representative Meet and Greet upon arrival
EXCLUDES:
Items of a personal nature such as laundry, telephone calls, etc.
All other services not mentioned
Additional unspecified game/other activities
Gratuities/tips for tour guides and drivers
Cost of obtaining passport and/or visas
Trip Cancellation, Interruption and/or Medical Insurance
Travel Insurance
We strongly recommend that you purchase travel insurance. Your Africa Specialist will be able to direct you to information regarding travel insurance.
On Special
This special package includes international roundtrip flights from New York (JFK) or Washington, D.C. (Dulles) to Johannesburg.
Prices are in US Dollars and are per person based on double occupancy accommodations and include fuel surcharges, Government taxes, departure fees and September 11th Security Fee.
US domestic flights from 38 cities can be added at a special rate of US$200 per person, subject to space availability. Please speak to your Africa Specialist for more information.
---
2019
---
US$5599 per person based on double occupancy
No single supplement based on limited availability
January 10 *SOLD OUT*
February 1, 12, 28 *SOLD OUT*
March 12 *SOLD OUT*
April 3, 24 *SOLD OUT*
August 30 *SOLD OUT*
September 11 *SOLD OUT*
---
US$6099 per person based on double occupancy
No single supplement based on limited availability
May 1, 20 *SOLD OUT*
August 11 *SOLD OUT*
October 2 *SOLD OUT*
October 25
---
US$5799 per person based on double occupancy
No single supplement based on limited availability
September 19 *SOLD OUT*
September 24
---
US$5699 per person based on double occupancy
No single supplement based on limited availability
October 31
November 17, 30
---
2019 Victoria Falls Extension
The Kingdom at Victoria Falls
January - December
US$700 per person based on double occupancy accommodations
US$200 single supplement
Inclusions:
Round trip international economy airfare from New York or Washington to Johannesburg to Cape Town via Johannesburg
Regional flights to Maun and from Kasane
Air charter flights within Botswana as indicated in itinerary
All services as specified
Meals - 9 Breakfasts / 5 Lunches / 6 Dinners
Game drives as specified in itinerary
Accommodation as specified
Lion World Travel representative Meet and Greet upon arrival
Exclusions:
Items of a personal nature such as laundry in Johannesburg, telephone calls and drinks, etc. unless otherwise stated
All other services not mentioned
Gratuities/tips for game rangers, tour guides, and drivers
Costs of obtaining passports and/or visas
Trip Cancellation, Interruption and/or Medical Insurance – please note that insurance for this trip is a mandatory requirement from suppliers in South Africa – proof of insurance must be provided before bookings are confirmed. It is your personal responsibility to ensure you have sufficient insurance coverage.
Baggage
Click here for airline baggage restrictions
Luggage restriction on the Botswana light aircraft transfer flights is strictly limited to 20kg/44lbs in soft bags – including hand luggage. 
*Prices in USD, based on double occupancy, incl. taxes & fuel surcharges, restrictions apply
Speak to an Expert
1-800-387-2706
CLICK TO ENLARGE
TRAVELER TESTIMONIAL
The trip was fantastic. Everything went very smoothly. It exceeded our expectations. Botswana in particular has been on our list for a couple years.
Cape Town was great as well. We enjoyed the accommodations and the guides were great. We would definitely travel with Lion World again and have our eye on Kenya.
Thanks again,
Stacy & Dennis K.