Who Gnu? 7 Wild Wildebeest Facts
March 6, 2018
By Lucille Sive
One of the animals you absolutely cannot miss when you go on safari in East Africa is the wildebeest. These large, brown herbivores move in vast herds across the plains of Africa, always on the look out for food and water. But there's more to these antelopes (yes, wildebeests are antelopes!) than meets the eye. We invite you to learn more about the wildebeest on our blog.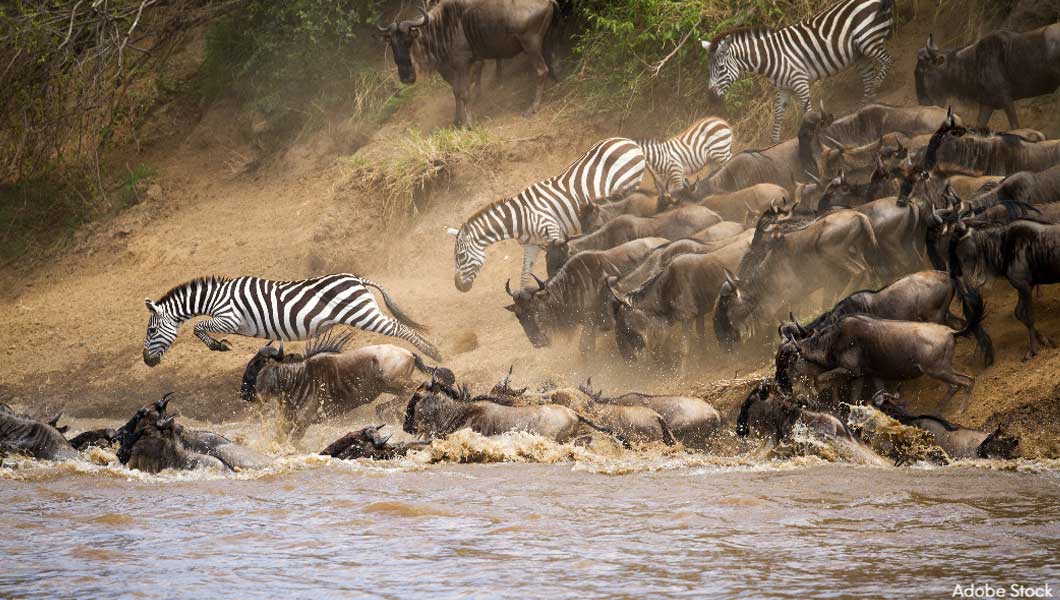 1) Wildebeests Are Also Called "Gnus"
There are two theories about the origin of this alternative name (pronounced as either "new" or "g-new") for wildebeests: one is that the name "gnu" originates from the Khoikhoi peoples name for wildebeests, which is t'gnu, while the other theory is that the name originates from the San peoples name for black wildebeest, !nu. 
2) Wildebeests Migrate a Huge Distance Every Year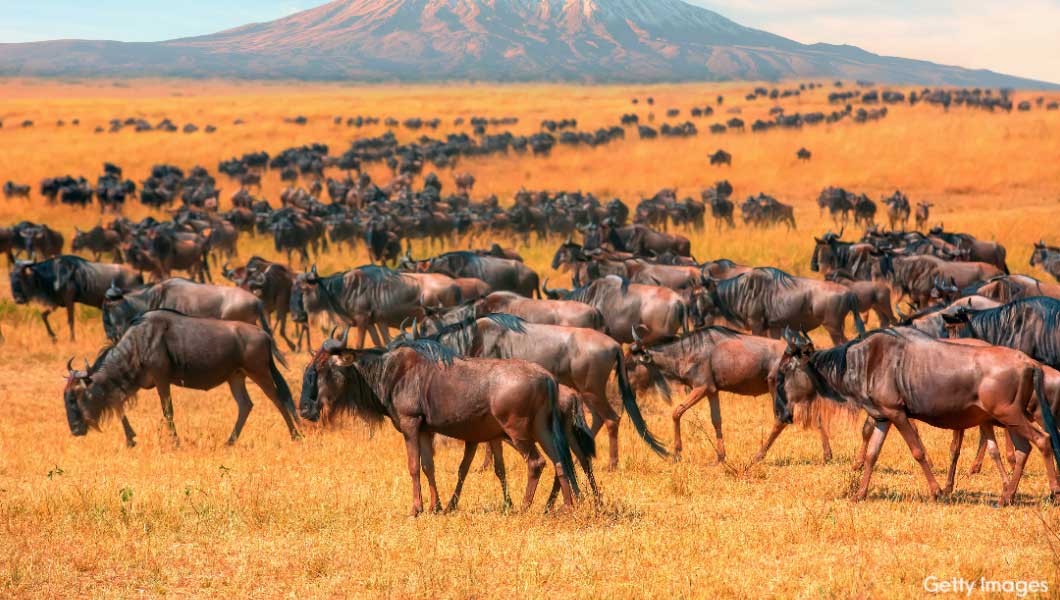 At the start of the rainy season (January/February), wildebeest begin their annual migration through East Africa. Wildebeest follow the rains across Tanzania and Kenya, covering a distance of between 500 to 1,000 miles each year.
3) Wildebeests Are Antelopes
Wildebeests are part of the antelope class known as the "bovidae". This biological family includes cloven-hoofed animals that also participate in the great migration such as kudus, eland, sable, impala and gazelles.
4) Wildebeest Calves Can Walk Minutes After Birth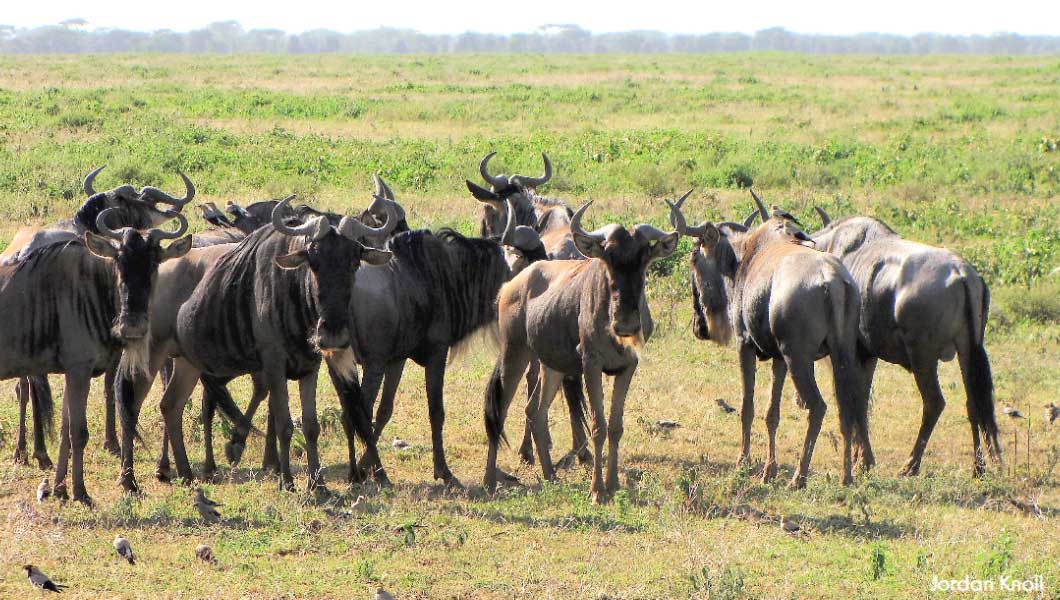 In East Africa, an estimated 300,000 - 500,000 wildebeest calves are born every year between January - February. New calves are able to walk on their own within minutes of being born and, within a few days, they can even outrun a lioness!
5) Wildebeests and Zebras Migrate Together
Zebra and wildebeest are often found together on the plains of the Seregenti and the Maasai Mara. Why do they spend so much time together? It turns out that they have a symbiotic relationship. Zebras feed on the long tough grasses on the plains, while the wildebeests feed on the shorter grasses. In addition, zebras have a great memory which helps them recall safe migration routes, which comes in handy for directing the sometimes aimless wildebeests. Wildebeests, on the other hand, have a fantastic sense of smell and can detect water even in dry savannahs. 
6) There Are Two Species of Wildebeest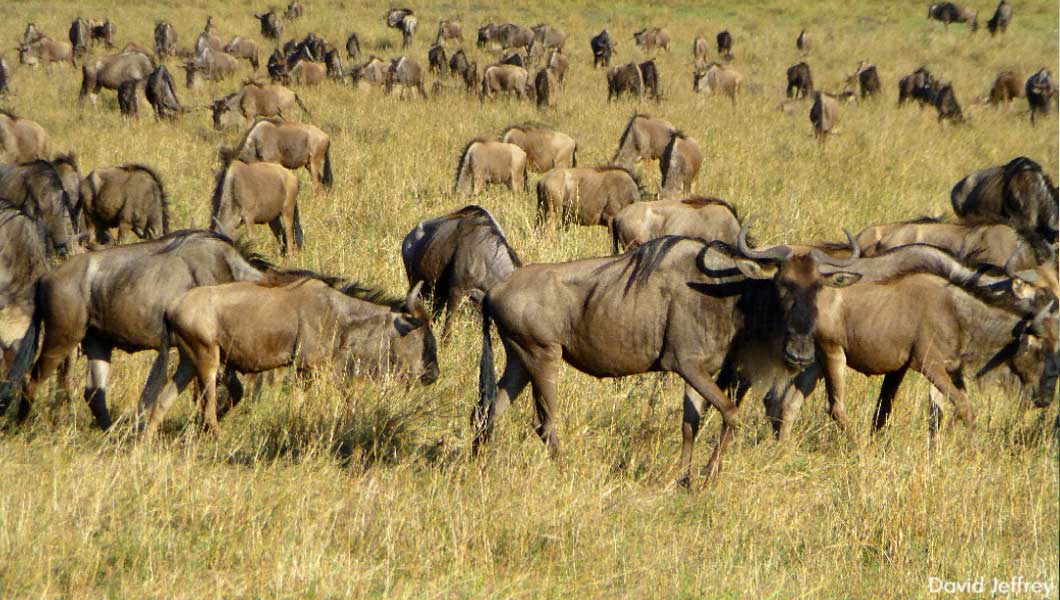 The more common of the two wildebeest species is known as the "blue wildebeest". Blue wildebeests are known for their unique physical features. Local legends of the animal say that a blue wildebeest looks the way it does because its front legs originated from an ox, its back legs from an antelope and its tale and mane from a horse. The black wildebeest, on the other hand, is known for its larger horns, which curve forward and up, and the darker colouring of its face and mane. Black wildebeests are only found in Southern Africa, while the more common blue wildebeests are found in both Southern and East Africa.
7) Blue Wildebeests Migrate, Black Wildebeests Do Not
The single largest difference between the two wildebeest species is that, unlike their more famous cousins, black wildebeests do not migrate, instead they tend to occupy particular territories, up to 0.4 square miles in size. In short, whereas blue wildebeests are migratory, black wildebeests are territorial.