Who Knew? 7 Amazing Facts About African Penguins for World Penguin Day
April 25, 2016
The penguins who call chilly Antarctica home may be the most well known of the species, but did you know that Southern Africa has its own penguins? African penguins live in colonies along the Western coast and islands between South Africa and Namibia and one of their colonies, Boulders Beach, is a popular attraction for travelers visiting Cape Town. Read on for more amazing African penguin facts as we celebrate this incredible species for #WorldPenguinDay!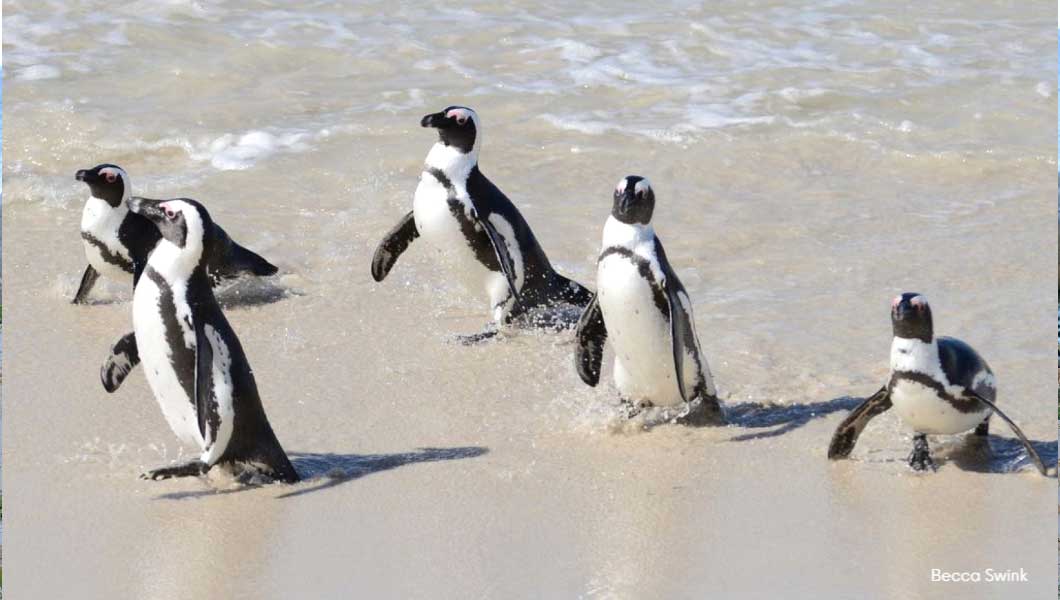 1) African Penguins Are Also Known as "Jackass" Penguins
Colloquially, African penguins are sometimes referred to as "jackass" penguins. This crude nickname refers to the loud, "braying" cry that African Penguins make to communicate, which sounds similar to a donkey.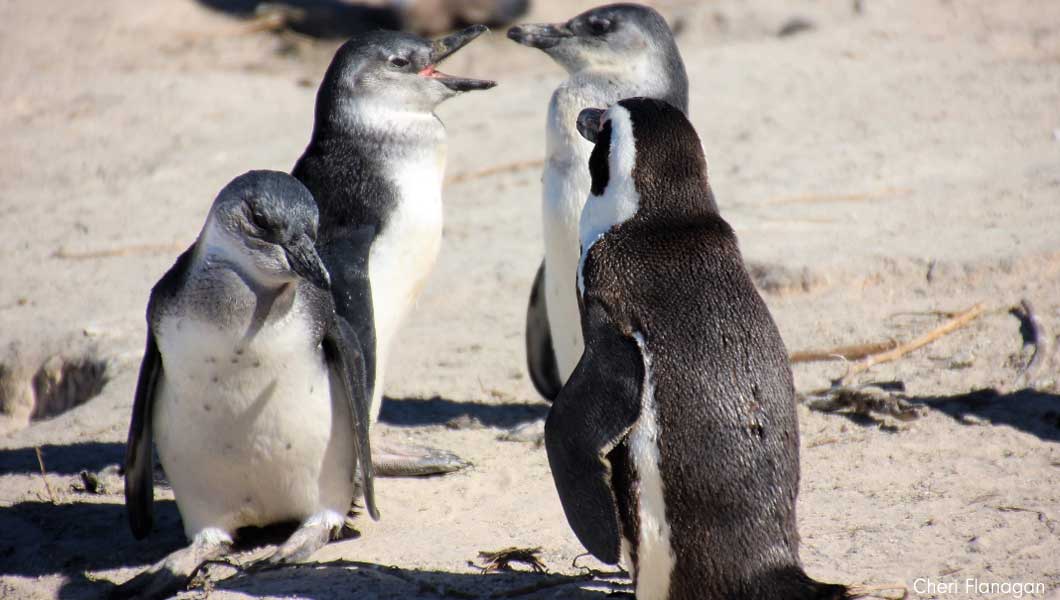 2) African Penguins Have Two Ways to Adapt to Hot and Cold Temperatures
Despite living on the coasts and islands of Southern Africa, temperatures on land and sea fluctuate throughout the year and this means African penguins need to be able to adapt. Thankfully African penguins have two ways of staying warm and cool. First, African penguins have waterproof feathers which not only helps them swim swiftly through the water, but the feathers also insulate the penguins in cold waters. On land, African penguins use the pink gland above their eyes to keep cool in hot weather. When the weather is hot, a penguin's body will send more blood through the pink gland as a way of cooling the blood from the outside air.
3) African Penguins Are Outstanding Swimmers and Aquatic Hunters
African penguins may move with a slow waddle on land, but it's a different story once they are in the water! African Penguins swim at an average speed of 3 mph, but reach speeds of up to 12 mph when they are on the hunt. To help them catch their prey, which consists primarily of small fish, such as anchovies, squid and crustaceans, African penguins can dive up to 400 feet deep and hold their breath for 2 and a half minutes. Strong swimmers, indeed!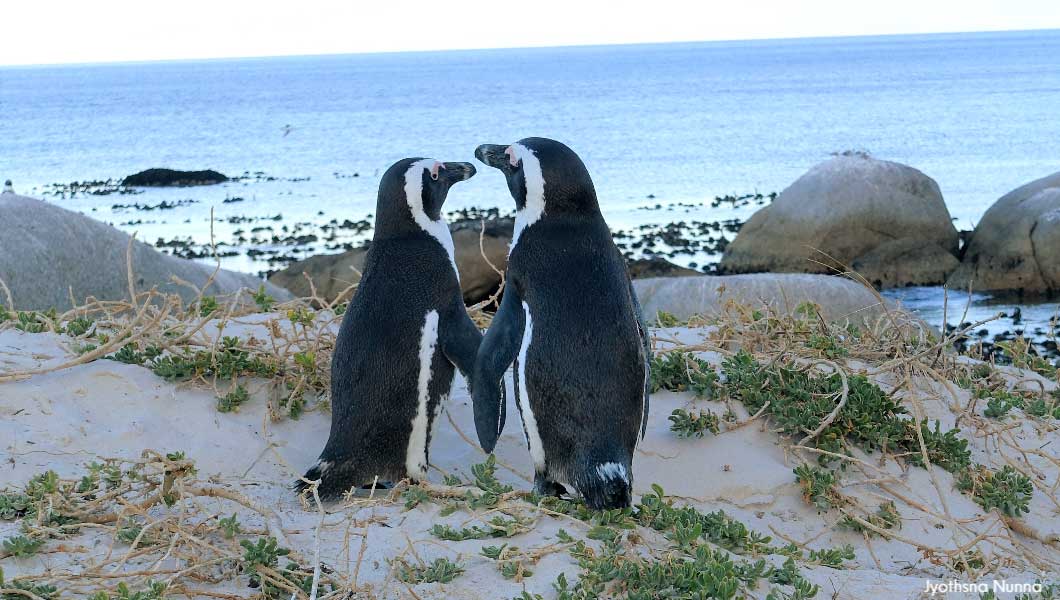 4) African Penguins Are Monogamous and Share Parenting Duties
African penguins mate for life. During breeding season, the penguin mates return to the same site each year to nest with a clutch of two eggs. Both the male and female penguins share incubation duties to keep the eggs warm and safe from predators.
5) The Scientific Name for an African Penguin is Spheniscus Demersus
Spheniscus demersus, it turns out, is actually quite descriptive of African penguins: it translates from the Ancient Greek to "plunging wedge".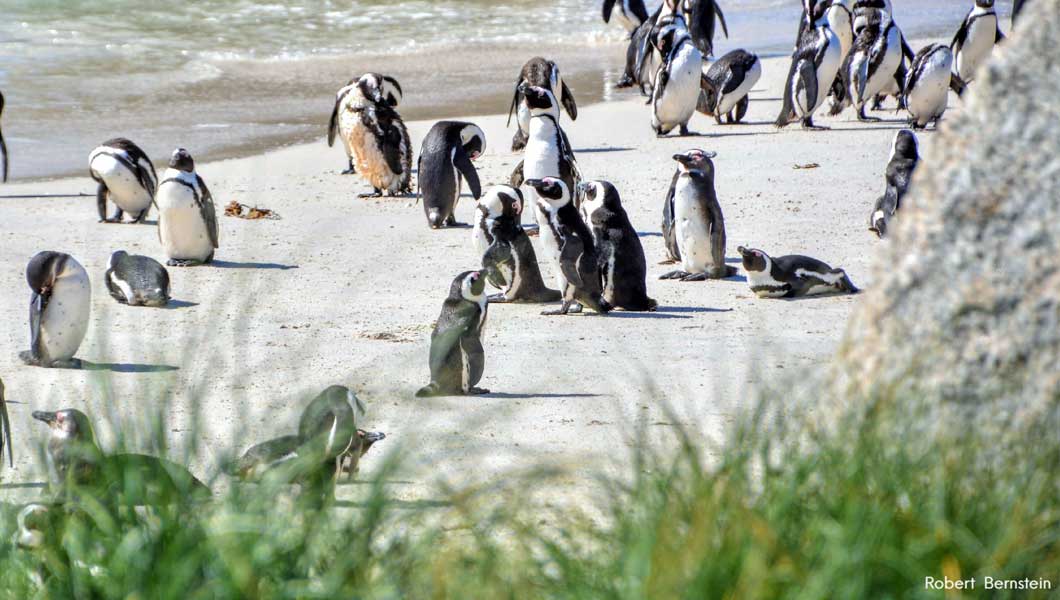 6) An African Penguin's "Tuxedo" is More Than Just Good Fashion, it's Camouflage
When African penguins are on land, their black and white coat stands out as a cool fashion statement, but did you know that it also serves a practical camouflage use in water? Known as "countershading" the black coat on the penguin's back hides the penguin from predators swimming above the penguin, while the white belly ensures that predators swimming below the penguin have a difficult time noticing the penguin when they look up.
7) African Penguins Are Endangered
The wild African penguin population has been in decline due to habitat destruction, commercial over-fishing, pollution and oil spills. At the beginning of the 20th century there were an estimated 3 million wild African penguins and today there is less than 19,000 breeding pairs left in the wild. This dramatic decrease is why it's so important for all of us to work together to reverse the population decline. Through Lion World Travel's partnership with the TreadRight Foundation, we are actively supporting the South African Foundation for the Conservation of Coastal Birds (SANCCOB) to preserve this vital species along the southwestern coasts of South Africa.
SANCCOB's impact on African penguin conservation has been substantial: independent research has shown that SANCCOB's work has contributed to a 19% higher African penguin population thanks to programs that manage the wild African penguin population. Through TreadRight, we are proud to support SANCCOB's Burgher's Walk Restoration Project, a project that is ensures the 2,100 penguins that call the Boulders Beach/Simon Town's area home will continue to thrive.
SANCCOB Saves Penguins
SOURCES: