14 Fascinating Facts About Elephants
August 17, 2015
World Elephant Day is an annual event that celebrates the planet's largest land animal in style. In honor of Africa's majestic "gentle giants" we have put together a short list of amazing facts that you might not know about elephants.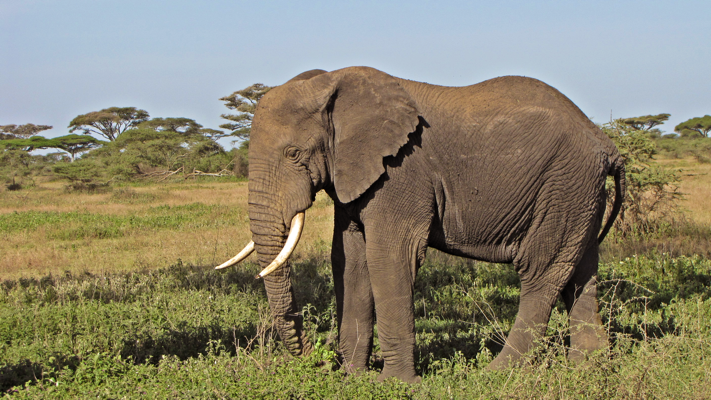 1) Elephants Can Get Sunburned
Elephants are susceptible to sunburns so they protect themselves by throwing sand onto their backs and heads—this helps their skin protected from the direct rays of the sun. Older elephants will apply this sand sunscreen to the their young by throwing sand onto their little ones when they are asleep.
2) Elephants are Scared of Bees
Scientists have long assumed that the thick skin of elephants protects them from the small threats of the animal kingdom—including bugs and bees. However, new research has turned that assumption on its head: researchers have found that elephants flee from the sound of bees within ten seconds of hearing a bee's buzz.
3) Elephants are the Only Mammals Besides Humans to Have Chins
For reasons that scientists are still researching, elephants are the only other mammals besides humans to have chins.
4) Elephants Eat Up to 300KG of Food a Day
The massive amount of food that elephants consume a day is a mixture of grasses, bark, tree foliage, twigs, herbs, roots and fruit. In addition to the food, elephants drink 160 liters of water per day!
5) Elephants Favor Their Left or Right Tusk
Just like how humans are right or left handed, elephants are left or right "tusked" since they favor one of their tusks over the other to perform various tasks.
6) Elephants Can Detect Water and Rain from Miles Away
Using their keen sense of smell, elephants can detect water sources up to 12 miles away. For rain and storms, this sense is even more impressive: they can sense storms and rainfall happening up to 150 miles away.
Source: Sea World Foundation
Source: Discovery News
7) Elephants are Pregnant for 2 Years
Elephants have the longest known pregnancy periods among mammals—elephant fetuses develop for between 22-24 months before being born. Scientists have discovered that this long gestation helps the young elephants to build the brain power they need to survive in the wild.
8) Elephants Are The Largest Land Animals on Earth
There are two main species of elephant: African and Asian. The African elephants are the larger of the two species. According to the San Diego Zoo, the largest elephant ever recorded weighed in at an astonishing 24,000 pounds and was 13 feet tall from feet to shoulders.
9) Elephant Dung is a Versatile Substance
A business in northern Thailand harvests black ivory beans from the dung of elephants one day after they have been ingested to create some of the world's most expensive coffee. At Lion World Travel, we use sanitized fiber from the dung of elephants as the paper stock for our business cards.
10) Elephants Can Hear Each Other's Trumpeting Calls From Far Away
Elephants can hear the trumpet sounds of other elephants up to 5 miles away.
11) Elephants Only Sleep 2-3 Hours a Day
Because elephants need to consume so much food and water every day to stay healthy, they only take a few hours out of their day to sleep. But when they sleep, they do so standing up!
12) Elephants Have the Best Sense of Smell in the Animal Kingdom
Researchers have discovered that there is more to an elephant's long trunk than meets the eye: elephants have the largest number of genes dedicated to the sense of smell of any mammal.
13) Elephants Mourn The Dead
When Lawrence Anthony, known as the elephant whisperer, passed away the elephant herd that he had worked closely with arrived at his house to mourn his death.
14) Elephants Can Recognize Different Types of Human Voices
In Africa, elephants frequently come into contact (and, occassionally, conflict) with the herding Maasai peoples. Researchers discovered that an elephant's reactions to a recording of Maasai men talking created a more fearful response in the elephants than other types of human voices.