Travels in Kenya Part 3
December 5, 2013
By Lucille Sive
While some road journeys in Kenya may be a little rough and dusty, it's well worth attempting at least one trip, as the sights along the way definitely contribute to the charm of this nation and provide insight into its culture and local way of life.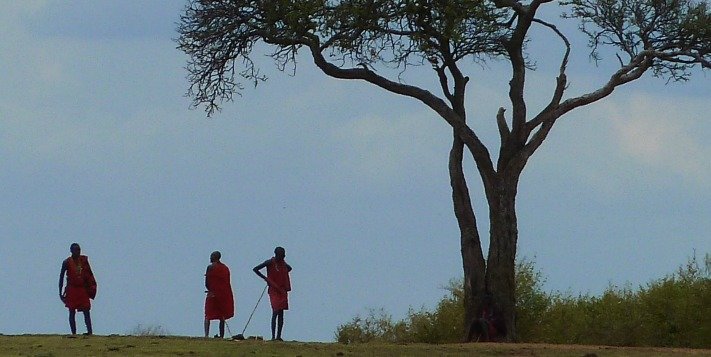 Mara North en route to the airstrip
Leaving Mahali Mzuri and making our way to the local airstrip through this land belonging to the Maasai people was a fascinating drive. Maasai villages dotted the landscape. These villages comprise a number of huts constructed out of a mix of mud, sticks, grass and cow dung and are enclosed by a circular fence usually made out of the branches of acacia or thorn trees. Children in bare feet, scantily dressed or sometimes nude, waved to us in delight. Women washed their clothes in nearby pools of water or streams and then hung them to dry on the village fence or nearby bushes. Maasai herdsmen colorfully clad in traditional red shuka's or kikoi's, lazed in the shade under trees as their goats or cattle grazed nearby.  The measure of a man's wealth is the number of cattle and children he has. Some herds were huge - they must have been very wealthy men! I wanted to capture these colorful sights on camera but photo taking seems to be frowned upon. I did manage to snap these few images though!
Around Mt. Kenya, Aberdare's and Nanyuki
Our travels had us spending the better part of a day travelling around Kenya's central region.
Travelling through these areas proved to be informative and thought-provoking and provided an opportunity to witness rural life and enjoy varied and stunning scenery.   
En route from Nairobi to the plains of Mount Kenya I was struck by the magnificent countryside. This is an agricultural area and mile upon mile of incredible green and lush vegetation is remarkable! Hills and valleys are covered with coffee plantations, pineapple fields and verdant farmland. Colorful Bougainvillea in glorious shades of bright pink, red and orange grew everywhere covering fences and hedges. So different from Maasai Mara's vast plains and the dry, arid north.  This is truly a land of contrasts! 
In the little towns and villages along the roads, local shopping areas and markets revealed merchants plying their wares and services at rickety stalls and small shops. Surprisingly there seemed to be an abundance of "hotels" along the roadside. One can only imagine how they are inside and if they ever have any guests. But words cannot describe these places as well as a photo!
Motorbike taxis, sometimes carrying 3 people, sans helmets, are a dime a dozen and definitely part of the local culture where in every little town these motorbikes line up waiting for their next fare. But apparently they're not so safe and accident victims fill hospital and emergency wards. It is no surprise considering how they weave their way from place to place around other vehicles and pedestrians! You may even see them wahsing their bikes in the rivers and streams!
Bicycles and motorbikes offer a means of transportation for commercial enterprises as well. It's common to see a bicycle or motorbike laden with milk cans, the driver travelling to local communities to sell jugs of fresh, unpasteurized milk to villagers who see the health benefits and price competitiveness over commercial milk from grocery stores. 
As one would expect, a herd of cattle or goats wandering down the road and blocking the traffic is not an infrequent occurrence! Drivers seem to be able to navigate around them pretty well though, and the animals are quick to get out of the way too!