Travels in Kenya Part 2
November 29, 2013
By Lucille Sive
We took a short flight from Nanyuki to the Olare Rock airstrip where we were met by Liam, the manager of our next destination, Mahali Mzuri, located within the Olare Motorogi conservancy bordering the Maasai Mara.
Mahali Mzuri and the Motorogi Conservancy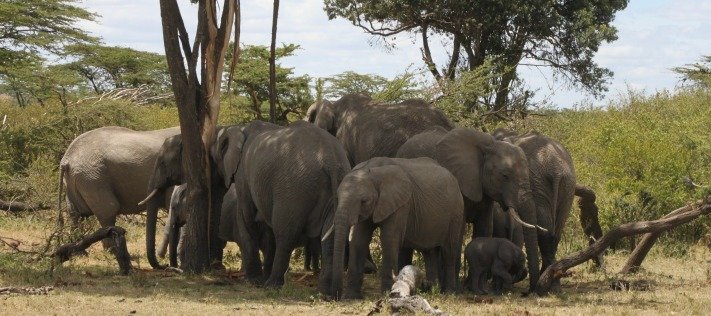 After a welcome drink Liam took us on our first game drive en route to the camp and what a perfect introduction it was!   The Maasai Mara greeted us with an assortment of wildlife from grazing zebras and wildebeest to graceful giraffes. But an encounter with an elephant family was the highlight.  Protective moms looking out for young ones and a tiny baby testing its new found trunk caused a hubbub of camera shutters and laughs!  
Finally we proceeded on to the camp and this being Richard Bransons' new endeavour in Kenya we certainly expected to be impressed! And that we were! The camp is stunning but not ostentatious as one might expect. The highlight is its perfect setting overlooking a valley through which a river flows and the traversing wildlife provides a seemingly endless show. The exquisite tents, perched magically on the side of the valley, have a separate bedroom and bathroom and a large deck with expansive views. One could easily spend the day here blissfully soaking up the surrounding panorama and tranquility! The icing on the cake is the fact that every part of these structures is extremely eco-sensitive, sourced locally and treated with minimal impact to the environment. 
View of the Valley from Mahali Mzuri
This afternoon's game drive proved to be just as exciting as the morning one as we spotted a beautiful leopard. We followed him eagerly as he strolled through a bushy ravine and then finally appeared out in the open where he lay bathed in the late afternoon sunlight, seemingly unaware of the vehicle. After reluctantly leaving him we then came across a pride of lions trying to secure an evening meal of zebra. Lucky for the zebra they were unsuccessful!  We enjoyed watching the young cubs frolicking in the fading sunlight.
The sunset over the Mara was a spectacular sight as we enjoyed sundowners on safari with our Maasai guide. At last it was time to return for dinner and as we drove back towards camp we approached some lights not too far in the distance. Was this the camp or perhaps a village? Neither! We were surprised by a candlelit bush dinner surrounding a glorious and welcoming warm fire! With entertainment by the local Maasai and a fabulous assortment of dishes and fine wines served at an elegant table, it was an awesome way to end the day!