Tanzania's hidden gems
October 9, 2014
By Lucille Sive
Tanzania should be placed high on your list of safari destinations to visit!  It is rich in the incredible amount and diversity of wildlife roaming free in unspoiled game reserves. And of course that is why most travelers will go there.
But how can you make that safari experience even more magical?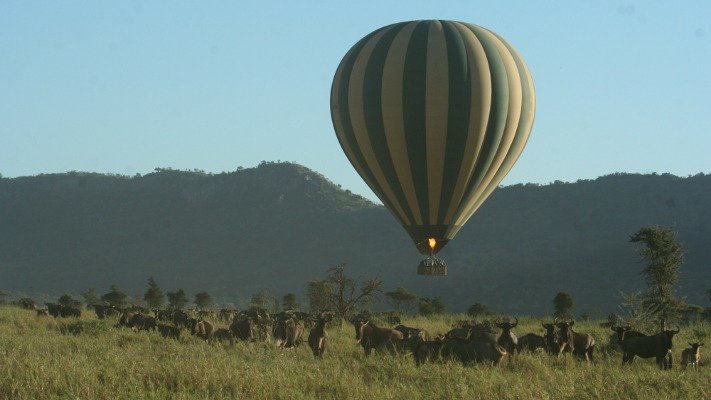 Serengeti Hot-Air Balloon Safari
I would highly recommend a hot-air balloon safari over the Serengeti. This has to be one of my all-time favourite experiences. The breathtaking views are awe-inspiring. Witnessing the Serengeti plains from up high truly reveals their endless expanse in all their magnificence! The mass of wildlife roaming beneath leaves one dumbstruck.  When I took a balloon safari, we were fortunate to be able to land right in the midst of herds of migrating wildebeest where we enjoyed a champagne breakfast surrounded by them.  It was an incredible experience, one that I will never forget!
Don't forget Tanzania's less visited treasures! Most people plan a Tanzanian safari based on the common "Northern Circuit" – The Serengeti, Ngorongoro Crater, Lake Manyara and sometimes Tarangire. This is a wonderful choice for a really rewarding safari and it is easy to plan.  The Serengeti has some of the best game viewing in Africa and is home to the amazing spectacle of the Great Wildebeest Migration. The Ngorongoro Crater is UNESCO World Heritage Site and is the world's largest unbroken volcanic caldera with sides so steep that it has become a natural enclosure for a wide variety of wildlife.
But Tanzania has some awesome hidden gems to consider including in your travel plans.
Mahale Mountains National Park
The stunningly beautiful forests of the Mahale Mountains National Park provide an amazing opportunity to escape civilization in a remote and extraordinary setting. You will track and watch the fascinating chimpanzees that have a 96% genetic similarity to humans.
Chimpanzee in Mahale - 96% genetic similarity to humans!
After a day following the chimps, Lake Tanganyika with its clear waters and sandy beaches is a welcome respite for a swim or a leisurely sail in a dhow. This is a really worthwhile and magical destination.  And Mahale has become easier to reach too! Stay at Greystoke Mahale.
The stunning Mahale Mountains National Park
There's more to do in Mahale than track Chimpanzees!
Katavi National Park
A place few have visited, as far off the well-travelled tourist path as one can get. It's a wild and wonderful place, especially in the dry season (July – October) when the rivers provide a life-source for the resident game. If you want to discover a hidden paradise in a truly remote and untouched wilderness – go to Katavi! Stay at Chada Katavi Camp.
Thousands of Hippos jockey for position in Katavi's rivers
Stone Town
When you've spent enough time watching, photographing and tracking the wildlife, take a short flight over to the spice islands of Zanzibar where you can chill out on the beautiful palm-shaded beaches. But there is more to Zanzibar than sun, sand and beach. Stone Town, the UNESCO world heritage site with its Arabian influences, is worth a visit. It's a walk into years gone by when the town was the hub of the East African spice trade and little seems to have changed! The labyrinth of winding streets and alleyways, markets and ornate mosques and grand old Arabian mansions transport you into an exotic cultural experience.
Visit Tanzania - you will leave your heart there!