Showing Our Pride on World Lion Day
August 9, 2016
By Lucille Sive
On the front cover of the Lion World Travel brochure we proudly state "We love Africa". From the incredible scenery of Table Mountain and Victoria Falls to the breathtaking wildlife of the Maasai Mara or the Serengeti, Africa is a destination that travelers of all types fall in love with. At Lion World Travel, we make it our goal to share our love for Africa with our guests and our work isn't over until you love it too.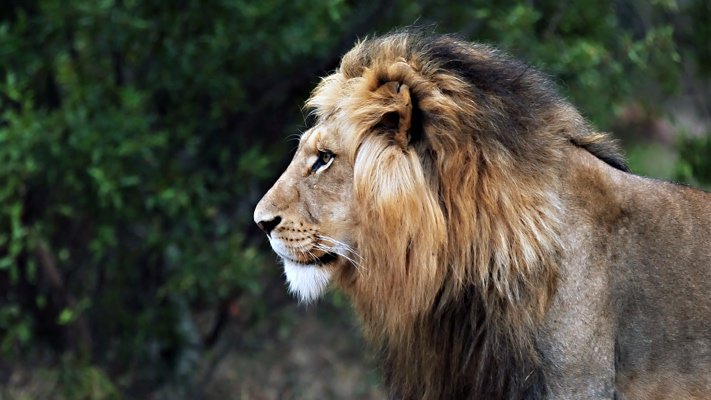 Our love for Africa is embodied in our name and mascot. For us nothing, captures the essence of Africa more so than the symbol of the lion. To celebrate World Lion Day 2016, we wanted to highlight the three virtues of the lion that, as a company, we aspire to emulate: strength, community and playfulness.
Strength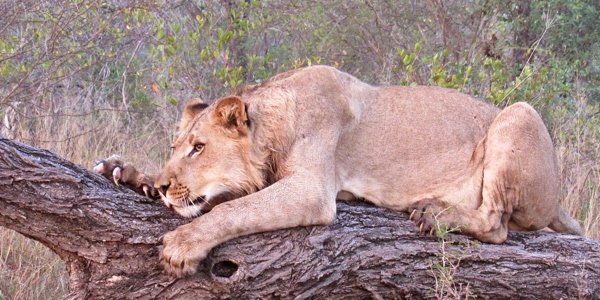 Photo by Lion World Travel guest Tom Piccin
The lion is known as the "king of the jungle" for a reason: they are Africa's apex predator and one of the most thrilling animals to see on a safari game drive. At Lion World Travel, our strength comes from our destination expertise and our level of service. We only sell Africa and so each one of our Africa Specialists has deep, first-hand knowledge of the continent. They can confidently assist you in crafting your dream safari that fulfills your interests and matches your budget.
When you travel to Africa, it's important to feel secure with company that you have booked with. That's why we have a local presence in Africa. As part of The Travel Corporation (TTC) family of brands, we operate companies in Africa that will directly serve you on your trip. The result is that we look after you throughout your journey: from the moment you book your trip to your arrival in Africa and after you return home. We're there each step of the way!
Community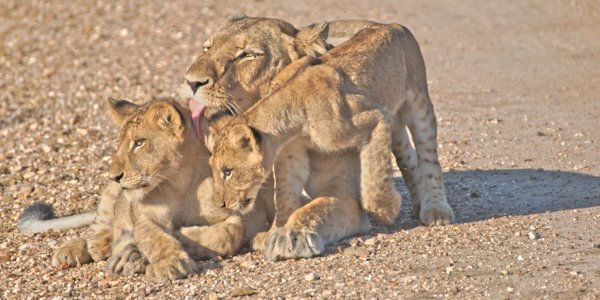 Photo by Lion World Travel guests Mike and Jenn O'Connor
Unlike most other big cat species, lions are social animals that live in prides with as many as 39 other members. This unique social behavior means that lions look out for one another and value the health of the pride, or the community, over themselves. At Lion World Travel, this inspires us to give back to the communities we visit in Africa.
In South Africa, we have partnered with a wonderful organization called the The Amy Biehl Foundation. The foundation runs after-school programs for the youth of Cape Town's township communities. The programs cover topics such as drama, dance, music, sports, cooking and more. Not only are the programs fun and engaging, but they help to keep children in these vulnerable communities off of the streets and away from gangs.
Playfulness
Lions may be fierce and powerful animals, but they don't spend all their time hunting, they also enjoy kicking back and having some fun!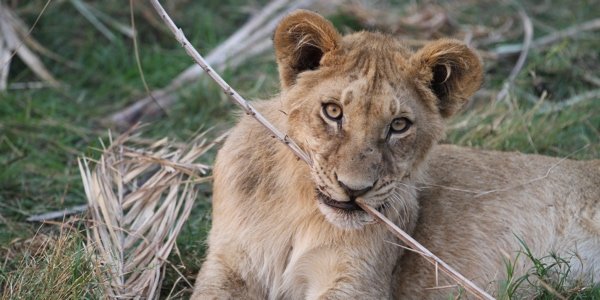 This lion cub has found his favorite stick.
We take this playfulness to heart. A close inspection of our logo, for example, reveals Lionel, our mascot, with his tongue hanging lazily out of his mouth—a gesture that shows that playfulness is at the heart of everything that we do. After all, a trip to Africa is all about having fun experiences! Whether you're touring Cape Town's iconic sights such as the Victoria & Alfred Waterfront, enjoying a delicious meal in the culinary capital of Africa or you are on safari trying to track down that final animal of the "Big Five"—you're sure to be having fun while you do it! Our 2016 #LionWorldTales Photo Contest takes this theme of "playfulness" and runs with it: this year's contest is all about capturing moments of "animals having fun in the wild". It's our way of to not only encourage guests to cherish those playful moments that they witness while on safari, but to also raise awareness about ensuring that animals continue to enjoy the "freedom to have fun" in the wild.
#WorldLionDay is held on August 10th each year to celebrate Africa's most iconic big cat and to raise awareness about the threats that this magnificent species continues to face. For more information about the lion, check out our blog Who Knew? 10 Amazing & Important Lion Facts.