Our People, Our World, Our Future
June 22, 2018
By Brett Tollman, Chief Executive, The Travel Corporation (TTC)
I recently attended the World Travel & Tourism Council's (WTTC) 18th Global Summit with 800 other delegates from across the globe. This year's theme is: "Our People, Our World, Our Future". The summit asked challenging questions facing our travel industry today and how we can work together towards a more sustainable future.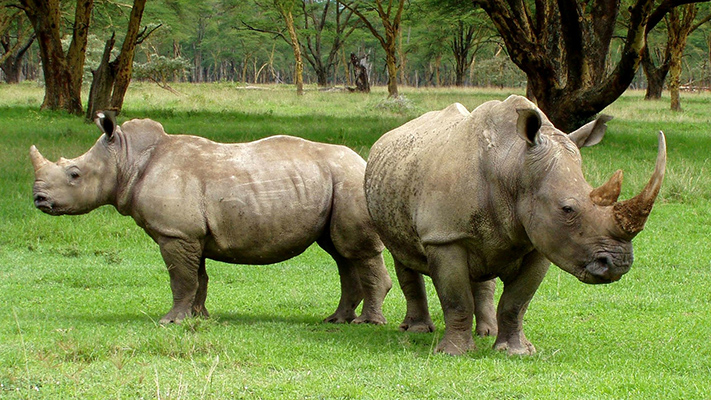 Tourism as a Partner for Climate Action with the United Nations
At the summit, I participated in discussions about the important role of tourism in supporting global action which was initiated by the WTTC and the United Nations Framework Convention on Climate Change (UN Climate Change) towards a climate neutral world with the aims of:
Communicating the nature and importance of the interlinkages between travel and climate change.
Raising awareness of the positive contribution travel & tourism can make to building climate resilience.
Reducing the contribution of travel & tourism to climate change and supporting quantitative targets and reductions.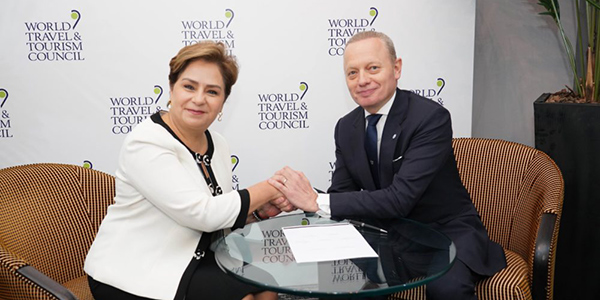 Signing the Climate Change Declaration on behalf of TTC with Patricia Espinosa, Executive Secretary of the UN Climate Change Secretariat
Along with top industry leaders, I personally signed, on behalf of our companies, the WTTC Climate Change Declaration where we agreed with the WTTC and the UN towards a common agenda with many joint activities. We have active, ongoing corporate social responsibility activities and programs to further measure and reduce our carbon footprints in our offices, on our trips and to help further inform our travelers and supply partners on what we all can do more to help reduce, reuse and recycle.
Energy, waste and other climate change related reduction programs are just part of what it means to be sustainable today — doing more to help less fortunate people around the world are equally important activities and we are always encouraging our team to make the most of the annual volunteering programs we offer.
Travel & Tourism Declaration on Illegal Trade in Wildlife
As our not-for-profit foundation, TreadRight, celebrates its 10 year anniversary this year, we continue to work hard to progress our Wildlife Initiatives and keep supporting the important work of our project partners and leading wildlife organizations including the the Cape Leopard Trust, Wildlife Conservation Society (WCS), Wildlife SOS – India, and the Wilderness Foundation Africa, as well as WildAid in the past, to try and ensure wildlife populations can continue to thrive in their environments.
On behalf of The Travel Corporation and TreadRight, I also signed the new travel & tourism declaration to support global action to combat illegal trade in wildlife, which has become a top priority.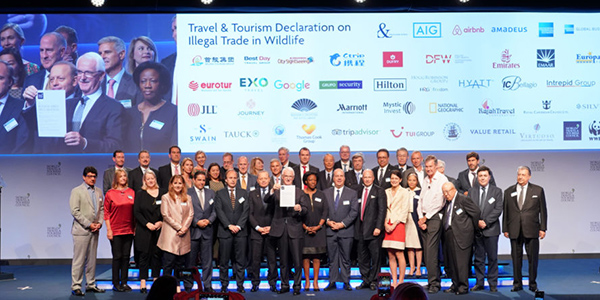 On stage together with other Industry Leaders for the signing of the declaration of illegal trade in wildlife.
It was great to hear my friend and colleague John E. Scanlon, Special Envoy, African Parks and former Secretary General of the International Convention in Trade in Endangered Species (CITES) speak about creating opportunities for local communities and ensuring they benefit from wildlife-based tourism which will help prevent the flow of illegal trade in these destinations. John discussed how poaching isn't limited to a few high-profile species. Unfortunately, poaching is at an unprecedented scale and 7,000 species are suffering from it. He also mentioned that, last year, 1,300 rhinos were poached in Africa from a population of just 25,000.
This continued decimation of wildlife is disturbing and worrisome. Our industry coming together to sign this declaration is just the first step in a new commitment for all of us to do more to reduce and eventually eradicate this disgusting and unnecessary killing, transporting and selling of endangered wildlife. Education is so important: when the buying stops, the killing stops. We, at The Travel Corporation, are dedicated to helping do all we can to help achieve these goals, as our wildlife around the world is intricately tied to the health of our planet, as well as the travel industry.
Brett Tollman is the Chief Executive of The Travel Corporation (TTC), a privately held travel and hotel company operating on every continent across the globe. Well diversified and entrepreneurially run, TTC serves almost two million travelers per year across its rich portfolio of 29 brands including Trafalgar, Insight Vacations, Uniworld, Contiki, Red Carnation Hotels and Lion World Travel. Learn more about Brett Tollman and TTC by visiting bretttollman.com.