My First Time in Africa: A Safari on the Serengeti
February 9, 2015
By Jordan Knoll
I thought I was prepared for my first African safari in Tanzania—I packed light, brought a good camera, and was ready to become very familiar with my safari vehicle, where I would be spending many hours watching animals. But what I wasn't prepared for was the feeling of being on safari. It's difficult to describe, but when you are sitting in your safari vehicle, mere feet away from a lion out on the Serengeti, you feel both tremendously excited and calm. Time seems to slow down, and you acquire a deep sense of connection to the natural world around you that is truly unique. It's an experience I will never forget, and one that I am delighted to be sharing in this new series of blog posts.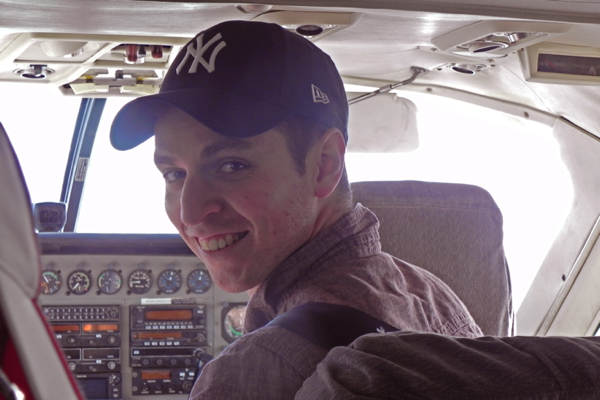 On my first morning in Africa, I awoke in the luxury accommodations of the Arusha Coffee Lodge where I had the pleasure of enjoying the locally grown coffee as the sun rose in Tanzania. It was hard to pull myself away from the delicious coffee, but I had an early morning flight to catch to the Western Corridor of the Serengeti!
When we landed, we were met by our driver and guide, Harlequin, who stayed with us throughout our travels in Tanzania. We soon encountered our first wildlife sighting—we came upon a large family of hippos enjoying the cool river waters, with their distinctive laughs echoing throughout the area.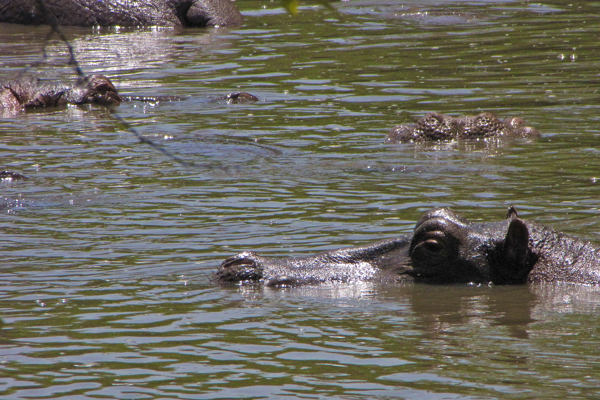 Hippos on the Serengeti
One thing that immediately stood out to me about the Serengeti was the sheer size of it—the Serengeti covers 5,700 square miles and includes diverse environments of grassland, woodland savanna, and areas of protruding rock formations known as Kopjes. Wildlife is abundant in the park, millions of grazing animals such as wildebeest, zebra, and gazelle can be found everywhere, with predator animals such as lions not too far behind. The Serengeti is most famous for the great migration, where millions of animals journey across the Serengeti to the Maasai Mara in Kenya in search of water every year.
With such large populations of zebra and wildebeest in the Serengeti, it didn't take us long to encounter our first zebra herds. In one of our first encounters, we saw a series of zebra rolling in the dirt. Our guide, Harlequin, pointed out that that zebras roll in the dirt as a social behavior—when one zebra rolls in the dirt, others tend to follow. Sure enough, he was right. We saw a series of zebra playing in the dirt, one after another.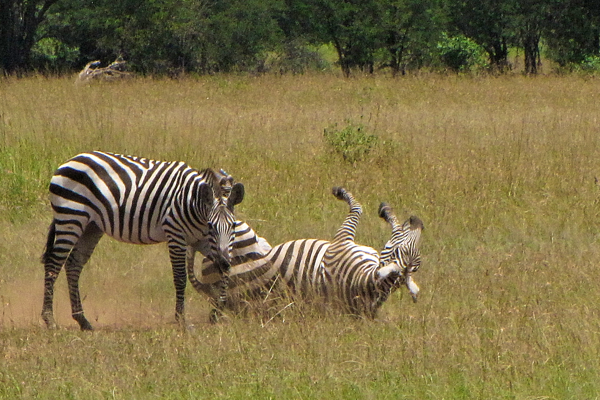 Zebras on the Serengeti
And where there's zebra, predators are often nearby. As we rounded a corner of the road, we came upon a small pond—innocent looking enough at first, with plenty of birds, and, of course, hippos. But on closer inspection, lying just on the edge of the pond, barely visible, we saw crocodiles, sitting with their mouths open, trying to stay cool in the hot sun.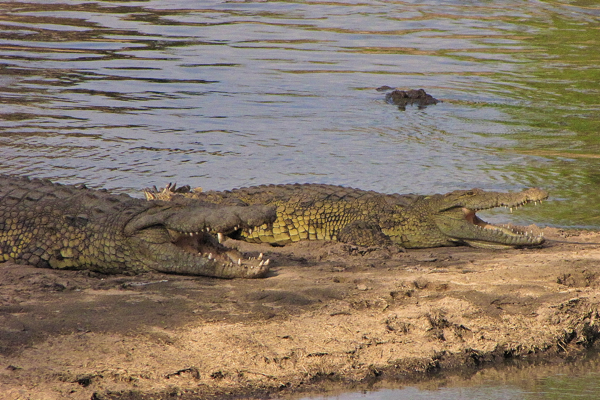 Lounging crocodiles
During the previous encounters, we were enjoying taking photos and talking about the amazing wildlife we were witnessing, but nothing quite prepared us for what we saw next. Only a few meters down the road from the crocodiles, we came across a family of lions. As soon as we realized what we were seeing, the vehicle went quiet. All that could be heard was the quiet sounds of the lions, lounging in the shade and the subtle sounds of our cameras. That quiet, combined with the magnificent sight of the lions up close, was a stunning end to my first day on safari in Tanzania.
Be sure to read about Jordan's Tanzania safari adventures in Lake Ndutu & Ngorongoro Crater and Tarangire National Park.