My Big 5 South Africa Experiences
May 28, 2015
By Lucille Sive
South Africa is a fantastic destination for travelers looking to combine an authentic "Big 5" safari with the experience of South Africa's cosmopolitan cities and rich culture. From the food and wine of the Cape region, to the stunning safari experiences in world-class game parks, there is something for everyone! What you take away from your visit to South Africa will be distinctly personal too—those small moments of joy, revelation, and relaxation are what make for incredible memories.
#WhatsYourBig5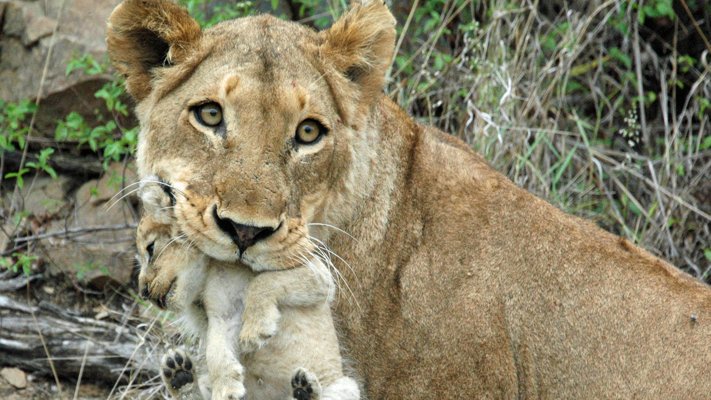 With that in mind, I wanted to share my personal "Big 5" South Africa experiences with you. I hope it inspires you to be on the look out for your own Big 5 when you visit South Africa!
1) Seeing Newborn Lion Cubs Up Close on Safari
I was on a game drive at Lion Sands Game Reserve when the driver stopped the vehicle suddenly. It was quiet at first, but then I heard a sound coming from a nearby bush—the growl of a lioness. The guide explained to us that the lioness had newborn cubs, likely only days old. And because the cubs were so small, the guide said that the lioness would hide them from us and that we would never see them. But just as he finished talking, the lioness walked right in front of our vehicle, holding a newborn lion cub in her mouth. She was moving her cubs! I couldn't believe my eyes. Everyone, including our driver, was in tears. It was one of those unforgettable experiences that you can only have on safari.
2) Visiting the Amy Biehl Foundation in Khayelitsha
The Amy Biehl Foundation does some fantastic work to support the children and youth of South Africa. They provide after school programs in music, art, dance and more to engage children creatively and to dissuade them from joining gangs. I had the opportunity to join an after school class at Amy Biehl Foundation and see the great work they do up close. I met the leaders of the foundation and I took part in a lesson with the kids to learn how to gumboot dance—even though I have two left feet!
3) Enjoying a Champagne Picnic on the Wild Coast
Sometimes the simple pleasures in life are the most enjoyable. Visiting South Africa's Wild Coast and enjoying a champagne picnic with no one around for miles was definitely one of those times.
4) Hosting a State Dinner at the Kingdom of Bafokeng
I had the honor to host a state dinner at the palace of the Kingdom of Bafokeng. Both the King and the Queen Mother attended. I also worked closely with the Queen Mother to plan the event. There is nothing quite like having the Queen Mother personally call you on your cell phone to make arrangements for a state dinner – it was a priceless moment that I will never forget.
5) Whale Watching at Birkenhead House
On a visit to the Birkenhead House in Hermanus, I was sitting on the deck enjoying a glass of Bouchard Finlayson wine when a group of whales appeared in the water right in front of me. I watched the whales for what seemed like hours. It was tranquility defined.