Meet the Inspiring All-Women Guiding Team of Chobe Game Lodge
March 7, 2018
Botswana's Chobe National Park is one the premier safari destinations in Africa. Featuring one of the largest concentrations of wildlife on the continent, Chobe is an ideal destination for safari travelers eager to see Africa's animals in abundance. Situated in the north east corner of Chobe National Park sits the Chobe Game Lodge, an elegant five-star retreat that's also home to Botswana's only all-women safari guiding team. We invite you to learn about the journey of these incredible women on our blog.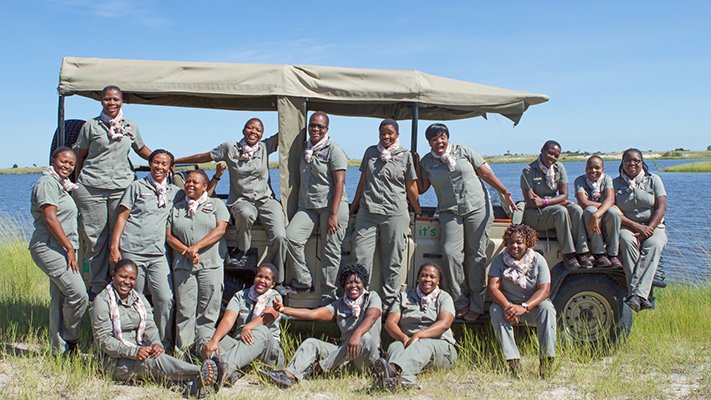 In 2005, the safari guide team at Chobe Game Lodge was like most other guiding teams in Africa: dominated by men. Of the seventeen-member team, only two were women. At this point, even having two women on the guiding team was a major breakthrough: only ten female guides were registered in all of Botswana.
In the time since, Desert and Delta, the company that operates Chobe Game Lodge, has transformed its team from merely featuring women to being led by women. Of the 50 female certified safari guides in Botswana, Chobe Game Lodge employs seventeen of them—that's one third of all the female guides in the country. How did this transformation occur? Back in 2005, Desert and Delta noticed something interesting in their guide statistics: the women guides used less fuel and the vehicles they used required less repairs. Since the women guides were not only fantastic guides, but also more efficient, they positively impacted the bottom line. Soon after, Chobe Game Lodge began proactively reaching out to the Botswana Wildlife Training Institute, the college that provides safari guide certification, to send new women graduates to their lodge. The results, thirteen years later, is an impressive team of guides that do an exceptional job of delighting guests with their expert knowledge of local wildlife.
Because of the Chobe Game Lodge's location along the Chobe River, the safari guiding team operates both land and water-based vehicles. All seventeen women are skilled at handling both forms of transportation, but where they truly excel is in finding new and exciting animal encounters on safari. Yazema Moremong and Canah Moatshe are two members of the lodge's expert guiding team. Ms. Moremong first became a guide in 2007, after being inspired by seeing elephants while on a visit to her uncle's house. Ms. Moatshe, meanwhile started more recently in the profession but loves it all the same. No matter how individual members of Chobe Game Lodge's guiding team got their start, they are an inspiration to women everywhere. The incredible example of gender equality that has been set by these amazing women is one that we hope will inspire Africa and the world.