Lion World Travel Announces Joint Vice-Presidential Appointments
May 16, 2019
Long-time travel experts Leeann Phayre-Mallo and David (Red) Hunt join forces with The Travel Corporation's Africa Division CEO, Lucille Sive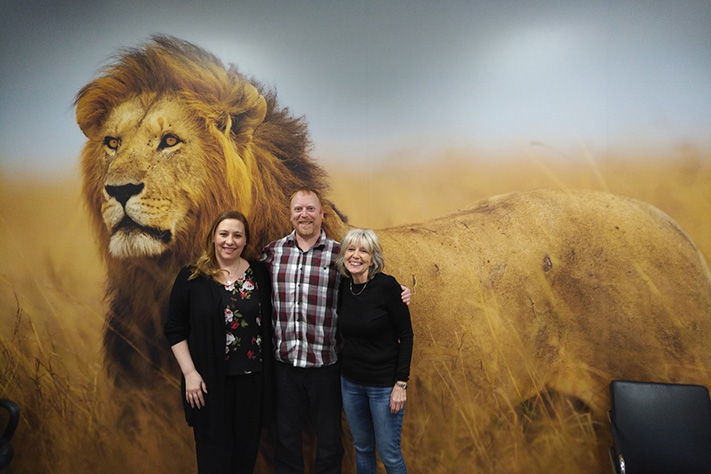 TORONTO - May 16, 2019 -  Lion World Travel, the affordable luxury Africa safari specialist, today announces two exciting promotions for two of its notable, innovative and Africa-passionate team members. Leeann Phayre-Mallo and David (Red) Hunt are each being promoted to Vice Presidents in their respective roles, with Phayre-Mallo becoming Vice President of Operations and Sales and Red becoming Vice President of Marketing. The two will continue to help lead the brand and drive its success together as joint VPs from its head office in Toronto.
"With our new strategic direction, we are excited to have both Leeann and Red in these co-leadership roles with their diverse skill sets as we continue to grow our business. Leeann holds unparalleled knowledge of our Lion World safaris and exclusive vacation packages as well as insightful familiarity with Africa and a passion for increasing sales," says Lucille Sive, CEO of The Travel Corporation's Africa Division. "Red brings with him a strong and extensive background in adventure travel, digital marketing and business management."
ABOUT LEEANN PHAYRE-MALLO
Phayre-Mallo has been an integral part of the Lion World team since 2012. She started as a General Manager and has risen through the ranks to Director of Product and Sales and now Vice President of Operations and Sales. After 28 years in the travel industry, 26 of those at various brands within the TTC family, Leeann's love for what she does is as strong as ever. She began her career at Thompsons as a junior consultant selling South Africa where her responsibilities and roles grew significantly before leaving South Africa for the UK. At Evan Evans, TTC's UK sightseeing company, she managed the reservations & operations team and looked after special group bookings. She later became a Sales Manager for a luxury game lodge operator and was able to return to her roots, promoting Africa once more where great game viewing experiences, superior accommodation, food and wine and the warm hospitality of the people of Africa combine to make unforgettable vacations. Phayre-Mallo can be reached at leeann@lionworldtravel.com or via telephone at (416) 920 5466.
ABOUT DAVID (RED) HUNT
A recent and excellent addition to the Lion World team, Hunt has been working in the tourism industry since 2003 and brings with him a wealth of travel knowledge and marketing experience. With a background in business and management consulting, it took some time before Hunt ditched the corporate life and suit-wearing ways for the more exciting, yet equally challenging, world of travel and tourism. It was coincidentally a trip to Africa that got him hooked – Madagascar to be specific. Prior to joining Lion World Travel, Hunt provided consulting and travel marketing services to tour operators in Canada, Ecuador, New Zealand, Peru and the U.S.A., with a focus on making business processes more efficient and offering improved customized experiences to the travel consumer. Hunt has travelled extensively in Africa, having visited Botswana, Kenya, Malawi, South Africa, Tanzania, Zambia and Zimbabwe. Hunt can be reached at david@lionworldtravel.com or via telephone at (416) 920 5466.