The Man Who Runs With Lions
December 4, 2017
Maasai Runner John Metui Finishes 17th in New York City Marathon
We are excited to feature this guest blog about the miraculous story of long distance runner and Maasai tribesman, John Metui. This past fall, John competed in the New York marathon and placed an incredible 17th overall in just his second marathon ever. This is his inspiring story as told by Christopher Tuite.
By Christopher Tuite, Maasai Wilderness Conservation Trust Board Member
The 2017 New York marathon saw two Kenyan runners place first and second, followed by two Ethiopians. All of them are experienced long distance athletes who are well known members of the elite world-class long distance runners circle, competing and winning in the Olympics and marathons around the world. But the best story of the 2017 New York City marathon is the third Kenyan who crossed the finish line in seventeenth place.
The Maasai are one of Kenya's best known tribes and historically they roamed the plains of Kenya and northern Tanzania, grazing their cattle. Today their old range is much more limited, but the Maasai still revere their cultural traditions in which cattle and pastoralism are central. Close to Kenya's border with Tanzania, in the shadow of Mount Kilimanjaro, are the Chyulu Hills, which inspired Ernest Hemingway's book The Green Hills of Africa. This area is home to several Maasai communities. It is also a landscape of dramatic beauty and one which is home to some of Africa's most charismatic wildlife species including elephants, rhinos, giraffes, zebras, and lions.
Visitors from around the world come to this area to see wild Africa. Nestled in the Chyulu is a small 16 bed safari eco-lodge, called Campi ya Kanzi. Founded and run by Luca Belpietro and Antonella Bonomi, the camp offers its guests the chance to mix an African wilderness experience with genuine immersion in Maasai culture, with amazing accommodation and fine dining. Income from the camp helps to protect wildlife and assist the local Maasai communities through programmes in health, education and conservation, run by the Maasai Wilderness Conservation Trust (MWCT), a community rooted organization founded by Luca & Antonella.
One of the old Maasai traditions was for the young warriors to prove their manhood by killing a lion, armed only with a spear. In twenty first century Africa, lion populations are in severe trouble so this old tradition is incompatible with conservation and ecotourism. To allow Maasai youth to demonstrate their physical prowess in a different way than killing lions, MWCT and other local organisations initiated Maasai Olympics that includes events in running and spear throwing. The bi-annual event has now become an important and much anticipated day in the Maasai calendar. The 800 and the 5,000 metre races carry special significance as the winners are sponsored to compete in the New York marathon to raise funds for the Maasai Wilderness Conservation Trust. For most of these runners it is the trip of a lifetime and the first time they get to ride on a plane or travel outside Kenya. From the African savannah to the streets of New York is about as large a cultural leap you can make. In 2016, a young Maasai, John Metui won the honour of going to New York. In that, his first marathon, he ran a time of 2 hours and 55 minutes.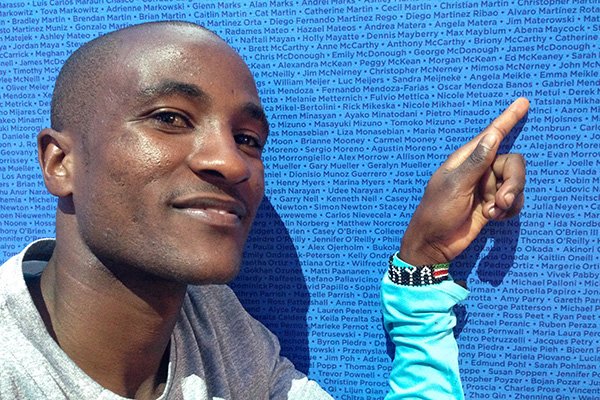 John in New York, pointing to his name.
In addition to being a natural runner, John is also one of the most personable people you could hope to meet. On returning to his Chyulu home, the founder of Campi ya Kanzi asked John what he did. He had no job so Luca immediately said to him "How would you like to work as a waiter in the lodge?". In a place where any job is much sought after, John eagerly accepted the offer. Immediately he learned the finer points of being a waiter and quickly became an attentive, always smiling presence around the lodge dining table. A knife out of alignment immediately straightened; a glass emptied, a refill on hand.
In 2016 John's participation in the New York marathon was generously sponsored by conservationist and long-time MWCT supporter Ed Norton (no, not the celebrated actor and UN Goodwill Ambassador for Biodiversity, Edward, but his father). When Ed returned to Campi ya Kanzi last May he asked John: "Are you training for the New York marathon this year?"
John replied, "I have not got a place this year. We need to use the available places to raise funds for our programs."
Ed said, "Nonsense! You are going! My wife and I will sponsor you, so you had better begin training."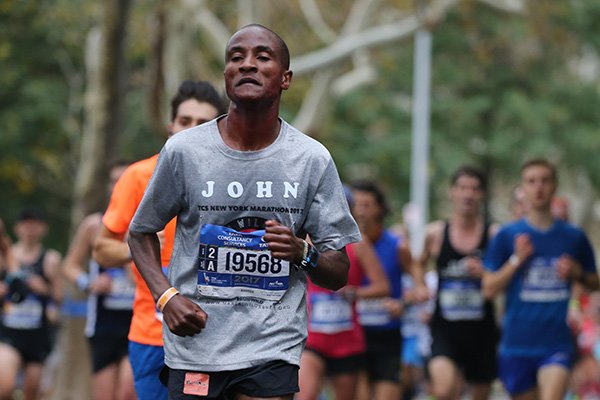 John running in the New York City Marathon.
Over the next few months John worked at his job and trained on his own schedule as time allowed. His runs take him along rough tracks, over lava fields, and along wild animal pathways across the bush. His lone figure may be watched by zebras, buffalos, giraffes, and even lions. Thursday John and the other runners representing MWCT arrived in New York after seventeen hours sitting of discomfort in cramped plane seats and experiencing an eight-hour time change.
Just two and a half days later, on Sunday morning, John took his place with the other runners, his registration number 19568, meaning that he started well back in the crowd of runners. For John, the paved streets of New York are an easy surface and, used to running at about four thousand feet, the sea level altitude of New York is like drinking oxygen. As the miles went buy, thousands of other runners saw the soles of John's running shoes as he passed them, seemingly effortlessly. As he ran on, the crowds began to notice the young African runner with the 19568 number moving inexorably onward.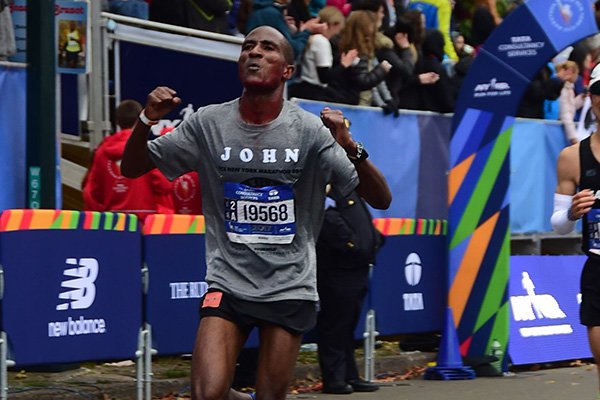 John completes the New York City Marathon, in 17th place.
At the finish line, John had clocked 2 hours 23 minutes and 40 seconds and placed a miraculous seventeenth overall.
On his second marathon, John had challenged the best in the world and become a quiet hero for the Maasai, for MWCT, for Kenya, and for conservation.
We don't know where he will go from here but, metaphorically, John Metui has killed his lion.